This is the Platform Future Hyundai and Kia EVs Will Ride On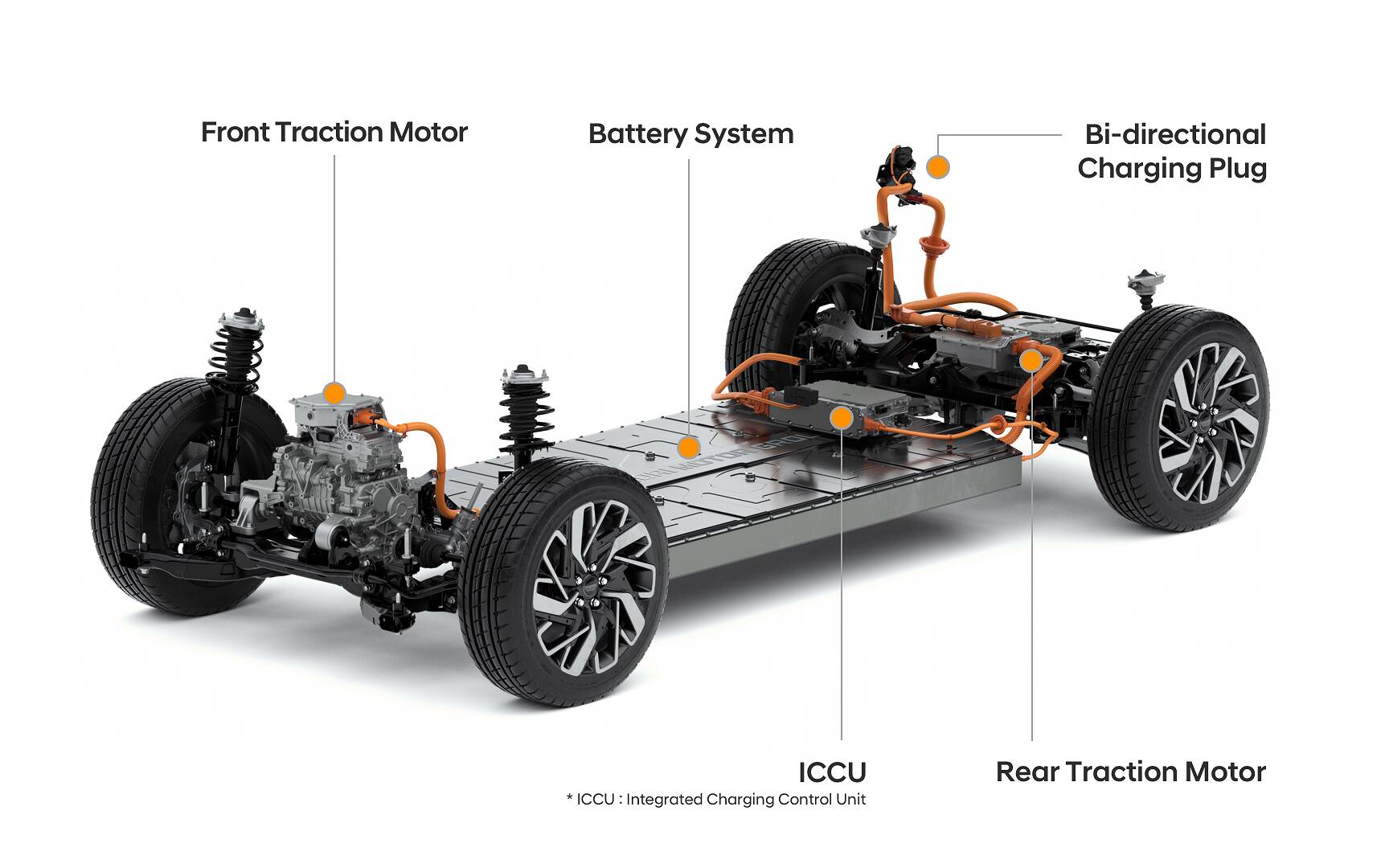 Hyundai's electrification plan is certainly an ambitious one: to launch 23 models (including 11 dedicated EVs) and sell over one million electrified vehicles globally by 2025. And that's not even counting sister company Kia, which anticipates 11 models (including seven dedicated EVs) by 2027.
The foundation of all of this will be the new Electric-Global Modular Platform (E-GMP) that was unveiled on Tuesday night by the Korean automaker.
Specifically and exclusively designed for EVs, as opposed to vehicles that offer both gasoline and electric variants (Hyundai Kona, Kia Soul), the E-GMP provides engineers and designers with more flexibility to maximize safety, interior space, performance and range, among other things.
In fact, a major difference is that customers will be able to choose between RWD and AWD configurations, whereas the current Kona Electric and Soul EV are FWD only.
What It Will Look Like on the Road
The first application of the E-GMP architecture will be the previously announced Hyundai IONIQ 5, which is the production version of the 45 concept. It will be followed by the IONIQ 6 sedan in 2022 and the IONIQ 7 midsize SUV in 2024. Over at Kia, a crossover based on the Imagine concept will be introduced in 2021.
A wide range of models can be created from the E-GMP including more traditional sedans, spacious SUVs and sporty cars—the kind that can sprint from 0-100 km/h in less than 3.5 seconds and achieve a maximum speed of 260 km/h, Hyundai says.
On the road, expect more stability both at high speeds and in corners thanks to a lower centre of gravity and improved weight distribution versus today's Hyundai and Kia products.
Featuring an integrated motor in the rear (and another one in the front in AWD variants), the E-GMP puts between the front and rear axles the most power-dense battery pack that Hyundai has ever created (energy density is enhanced by around 10 percent compared to existing EV battery technology). Range is estimated at more than 500 kilometres according to the WLTP standard used for most markets, which would mean over 400 kilometres in Canada.
Fast, Versatile and Bi-directional Charging
We've been told that the E-GMP offers 800V charging capability as standard and enables 400V charging, without the need for additional components or adapters. The multi-charging system is a world's first patented technology which operates the motor and the inverter to boost 400V to 800V for stable charging compatibility. The battery can be charged up to 80 percent in just 18 minutes.
Interestingly, the E-GMP's newly developed Integrated Charging Control Unit, which represents an upgrade from existing on-board chargers, enables a new vehicle-to-load function. It can supply up to 3.5 kilowatts of power and operate a medium-sized air conditioner unit and a 55-inch television for up to 24 hours. The system can even be used to charge another EV.
We'll learn more about future Hyundai and Kia EVs in the coming months, so keep following The Car Guide if you don't want to miss anything.
Share on Facebook