Hyundai 45 Debuts as a Futuristic and Nostalgic EV Concept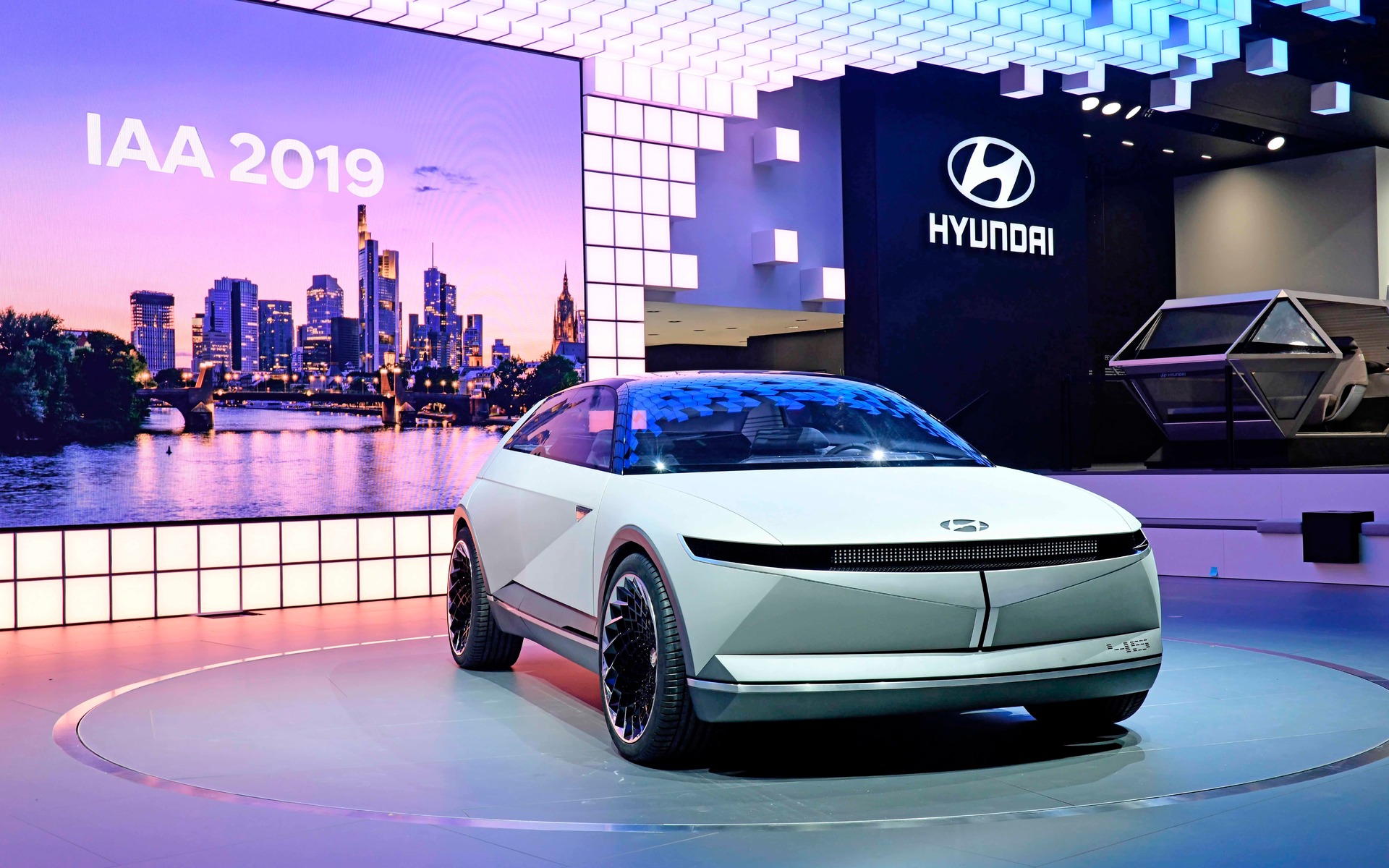 After teasing fans and the media alike with a glimpse of an upcoming reveal, Hyundai today introduced the new 45 concept at the 2019 Frankfurt Auto Show.
It's a nod to the original Hyundai Pony Coupe Concept, which debuted in 1974—or 45 years ago.
The iconic character of the 45 is defined by its monocoque-style body, aerodynamic and lightweight design inspired by aircrafts from the 1920s. The car's name also owes itself in part to the 45-degree angles at the front and rear, forming a diamond-shaped silhouette that further foreshadows the design direction of future EV models.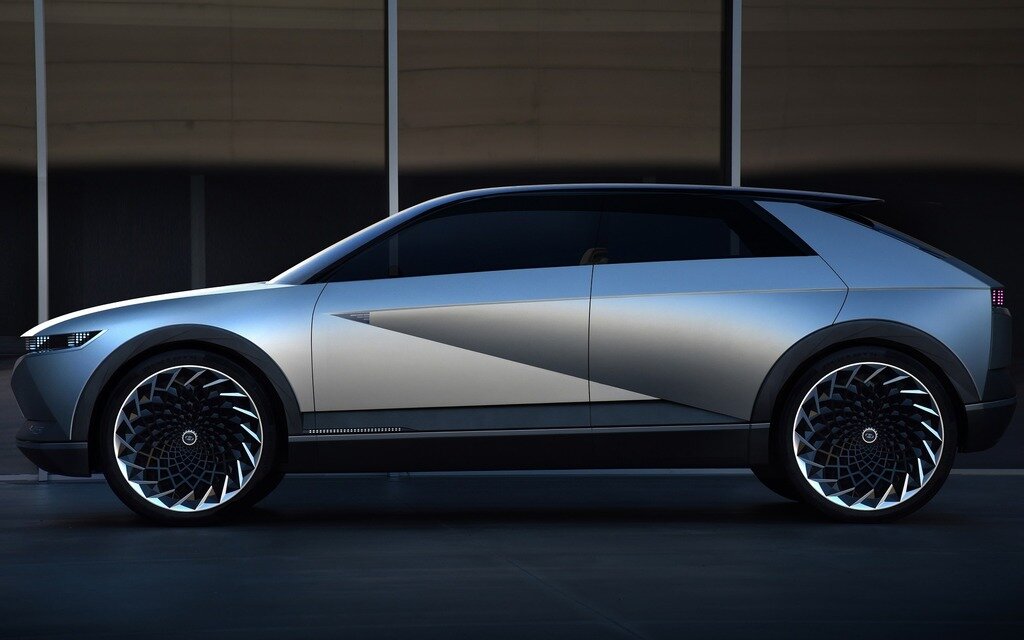 "Through the 45 built upon our design language 'Sensuous Sportiness', Hyundai wants to present our vision on how we want to reshape people's in-car lifestyle in the era of electrification and autonomous driving," said SangYup Lee, Senior Vice President and Head of Hyundai Design Center.
The 45 reinterprets the concept's distinctive lattice radiator grille with a "kinetic cube lamp" design that takes Hyundai's lighting architecture to the next level and allows people to instantly recognize the vehicle at a distance. The Hyundai logo and 45 "badge" are illuminated, too.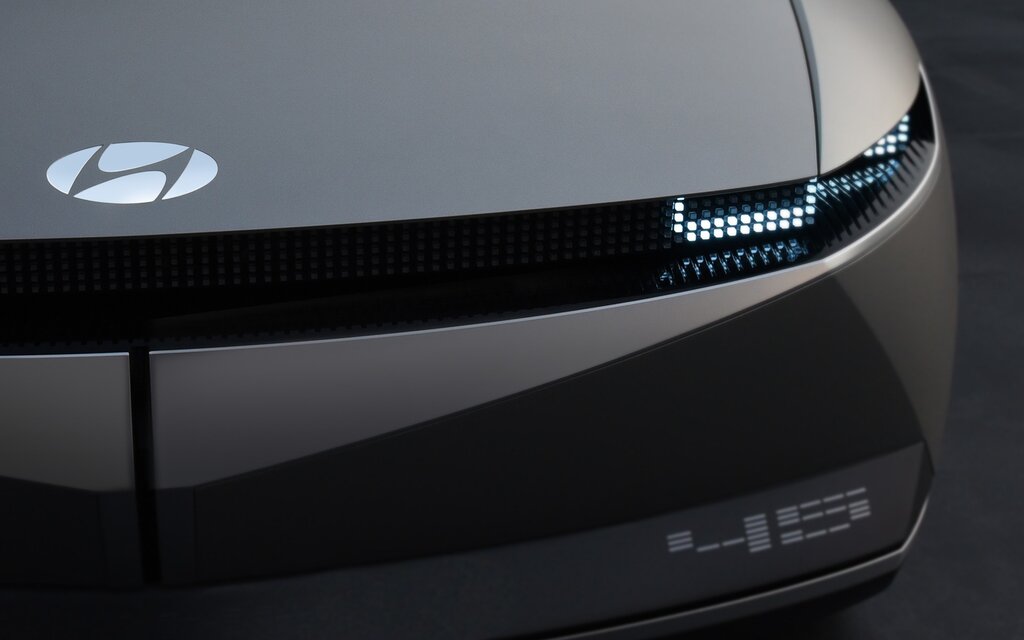 On the sides, the kaleidoscopic design of the oversized wheels is downright hallucinating. Heavy sculpting on the (sliding) doors and a dynamic roofline capped by a prominent rear spoiler add character to the exterior. The side mirrors are replaced by innovative self-cleaning cameras, while active LED lights at the bottom let drivers know how much range they have even before they get in the car.
Dynamic daylight opening technology brings the ideal amount of light inside, where the inviting layout is inspired by furniture designs. It becomes a unique living space capable of transforming to accommodate a range of passenger lifestyle demands, Hyundai says.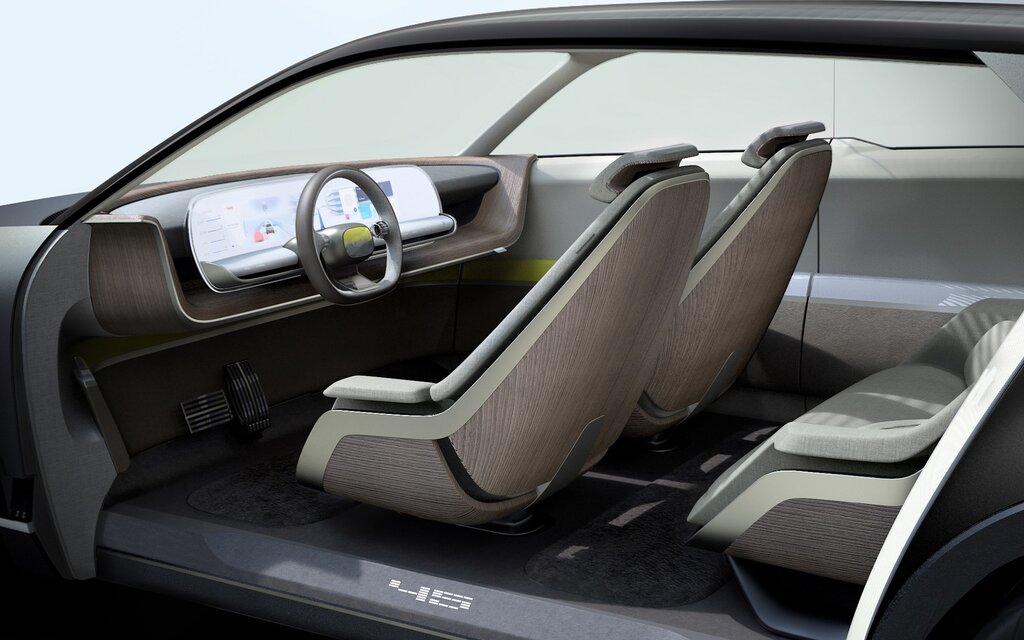 The front seats swivel outward for convenient entry and exit or inward for easier communication with the rear passengers. Pushing design and technology further ahead, front-seat passengers can interact with the infotainment system via a projection-beam interface. This replaces a single central touchscreen with a series of displays and functions integrated into the dashboard itself.
The batteries in the 45 concept are set throughout what Hyundai calls the "skateboard floor," contributing to its spacious interior. There are no further details about the powertrain as this is more of a design study than anything else.
In Frankfurt, Hyundai also introduced its first electric race car based on the Veloster N, the next generation of its i10 city car (not sold in North America) and a limited edition of the i30 N (the equivalent of our Elantra GT N Line) called Project C.
Share on Facebook