2019 Hyundai Kona: Turbo or No Turbo?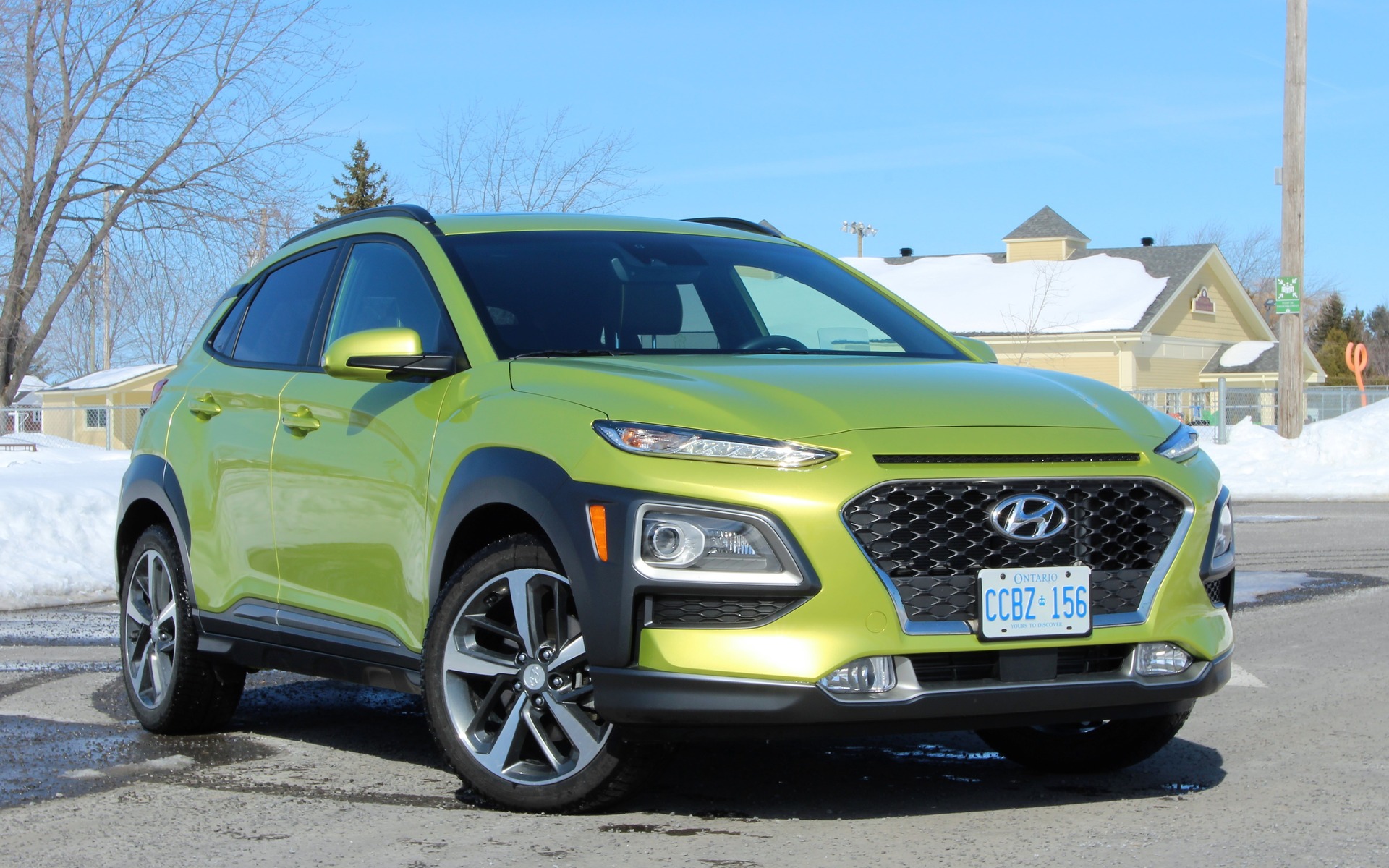 Strong points

Head-turning design
Lots of features for the price
Interesting driving dynamics

Weak points

Lack of rear-seat space
Irritating lane keep assist system
Limited rear outward visibility
Full report
As we all know, the subcompact SUV segment is gaining in popularity and Canadian consumers seem to be willing to trade in their compact cars for one. These trendy vehicles may not be very spacious, but most of them are available with all-wheel drive to help us get through the dreaded winter season.
Introduced in 2018, the Hyundai Kona quickly became one of the top-selling subcompact crossovers in our country. Obviously, its extroverted design greatly helps it get noticed, and especially, stand out in a segment that includes more than a dozen competitors, and the list will only grow in the next few years. Among them, we find the Mazda CX-3, the Honda HR-V, the Nissan Qashqai and the Subaru Crosstrek.
Aside from its look, the 2019 Hyundai Kona also offers a little something extra, and that's the availability of a more-powerful engine.
This turbocharged, 1.6-litre four develops 175 horsepower as well as 195 pound-feet of torque between 1,500 and 4,500 rpm. It's connected to a dual-clutch, seven-speed automatic gearbox and mandatory all-wheel drive.
Of course, performance is enhanced compared to the Kona equipped with the naturally aspirated, 2.0-litre four-cylinder engine. The latter produces 147 horsepower, while its Atkinson combustion cycle favours fuel economy before all-out power. The torque peak is the big difference between the two—with 132 pound-feet versus 195.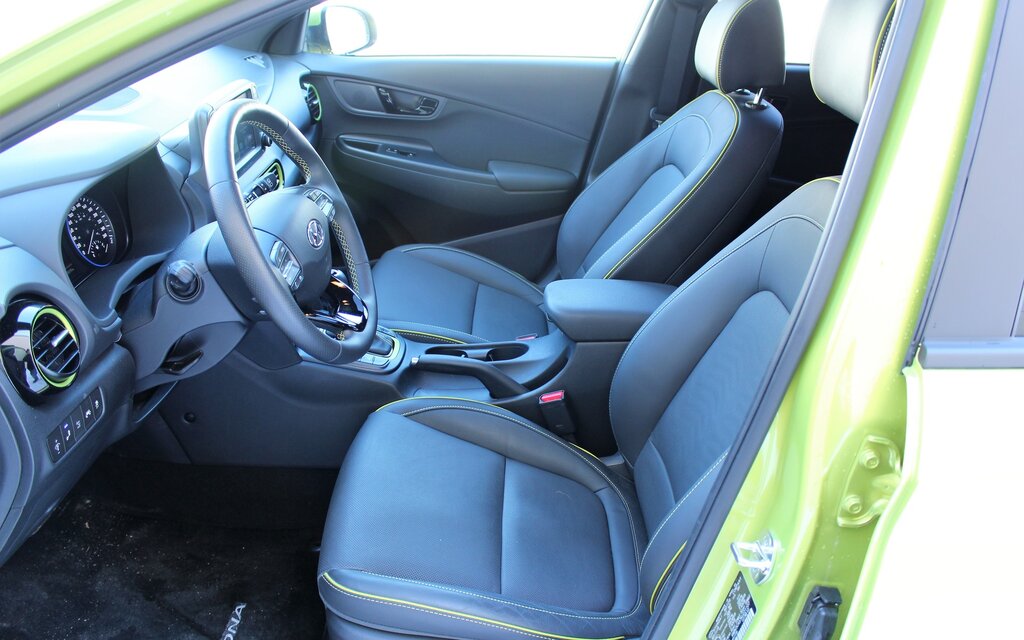 In addition, combined city/highway fuel consumption is identical between the two powertrains, rated at 8.6 L/100 km, and according to the manufacturer, both can run on regular unleaded. At the helm of the turbo Kona, et even averaged 8.4 L/100 km, which is pretty good. Last year, yours truly obtained the exact same result aboard a 2.0L Kona, so the consistency is there.
The problem, theoretically, is that more complex engines and transmissions will require more maintenance over time, and for a long-term purchase, the Kona's 2.0-litre engine and conventional six-speed automatic combo would be a more rational and logical choice. Sure, performance isn't as good, but in normal, everyday driving, the gap isn't all that big.
Happily, no matter what powertrain we choose, the 2019 Hyundai Kona serves up appreciable driving dynamics. Variants equipped with AWD benefit from a multilink rear suspension, while the front-drive versions get a rear torsion beam. Only pilots pushing the little SUV to its limits will feel the difference. So, the Kona is one of the most enjoyable to drive in its segment, even though the CX-3 is the most engaging of them all.
Attractive, our Kona Ultimate tester was painted Acid Yellow, and the automaker smartly chose to offer cheery colours for this SUV, which gives it even more visibility on the road. We can go for orange, red and blue, but more conservative hues are also available, such as white, black and silver.
Inside, the contrast stitching on the seats and steering wheel as well as the trim around the air vents are colour-coordinated with exterior paint, breaking up the otherwise grey and black cockpit very nicely. While space is adequate up front, rear-seat occupants might wish for more legroom. Obviously, there are no limousines in the subcompact SUV category, but some models are more accommodating, such as the HR-V and the Crosstrek.
As for cargo space, the 2019 Hyundai Kona is about average in its segment with a volume of 544 litres when the rear seats are occupied. After folding down the seatbacks, we get a volume de 1,296 litres, surpassed by most of its rivals. The Qashqai and the HR-V are tops here.
The infotainment system shared with other Hyundai—and Kia—products is well thought out, with a reactive touchscreen, lots of features and physical buttons that help us quickly access the system's main functions. The Kona includes Apple CarPlay and Android Auto integration in addition to a seven-inch screen as standard, while the Ultimate edition gets treated to an eight-inch unit, navigation and wireless phone charging.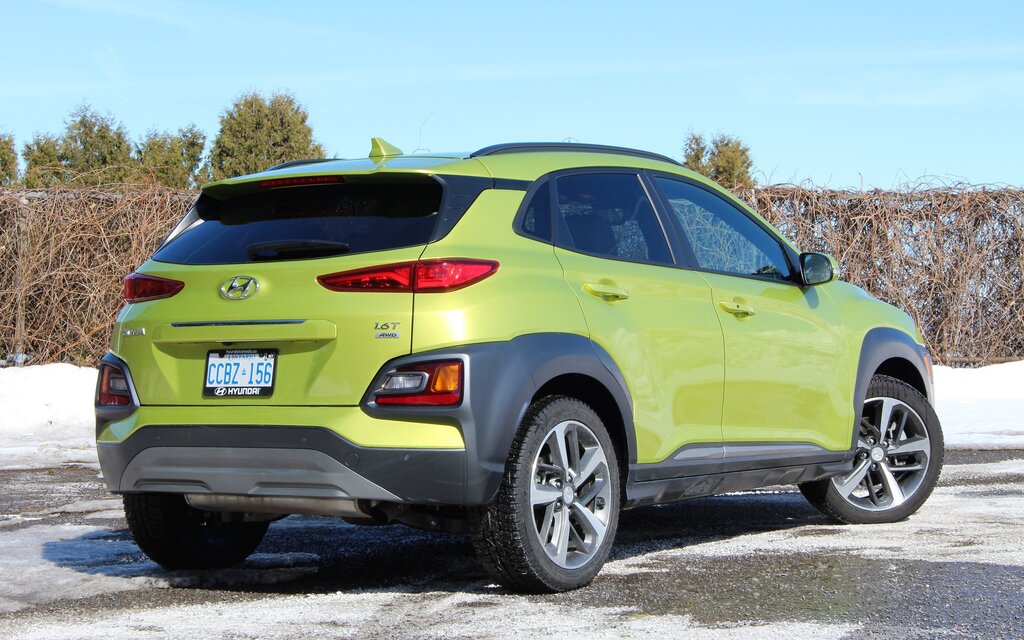 The base price for the 2019 Hyundai Kona is set at $21,099 before freight and delivery charges. Appropriately called Essential, this variant includes heated front seats, air conditioning, cruise control, 16-inch alloy wheels, automatic headlights and a height-adjustable driver's seat.
Our choice would be the Kona Preferred with available AWD, which retails for $24,849 and includes a heated and leather-wrapped steering wheel, 17-inch wheels, fog lamps, an intelligent key and blind spot monitoring, among other things.
At the top of the model range, our Kona Ultimate test vehicle boasted 18-inch wheels, rain-sensing wipers, head-up display, leather upholstery, a power-adjustable driver's seat and a power sunroof, all for $31,899. That's starting to get expensive for such a small vehicle that's far from ideal for a family.
If life aboard the Kona seems perfect, isn't quite the case. The lane keep assist system that equips all trim levels except the base one is sensitive—too sensitive—and constantly makes the steering wheel squirm in our hands. We end up getting irritated by it and switch it off, which defeats the purpose. In addition, the rear window is really small and its wiper is minuscule, so outward visibility isn't great.
In a nutshell, we like the Kona a lot for its design, its drive and its feature content for the asking price. Like all subcompact SUVs, it isn't overly spacious, and a Hyundai Elantra GT will be more versatile for the daily grind if we have kids to haul around. As for the turbocharged engine available from $27K, it's up to us to decide if the extra power is worth the bigger monthly payments. From our point of view, the base engine suits us just fine.
Share on Facebook