2022 Ford F-150 Lightning: This is it!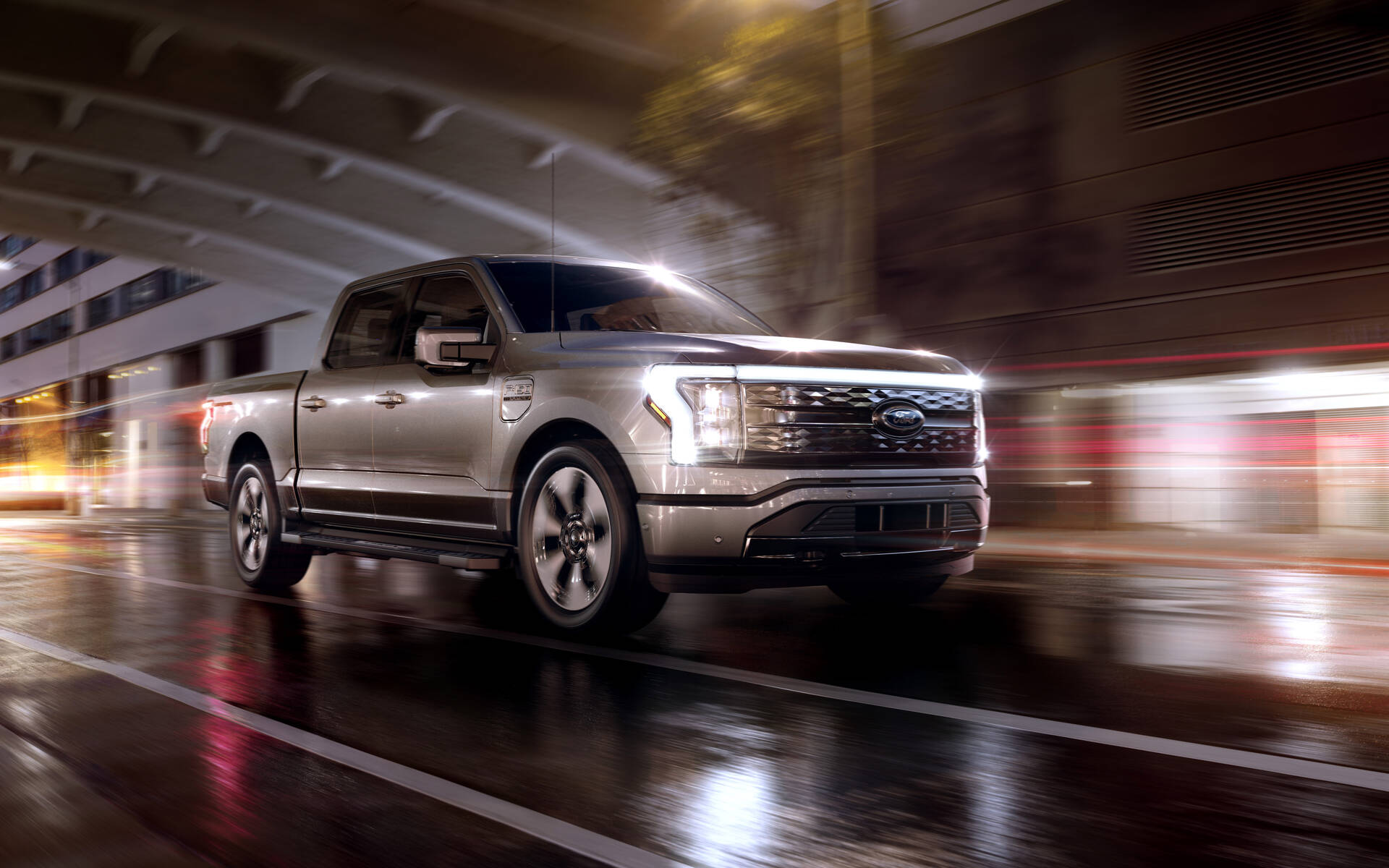 Less than a year after introducing the next-generation F-150, Ford officially unveiled the much anticipated, fully electric variant on Wednesday night. The new 2022 F-150 Lightning is here, and we have all the details and specs we have been waiting for.
This pickup is faster, more powerful, more technologically advanced, and of course more efficient than any other F-150 that came before. It will land on Canadian roads starting next spring.
Fitting Name
As we've previously said, Ford made a wise decision by reviving the Lightning nameplate which hadn't been used since the early 2000s. The lightning-quick, battery-powered F-150 can sprint from 0-100 km/h in about 4.5 seconds when equipped with the extended-range battery.
The dual motors are always active resulting in a permanent AWD system. Although we don't know their exact capacity yet, two battery packs are available: a standard-range unit allowing an estimated 370 kilometres and a bigger one increasing range to approximately 483 kilometres. With the former, output is rated at 318 kilowatts (426 horsepower); with the latter, it's 420 kilowatts (563 horsepower). Peak torque is 775 pound-feet in both cases, controlled by a single-speed transmission.
The thunder that goes with the lightning does not come from a loud combustion engine like the one in the F-150 Raptor, obviously, but rather from a maximum payload of 2,000 pounds with the standard-range battery. As for towing, the F-150 Lightning can pull 7,700 or 10,000 pounds depending on the battery.
If we consider other F-150 SuperCrew 4x4 models, these numbers are roughly similar to those of the 2.7-litre EcoBoost V6. However, towing capacity does not even match a comparable PowerBoost hybrid model (up to 12,400 pounds).
Pricing and Availability
If all goes well, production of the new Ford F-150 Lightning will start in the early part of 2022 with a launch in late spring. It will be available at more than 360 EV-certified Ford dealers across Canada.
Base prices have already been announced. The commercial-oriented entry model starts at $58,000, while the retail variant (in XLT, Lariat and Platinum trim levels) starts at $68,000. No EV rebates from the government apply. You can reserve your spot in line right now with a $100 deposit on Ford.ca. If the Bronco is any indication, you should probably hurry.
By the way, south of the border the F-150 Lightning starts at $39,974 USD only, but the base model has less standard equipment and there are special launch editions which we won't get.
Two-way Charging
When it comes to charging, the standard-range battery is paired with an 11.3-kW onboard charger, while the extended-range battery takes advantage of the only dual onboard charging system on an electric truck in the industry, rated at 19.2 kW. Level 2 charging makes it possible to go from 15-100 percent charge in eight hours.
On the road, customers will have access to the FordPass charging network with more than 63,000 charging plugs and growing. On a 150-kW DC fast charger, the extended-range F-150 Lightning is targeted to get up to 87 kilometres of range in 10 minutes and charge from 15-80 percent in about 41 minutes.
Similar to the hybrid variant, the F-150 Lightning features the Pro Power Onboard built-in generator, except that output is increased from 7.2 to 9.6 kilowatts thanks to extra power available through the front trunk. That means you can power even more tools and devices on the go.
Scared of running out of juice? FordPass can send you a notification if your truck's battery falls below one-third of its total range. Alternatively, you can set the truck to stop using Pro Power Onboard if the battery level approaches the distance to the nearest charging station.
Taking this to another level, the F-150 Lightning with extended-range battery and available Ford Intelligent Backup Power can provide full-home power (heating, lights, appliances, security systems, and more) for up to three days. And in the future, the company will introduce Ford Intelligent Power, which can use the truck to power homes during high-cost, peak-energy hours while taking advantage of low-cost overnight rates to charge the vehicle. Brilliant, isn't it?
Cutting-edge Technology
Several technologies on the 2022 Ford F-150 Lightning are shared with the latest F-150, including the Ford Co-Pilot360 safety suite, the BlueCruise semi-autonomous driving system (compatible with more than 160,000 kilometres of divided highways in Canada and the U.S.) and available Onboard Scales, which use the truck's sensors to estimate payload and tell you how much you're hauling. They also help give an accurate estimate of how far you can go.
The F-150 Lightning debuts Pro Trailer Hitch Assist, which automatically controls steering, throttle and brake inputs to make hitching trailers easier. Also making its F-Series debut on select vehicles is available Phone As A Key. When activated, you can lock, unlock and start the truck without taking your phone out of your pocket or using a key fob.
Inside, the 12-inch customizable digital instrument cluster is paired with a standard 12-inch horizontal or available 15.5-inch vertical centre touchscreen (similar to that of the Mustang Mach-E). The SYNC 4 infotainment system employs natural voice control, cloud-connected navigation, wireless Apple CarPlay and Android Auto, as well as integrated Amazon Alexa and SYNC AppLink apps.
And naturally, all these features and more can be improved over time with over-the-air software updates called Ford Power-Up.
Evolutionary Design and New Suspension
We have a separate story focusing on the F-150 Lightning's design and engineering, but clearly this is not a radical departure from conventionally powered F-150s. What you see here is apparently what Ford customers and potential buyers told designers they wanted in an electric Ford pickup.
Three new grille designs bring a different look to a familiar face. LED light bars that run across the front and rear are another visual highlight. There are new wheels and accents, too, the former measuring 20 or 22 inches.
Aerodynamics are improved, while cargo is maximized with the largest front trunk (or frunk) of any electric vehicle. This spacious area targets 400 litres of volume and 400 pounds of payload—enough to stow two carry-on bags and one checked bag, or two sets of golf clubs. It also offers four power outlets, two USB ports and a drainable floor that can double as a food and beverage container.
The F-150 Lightning's unique configuration, with a low centre of gravity, even allowed engineers to install the first independent rear suspension on an F-Series truck. Expect a more comfortable and more stable ride as a result.
Share on Facebook