Ford Mustang Mach-E
Is a Mustang crossover a good idea or just blasphemy? And with electric power on top of that? One thing's for sure: the all-new Mustang Mach-E is generating a lot of attention. There are various models to choose from. Select and Premium have a 75.7-kWh battery, while GT Performance, First Edition and California Route 1 benefit from a larger 98.8-kWh battery. Practicality is covered by an 822-litre trunk.
All Ford Mustang Mach-E news
Electric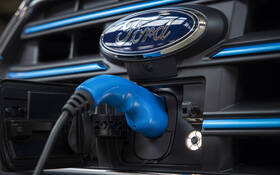 Ford Doubles Down on EV Investments, Accelerates Plans
During a conference call with the media to detail its financial results for 2020, Ford said it lost $1.3 billion USD ($1.6 billion CAD) last year, marking its first full-year loss since 2008. However, what we're particularly interested in are the investments planned for the next few years. New Ford …
News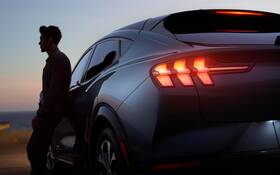 Some Ford

Mustang Mach-E

Deliveries Delayed up to 8 Weeks
While we can't exactly call it a false start, the launch of the anticipated Ford Mustang Mach-E is not quite going according to plan. But don't blame COVID-19 this time. Due to undisclosed quality issues, Ford has decided not to ship "several hundred" units of its new electric crossover, which …
News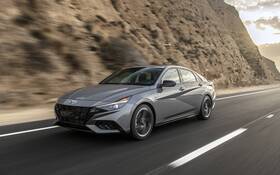 Hyundai Elantra, Ford

Mustang Mach-E

and F-150 Win 2021 NACTOY Awards
The winners of the 2021 North American Car, SUV and Truck of the Year (NACTOY) awards were announced today in a virtual event held in partnership with the North American International Auto Show. The 50-member jury of independent automotive journalists from Canada and the United States first selected the all-new, …
News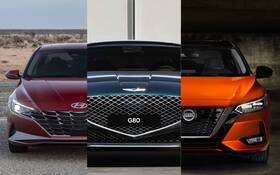 Time to Predict the 2021 North American Vehicles of the Year!
The finalists for the 2021 North American Car, Truck and Utility Vehicle of the Year (NACTOY) awards have just been announced by the jury as the second-to-last step in the year-long evaluation process. That means it's time to compare the choices with The Car Guide's own vehicles of the year …
Electric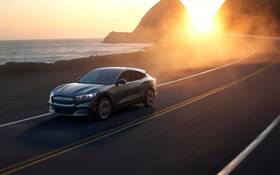 Ford

Mustang Mach-E

's Official Range is Better Than Expected
As it turns out, the new 2021 Ford Mustang Mach-E isn't just more powerful than initially advertised . The U.S. Environmental Protection Agency (EPA) has just completed its own series of tests, and we can now tell you the electric crossover offers more range than everyone thought, as well. In …
News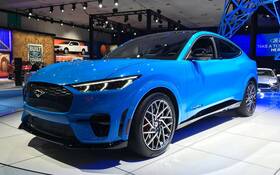 Ford

Mustang Mach-E

, F-150 Named 2021 Green Vehicles of the Year
Since there's no Los Angeles Auto Show this month, the traditional awards ceremony hosted by U.S. magazine Green Car Journal took place virtually on Tuesday. The winners were selected by a highly respected jury comprised of energy and environmental leaders including Jean-Michel Cousteau, president of Ocean Futures Society, as well …
Electric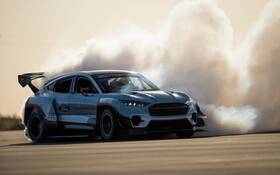 Watch: Ford Testing

Mustang Mach-E

With 7 Motors, 1,400 Horsepower
Remember the fully electric, 1,400-horsepower Mustang Cobra Jet 1400 announced by Ford back in April? Here's a similar one-off prototype that's based on the new Mustang Mach-E crossover in GT Performance trim. Blessed with seven electric motors and extreme aerodynamics, the Ford Mustang Mach-E 1400 lives up to its name …
All Ford videos
Sorry, no result for Ford Mustang Mach-E. Here are results for Ford