2013 Chevrolet Camaro ZL1 Convertible: Almost The Whole Enchilada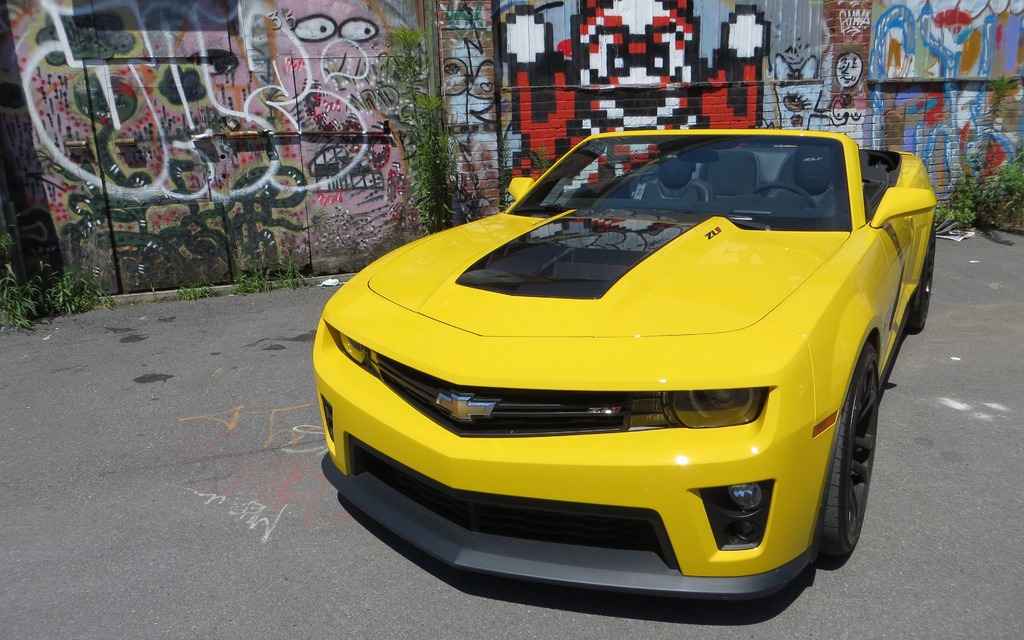 Strong points

Amazing dual-stage exhaust system
Incredible thrust off of the line
Comfortable top-down cruising
Minimal wind buffeting
Usable rear seat
Looks the business

Weak points

Very hard to plant the power down from a launch
Car feels bigger than it is from behind the wheel
Very heavy platform
No PTM in convertible models
No Launch Control for automatic model
Expensive
Full report
There was a time, not so long ago, when a car like the 2013 Chevrolet Camaro ZL1 convertible would not have been allowed to exist.  A recently as the past decade, a corporate culture that insisted on protecting the Corvette as the Bowtie brand's performance icon precluded building any form of the pony car that could have kept up with it on a race track - an attitude that contributed to the eventual demise of the Camaro before its revival as a 2010 model.
Flash forward to the present day and not only is the Camaro SS a legitimate white knuckle ride, but it has spawned several even more potent special editions such as the 1LE and the ZL1.  I recently had the opportunity to put some miles on a drop-top version of the Chevrolet Camaro ZL1, and while I'm not sure I'd ever want to park one in my driveway, I can easily understand that there are legions of Camaro fans out there who, given the means, would do so in a heartbeat.
The Personification of Aggression
It's immediately clear on first seeing the 2013 Chevrolet Camaro ZL1 convertible that this bright yellow chunk of metal means business.  A special chin splitter adds a degree of menace to an already in-your-face front fascia, and is in fact part of an aero treatment that sends more cool air into the engine bay (along with its carbon fibre hood slats) and helps to transform lift into downforce at extra-legal speeds.  Sharp eyes will also perceive the extra-wide rear fenders on the ZL1 that smooth out the air flowing around its enormous tires.  Sure, you have to take extra care when piloting the Camaro ZL1 in and out of parking lots, as the splitter is all too willing to rub itself out of existence on any available concrete surface, but isn't that part of the fun?
Liveable, But Limited Visibility
The only time I drove the Chevrolet Camaro ZL1 convertible with its top up was at the drag strip, because in my opinion a vehicle like this should be open to the elements at all times.  I can't speak to sightlines with the fabric roof in place, but I did notice that the front A-pillar's immense thickness (part of the car's rollover protection structure) was enough to cancel out a pedestrian stepping into an intersection.
The seating position inside the Camaro convertible is also extremely low - the term 'bathtub' was thrown around quite a bit by my passengers - and while I had no problem with it, some drivers aren't comfortable being surrounded by so much steel.  I transported a pair of friends in the backseat on both highway and city streets, and the offset position of the rear buckets gave them a good view of the road ahead and a reasonable amount of legroom for short trips.
The Camaro ZL1 convertible's interior amenities are essentially identical to those of a standard Camaro, which means a mix of plastic and leather, along with a nice set of console-mounted gauges and the Chevrolet MyLink vehicle interface.  Although this is an expensive car in terms of purchase price, it's nowhere near 'premium' in its amenities - you are paying for performance, not for massaging seats or adaptive cruise control.
The Fury Of Hell Itself
And then there is the sound.  The noise that is made when 580 supercharged horsepower are unleashed from a 6.2-liter V-8 engine through a dual-stage exhaust system.  A compelling case for ownership of the Chevrolet Camaro ZL1 convertible could be made based solely on the tenor of its exhaust note, which races quickly into stock car territory and resonates off of tunnel walls with enough sonic force to peel paint.  It's the perfect symphony for top-down driving, and intoxicating enough that I found myself frequently dropping the car's slushbox into neutral in order to sample its wicked tones.
Yes, that's right - my 2013 Camaro ZL1 convertible was saddled with a six-speed automatic transmission instead of the available six-speed manual.  Normally, this wouldn't be much of an issue, as most convertibles shy away from the kind of track duty for which the ZL1 is prepared through its numerous suspension upgrades and chassis adjustments (including magnetorheologically-adjustable shocks).  For the ZL1, however, the inclusion of the autobox proved to be a bit of an issue, as it erased the manual transmission's launch control feature.  Compounding the problem is the fact that convertible models also see the deletion of Performance Traction Management, which is the five-stage traction control system gifted to the coupe that would have made all of the difference when I tried to launch the convertible at the drag strip.  So much available torque - 556 lb-ft - courses through the car's drivetrain with the go-pedal down that even from a roll it's extremely difficult for the rear tires to find purchase.  Why are convertible fans excluded from the high performance party?  Why not PTM for sun-lovers?  I simply don't understand it.
A Tale Of Two ZL1's
Unlike its most direct competitor, the Ford Shelby GT500, which is identical in both fixed roof and rag-top form, General Motors has essentially created two classes of Camaro ZL1 ownership.  Those who plan on lapping the Nurburgring - or at least their local road course - will want to drive home from the dealership in a coupe, as it has the full suite of track-ready features that will satisfy in the corners.  The convertible, on the other hand, is a more relaxed affair - or at least, as 'relaxed' as a near-600 horsepower muscle car can be.  There's a certain frustration in knowing that it's almost impossible to harness the full performance potential of the automatic ZL1 convertible, but that feeling is easily masked by the igniting its rear tires like a hooligan and tempting tinnitus via the deafening sound of its supercharged V-8 engine.
Share on Facebook