Nissan Ariya Hits French Roads, Monaco in First Public Outing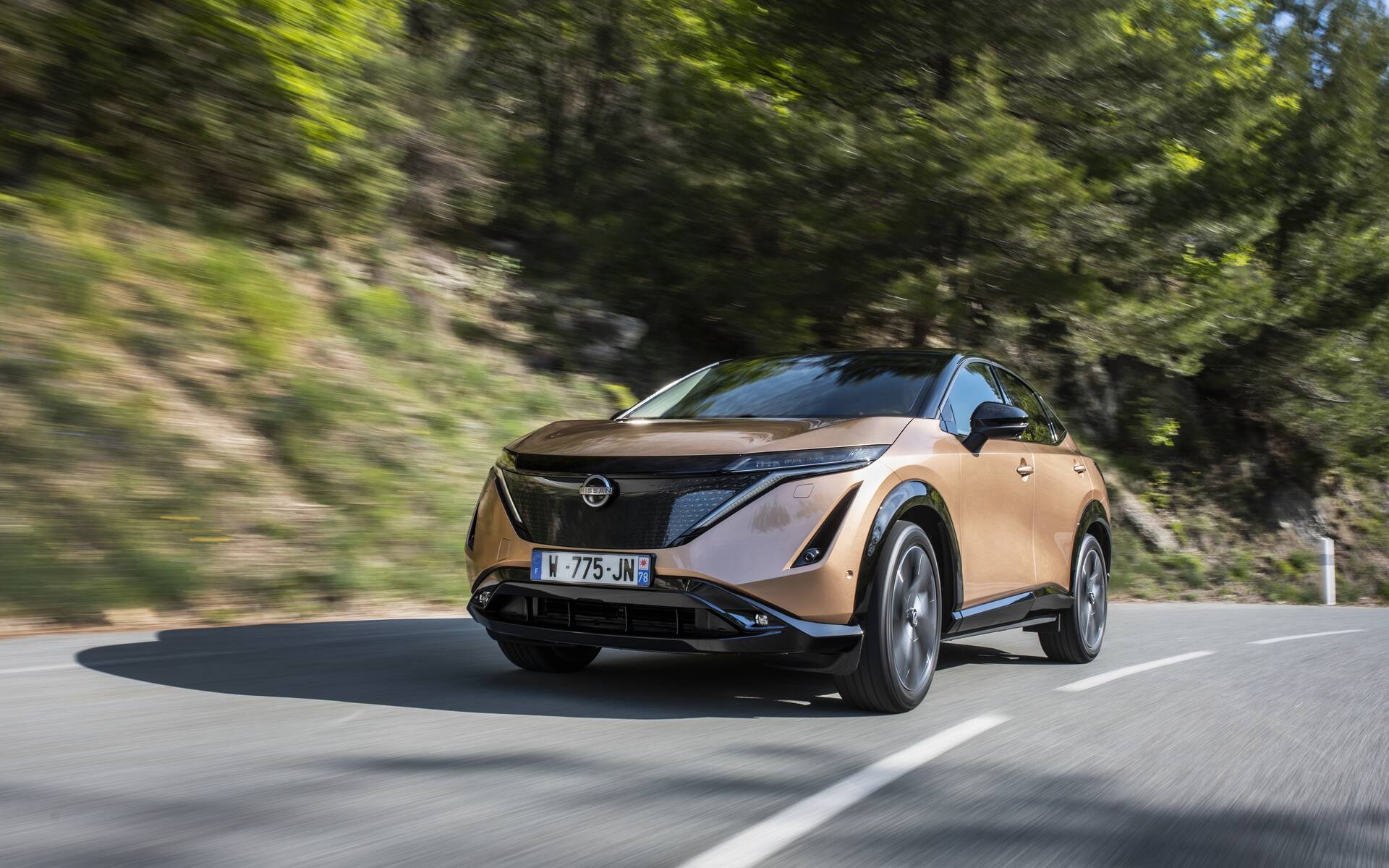 The Ford Mustang Mach-E, Tesla Model Y, Volkswagen ID.4 and Hyundai IONIQ 5 are all making headlines these days. What about the Nissan Ariya?  
In case you don't remember, this other compact electric SUV was officially unveiled last July and it will go on sale in Canada early next year as a 2022 model. The Japanese automaker, though, is slow to give us more details about the vehicle.
In the past few days, the Ariya finally made its first public appearance on the road, hitting the mountains of Southern France and completing laps at the iconic Circuit de Monaco where it shared the track with Nissan's Formula E race car.
The video above highlights the smooth design of the Nissan Ariya (it's the company's most aerodynamic crossover ever with a drag coefficient of 0.297) as well as its advanced e-4ORCE all-wheel drive system going to work in hairpin turns and high-speed corners.
Four Models
Sized like the Rogue, but with an interior space similar to the Murano, the 2022 Nissan Ariya will offer a choice of two drivetrains and two batteries for a total of four configurations.
FWD models will use a single motor rated at 160 kilowatts (214 horsepower) and 221 pound-feet of torque, while AWD models with dual motors will deliver 290 kilowatts (389 horsepower) and 443 pound-feet, resulting in 0-100 km/h acceleration in 5.1 seconds.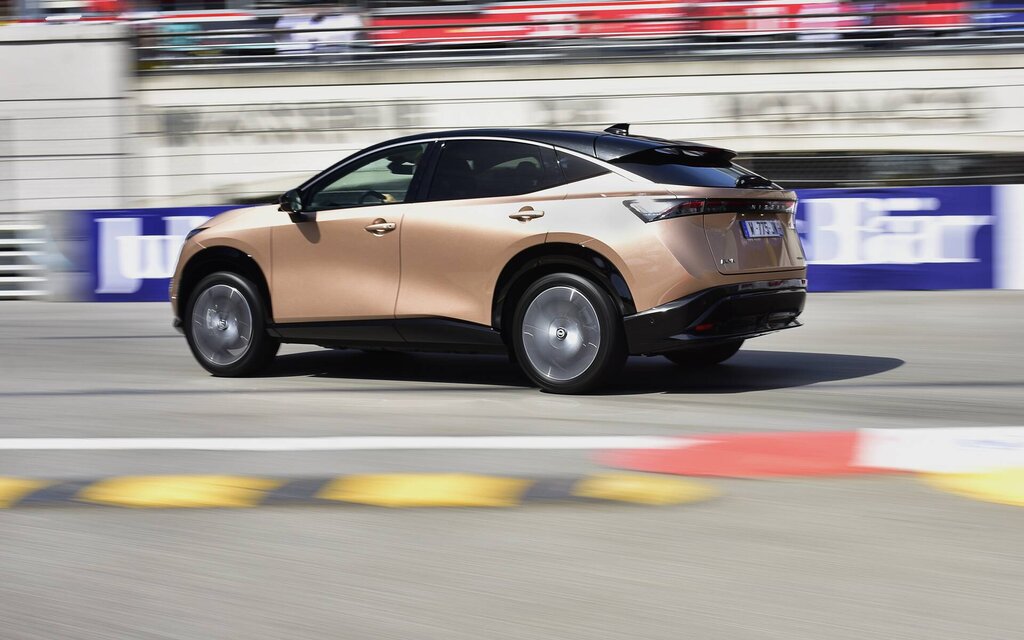 Meanwhile, the 63- and 87-kWh batteries provide a range of 321 or 482 kilometres, respectively, based on the automaker's preliminary tests. 
As for safety and technology, it's the most advanced embodiment of Nissan's Intelligent Mobility philosophy to date, led by next-generation ProPILOT Assist 2.0 semi-autonomous driving technology allowing attentive drivers to take their hands off the steering wheel in single-lane highway traffic. It also supports multi-lane highway driving tasks such as lane changes, passing and highway exiting. And with e-Pedal, you can start, accelerate and decelerate using only the gas pedal.
So far, the LEAF's big brother has picked up around 34,000 reservations in Europe, where it will likely prove a strong seller. In Canada, the reservation program has not started yet. As for pricing, we hope it will start at just under $45,000 so customers can benefit from all the available EV incentives, as is the case with the Volkswagen ID.4.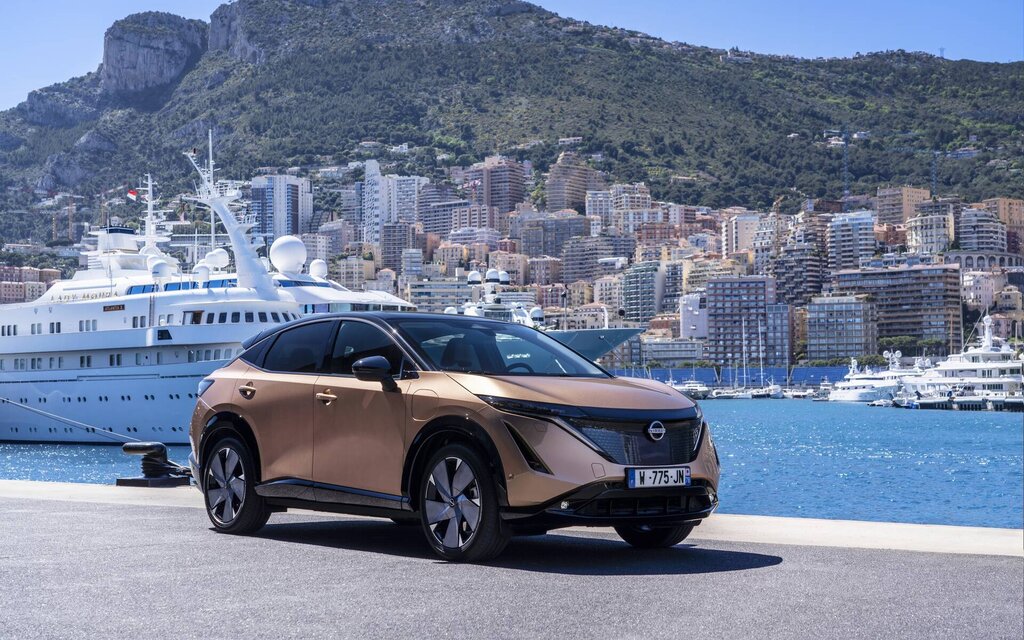 Share on Facebook