2022 Nissan Ariya Unveiled as LEAF's Futuristic Big Brother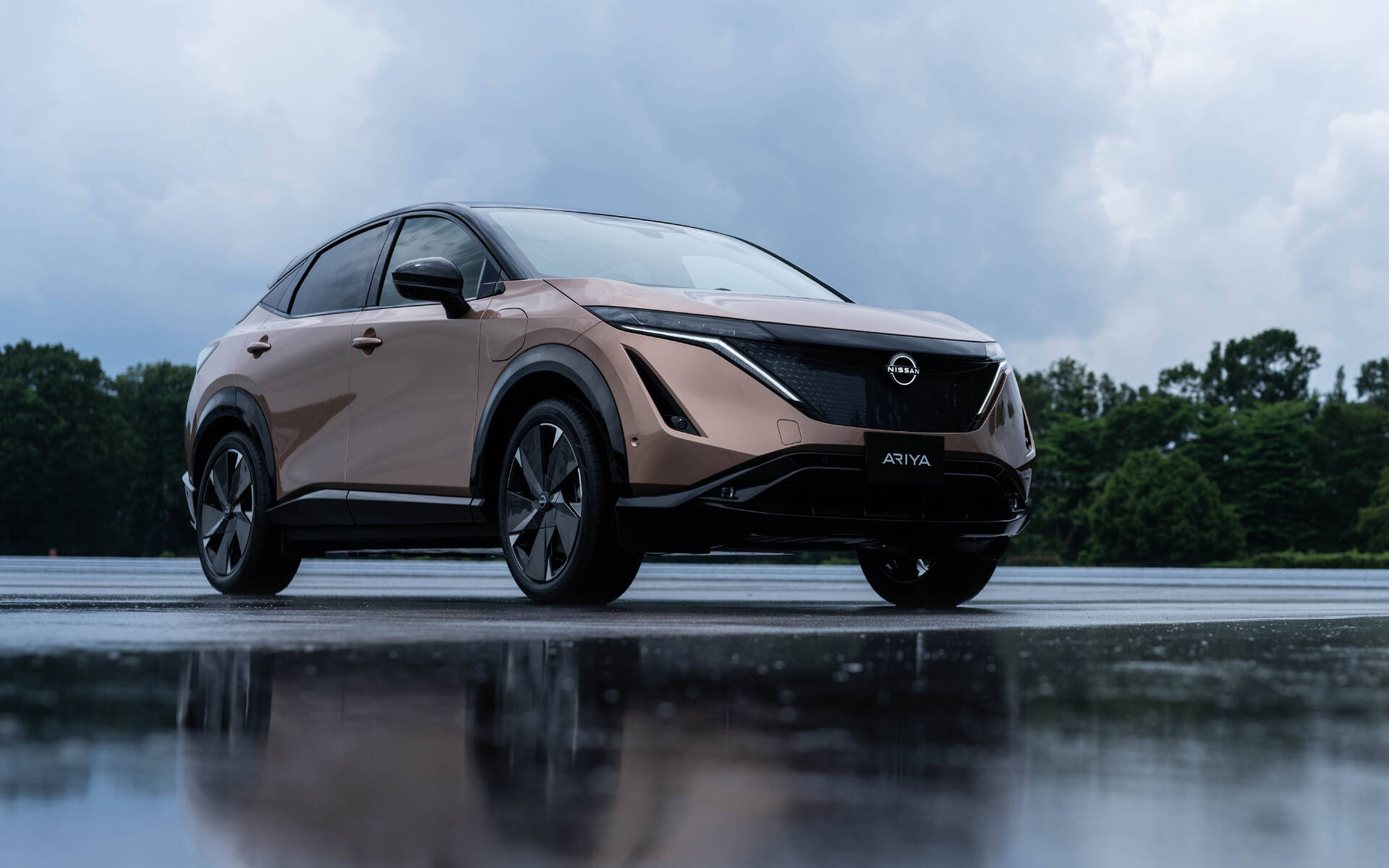 A decade after the launch of the LEAF, which is still the best-selling electric vehicle of all time, Nissan is answering the call of SUV-obsessed customers with the introduction of the brand new Ariya, a model that signals a new era for the Japanese automaker.
If the name sounds vaguely familiar, it's because Nissan first presented the vehicle in concept form at the 2019 Tokyo Auto Show last fall.
"The Ariya, a key model in Nissan's plan to roll out 10 new models in 20 months, demonstrates our commitment to meeting customer demand for crossovers with the most advanced electrified, automated and connected technologies," Chief Operating Officer Ashwani Gupta told a global audience during a livestreamed event in Yokohama, Japan.
The company expects sales of hybrid and electric models to surpass one million units a year by the end of 2023. Ariya will play a significant role in attaining that goal.
Four Models
The Nissan Ariya will offer a choice of two drivetrains and two batteries for a total of four configurations. FWD models will use a single motor, while e-4ORCE models will get two.
Demonstrated on a modified LEAF at CES earlier this year, e-4ORCE is a unique AWD system that combines smart and ultra-precise management of the front and rear motors with heavy use of regenerative braking in order to increase control of the car's body movements and optimize handling both in corners and on slippery surfaces. Also, torque vectoring helps the driver maintain the ideal line.
The Nissan Ariya's 63- and 87-kWh batteries provide a range of 321 or 482 kilometres, respectively, based on the automaker's preliminary tests. As for output, single-motor variants are rated at 160 kilowatts (214 horsepower) and 221 pound-feet of torque, while dual-motor units deliver 290 kilowatts (389 horsepower) and 443 pound-feet, resulting in 0-100 km/h acceleration in 5.1 seconds.
Futuristic Design
Based on an all-new EV platform called Alliance, the 2022 Nissan Ariya stands out with futuristic styling that is extremely similar to the original concept. At 4,645 millimetres long (on a wheelbase of 2,776 millimetres) and 1,899 millimetres wide, it's sized like the Rogue yet offers as much interior space as the bigger Murano.
Featuring a new illuminated Nissan logo with 20 LEDs, the closed front grille with kumiko pattern reinvents the V-Motion treatment seen on other Nissan products. It's flanked by vertical apertures in the corners of the bumper and capped by ultra-thin LED headlights.
Other exterior highlights include 19- or 20-inch wheels with a helical design, plus a unique roof spoiler atop the steeply raked C-pillars. By the way, the one-piece taillights have been engineered to give a blackout effect when parked and a consistent red illumination when in use. Also, nine body colours are available including six with a contrasting black roof.
Inside, designers created a lounge-style environment with a flat, open floor, Nissan's slim-profile Zero Gravity seats and an innovative centre storage box with a fold-out tray that doubles as a mobile office or on-the-go picnic table.
The minimalist cockpit is devoid of buttons and switches found in conventional vehicles. Primary climate control functions are integrated into the woodgrain centre dash in the form of capacitive haptic switches that offer the same feeling as mechanical switches by vibrating when touched. Two fully customizable 12.3-inch displays and a colour head-up display provide all the information you need exactly the way you want it. Another cool touch is the illuminated line that circles the cabin and changes colour based on the drive mode.
More Advanced Technology
The 2022 Nissan Ariya ensures high levels of comfort and confidence by providing occupants with the latest Nissan technologies. In fact, it's the most advanced embodiment of the company's Intelligent Mobility philosophy to date.
Next-generation ProPILOT Assist 2.0 semi-autonomous driving technology allows attentive drivers to take their hands off the steering wheel in single-lane highway traffic. It also supports multi-lane highway driving tasks such as lane changes, passing and highway exiting. And with e-Pedal, you can start, accelerate and decelerate using only the gas pedal.
Standard Nissan Safety Shield 360 is a suite of six active safety features that includes Intelligent Emergency Braking with Pedestrian Detection, Blind Spot Warning, Rear Cross Traffic Alert, Lane Departure Warning, High Beam Assist and Rear Intelligent Emergency Braking.  There's also Nissan's Intelligent Around View Monitor, Intelligent Forward Collision Warning and more.
When it comes to connectivity, the human-machine interface lets occupants use natural speech to adjust car settings. Over-the-air firmware updates are possible, wireless Apple CarPlay and Android Auto integration is part of the mix, and Amazon's Alexa assistant can help you simplify and organize your daily life.
The 2022 Nissan Ariya will go on sale in Canada in the second half of 2021. Additional details and specifications for our market will be announced in the next few months. Of course, it's still too early to talk about pricing.
Share on Facebook