2021 Nissan Rogue: A New Hope?
Nissan is going through a pretty rough stretch, but there is hope that the all-new 2021 Nissan Rogue unveiled today will do much good as the freshest entry in the immensely popular compact SUV segment.
The Rogue accounted for 30 percent of the brand's total sales last year despite the outgoing generation being relatively old. You could say there is no room for error with the 2021 edition, which will hit the market this fall and set the tone for soon-to-be-redesigned SUVs including the Qashqai, Pathfinder, Murano, Armada and Nissan's first fully electric SUV based on the Ariya concept.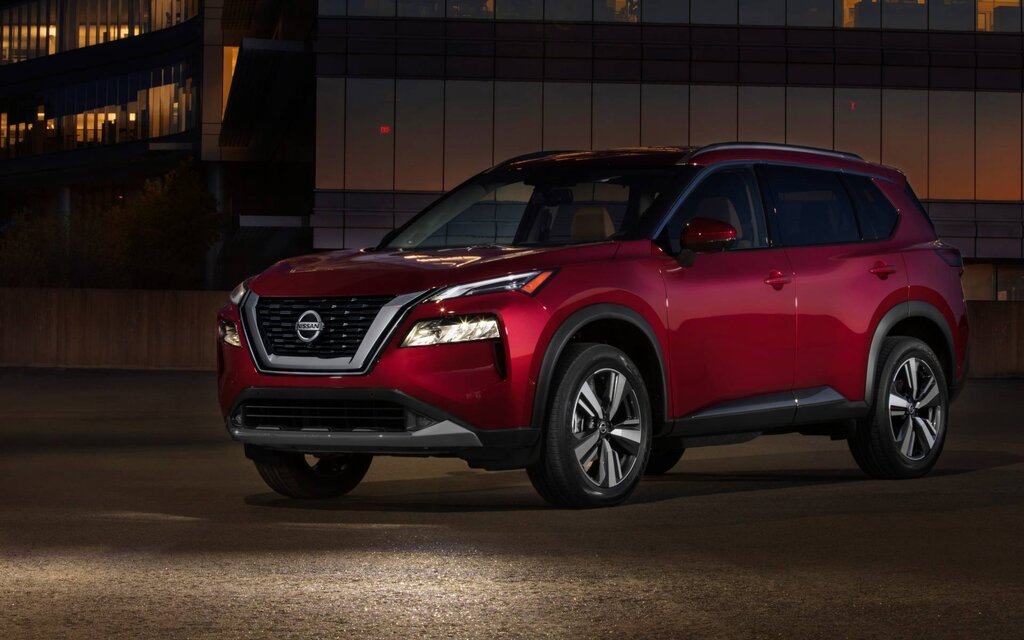 A Big Enough Statement?
The 2021 Nissan Rogue is styled to make a big statement. Heavily inspired by the X-Motion concept introduced in 2018, it sports more angular lines and looks beefier than most other compact SUVs. Some of the design cues have a familiar aspect, such as the headlights which are quite reminiscent of those on the new Hyundai Santa Fe and 2014-2018 Jeep Cherokee, but customers will likely embrace the change.
With better aerodynamics, handling and noise insulation, the next-gen Rogue should be taken more seriously. The front fenders, hood and doors are made of aluminum, the chassis is more rigid than before and the multi-link rear suspension has been completely revised. Expect a smoother and quieter ride mixed with an extra dose of agility, a bit like the newest Altima sedan.
While the 2021 Nissan Rogue promises more character and emotion on the road, don't think it's going to be a blast to drive. Compared to its predecessor, the 2.5-litre four-cylinder engine is barely more potent at 181 horsepower (+11) and 181 pound-feet of torque (+6). It's still mated to Nissan's Xtronic CVT, though the latter has been optimized for a more pleasant feel. Time will tell whether the unit's reliability issues improve at the same time.
A Conservative Approach
Up until now, the Rogue has never managed to stand out from the competition with difference-making innovations. It owes much of its success to its super-attractive price, decent build quality and versatile interior. People looking for performance, excitement or high levels of technology and luxury need to shop elsewhere.
What is the strategy with the new 2021 Nissan Rogue? Once again, you won't find any revolutionary features. Rather, company officials wanted to emulate the recipe they used for the new Sentra, meaning a stylish, well-rounded product offering good value. Taking on competitors above the $40K mark was out of the question.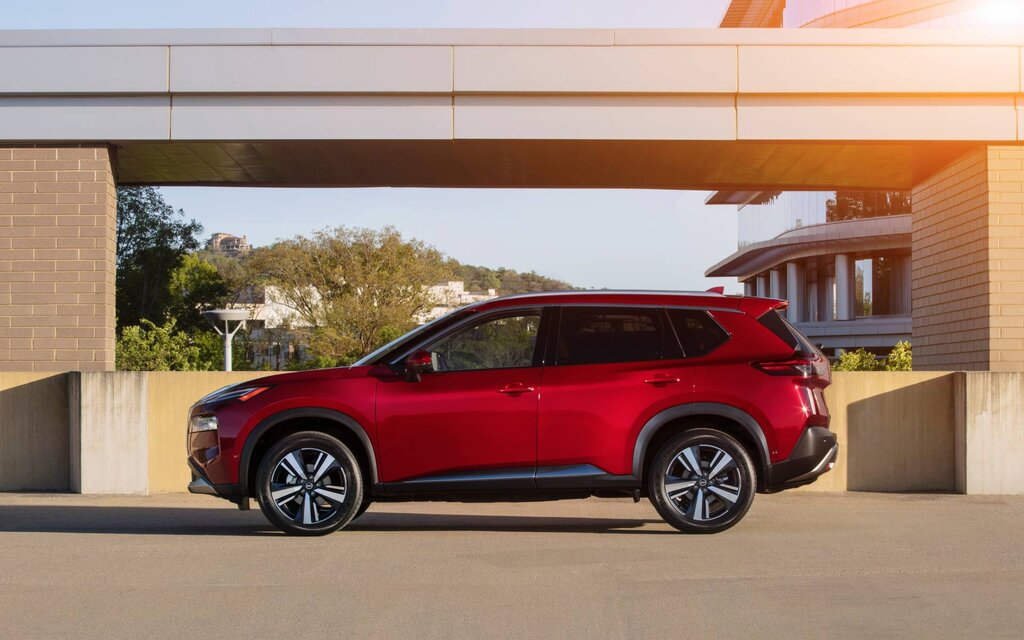 As such, don't look for a bigger engine that would go head-to-head with the Mazda CX-5 Turbo, Ford Escape 2.0L EcoBoost or Kia Sportage SX. And there's no plan for a new gas-electric powertrain following the termination of the unpopular Rogue Hybrid inthe U.S. The bang-for-the-buck proposition would not be attractive enough. As mentioned earlier, Nissan prefers to focus on its upcoming electric SUV.
Tested for Canada
Nissan's team returned to the drawing board to fix some design problems with the outgoing Rogue. For instance, the air intake system and radiator would sometime get clogged by snow and ice buildup, causing the engine to overheat and fail. The new grille with active shutters and "air curtain" system both improve air flow and should eliminate those concerns.
Because Canadian winters are tough, the 2021 Nissan Rogue also comes standard with a heated steering wheel, front seats and side-view mirrors. Some trim levels even offer heated rear seats and tri-zone climate control.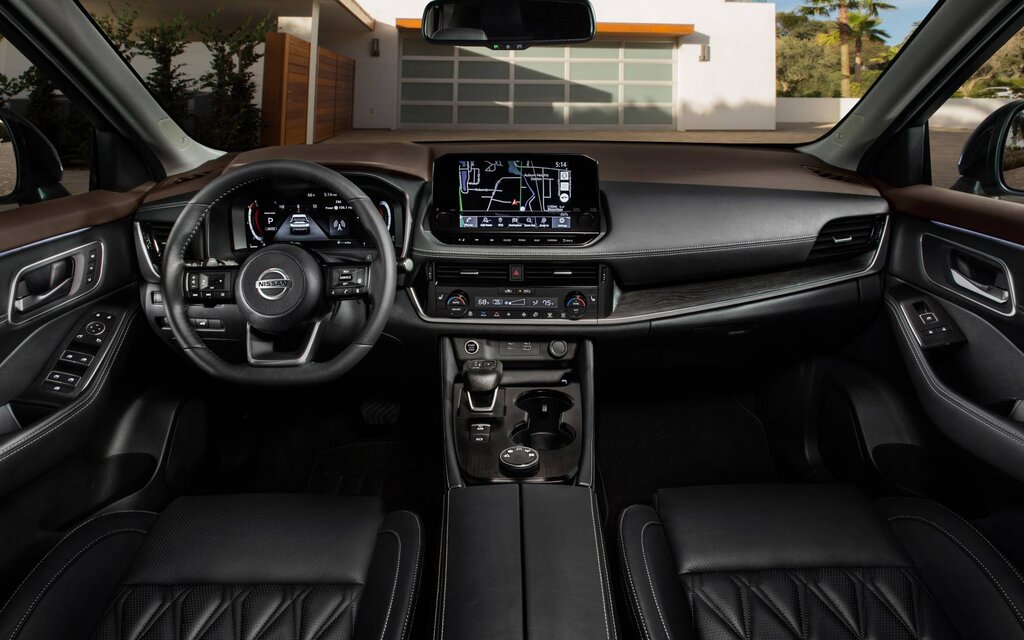 Overall, content has been improved across the line. For 2021, the base S model packs more standard features than the current Rogue Special Edition—tinted windows, alloy wheels, LED headlights, Apple CarPlay and Android Auto, as well as Nissan's Safety Shield 360 suite of active safety systems.
The more upscale SV model adds a panoramic roof, remote start, 18-inch wheels and improved ProPILOT Assist semi-autonomous driving technology, while the top-line Platinum boasts diamond-quilted leather seats, 19-inch wheels, a 12.3-inch virtual instrument cluster, a 10-speaker Bose sound system and ProPILOT Assist with Navi-Link (navigation map data can now provide the ability to proactively reduce speed for upcoming highway curves or junctions and also help the driver slow for highway exits).
All-wheel drive is optional in S and SV trim, standard on Platinum. Furthermore, the new Rogue gets a drive mode selector allowing drivers to alternate between Standard, Eco, Sport, Off-road and Snow (the last two are reserved for AWD models).
Access to the cabin is made easier thanks to rear doors that swing open 85 degrees and a motion-activated power liftgate in Platinum trim. There's more room inside, improved ergonomics and comfort (with additional seating adjustments for the driver) and more generous storage. The most expensive Rogue is also available with a combination of digital displays (including the 10.8-inch head-up display) up to 32.1 inches in size.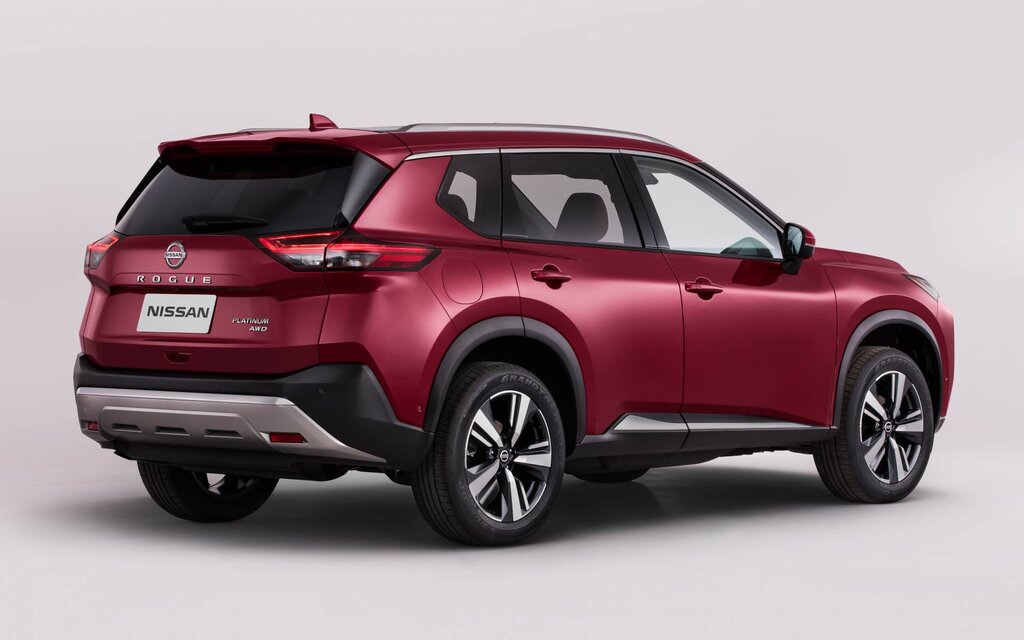 Compact SUVs at War
In 2019, nearly 420,000 compact SUVs were sold across the country, and about a third of those were Canadian-built Honda CR-V and Toyota RAV4 models. The Rogue ranked in fourth place, just behind the Ford Escape, which is struggling a bit, too.
After losing significant market shares in the first half of 2020, Nissan desperately needs the new Rogue to attract more customers. Of course, pricing will be key. The exact MSRPs will be announced closer to launch, but expect an entry point just below $28,000.
While the 2021 Nissan Rogue sure represents a giant leap forward, I personally don't see it as the innovative and "game-changing" vehicle the company is talking about. There is no exclusive design feature or technology that would justify such a label. On the other hand, Nissan has a way of coming up with models and packages that effectively meet the needs of Canadian customers, so it's safe to assume the new Rogue will enjoy plenty of success.
Adapting to the rapidly evolving market will be critical to staying among the leaders, mind you. Most competitors are doing it already. Nissan can't afford to essentially sit still for seven years like it did with the outgoing generation.
Share on Facebook