The 2019 Hyundai Kona Electric is a Guaranteed Home Run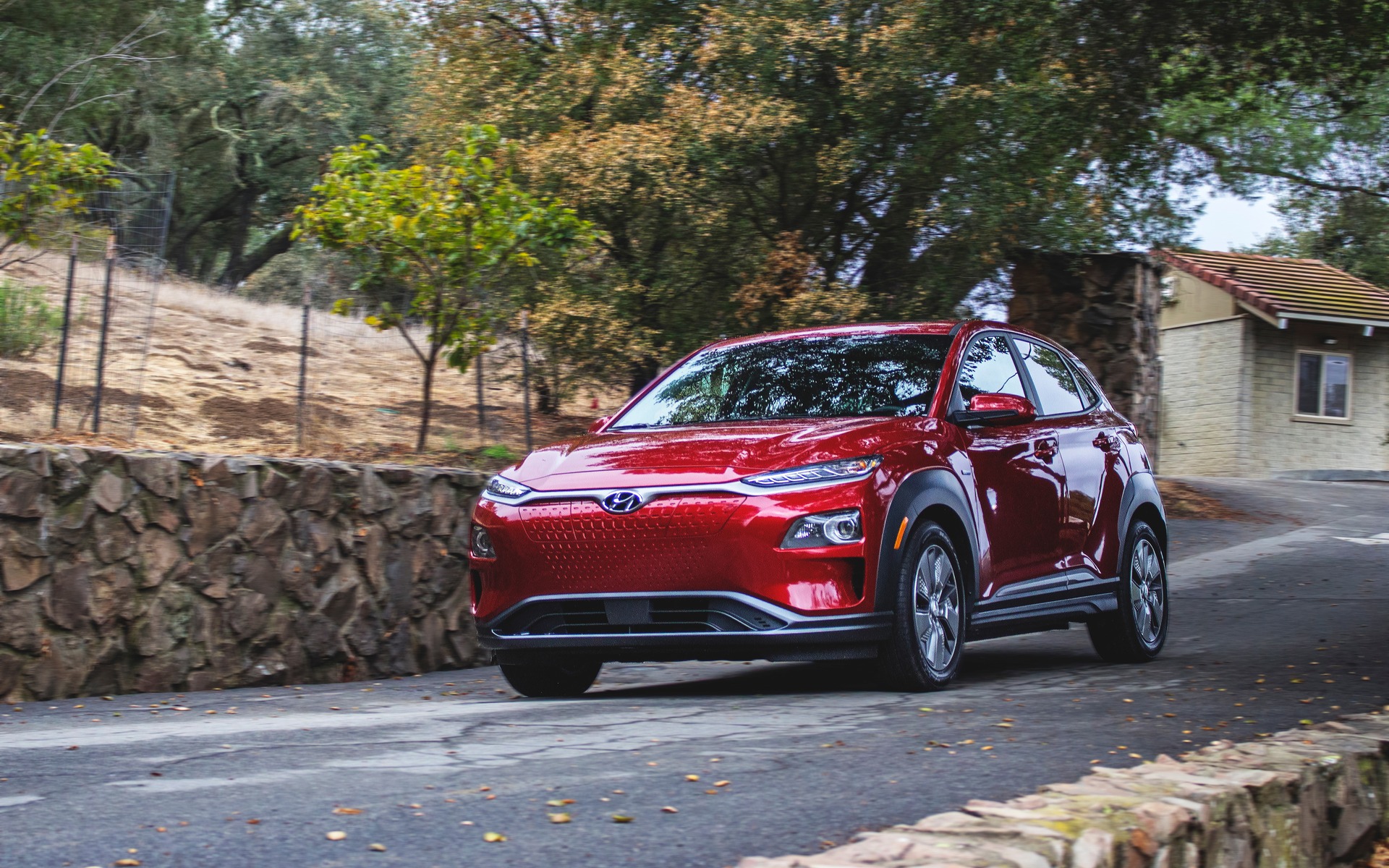 Strong points

Long range
Fun handling and acceleration
Exemplary assembly

Weak points

Tight rear bench
No all-wheel drive
Awkward regenerative braking
Full report
LOS ANGELES, California – The Car Guide has fallen under the spell of the 2019 Hyundai Kona, based on its quality of assembly, versatility, design, driving experience and value—and that's why we have unanimously named it the best buy in the subcompact SUV segment for 2019.
While our journalists debated the issue, we all agreed that the electric version promises to be a resounding success in Quebec. At this point, rumours circulating on the internet and in private fan groups notwithstanding, Hyundai has yet to confirm anything about specifications, official range or price for the North-American market.
That said, we just drove it in California and can confirm that, just like the gas-powered variant, the 2019 Kona electric is a guaranteed home run for Hyundai.
Conservative range
Manufacturers of electric vehicles typically promise a conservative maximum operating range since, as for gas-powered cars, any tests carried out at the plant must take all possible driving and weather conditions into account.
Hyundai says the Kona offers 415 km of range, positioning it ahead of the Chevrolet Bolt EV (383 km) and Nissan LEAF (242 km). As it stands, only Tesla vehicles offer more (up to 500 km).
But unlike Elon Musk's luxury brand, the Kona will sell for a more affordable price. Hyundai still hasn't announced an official price for Canada, since the manufacturer is currently in negotiations with the head office in Korea to set a price that will work in our market. What's interesting is that Quebec is the main argument in the negotiations due to the province's tremendous interest in electric vehicles. Nonetheless, current talks suggest a price of $40,000 or $45,000 for the "basic" Preferred version.
Of course, the Kona electric is eligible for the $8,000 (after taxes) government credit for electric vehicles in Quebec, and $5,000 (before taxes) credit in British Columbia.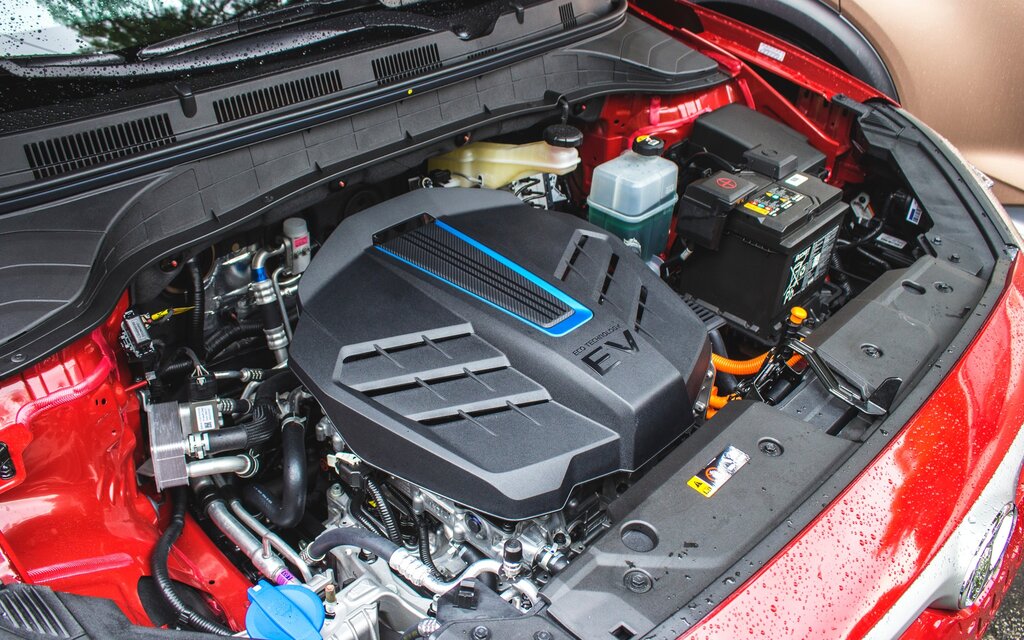 It comes with a 150-kW motor supplied by a 64-kWh battery. The manufacturer claims it produces 201 horsepower and 290 lb.-ft. of torque. They are promising a recharging time of 9 hours 35 minutes if plugged into a 240V Level 2 station and 75 minutes on a fast 400V Level 3 station. Only front-wheel drive is available for now.
To get back to range, when we took the wheel, the on-board computer indicated that we could travel 476 km with a full charge, which is 61 km more than Hyundai has announced. Like we said, the numbers are conservative.
The passenger compartment is very well assembled, with an exemplary finish for the segment, incorporating materials with a high-end look and a modern and refined design. We liked the enormous storage space under the central console used to hide and connect your smartphone. The entirely touch-operated infotainment system is clear, concise and easy to understand, and it includes the most recent technology for connectivity.
The vehicle also features subtle yet trendy gadgets like a head-up display that makes a very cool Japanese robot sound as it retracts into the dashboard.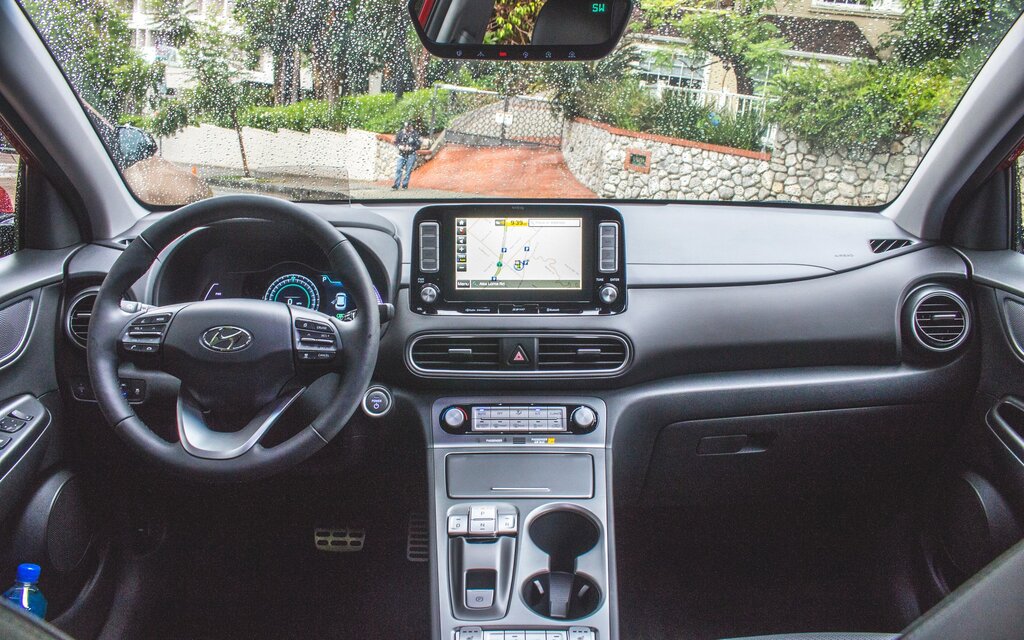 Fun to drive!
Speaking of cool, the Kona looks like an ultra-futuristic speedster straight out of a 1990s sci-fi flick. And on the road, we were thrilled to find a solid chassis and playful handling, which made us want to push it harder in corners. The handling is thanks to the independent rear suspension and the low centre of gravity resulting from the in-floor batteries.
And then there's the instant torque that makes the Kona electric's accelerations absolutely intoxicating! You'd expect an EV to start quickly, but the surprising part is the immediacy of the power delivery, not to mention the fact that the wheels start to screech when you really press the accelerator—even when it's in motion!
Having said that, we didn't love the low-resistance tires, which offer sub-par grip, especially on wet surfaces. The wheels skidded more than we would have liked. Of course, the main goal of this type of tire is to maximize the vehicle's operating range, so it's forgivable. But with such a well-calibrated chassis and high torque from the electric motor, it would be in Hyundai's best interest to come out with a sport version of the Kona electric equipped with suitable tires and rims.
We also have a few complaints about the regenerative braking system, which comes with three levels of resistance and even an autonomous system to adjust its intensity, a little like an adaptive cruise control.
There are paddles on the steering wheel that—a little like in a Mitsubishi Outlander PHEV—help adjust braking energy-regeneration resistance. You can also hold the left paddle down to go directly into B3 mode and stop the vehicle, like in the Chevrolet Bolt EV.
The problem is that when you release the overly sensitive paddle, the system often reverts to B1 mode, or even B2, instead of B0. It's a small detail, but if you want to maximize your range, you will have to pay special attention to this awkward system, since it can create resistance, like when you're driving on the highway.
Nonetheless, this is an extremely good vehicle overall, and it can hold its own compared to the gas-powered version. The trunk capacity is a competitive 544 litres, which is bigger than in the Mazda CX-3 (452 litres), but smaller than in the Honda HR-V (688 litres). However, the Kona electric inherited the same problem as its gas-powered brother: the rear bench is tight. If a passenger taller than six feet is seated in front, you'll probably have a hard time getting into the back!
But hey, it's hard to hate the 2019 Hyundai Kona electric. It's cool, fun, attractive and—once it arrives at dealerships in January 2019—promises to offer the most range for an EV under $50,000. That's what I call solid value for consumers.
Share on Facebook