Hyundai Goes Electric Again… with a Double-Decker Bus!
Hyundai is starting to build quite a resume when it comes to electric vehicles.
After launching the IONIQ, the first car ever to offer hybrid, plug-in hybrid and all-electric variants on the same platform, and impressing the entire world with the Kona Electric, which provides a range of up to 415 kilometres for less than $45,000, the Korean automaker made a big statement this week.
And by "big," we mean an electric double-decker bus.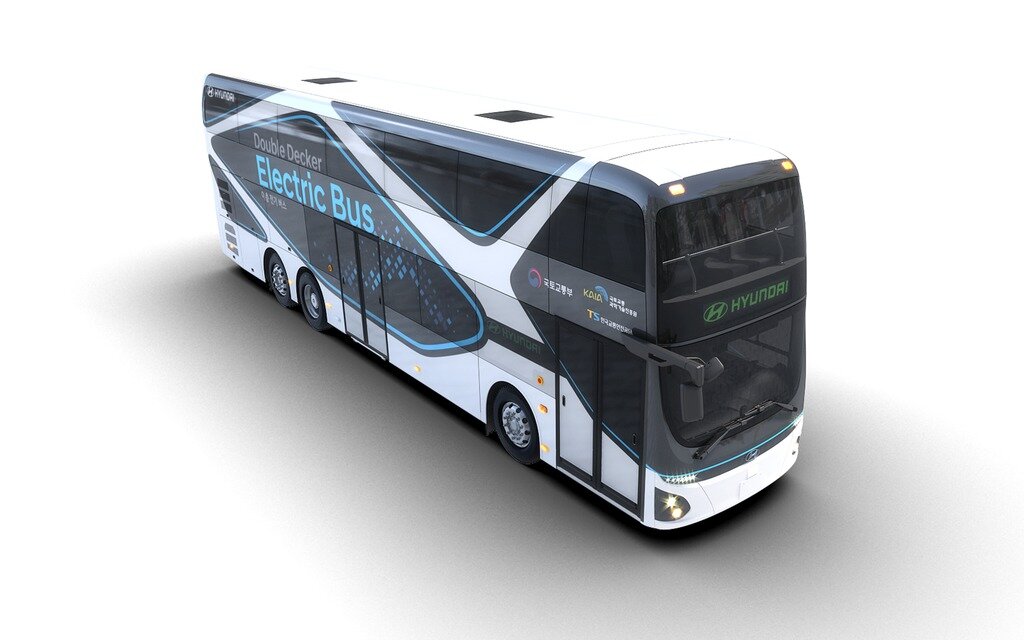 That's right: Hyundai has worked for the past 18 months on a project supported by the Korean Ministry of Land, Infrastructure and Transport. Their 70-passenger bus (11 seats on the first floor and 59 seats on the second floor) is equipped with a massive 384-kWh, water-cooled, high-efficiency polymer battery allowing it to cover a maximum of 300 kilometres between stops at the charging station. Incidentally, a full charge can be completed in just 72 minutes.
The large electric double-decker bus is nearly 13 metres long and four metres high. It runs on an independent suspension system in the first driving axle for a more comfortable ride, and a 240kW wheel motor axle combined with a motor in the second axle that minimizes loss of electricity. A rear-wheel steering system works in conjunction with the steering system of the first axle, optimizing handling.
Safety features include stability control, forward collision avoidance assist and lane-keeping assist. There are also various solutions designed to improve accessibility for the disabled, like a low floor, an automatic sliding ramp and two fixed-in-space wheelchairs.
Hyundai's electric double-decker bus will eventually be implemented across South Korea to help the country reduce traffic emissions and congestion in cities.
Share on Facebook