2019 Hyundai Veloster N: The Firecracker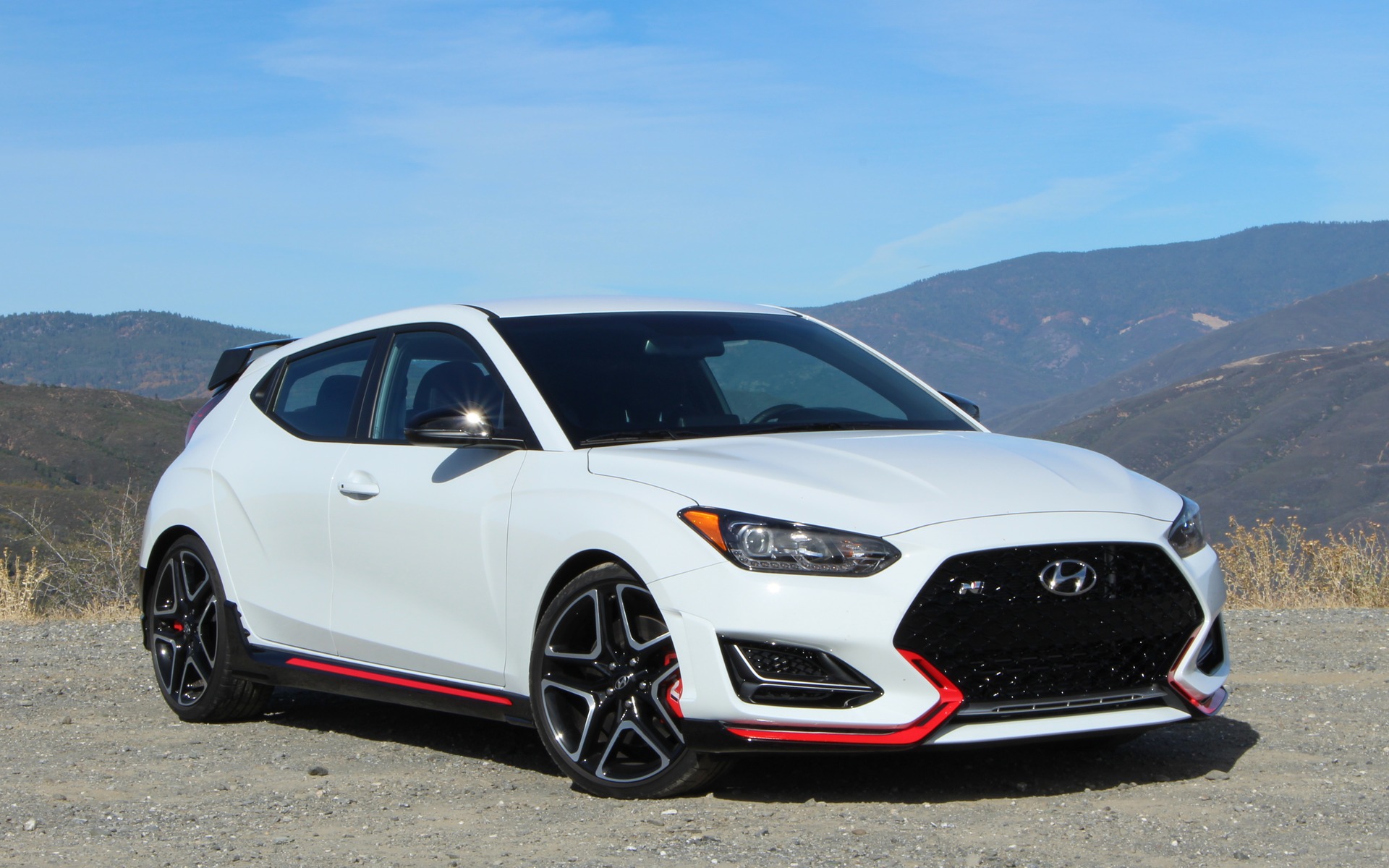 Strong points

Muscular and throaty engine
Impressive handling characteristics
Looks racy without being overdone

Weak points

Poor outward visibility
No advanced safety features (if that's important to us)
Some cheap interior plastics
Full report
SACRAMENTO, California – The sport compact car segment has been going strong for about 40 years now, as the Volkswagen Golf GTI was—and still is today—considered the benchmark vehicle. Rivals from across the globe have come and gone, but Korea had yet to produce a worthy contender. Until now.
By creating the high-performance N division, Hyundai is trying to prove that not only can it offer value-packed cars and SUVs for the average consumer, but it can provide an exhilarating driving experience as well. And to accomplish that, the company hired Albert Biermann—who previously worked at BMW M. The first N model to hit the market was the Hyundai i30 N, the European equivalent of our Elantra GT. However, the North-American market had to wait for the car we see here: The 2019 Hyundai Veloster N.
What does N stand for? Namyang, Korea, where these high-performance machines were designed and engineered. However, the company also seems to be comfortable with people thinking it stands for Nurburgring, where the cars were flogged and fine-tuned.
The Veloster N's pièce de résistance is the turbocharged and direct-injected 2.0-litre four-cylinder engine stuffed under its hood—the same one as in the i30 N. It develops 275 horsepower as well as 260 pound-feet of torque between 1450 and 4700 rpm. It's not the most power-dense 2.0L engine out there, but these are hefty numbers nonetheless.
Hyundai has declared war on the Volkswagen Golf GTI and the Honda Civic Type R specifically, but we could also throw in all performance cars in the $30K to $40K range, and that includes the Subaru WRX, the Subaru BRZ, the Toyota 86, the Nissan 370Z and four-cylinder versions of the Ford Mustang and Chevrolet Camaro.
A base trim with 250 horsepower will be available for the U.S market. However, their Performance Package upgrade will be standard-issue for Canada. In addition to a mandatory six-speed manual transmission with downshift rev matching (which can be turned off for heel-and-toe experts), the 2019 Hyundai Veloster N is fitted with a beefed-up clutch, hydraulic power steering, a MacPherson front and multilink rear suspension as well as oversized brakes with 345-mm discs up front and 314-mm discs at the rear. The car also gets extra body welding and underhood bracing for greater torsional rigidity.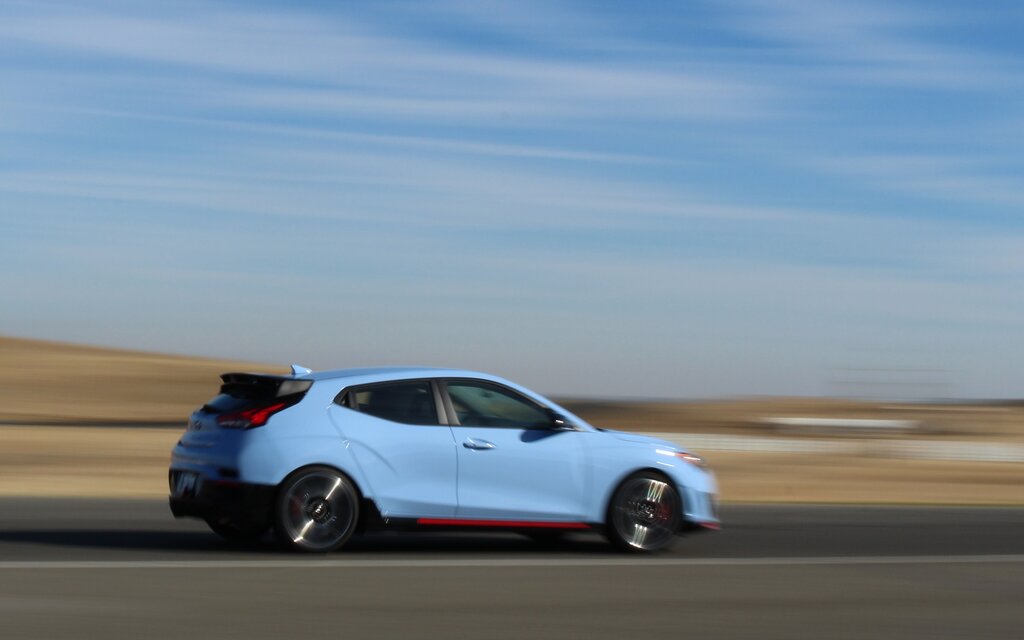 Oh, and the Veloster N is front-wheel driven.
With all that muscle available low in the rev range, blastoffs should normally be accompanied by some serious torque steer, as the front wheels scramble to send power to pavement and control the car's trajectory as the same time. However, there's actually very little of it, thanks in part to the company's newly developed, N Corner Carving limited-slip differential. On the other hand, Biermann told us that it's actually good to have some torque steer, giving us a better feel of what the car is doing.
We're expecting a 0-100 km/h time of less than six seconds, but Biermann pointed out that N vehicles aren't about straight-line performance, but rather driving excitement.
In addition to the suspension and steering tuning, the car also includes drive modes, which the company calls its N Grin Control system. It features Normal, Sport and Eco modes, quickly accessible via a big, blue button located on the steering wheel. Beside it is another blue button that activates the N mode, which can be customized as well. The latter sharpens everything up even more, firms up suspension and steering, and switches on a throatier exhaust growl. Some artificial engine sounds are sent into the cabin and can't be turned off, but at least they aren't off-putting.
When the Veloster N accelerates—using the launch control system or not—the exhaust pops and crackles as we lift our foot from the throttle to upshift or coast down. On the long and challenging track at Thunderhill Raceway, located in the Sacramento Valley and which includes some spooky blind corners, we were able to put the car through its paces, and it didn't disappoint.
The 235/35R19 Pirelli P Zero tires developed specially for N vehicles, which can be identified by a small "HN" logo on its sidewall, provide good grip and overall, the little hatchback is easy to drive hard. Some might criticize Hyundai for not offering AWD here, but it would just add weight and complexity without making the car more amusing. As far as handling goes, there's a big difference between the N and the 201-horsepower, tamer Veloster Turbo.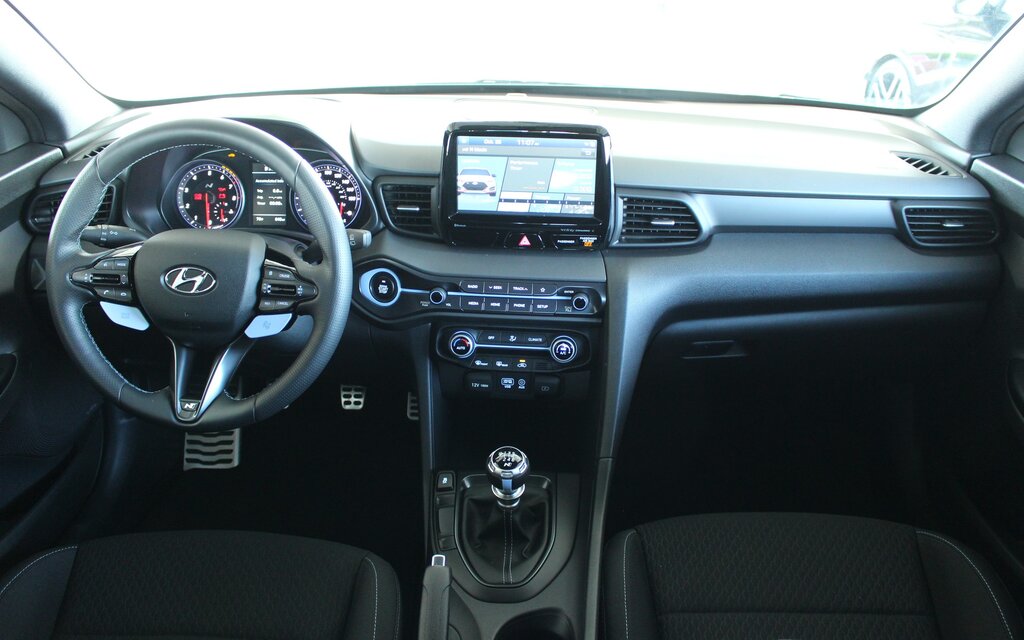 In Canada, heated front seats, a heated steering wheel and an infotainment system with eight-inch touchscreen as well as Apple CarPlay and Android Auto integration are standard. However, it's stripped of advanced safety features such as blind spot monitoring and precollision warning, which can be had in other Veloster variants. The N's cloth sport seats were developed in-house and although they lacked lateral support on the track, they're bolstered just right for everyday driving on public roads and will suit various body types—unlike some Recaro seat models.
The Veloster N can be painted Phantom Black, Chalk White or Performance Blue for the Canadian market, but we won't be getting Racing Red that's available in the U.S. The N variant can be easily identified from lesser Veloster trims by its exclusive two-tone alloy wheels, more aggressive lower-body trim with red striping, and rear wing. The overall package is racy, but not overdone (we're looking at you, Civic Type R).
Hyundai Canada announced an MSRP of $34,999 before freight and delivery charges, which makes the Veloster about $6K cheaper than a Civic Type R and $4,500 more expensive than a base Golf GTI (A GTI Autobahn is $36K). It's also planning to import only 100 to 200 units in the country for the 2019 model year, which sounds cautiously conservative.
When we published the N's price on our Facebook page, our trusty readers were quick to point out that the late, beloved Hyundai Genesis Coupe 2.0T boasted 274 hp and was priced at less than $30K. True, but the Veloster N is lighter, faster and handles much better.
Overall, the 2019 Hyundai Veloster is an impressive little performance machine. It delivers on its promise of delivering driving pleasure, it can be loud and obnoxious at the touch of a button, but tame and more comfortable for the daily commute, too. Will it topple the GTI off its pedestal and send the Civic Type R back to the drawing board? No, but it proves that the Korean manufacturer can produce a car that's just as enticing.
Oh, and don't be surprised to see other N-badged models appear in the near future. Does a Hyundai Kona N sound like an interesting proposition?
Share on Facebook