2019 Hyundai Tucson: Staying in the Game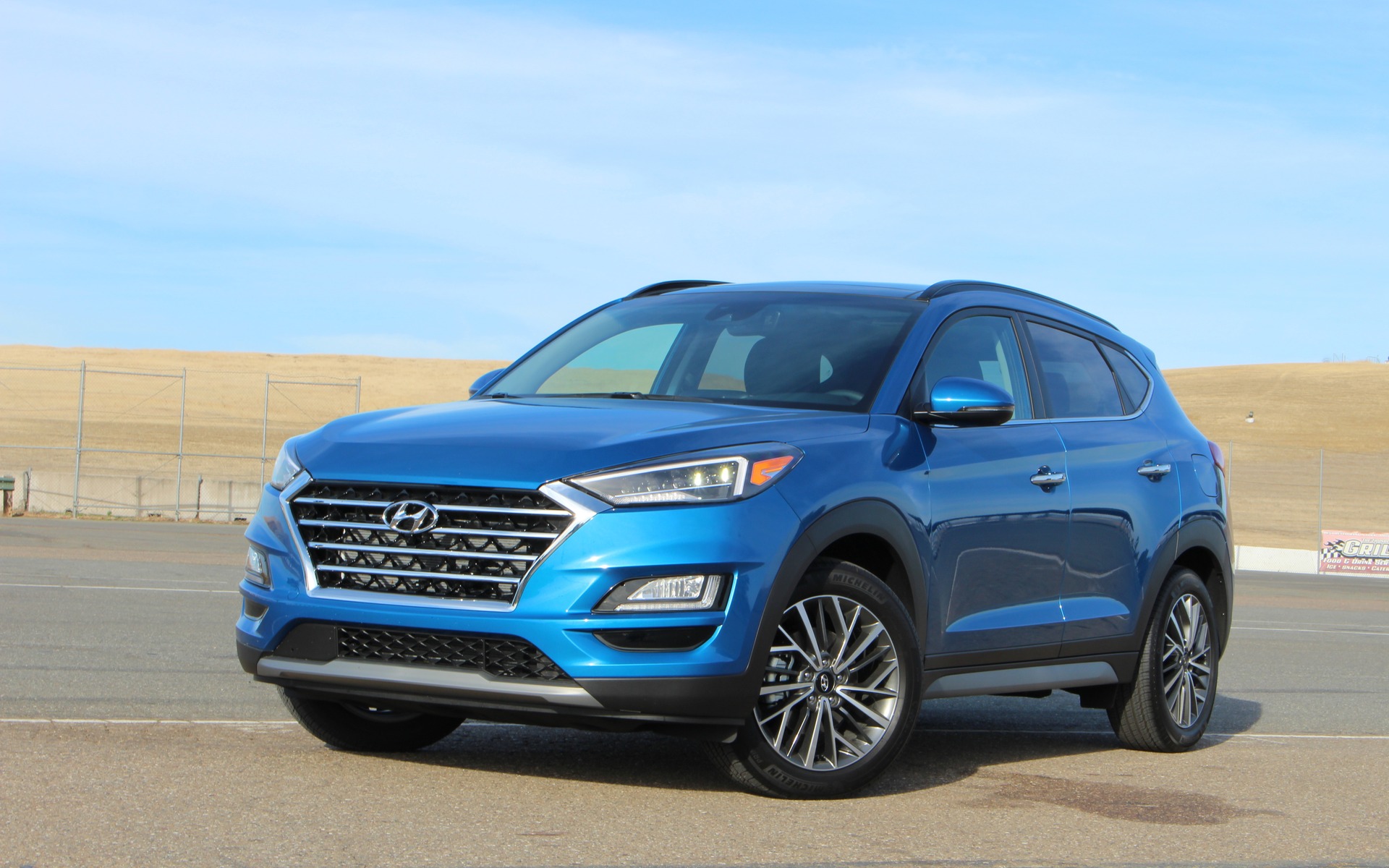 Strong points

Comfortable ride
More standard features
Well-adapted 2.4-litre engine

Weak points

Fuel economy could be better
Infotainment touchscreen a far reach
Limited rearward visibility
Full report
SACRAMENTO, California – During the media launch of the 2019 Hyundai Veloster N, a 275-horsepower pocket rocket that will seek to steal some sales away from the Volkswagen Golf GTI and Honda Civic Type R, the Korean brand also gave us the opportunity to try out the 2019 edition of its popular Tucson compact SUV.
The latest generation of Hyundai's best-selling utility vehicle in Canada was released for the 2016 model year, and has just received a host of improvements in addition to some mild cosmetic changes in order to remain competitive in a segment that includes the Honda CR-V, the Nissan Rogue, the Toyota RAV4 and the Ford Escape, just to name a few.
The 2019 Hyundai Tucson's grille boasts sharper edges, the headlight clusters and taillights have been redesigned, and so have the bumpers and alloy wheels. It's tough to spot the differences, but this nip and tuck will keep the SUV looking fresh for a few more years.
The biggest change can be found under the hood, as the turbocharged, 1.6-litre upgrade engine and its dual-clutch, seven-speed automatic transmission have been ditched in favour of a 2.4-litre unit matched to a six-speed automatic. The new engine develops 181 horsepower, six more than what the old turbo mill could muster, but torque is down by 20 pound-feet. It's also 17 hp up on the base 2.0-litre four that is still on duty, and includes automatic start/stop for saving a few drops of fuel at stoplights.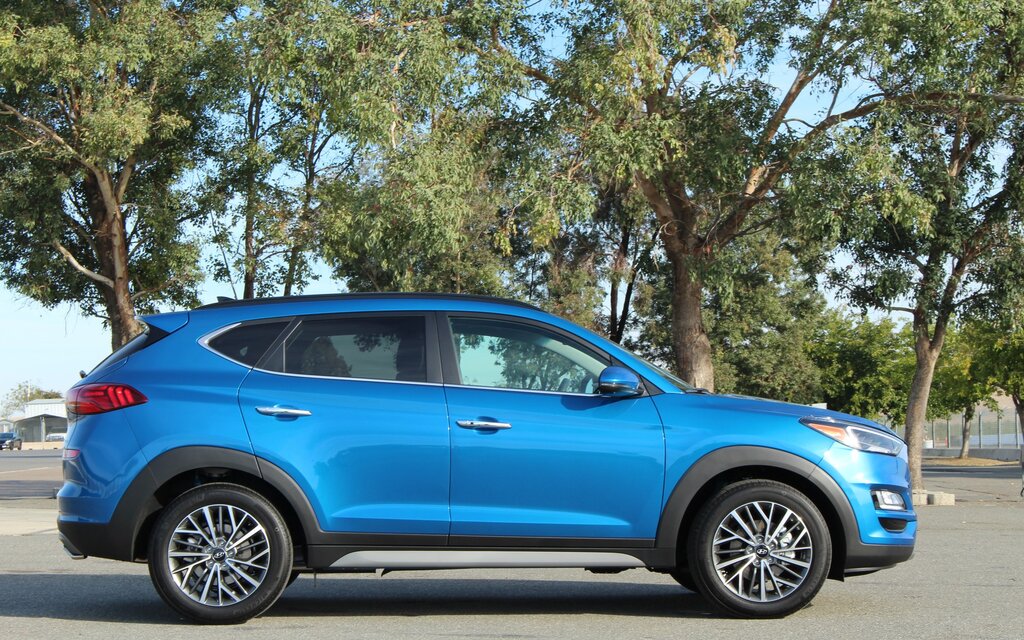 The bigger engine doesn't really provide more gusto to the Tucson than last year's turbo, but power delivery is more linear and the engine is more refined. In a family-oriented vehicle such as this one, the new powertrain seems better suited, and the 1.6L mill had trouble delivering the promised fuel economy in real-world driving conditions. Not to mention that turbochargers and dual-clutch gearboxes could require higher maintenance costs for long-term ownership, no matter the brand or type of vehicle.
Fuel consumption numbers aren't yet available for the Canadian-spec Tucson, but in the U.S., the EPA combined city/highway ratings are set at 23 mpg (10.2 L/100 km) for both the 2.0L and 2.4L engines connected to the all-wheel drivetrain. During our drive on the flat roads and highways of Sacramento Valley, we averaged about 9.0 L/100 km.
As before, the Tucson offers a quiet cockpit, despite some suspension noise on city streets. As is the case with almost all Hyundai products, there's a drive mode system with a Sport setting that quickens throttle input and gear changes, but it doesn't make the Tucson any more amusing to drive. Most owners will probably never use this feature anyway.
The 2019 Hyundai Tucson also benefits from a redesigned dashboard with a floating infotainment touchscreen—now seven inches in diameter on every trim level. A rear-seat USB port and wireless phone charging are now available, too. Other new features include lane keep assist, a 360-degree camera system, adaptive cruise control, driving attention warning and high beam assist. Uplevel items such as leather upholstery, ventilated front and heated rear seats, a panoramic sunroof, dual-zone climate control, a heated steering wheel, a power liftgate, blind spot monitoring and forward collision warning are all still available.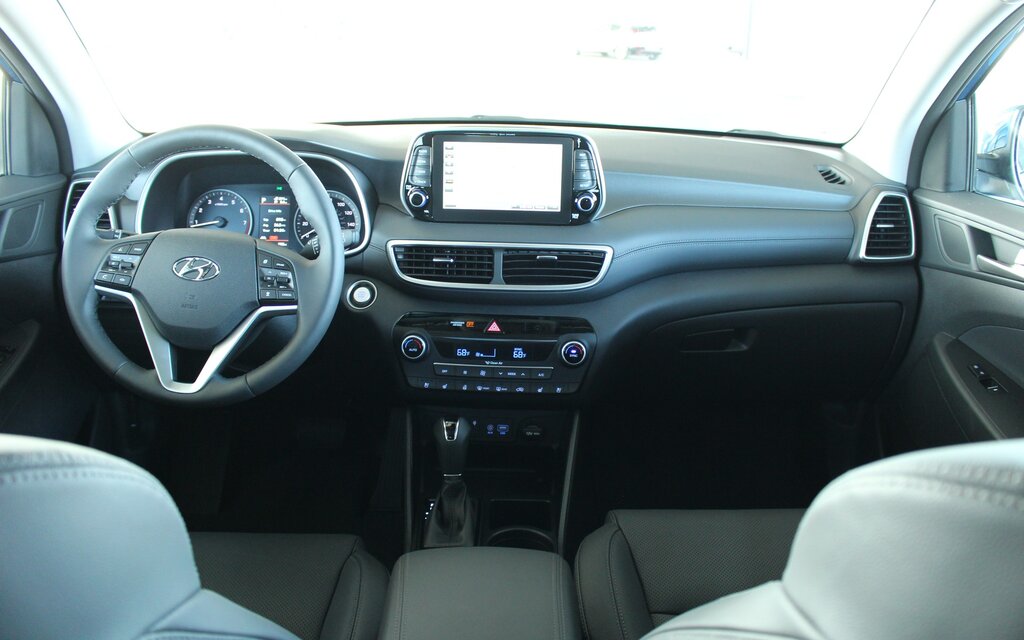 Canadian pricing for the 2019 Hyundai Tucson has just been announced. The compact SUV will go on sale this winter starting from $25,599 before freight and delivery charges, while the loaded Ultimate variant will retail for just under $38K.
It's hard to find and glaring shortcomings in the Tucson. Fuel economy isn't as great as in the CR-V, the Rogue and the RAV4, but it's not the worst either. Same goes for cargo space, and while we're at it, driving excitement.
However, the Tucson offers great value, a comfortable cockpit for families and plenty of connectivity and infotainment features to stay in the game. It's an SUV that's easy to live with, and that's likely what shoppers most appreciate. The improvements Hyundai made to the 2019 edition may not be major, but there's no use fixing what isn't broken in the first place.
Share on Facebook