Here's the All-new 2022 Hyundai Tucson!
We're eagerly awaiting the launch of the fourth-generation Hyundai Tucson, especially since global vice president of design SangYup Lee said last year that "the whole world will freak out" when they see it.
Well, the wait is over. The Korean automaker today released the first official pictures of the 2022 Tucson.
The vehicle is remarkably similar to the teasers we've been given so far and even somewhat to the striking Vision T concept introduced at the 2019 Los Angeles Auto Show. Make no mistake: what you see here is indeed a production model.
Hyundai designers went bold by creating a jewel-like grille that perfectly integrates the LED daytime running lights on each side in what they call "Parametric Dynamics." With a highly sculpted exterior featuring numerous angular surfaces and character lines, they also added a new dimension to the "Sensuous Sportiness" design philosophy inaugurated by the new 2021 Elantra, aiming to generate emotion among future customers. Does it work for you?
The new Tucson's body is longer and wider than previous-generation models, offering a long hood and short overhangs on a stretched wheelbase. The sporty-looking wheels and fancy LED taillights, the latter connected by a full-width light bar, further push the design envelope.
Hyundai also provided a sketch of the dual-cockpit interior, which puts the driver and front passenger into well-defined spaces emphasized by the ridge atop the dashboard. Of course, the main highlight is the huge central panel that combines a slick display with touch-sensitive controls. There doesn't appear to be any physical controls, which has us a bit worried.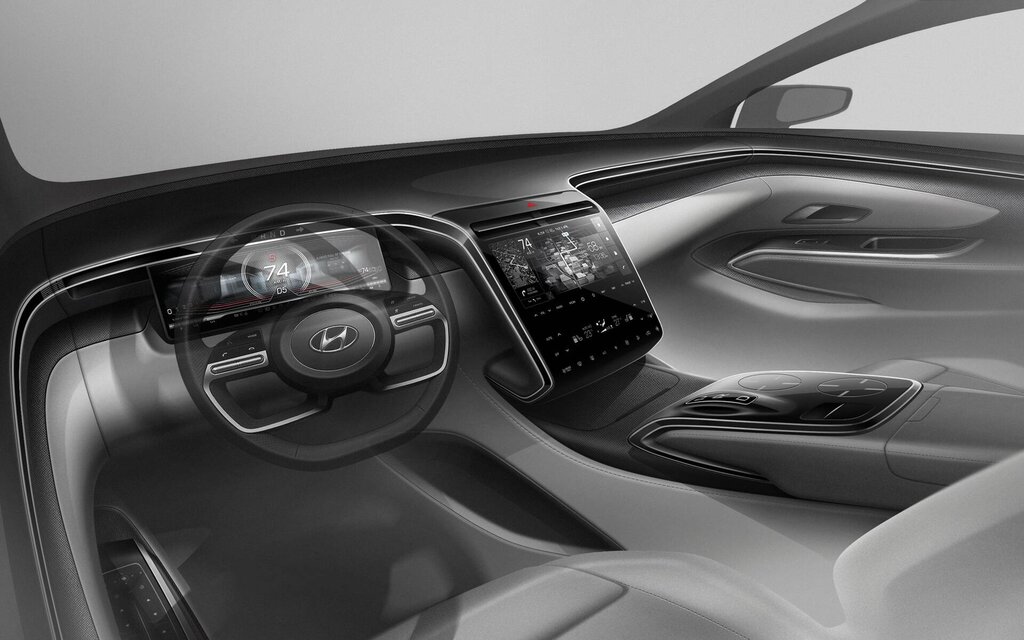 In this super-clean layout, a wide digital panel replaces all the instruments behind the steering wheel. The centre console is no different, substituting the traditional shifter with simple, flush-mounted controls and offering two cup holders that remain beautifully closed when not in use.
The all-new 2022 Hyundai Tucson will be officially unveiled in a virtual world premiere on September 14 at 8:30 pm EDT. Mark your calendar!
Watch: 2021 Hyundai Elantra N Line is Coming
Share on Facebook