2019 Hyundai Veloster: Once Gone and Now Returning Stronger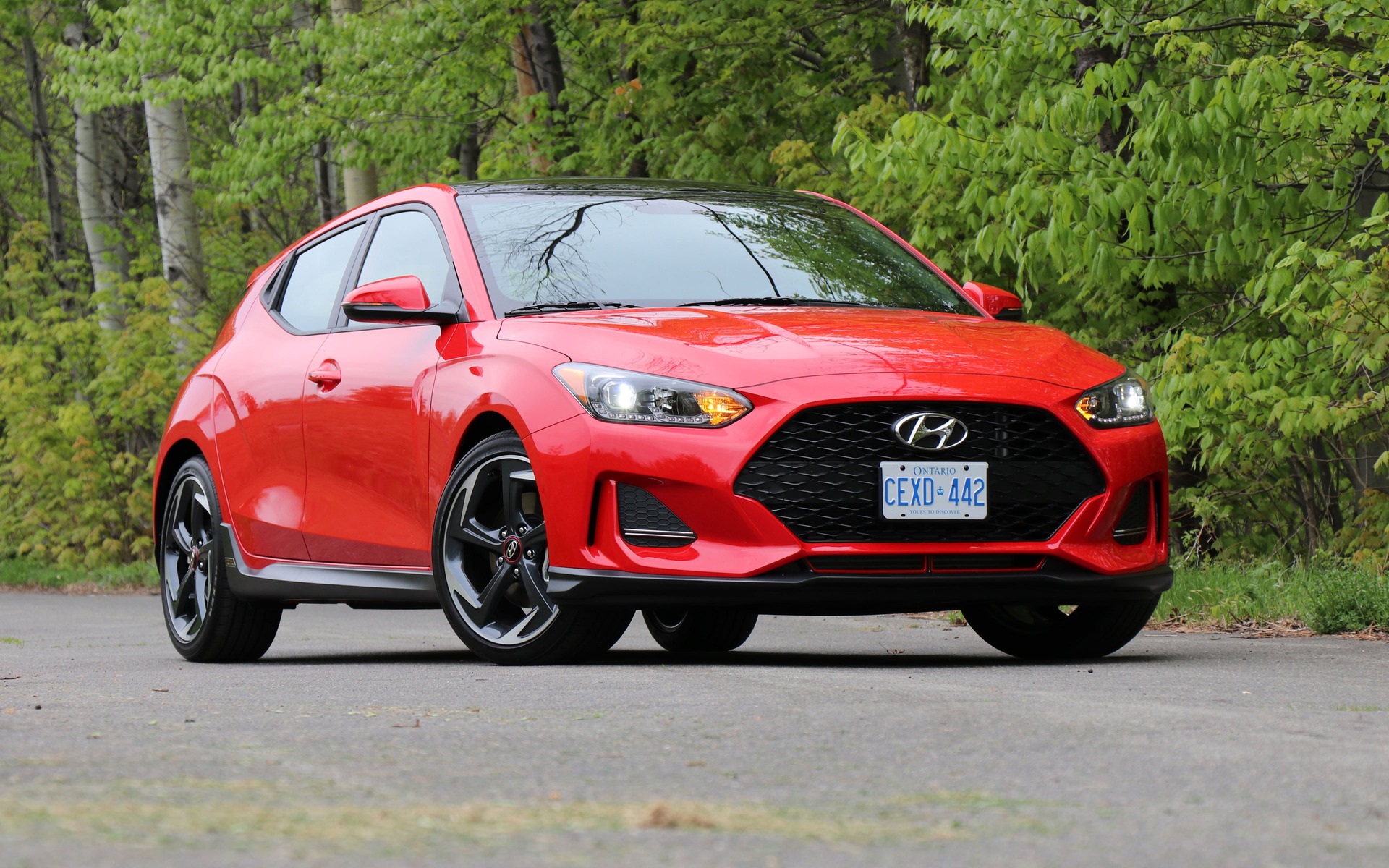 Strong points

Distinctive looks
Surprisingly fun driving experience
Attractive price

Weak points

Lack of noise insulation around the wheel wells
Slow response from DCT under acceleration
Slightly vague steering
Full report
It disappeared for the 2018 model year and we thought we would never see it again. After all, sales of the Veloster had become marginal, as is the case with most of its direct competitors. So, why does Hyundai insist to bring the little coupe back?
Because unlike some manufacturers, Hyundai wants to appeal to everybody, not just SUV/CUV buyers. Of course, they happily brag about their four utility vehicles, but there's still a strong desire to produce compact and subcompact cars that stand out in the market.
Due to its eye-catching style, the Veloster plays a major role in Hyundai's lineup, kind of like a halo car for the Korean brand. Now in showrooms, the second generation has evolved into a more technically convincing product.
Great looks
Slightly longer and wider than its Accent-based predecessor, the new 2019 Hyundai Veloster is built on the same platform as the European-designed Elantra GT. The unique door configuration remains (one on the driver's side, two on the passenger's side), not only giving the car a distinctive appearance, but also making access easier for rear passengers. Speaking of practicality, cargo room has increased 22 percent and the rear hatch no longer features a split window, improving visibility.
While retaining its muscular looks, the Veloster further stands out with a more aggressive front fascia, a selection of 18-inch wheels, a diffuser that's neatly integrated at the bottom of the rear bumper and centrally mounted twin tailpipes. Several body colours are available including a new black roof option. Matte grey paint can still be specified for $1,000.
Inside the 2019 Hyundai Veloster, attention to detail is remarkable. You can even opt for a cream-coloured leather interior with red accents, making the cockpit quite distinctive. Most people will select black seating surfaces with red or blue stitching, however. The seats are equal parts comfortable and supportive, while the dashboard impresses with flawless ergonomics.
Obviously, headroom is limited, particularly in the back, but designers have thought of everything to create a cozy and visually dynamic environment for occupants. The list of features and amenities is a comprehensive one, even in base trim. Look for heated seats and steering wheel, Apple CarPlay and Android Auto integration, blind spot monitoring and the now-mandatory rear-view camera.
Long live the manual gearbox!
Great news: each of the three 2019 Veloster trims offers a manual gearbox. It's a fun, driver-friendly unit that allows you to make the most of the available power. The base engine is a 2.0-litre four cylinder rated at 147 horsepower, but Hyundai expects most customers to prefer the 1.6-litre turbocharged engine that generates 201 horsepower (another component shared with the Elantra). This sweet-sounding mill operates with more enthusiasm and boasts a nice power band.
Going with the manual is your best option since the dual-clutch transmission (DCT) suffers from serious lag when taking off. Once up to speed, however, the latter proves sharp and results in better fuel economy. For the record, I averaged 7.3 L/100 km during my test drive around town and across the Laurentides region. Not bad at all.
On the road, the 2019 Hyundai Veloster is playful and quite stable. The various drive modes allow you to adjust performance based on your preferences, although the differences can sometimes be negligible. Blessed with an ultra-rigid chassis, the car rides on a new, lighter suspension featuring revised geometry for superior handling. Incidentally, the rear torsion beam has been replaced by a fully independent setup.
Cornering performance is enhanced with a torque-vectoring system that applies slight braking to the inside wheel. You can definitely feel the Veloster being more agile, even at low speeds. My only complaint comes from the lack of noise insulation around the wheel wells. Steering is still a bit vague, too. As for the standard Nexen tires, they are louder and not as sticky as the Michelin Pilot Sport 4 tires included in the Performance Package.
N
For those who want more than 201 horsepower, Hyundai will soon hit the market with a high-performance Veloster N producing 275 horsepower. This model will take on the MINI John Cooper Works, Honda Civic Type R and Volkswagen Golf GTI, three powerful and sporty compact cars without all-wheel drive. When it goes on sale this fall, expect the brand's image to be injected with a strong dose of attitude, while new luxury models from the Genesis division continue to push it upscale.
In the end, the 2019 Hyundai Veloster has two big advantages over the competition: a five-year comprehensive limited warranty and a very reasonable price even for one of the better equipped models. The rebirth of the little coupe seems to be on the right track and I predict Hyundai will sell a lot more units than last year, especially with gas prices at around $1.50 per litre…
Share on Facebook