2019 Hyundai Veloster Turbo: a GT, but not a GTI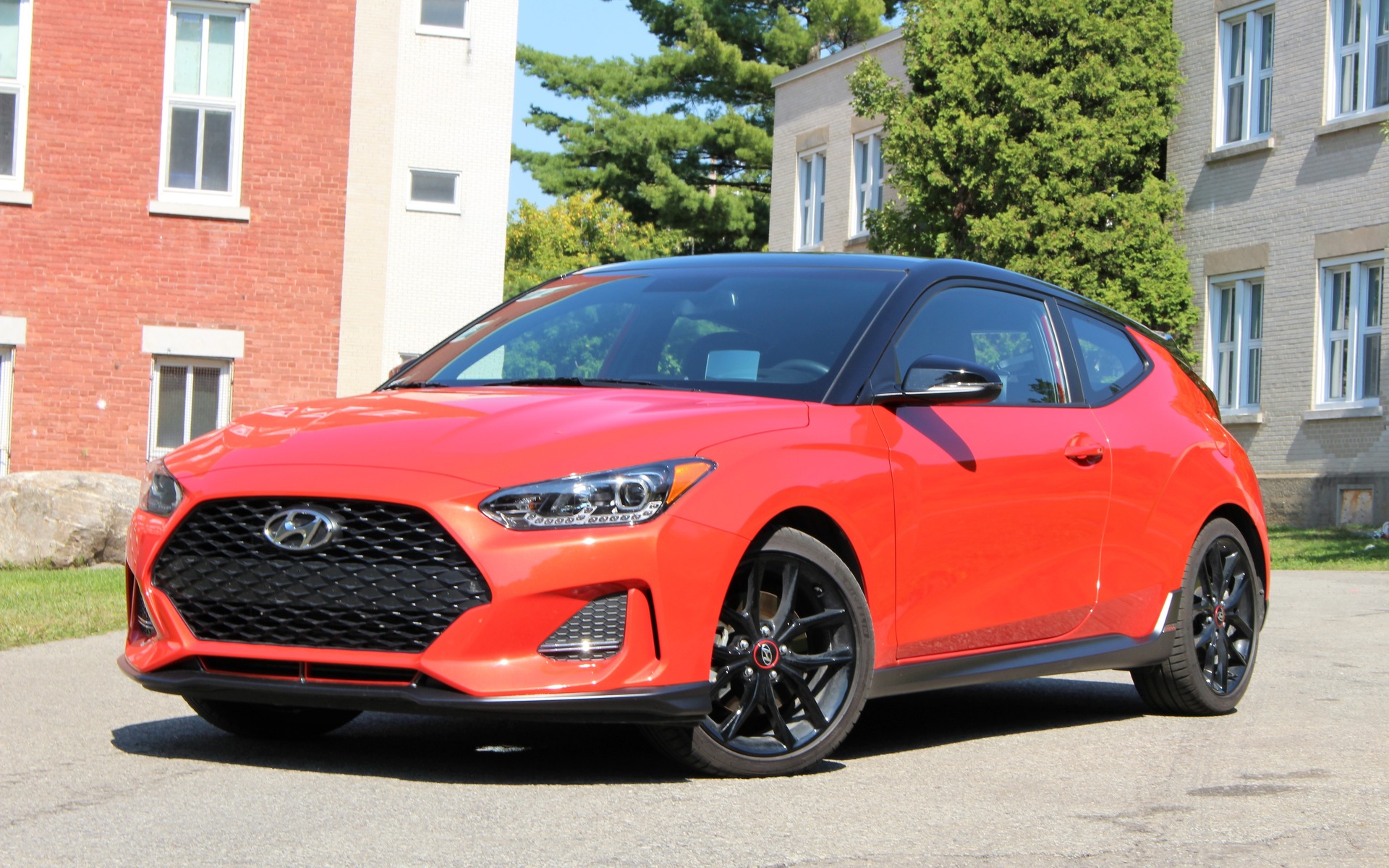 Strong points

Priced to sell
Racy looks
Impressive standard feature list

Weak points

Stiff suspension (Turbo)
Poor outward visibility
Tight back seats
Full report
The Hyundai Veloster is a peculiar little beast. It arrived on the market for the 2012 model year and stunned the compact-car landscape with its offbeat design, and especially its asymmetrical door layout.
Despite its modest architecture, the Veloster boasted surprisingly amusing driving dynamics, although its 1.6-litre, four-cylinder borrowed from the Hyundai Accent provided 138 horsepower, but a thin layer of torque. Sales took off immediately, but cooled down after a while.
To keep the Veloster on boil, the company released the Turbo with a force-fed, 1.6-litre engine that produced 201 horsepower and 195 pound-feet of torque. The little sportster now had the muscle to go with its agility. Still, its economy-car roots had its limits, and the Veloster never came close to rivalling a Volkswagen Golf GTI on a twisty country road.
For the 2019 model year, the Veloster received a major overhaul and getting the Elantra's 147-horsepower engine as a base powerplant. The turbocharged mill is still available, and the mighty 2019 Hyundai Veloster N has just been released as well. Is the new car better than the old one? Absolutely.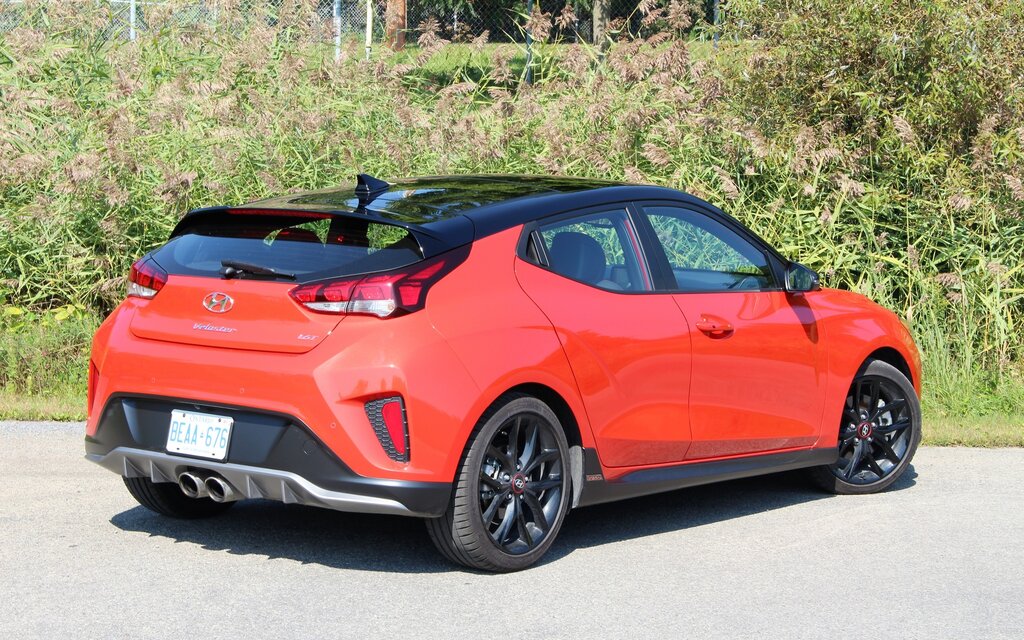 While the rear end is less chunky and the wheel arches have been toned down, the general shape of the Veloster is still instantly recognizable. The single driver-side door and two passenger-side doors are still there, because Hyundai couldn't mess with the Veloster's most unique, signature characteristic.
That rear door is obviously there to make entering and exiting the back seat easier, and the lack of a driver-side rear door allows for a longer one up front, which also helps getting in and out. On the other hand, this doesn't make the Veloster more practical, as legroom is tight back there, and there are only two seats anyhow. As for trunk space, it's now rated at 565 litres, which is a lot more than before, but still shy of what compact hatchbacks can offer.
Front-seat occupants do enjoy a bit of wiggle room, and the driver won't spend too much time realizing how poor outward visibility is out back, due to the minuscule window and the fat pillars. When it rains or in slushy winter driving conditions, the pipsqueak rear wiper covers about half of said window. Happily, blind spot monitoring and rear cross traffic alert are fitted as standard.
Also included are a height-adjustable driver's seat, heated front seats, cloth upholstery with blue stitching, air conditioning, cruise control, a heated and leather-wrapped steering wheel and 18-inch alloy wheels. The Veloster also benefits from a six-speaker stereo with seven-inch touchscreen as well as Apple CarPlay and Android Auto integration. Not bad for $20,999 before freight and delivery charges. The Honda Civic Coupe can't even come close regarding features for the price.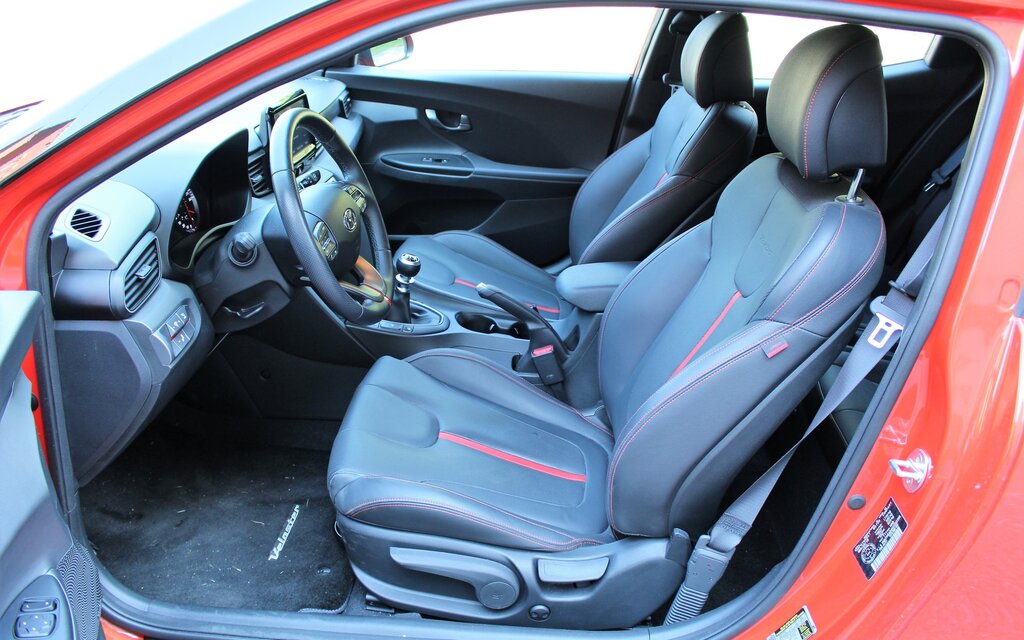 On the other hand, the base Veloster's 2.0-litre engine isn't a rev-happy mill, running on an Atkinson combustion cycle for fuel economy concerns. It's fine for the daily drive, but for a weekend toy to have a little fun with, the Veloster Turbo is obviously the better choice.
Starting at $25,899, it keeps the previous-generation model's output, but also the lumpy power curve. Acceleration is snappy and from a performance standpoint, it's just as amusing as a Civic Si, but it's no match for the Golf GTI's torque-rich 2.0-litre turbo. Hyundai's six-speed manual isn't as slick as what Honda and VW offers, and the dual-clutch, seven-speed automatic doesn't have the Uzi-like quickness of the GTI's DSG gearbox.
Ok, the Veloster is more affordable. In addition, the turbo engine can run on regular unleaded, and it averaged an excellent 7.5 L/100 km during our test.
Our Turbo Tech tester was loaded with features such as LED headlights and taillights, rain-sensing wipers, a power sunroof, leather upholstery with red stitching, climate control, head-up display, an intelligent key, rear park sonar, a power lumbar adjustment for the driver, an eight-inch touchscreen with BlueLink app connectivity and an eight-speaker Infinity stereo. With a performance tire and wheel package as well as a two-tone paint job, the tab climbed to just under $30K. Again, a good deal.
Thanks to the optional Michelin Pilot Sport 4 rubber and the new multilink rear suspension—the previous Veloster made do with a rear torsion beam—this compact sportster is fun, although for the daily commute, the suspension is a little too stiff. Or maybe we're just getting old.
So, here's the thing. We like the turbo engine, but we're not in love with it. We're also concerned about the long-term durability of force-fed powerplants, so if we're looking to purchase a Veloster for its design and bang for the buck, and keep it for many years, the 2.0-litre might be a wiser choice. If we're performance junkies and we don't spending a little more, the $35K, 275-horsepower Veloster N is an amazing car.
The Veloster is unique, packed with features and looks pretty good. Just don't go thinking the Turbo variant is just as good as a Golf GTI.
Share on Facebook