2017 Toyota Tacoma TRD PRO: Where do You Want to Go Today?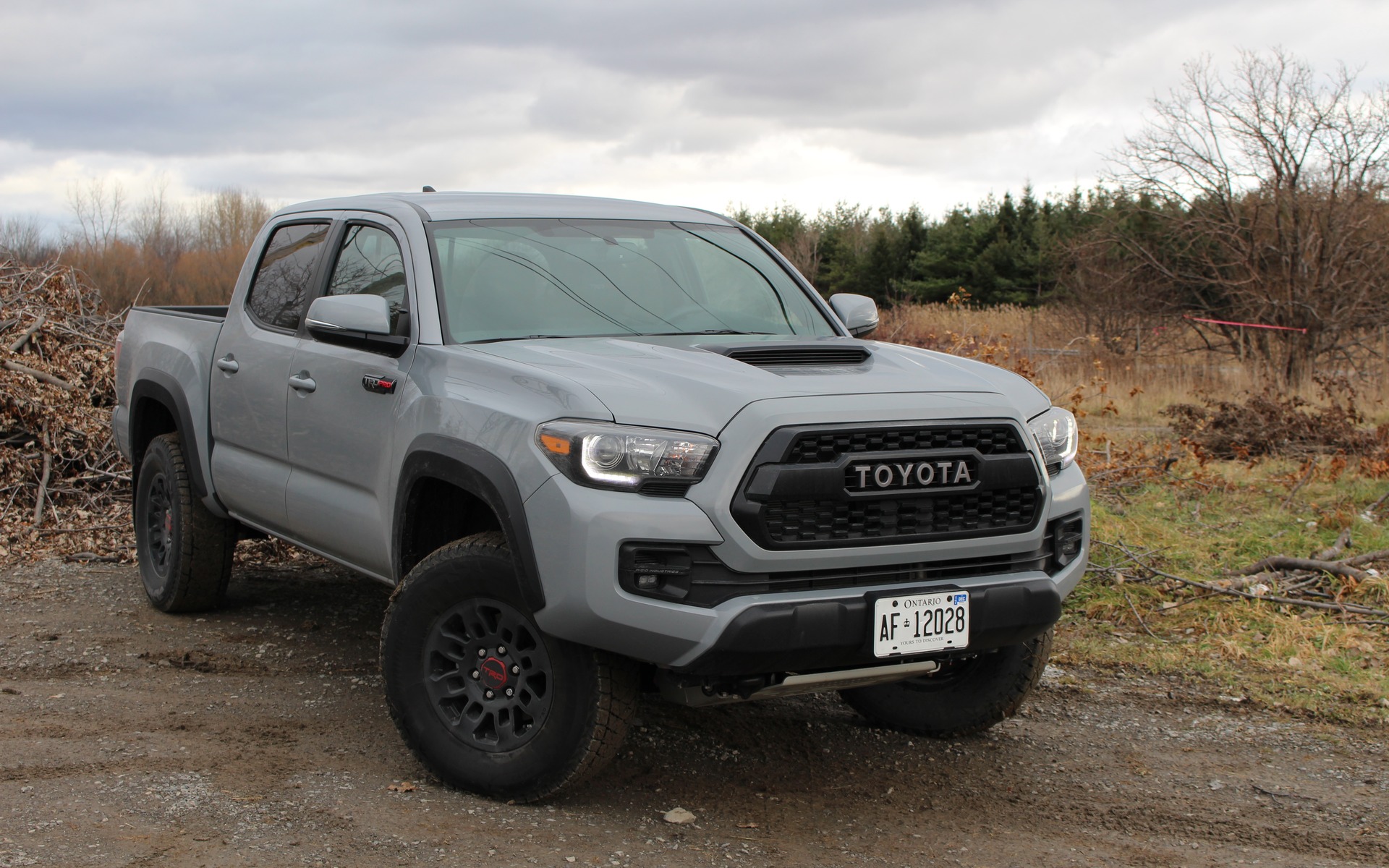 Strong points

Off-road capability
Good towing capacity
Tough-guy looks

Weak points

Heavy Fuel consumption
Unrefined interior design
High price
Full report
If we love to live outdoors and aren't afraid of getting a few mosquito bites as we explore the unbeaten path, we definitely could use an off-road vehicle. The Jeep Wrangler could be the most obvious choice, but Toyota does have a history of producing robust all-terrain trucks such as the Land Cruiser, the departed FJ Cruiser and the 4Runner.
For a short while now, the Japanese automaker has been offering extreme versions of its Tacoma, Tundra and 4Runner models, dubbed TRD PRO. They take the Toyota's off-road credentials one step further, and we got behind the wheel of their compact pickup to see what makes it special. Let's not forget that it also has a fierce new enemy, the 2017 Chevrolet Colorado ZR2.
We shouldn't confuse it with the Tacoma's TRD Off-Road and TRD Sport editions, but what are the differences? TRD Off-Road basically gets adds extra comfort and convenience features to a Tacoma Access Cab 4x4, but also features all-terrain tires, skid plates, Bilstein shocks, a rear locking differential, black fender flares, a chrome grille and control systems such as 4-Wheel Crawl Control and Multi-terrain Select. The TRD Sport benefits from 17-inch wheels and a sport suspension, so it's is more the on-road performer of the trio.
To the TRD Off-Road's equipment, the TRD PRO adds FOX remote-reservoir shocks, TRD coil springs up front and leaf springs at the rear, a full array of skid plates, black 16-inch alloy wheels, a hood scoop and appropriate badging. It also swaps the current company logo on its front grille for a retro-style TOYOTA inscription in capital letters. It's only available with a Double Cab body and a five-foot cargo bed. Only three paint colours are offered, including gray, white and red. The 2017 Toyota Tacoma TRD PRO definitely looks the part.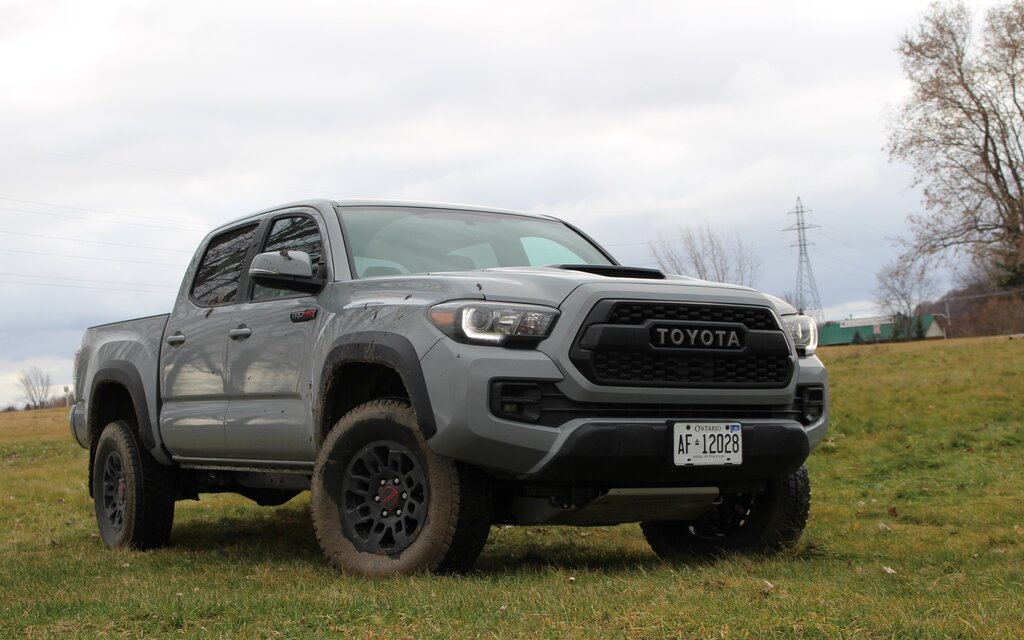 The Multi-terrain Select is simple to use. Once the transfer case is shifted into low range (4L), the system is activated with a button on the overhead console. A rotary dial can then be turned to choose one of five types of surface we're seeking to master: Mud & Sand, Loose Rock, Mogul, Rock & Dirt, and Rock. Each setting modifies throttle sensitivity and brake pressure, since different surfaces require more or less wheelspin. The system only works when the truck is moving at a speed of less than 11 km/h.
There's also a system called Crawl Control that, when activated, automatically keeps the vehicle moving along at a very slow speed. Using the same rotary dial as the Multi-terrain Select feature, the driver can set a speed of 1 to 5 km/h. Very handy for tiptoeing over rough terrain or to avoid sinking in sand.
For the off-road portion of the ownership experience, everything's good. On paved roads, the 2017 Toyota Tacoma TRD PRO isn't as rough as one would imagine, and its drive is more refined than the Wrangler's—but less so than the Colorado ZR2's. The Tacoma's jittery suspension feels old-school, and can get tiresome over time.
The 3.5-litre V6 engine develops a stout 278 horsepower along with 265 pound-feet of torque, managed by a six-speed automatic transmission. Toyota claims the engine's Atkinson combustion cycle provides good fuel economy, and although it is more efficient than the 4.0-litre V6 that previously equipped the Tacoma, we ended up with an average of 14.5 L/100 km. The ZR2 with the 3.6-litre V6 has 308 horsepower and boasts slightly better city/highway numbers, but not by much, and the 2.8-litre turbo-diesel is available, something the Toyota doesn't offer.
In addition, rated at 6400 pounds (2903 kilograms), the Tacoma TRD PRO can tow a heavier load than the Wrangler and the Colorado ZR2. Payload capacity is set at 950 lbs. (430 kg) for the Tacoma Double Cab, and 1100 lbs. (499 kg) for the Colorado. So despite its off-road prowess, Toyota's compact pickup hasn't lost its versatility.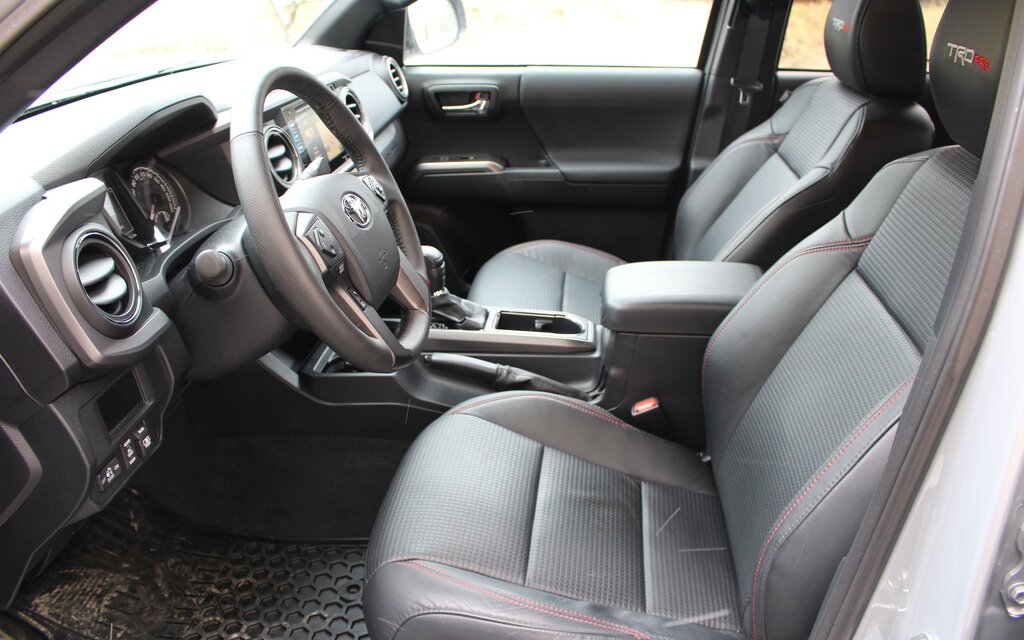 It's actually the brand's interior designers that seem lost. Apart from the circular air vents and climate control dials, the rest is a potpourri of textures and shapes. At least there's a little red contrast stitching to break the monotony of the gray and black interior, and build quality is good. The Colorado has more interior space, though. There are a few concealed storage spaces under the rear seat cushions and behind the seatbacks, but they're not very big.
The infotainment system is standard Toyota fare, with a fairly reactive touchscreen and the essential set of features, but accessing some of those require multi-step procedures. It isn't extraordinary, but it gets the job done.
Now, about that price. The 2017 Toyota Tacoma TRD PRO starts at $50,100 before freight and delivery charges, and that's with the six-speed manual gearbox. Adding the six-speed automatic raises the price to $53,395. A lot of dough for a small pickup, no matter how off-road friendly it is. In comparison, the Chevrolet Colorado ZR2 retails for $44,540 in Extended Cab format, and $45,840 for the Crew Cab version.
Like all Toyota trucks, the Tacoma has a solid reputation for reliability and toughness. However, it has received a number of recalls in Canada over the last few years, and the company had to deal with vehicles whose chassis were rusting prematurely.
Buying a Tacoma is a wise choice, but the TRD PRO is expensive. Especially since the TRD Off-Road edition has most of the features that allow it to hit the trails, and it costs more than $10K less. The only downside is that rear-seat occupants are stuck sitting on small and uncomfortable jump seats. The TRD PRO is quite capable—at a cost that's hard to justify.
Share on Facebook