2018 Toyota Tacoma TRD Sport V6: Officially a Legend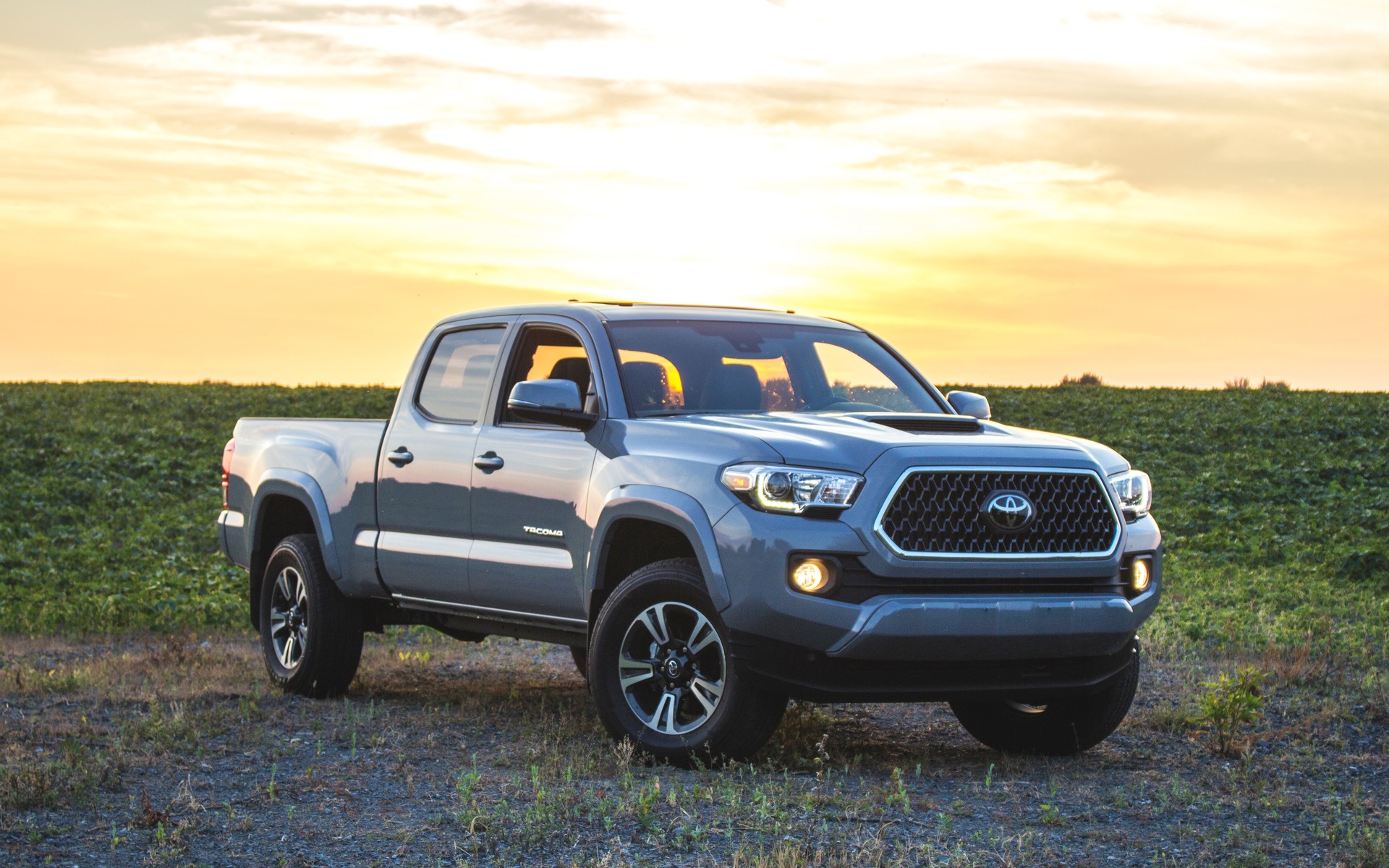 Strong points

Rugged looks
Off-road ready
Available manual gearbox

Weak points

Ridiculous fuel economy
Dumb-witted automatic gearbox
Cramped cabin
Full report
It's fascinating what the appearance in a cult movie about time travelling will do to a vehicle. That and the best reliability rating on the planet also helps. Ask anyone looking for a second-hand Toyota truck or head onto Kijiji and look for one yourself, you'll quickly realize that they're impossible to find at a decent price.
Indeed, the Tacoma's resale value is through the roof. Some owners, who have presumably taken their rig on an actual adventure in the woods, through the dunes or across winter snowstorms with minimal issues, will tell you with certitude that nothing can replace their mechanical companion.
Marty McFly was right in the Back to the Future movies: the Toyota Tacoma is a very desirable little pickup. In fact, we'll go as far as saying that it's one of the few actual automotive investments currently available.
Remaining Rugged by Choice
Within its segment, which suddenly includes some rather solid contenders such as the Honda Ridgeline, Chevrolet Colorado/GMC Canyon and the upcoming Ford Ranger, the Tacoma is by far the least refined of the group. And that's no coincidence. Toyota engineers carefully observed what owners of past iterations enjoyed so much in their truck, stayed true to these qualities, and made improvements in the areas that matter.
One of the improvements is technology. New for 2018 is the addition of a full battalion of standard active safety features. Toyota calls it "Safety Sense P," a package that includes forward-collision warning, automated emergency braking, lane-departure warning, automatic high-beams and adaptive cruise control. That's great, but Toyota's Tonka still doesn't get Android Auto or Apple CarPlay. And for 2018, the five-speed manual transmission has been discontinued on the four-cylinder. Thank God it's still possible to order your V6-powered Tacoma with a six-speed stick shift.
I'm personally not convinced Tacoma buyers actually care about adaptive cruise control. What they want is a truck. At least in that respect the midsize Taco delivers. Don't expect this one to drive like a car; the Honda Ridgeline gets the merit for that. And don't expect it to showcase a plush, luxurious interior filled with the latest toys; that one goes to the Ranger or even the Colorado. In other words, the Tacoma doesn't apologize for being what it is.
Tried and Proven… Everywhere
The immediate indication that this truck is built to last forever is the choice of engines Toyota has put at the disposal of consumers. Base Tacomas come with a 159-horsepower, 2.7-litre four-cylinder coupled to a six-speed automatic. We recommend the V6, as it's the same powerplant Toyota has been shoving under the hood of pretty much all its vehicles, from Camrys to Highlanders to even some Lexus sedans.
Its reliability is therefore proven, and parts are readily available. I'm of course talking about the ubiquitous 3.5-litre, dual overhead cam mill that's good, in this application, for a healthy 278 horsepower and 265 lb-ft of torque. As stated earlier, a six-speed manual is still available. Our tester was a V6-powered double cab model equipped with the six-speed automatic, a six-foot bed and Toyota's mostly aesthetic $3,985 TRD Sport package. However, Toyota will sell you a full-on, significantly fortified, off-road-ready version called the TRD Pro.
But that doesn't mean a standard Tacoma can't kick butts in the trails. Actually, that's where it shines over its rivals. The dual-range transfer case is easy to engage via a large knob dial, and there's a witty Crawl Control system that sort of acts as a low-speed off-road cruise control by electronically operating the engine and brakes when surmounting serious obstacles. Toyota has also fitted its rig with a "Multi-terrain Select" gizmo that optimizes the traction control system for getting your beloved truck out of tricky situations such as deep sand. Heck, there's even a standard GoPro camera windshield mount so you can film yourself doing silly things in the mud.
Bob and Weave
On the road, however, the 2018 Toyota Tacoma doesn't hide its fortified body-on-frame configuration, which hasn't changed much in the past decade. This generation is nevertheless quieter than its predecessor and body motions have been slightly quelled, but there are still a lot of chassis bobs and quibbles over rough ground. The V6 engine remains a soft and potent operator, providing good power off the line, but that six-speed automatic constantly hunts for gears.
Also, in an effort to maximize efficiency, the slushbox tends to bury the engine in the higher gears, significantly impacting pick-up acceleration. Fuel economy itself isn't all that great anyways. During the time we had the Tacoma, we had trouble staying under the 12L/100km mark. Some V8-powered full-sizers post similar numbers. We recommend you get your Toy with a stick.
Then there's the cabin. To Toyota's credit, the overall design and the layout of the dashboard are well done. I particularly enjoy the large knob dials allowing you to control everything as well as the globally utilitarian and well assembled look and feel of it all. The standard touchscreen infotainment system, while lagging behind in terms of technology, is simple and easy to operate.
The problem is overall cabin comfort. The floor is higher than in your average midsize truck (good for off-roading) meaning tall people will feel like their knees are hugging their foreheads. The seats, even the leather ones, are hard. It's difficult to find a comfortable seating position in the driver's seat. The steering wheel isn't telescopic, while the rear bench, which can't be folded like in a Ridgeline or a Colorado, is on the tight side.
But you know what? All of this is irrelevant and Toyota understands it. As long as Instagram will be flooded with Toyota trucks doing some good old #offroading, as long as the used car market will keep selling them at hiked prices, and as long as these trucks will hold the flame for the undisputed most reliable machines in the world, Toyota knows that no matter how unrefined its bulletproof Tacoma is, consumers will continue to rush into showrooms to buy one. That's an impact in the industry its rivals could only dream of causing.
Share on Facebook