Toyota TRD Pro: Because Playing in the Mud Isn't Just for Kids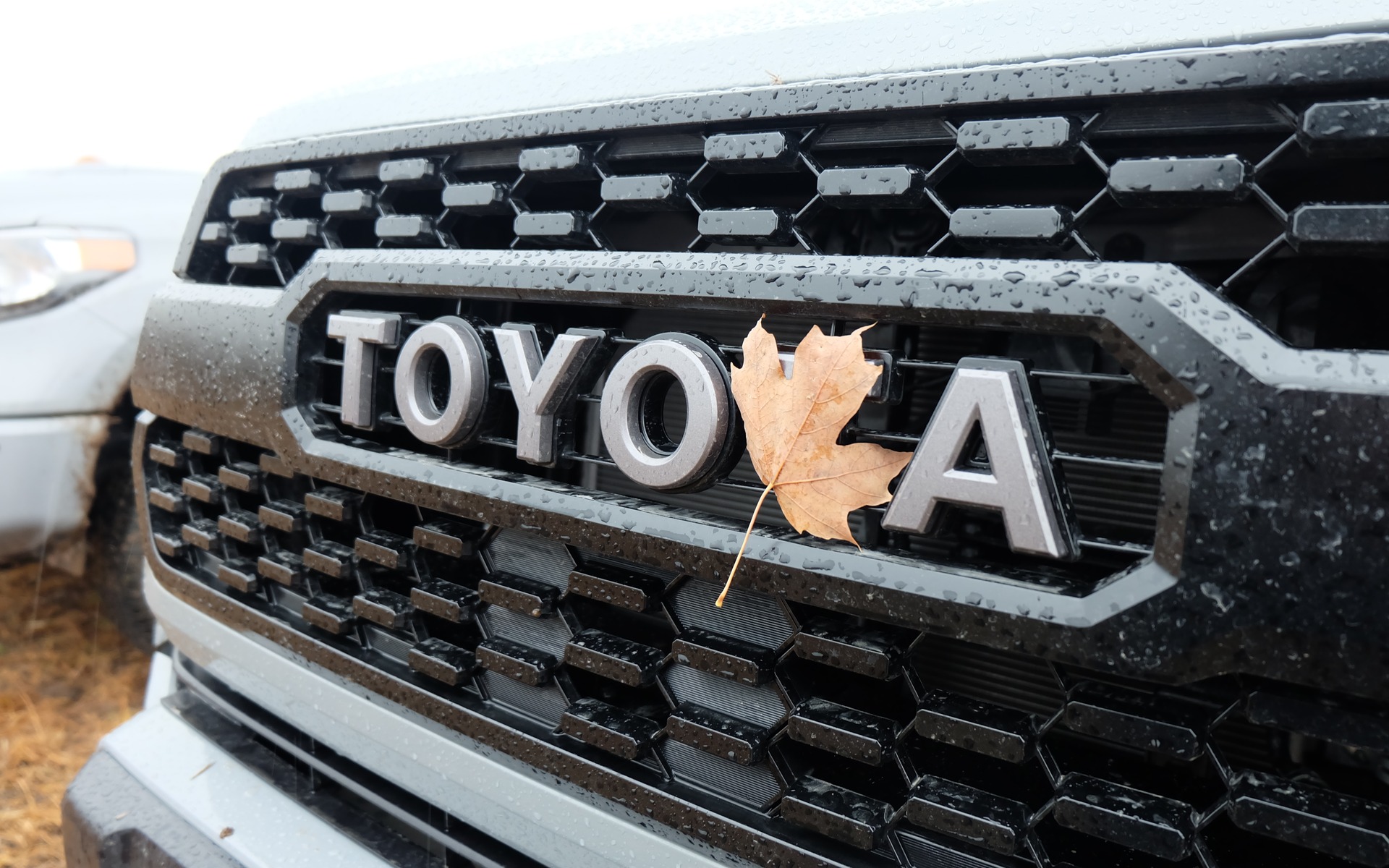 There are three top brands of off-roading vehicles. Jeep has a wide range of high-performance parts to enhance its SUVs. Land Rover sells a truck that can take you just about anywhere in utter luxury. And Toyota's products boast unrivalled reliability and some can even take you far off the beaten path.
Toyota's off-roading vehicles fall under the TRD Pro line, which has been available since 2014. This line is based on the Tundra and Tacoma pickups, but adds some accessories to boost their off-road performance.
TRD—aka "Toyota Racing Development" —is in charge of developing parts of Toyota vehicles and creating competitive programs for race cars.
Toyota recently invited us just north of Toronto to put its tough pickups to the test. A cold fall drizzle washed over the Blue Mountains during our test drive, transforming the field into slick mud—perfect for off-roading!
The elephant in the room
We started the day driving the Tundra TRD Pro. It's the biggest in the lineup, which is why it's the standard-bearer. Because of this, it's very well equipped with satellite navigation, leather seats with red stitching and a massive knob on the shift lever with the TRD emblem.
Visually, it stands out from the other Tundra models with black emblems, 18-inch wheels wearing aggressive-tread tires and the TRD Pro logo on the vehicle's flanks. The front grille is also unique, its Toyota logo replaced with a superb lettered version of the brand name. The effect is similar to the Toyota trucks of the 1990s.
Under the hood of the Tundra TRD Pro is a 5.7-litre, i-Force V8. In a bid to make the pickup more appealing to younger buyers, Toyota added a noisier exhaust system. It splits behind the axle and points out the vehicle's sides. TRD adds a pair of chrome tips to draw attention to the modifications. The deep rumble isn't unpleasant during sudden acceleration, but the V8's noise is ever-present. I kind of enjoyed it during the few hours of my test drive, but I bet it could be irritating after a while.
To boost the TRD's off-road performance, Bilstein shocks get their fluid supply from separate chambers. This technology is used in racing and allows fluid within the shocks to cool faster (very practical for supercars racing through the desert) while increasing their travel distance. You probably won't appreciate how useful they are unless you compete in the Baja 1000, but this system nonetheless makes it possible for the truck to absorb some impressive impacts. To protect the mechanical components from said impacts, a host of protective shields are included in the standard equipment. The bed is also covered by a protective coating.
The Tundra TRD Pro is obviously in its element off the beaten track, but it still has some noticeable shortcomings. For example, the chassis is stressed and bends under pressure—which doesn't bode well for intense usage (but it does make the ride more comfortable). That said, the 4x4 system works well enough to prevent slipping in mud, and the V8 is powerful enough to get over steep inclines. If you're looking for a hefty vehicle to climb a steep path, this Tundra might be for you.
The dimensions: a sizeable issue
Size is the Tundra's big problem. It's too cumbersome to be agile on trails and its turning radius is too broad as well.
That's where the Tacoma TRD Pro comes in. Not only is it smaller than its big brother, it's also more recent, less expensive and just as capable (if not more!).
It has its own signature style. The front grille also features the Toyota name, but the headlamps have been treated to a black background. The vehicle rides on black 16-inch wheels equipped with Wrangler off-road tires with Kevlar sidewalls. The fog lights are provided by Rigid Industries. Protective shields cover the engine and transfer case. Under the hood is a huge air intake adorned with a matte black decal.
Obviously, its suspension has been reworked. This Tacoma comes with Bilstein shocks with separate chambers, as well as front springs and model-specific rear leaf springs.
It comes with a six-speed manual or automatic gearbox, but the only engine available is a 3.5-litre V6. And just like the Tundra, it features a sportier exhaust.
As soon as we got behind the wheel of this little truck, we immediately noticed the difference compared to the Tundra. It is more solid, easier to handle on narrow paths and more confident on steep climbs. Plus, it comes with some fun gadgets, like the Multi-Terrain Select system that allows you to take near-vertical descents. The system operates each wheel's brakes independently to provide the best possible traction.
If you start slipping in sand, the Tacoma TRD Pro can even get itself out of trouble by, once again, using its four brakes independently. It can blaze a trail for itself through almost anything. Finally, the 4.7-inch screen displays plenty of useful information, such as the pickup's angle and suspension travel.
On faster tracks, we appreciated the vehicle's stability and rigid chassis. Overall, we found it to be more competent and suitable for driving on imperfect surfaces.
TRD Pro products don't come cheap. The Tacoma starts at $50,000 while the Tundra will set you back at least $57,520. Some people will argue that they can equip their pickups with the same equipment for less. It's true, but Toyota offers something better: a complete package tested by their engineers in the most demanding conditions. Plus, these vehicles have visual enhancements that you can't find anywhere else. Both are eminently competent in the mud and can take you wherever you want to go.
Share on Facebook