ID.5 Confirmed as Third Electric Vehicle From Volkswagen
After the ID.3 hatchback (which we don't have here) and the ID.4 compact SUV (on sale this summer), Volkswagen's next electric vehicle will be the ID.5, a coupe variant of the ID.4 and a closer copy of the ID. CROZZ concept pictured above.
The German automaker confirmed the news by tweeting a picture of the assembly line and saying pre-production has already started.
Es ist offiziell: Auf den #VWID3 & #VWID4 folgt der #VWID5! Wie #VW-Markenchef Ralf Brandstätter heute im Gespräch mit @WN_Wolfsburg bekanntgab, wird das Coupé-SUV bei uns in #Zwickau gebaut. Markteinführung: 2. Halbjahr 2021! Die ersten Vorserien laufen bereits… 🚗#emobility pic.twitter.com/c9W5hxnE7E

— vwsachsen_de (@vwsachsen_de) February 11, 2021
The Volkswagen ID.5 is the latest example of the new coupe-like SUV trend, following in the footsteps of the BMW X4/X6, Mercedes-Benz GLC Coupe and Audi Q5 Sportback. In Europe, it will hit the market in the second half of 2021.
However, don't get your hopes up. Similar to the ID.3, it appears there are no plans to bring the ID.5 to North America in the near future. For now, Volkswagen needs to focus on the Old Continent where automakers are required to increase their EV sales to comply with fleet emission regulations.
And as sleek as it is, the Volkswagen ID.5 may not meet the needs of that many Canadian and American customers. It's more likely that the second MEB-based model to launch on this side of the Atlantic will be a spacious SUV called ID.6 and derived from the ID. ROOMZZ concept (below).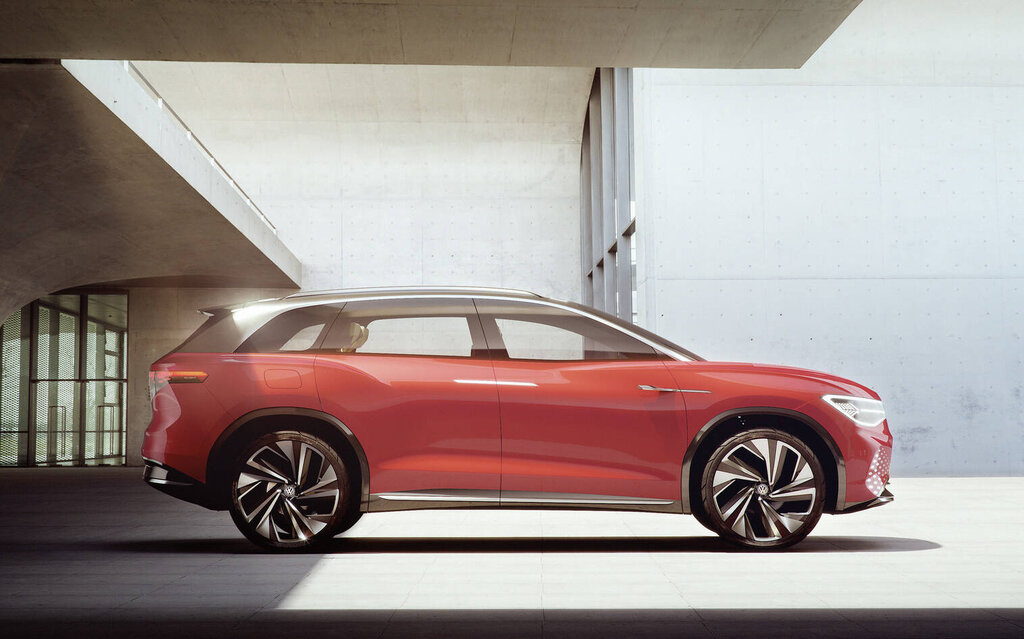 As for the Volkswagen ID.4, it will rival models like the Ford Mustang Mach-E, Tesla Model Y and Nissan Ariya, not to mention Toyota's upcoming electric SUV.
There will be RWD and AWD variants, each one boasting an 82-kWh battery and offering around 400 kilometres of range. When the time comes to charge the vehicle, 38 minutes will suffice to bring the battery from 5-80 percent using DC fast charging (up to 125 kW). Incidentally, customers will get at least two years of complimentary charging at Electrify Canada stations.
Share on Facebook