Dodge Unleashes Wicked Trio Led by Durango SRT Hellcat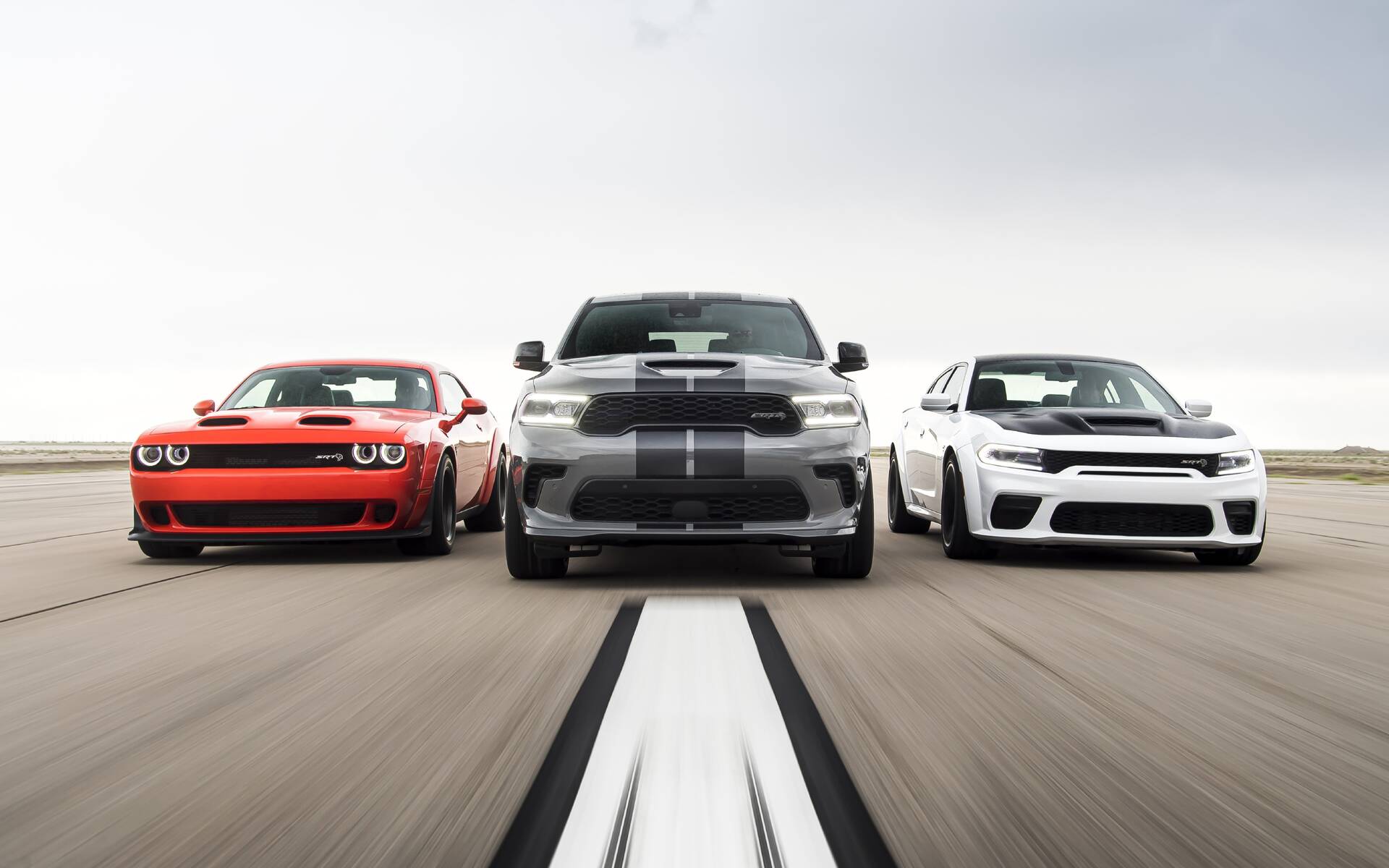 Dodge is completely focused on its three muscle cars for 2021 and the wicked new models officially announced today will make fans and competitors go crazy for different reasons.  
There is plenty to say and see (don't miss our mega-photo gallery), so let's not waste any time.
2021 Dodge Durango SRT Hellcat
As we suspected, Dodge's three-row SUV is now getting the Hellcat treatment. Available for a single model year only (future emissions standards make it unfeasible beyond 2021), the new Durango SRT Hellcat is powered by the proven supercharged 6.2-litre HEMI V8 engine. With 710 hp and 645 lb-ft of torque, it becomes the most powerful production SUV in the world, accelerating from 0-96 km/h in 3.5 seconds and completing the quarter-mile in 11.5 seconds.
The vehicle benefits from a number of aerodynamic enhancements, such as a new front chin splitter and a unique new rear spoiler, as well as an updated engine oil cooler duct, air guide and snorkel for cold air induction.
Performance is further optimized by SRT-badged Brembo brakes with six-piston callipers up front, a retuned suspension that delivers a firmer ride for sharper handling in corners, plus a bigger exhaust system emitting a characteristic muscle car sound.
Several SRT drive modes are available including Street, Sport, Track and Custom. The optional Demonic Red leather interior is the cherry on top of the cake.
The Dodge Durango SRT Hellcat can be ordered this fall and production will stretch over six months beginning in early 2021, with no limit to the number of units. The company expects to sell a bit less than 2,000. After all, it costs a whopping $114,345.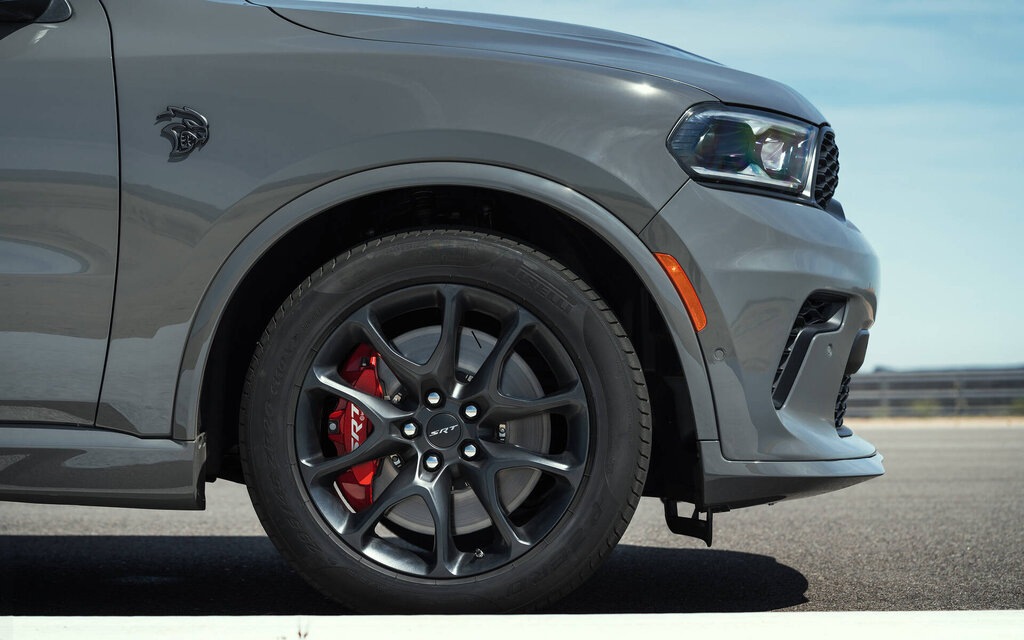 This outstanding addition follows a host of improvements to the Durango lineup for 2021. Among other things, the exterior design is more aggressive, while the interior has been revised (steering wheel, console, dashboard, etc.) for a more high-tech, driver-centric environment. New Ebony Red leather in Citadel trim is particularly notable, but let's not forget the new Uconnect 5 infotainment system with 10.1-inch screen and wireless Android Auto/Apple CarPlay integration.
The first 2021 Durangos will arrive at dealerships this fall with a base MSRP of $47,495. By the way, this is still the only SUV in its class to offer a V8 engine.
2021 Dodge Challenger Super Stock
Dodge swore it would never build another Demon, but you have to admit the new Challenger SRT Super Stock is awfully close. Topping the Challenger lineup, this model is powered by the same supercharged 6.2-litre HEMI V8 as the SRT Hellcat Redeye, but features a revised powertrain calibration that increases output to 807 hp.
As a result, 0-96 km/h acceleration drops to 3.25 seconds and the quarter-mile run is achieved in just 10.5 seconds.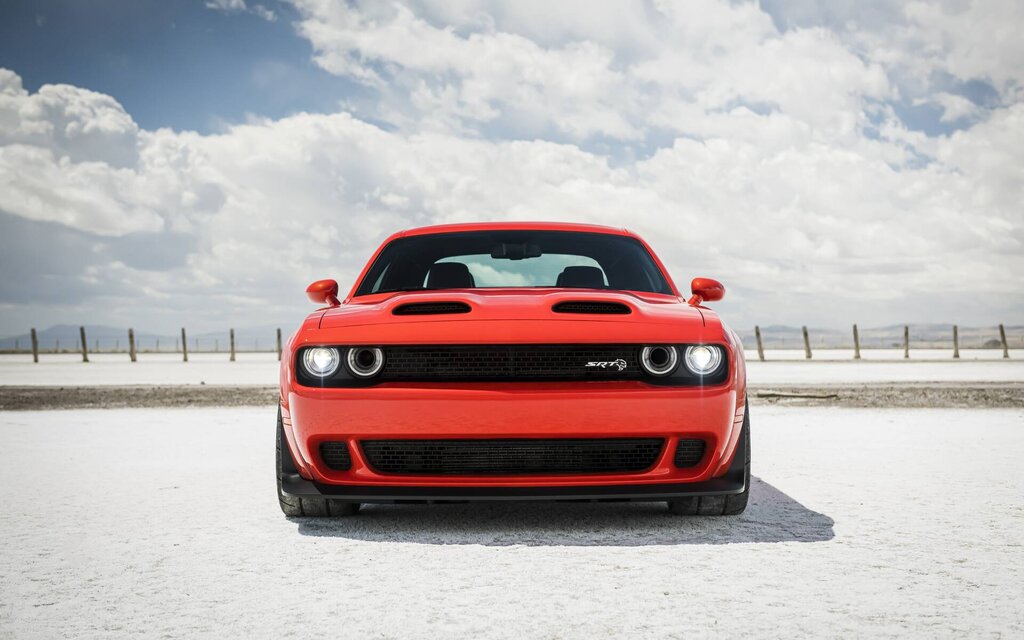 The Super Stock gets the Widebody exterior and its lightweight 18-inch wheels in Low Gloss Granite finish ride on sticky 315/40R18 Nitto NT05R drag radials. Braking is handled by lightweight all-aluminum Brembo four-piston calipers and 14.2-inch vented rotors.
When Track mode is activated, damper tuning changes so that the front end lifts, putting more weight on the rear tires and allowing more explosive takeoffs.
Dealer orders for the 2021 Dodge Challenger SRT Super Stock are scheduled to open this summer with production starting in Brampton, Ontario this fall.
2021 Dodge Charger SRT Hellcat Redeye
What's missing on the Charger? If you said an SRT Hellcat Redeye model like the Challenger, you're correct.
The car gets the same launch control and launch assist technologies, and more importantly, the same supercharged 6.2-litre HEMI V8 pushed to 797 hp and 707 lb-ft of torque—retaining the title of the most powerful and fastest mass-produced sedan in the world (0-96 km/h in 3.5 seconds and the quarter-mile in just 10.6 seconds).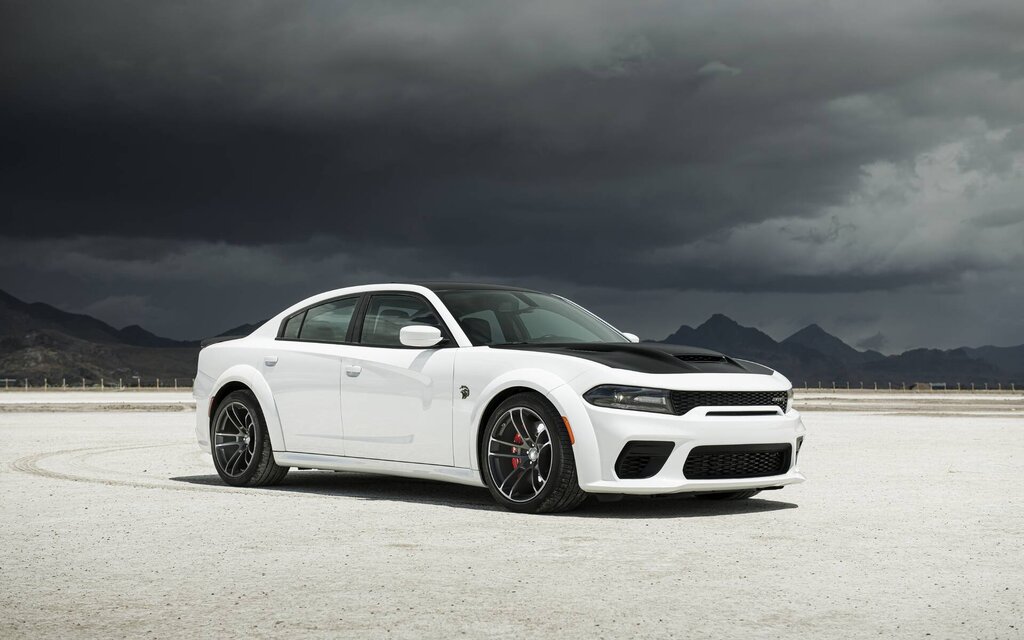 Once again, the Widebody exterior with integrated fender flares adds 3.5 inches of body width. A newly designed, functional performance hood with a cold-air intake and heat extractors gives this sedan an even more sinister look, while the innovative SRT Power Chiller system further improves cooling for better performance.
The new 20-inch Lightweight Carbon Black wheels ride on Pirelli 305/35ZR20 tires, giving the car more tread where the rubber meets the road.
The 2021 Dodge Charger SRT Hellcat Redeye can be ordered from September starting at $103,545. It will start arriving at dealerships early next year. A six-figure Dodge sedan? We bet you never saw that coming!
Share on Facebook