2020 Dodge Charger Hellcat Widebody: The Survivor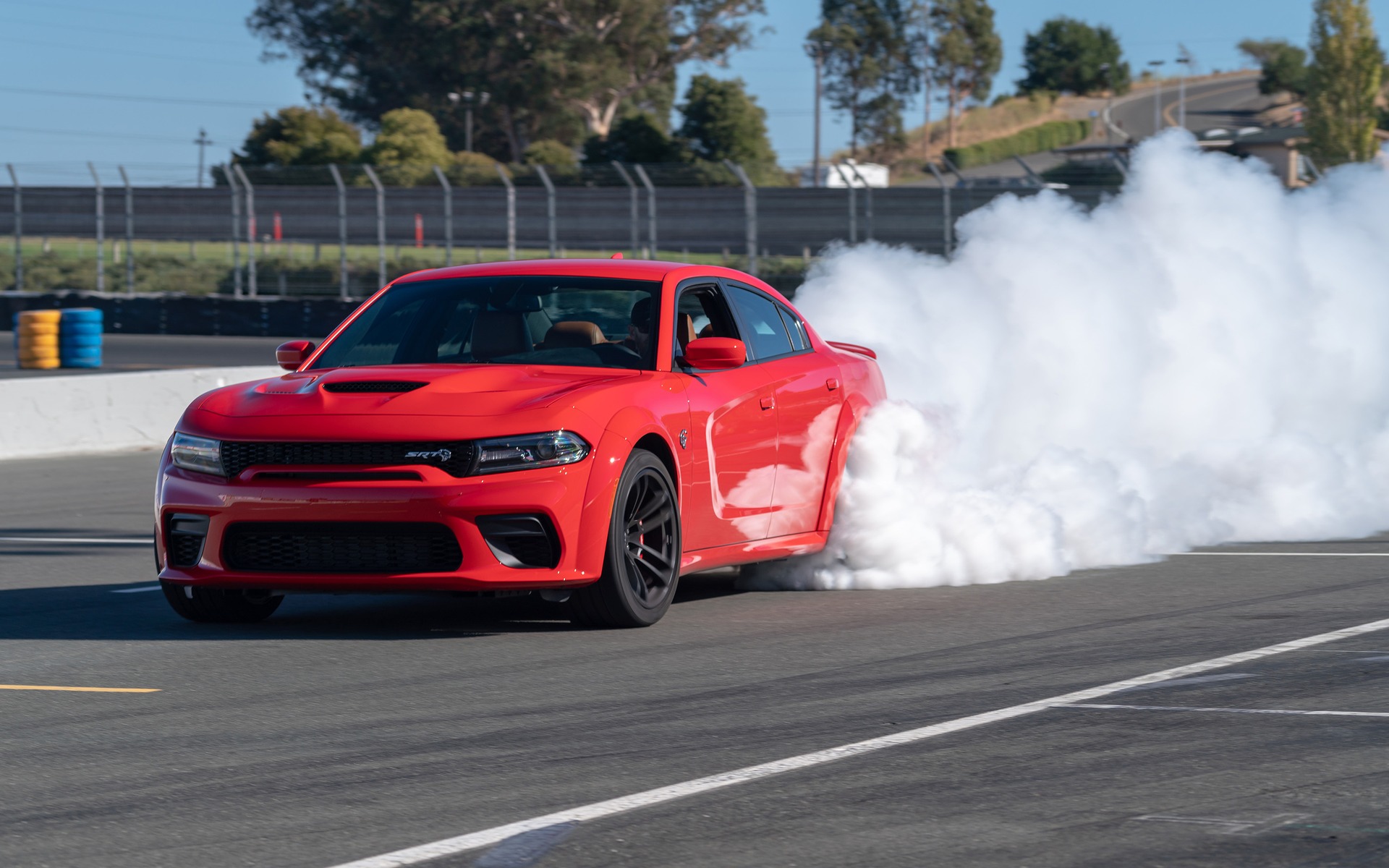 Strong points

Wicked looks
Exceptional V8 power and sound
Much better handling than the regular Chargers

Weak points

Strong tendency to go sideways (Hellcat)
Excessively thick steering wheel
Brakes lack endurance on the track (Hellcat)
Full report
SONOMA, California—SRT (Street and Racing Technology) is to FCA (Fiat Chrysler Automobiles) what AMG is to Mercedes-Benz or M to BMW. It's an expert team of engineers, technicians and drivers who have become preachers of uncompromised performance. They have the brains, the skills, the tools and the financial resources to turn their wild ideas into actual products.
Their latest tour de force can be summed up in one word: Hellcat. Powered by a supercharged 6.2-litre V8 engine that initially unleashed 707 horses, these Charger and Challenger models enjoyed so much success that SRT decided to push the envelope even further.
All Hell Breaks Loose
Of course, the most outrageous, most devilish creation was the 2018 Dodge Challenger SRT Demon, a street-legal dragster cranking out as much as 840 horsepower. Similar to the Widebody variant that followed, it featured wider fenders housing bigger wheels and tires.
These modifications gave the Demon more traction and stability in straight-line acceleration, while the Widebody benefited from better handling. Both had meaner looks, as well. Soon enough, the Widebody treatment was applied to the popular Challenger Scat Pack 392, which is motivated by the most potent naturally aspirated V8 in the lineup.
The SRT folks later realized through discussions with customers and enthusiasts that they also wanted a Widebody version of the Charger. They were happy to oblige.
Two Flavours: Hot and Spicy Hot
For 2020, the Widebody package is standard on the Dodge Charger SRT Hellcat and available with the Charger Scat Pack 392. The engines in these two cars remain unchanged: the supercharged 6.2-litre V8 produces 707 horsepower at 6,000 rpm and 650 pound-feet of torque at 4,800 rpm, while the naturally aspirated 6.4-litre V8 generates 485 horsepower at 6,100 rpm and 475 pound-feet of torque at 4,100 rpm.
There is one exception, mind you. The Daytona 50th Anniversary model, which is limited to 501 units just like the 1969 Charger Daytona, gets a small boost to 717 horsepower thanks to a higher redline (6,100 rpm) and further calibration. It also stands out with unique colours and graphics.
The Charger SRT Hellcat and Scat Pack Widebody models are 88-mm wider due to flared fenders that cover 305/35ZR20 tires wrapping 20x11-inch alloy wheels. They're long, low and wide, kind of like a cross between NASCAR and DTM race cars. And fans love that.
The custom-tuned suspension is stiffer and stronger in order to make the most of the extra power and grip. It includes adaptive Bilstein shocks, larger sway bars and up to 32-percent stiffer springs.
The Widebody cars also receive Brembo brakes with 390-mm front and 350-mm rear discs, which are clamped by six- and four-piston callipers, respectively. As is the case with every other Charger, the new electric power steering's responsiveness can be adjusted through the various drive modes. Selection is made via the big centre screen, though a simple knob would be more convenient and safer while driving.
Promises Kept
SRT claims the Hellcat and Scat Pack models are one or two tenths of a second quicker, produce shorter braking distances and hold their line more tenaciously in corners with the wider tires and firmer suspension. We have to agree with them, especially after completing a dozen laps with these cars—including a Daytona 50th Anniversary edition—on the Sonoma Raceway in California. By the way, that famous track formerly known as Sears Point is now a half-century old, too.
Over the 4.06 kilometres of tarmac filled with elevation changes and tricky turns, the Widebody machines proved more stable, more precise and less prone to body roll than the 2016 Charger Hellcat we tested a few years back. It's best to wait for straight lines to appreciate their insane amount of torque and exquisite supercharger whine, otherwise they'll go sideways real fast when you depress the throttle.
The Charger Scat Pack 392 was a pleasant surprise on the track. It's 66-kg lighter and blessed with a slightly more favourable weight distribution (55/45 versus 56/44). Also, the naturally aspirated V8's power delivery is more linear when you put the pedal to the floor, not to mention that it lets out a magnificent roar in the process.
Like a Fat Cat
Let's be perfectly clear, though: none of these cars is designed to hit the track on a regular basis. To wit, the brake pedal in the Charger Hellcat Widebody became shockingly stiff and heavy after a few hard stops, whereas the standard Hellcat impressed us in that department.
On the road, however, the Hellcat Widebody felt totally at ease despite its massive breadth. That even includes the narrow ribbon of the legendary California State Route 1 along Tomales Bay. The big Charger sliced its way at a good clip, remaining flat and grounded at all times. The muscular V8 was a joy to exploit via the throttle and the paddle shifters controlling the quick-shifting eight-speed automatic transmission. We just wish the steering wheel wasn't so thick.
The 2020 Dodge Charger SRT Hellcat and Scat Pack Widebody are obviously not suited for every driver. Plus, they will make a number of environmentalists pretty angry. But if you long for a genuine muscle car with four doors, there is just one place to shop.
Pricing starts at $59,945 for the Charger Scat Pack Widebody, $83,495 for the SRT Hellcat Widebody and $88,490 for the Daytona 50th Anniversary.
Share on Facebook