Ford Working on 1,400-hp Electric Mustang Cobra Jet for Drag Racing
This is a pretty incredible machine the Blue Oval is announcing today. Developed by the team at Ford Performance, the Mustang Cobra Jet 1400 is a new, fully electric dragster prototype straight out of the factory. And as the name implies, it produces more than 1,400 horsepower.
The goal is to demonstrate the capabilities of an electric powertrain in one of the most demanding environments of racing.
Backed by some 1,100 pound-feet of instant torque, this zero-emission acceleration monster is projected to complete the quarter mile in just over eight seconds at a speed of more than 270 km/h, which would be unreal. To give you an idea, the 840-horsepower Dodge Challenger SRT Demon needed 9.65 seconds to do the same sprint.
"Ford has always used motorsport to demonstrate innovation," explains Dave Pericak, Global Director, Ford Icons. "Electric powertrains give us a completely new kind of performance and the all-electric Cobra Jet 1400 is one example of pushing new technology to the absolute limit."
While paying tribute to the original Cobra Jet that first dominated drag strips in the late 1960s, the Mustang Cobra Jet 1400 prototype naturally follows in the footsteps of Ford's all-new, all-electric Mustang Mach-E crossover. In GT Performance trim, the latter uses its 459 horsepower and 612 pound-feet of torque to reach 100 km/h in 3.5 seconds—quicker than any other Mustang in history.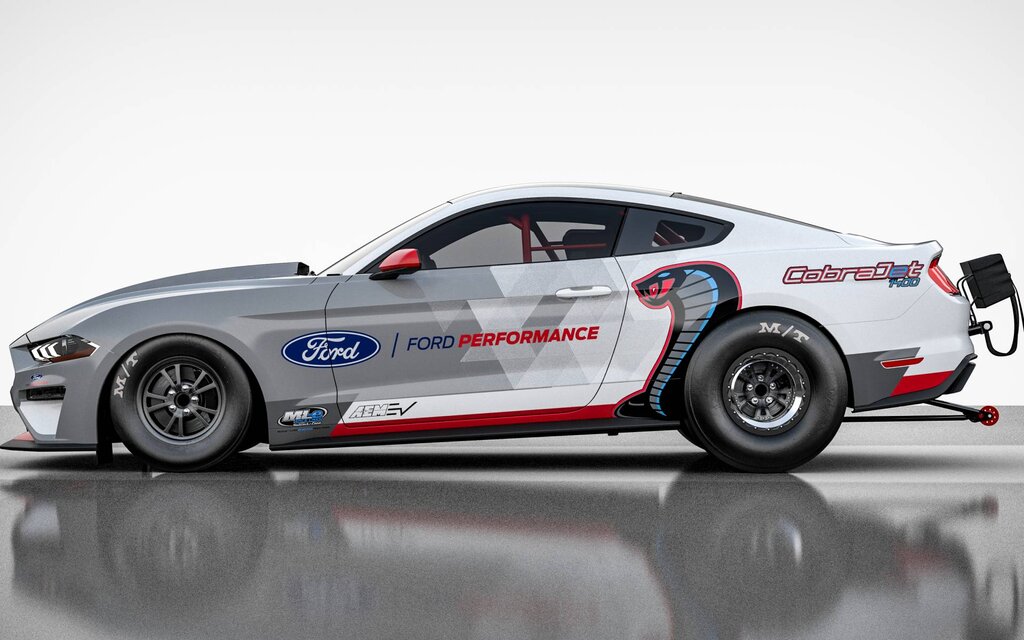 "We saw the Cobra Jet 1400 project as an opportunity to start developing electric powertrains in a race car package that we already had a lot of experience with, so we had performance benchmarks we wanted to match and beat right now," adds Mark Rushbrook, Global Director, Ford Performance Motorsports.
By the way, the images you see here are computer-generated renderings. The official launch will take place later in 2020 at a drag racing event to which many fans, journalists and competitors will be invited. In the meantime, Ford Performance continues tests both in the shop and on the track.
Share on Facebook