2021 Mustang Mach-E Kicks Off Ford's EV Revolution
LOS ANGELES, California—The launch of an electric Mustang in the form of a crossover is another proof that revolutions are anything but quiet.
More than 50 years after the spectacular debut of the original Mustang, here comes an all-new, radically different version powered by either a single- or dual-motor system. The godfather of all pony cars and a few muscle cars has legions of purists and die-hard enthusiasts that must be completely losing their minds right about now.
The 2021 Ford Mustang Mach-E pays tribute to Mach 1 special editions of the first Mustang while riding on a brand new architecture entirely dedicated to electric vehicles. It's part of Ford's major electrification plan that will cost $11 billion between now and 2022.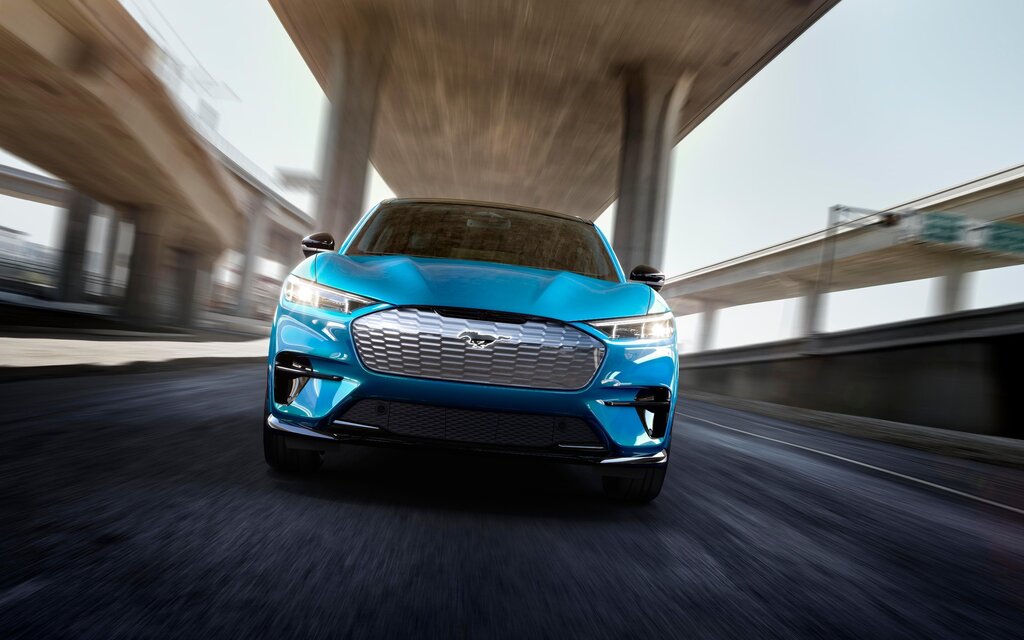 Making a Big Statement
The Blue Oval company decided to build on the success of one of its icons by creating an all-new variant full of advanced technologies, some of which are unprecedented. The first big move was to put the primary motor in the rear, namely a 210-kW (282-hp) unit, and combine it with a smaller 50-kW (67-hp) motor up front—the result being an all-wheel drive powertrain.
The motors draw energy from a liquid-cooled lithium-ion battery developed by Ford and manufactured by LG Chem. The standard battery boasts 288 cells and a capacity of 75.7 kWh, while the long-range variant has 376 cells and a capacity of 98.8 kWh.
An extended wheelbase allowed engineers to fit the battery under the floor to maximize interior room and stability on the road. The battery is also said to improve chassis rigidity even though it's theoretically not a structural component.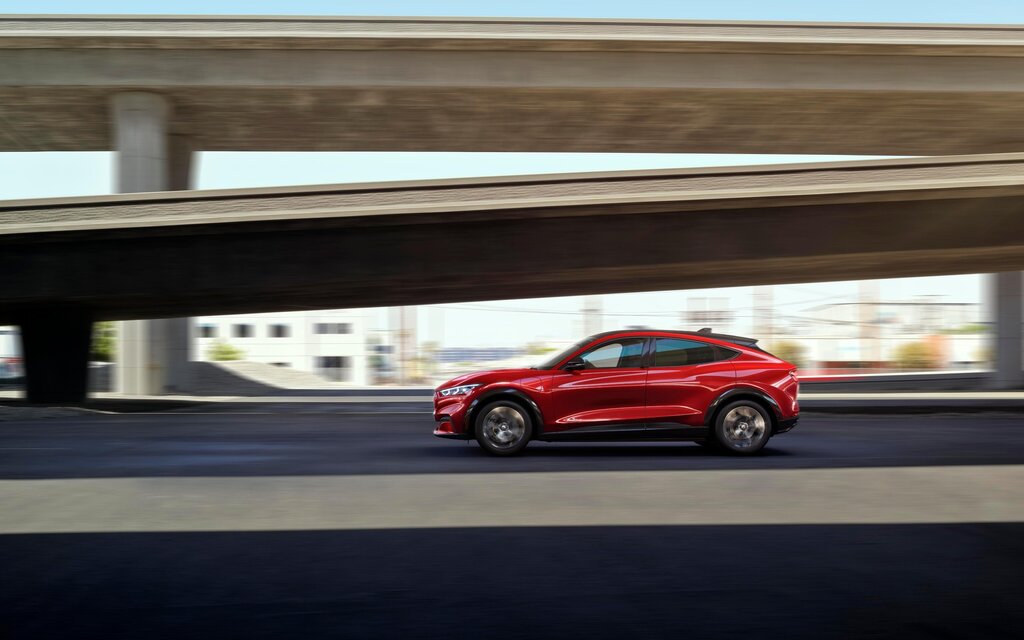 As far as styling goes, designers raised the hood and front fenders while adding muscle to the rear fenders to make the Mustang Mach-E look like a sporty crossover. The front grille is closed and contoured in the same way as other Ford utility vehicles. In the middle of it is the logo of a galloping horse that looks a bit lost. The triple-slat taillights in the rear are the only other design cues that were clearly borrowed from the Mustang. The Mach-E's profile, meanwhile, is somewhat reminiscent of the new 2020 Escape.
In terms of exterior dimensions, the Ford Mustang Mach-E is slightly longer, not quite as wide and exactly the same length as the Porsche Macan. That being said, its most direct competitors will be the future Tesla Model Y and Volkswagen ID. 4.
A Five-pronged Attack
There will be five Mach-E models to choose from, with equipment and performance levels increasing accordingly: Select, Premium, First Edition, California Route 1 and GT Performance Edition. The Premium and First Edition (limited production) will arrive near the end of 2020. The Select and California Route 1 will follow in early 2021.
The last model to hit the market will be the GT Performance Edition in the spring of 2021. It promises to deliver 459 horsepower and 612 pound-feet of torque, sending drivers from 0-100 km/h in about 3.5 seconds. No other Mustang is quicker than that, by the way.
An excellent set of magnetically variable Magneride dampers, Brembo brakes with red-painted callipers and 20-inch alloy wheels shod in performance tires will enhance handling. Range is estimated at 375 kilometres.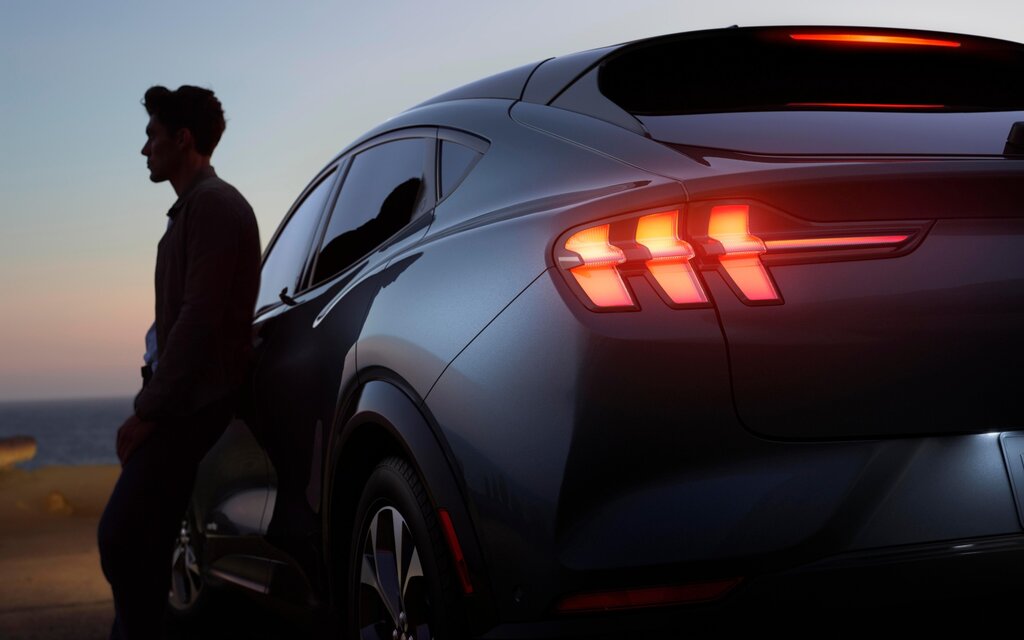 The base Select and Premium models will be available with either RWD or AWD. Those who choose AWD will be able to pick the smaller or larger battery. The California Route 1 will be a RWD model exclusively, while the First Edition and GT Performance Edition will offer AWD only. The three most expensive models in the lineup will all receive the long-range battery. The California Route 1 will travel the farthest between charges (475 km), but the trade-off will be slower sprints (0-100 km/h in just under seven seconds).
With the standard on-board charger, you can expect to get 35 km of range for every hour of charging via a 240V power source (a mere 5 km if you use a 120V outlet). Ford will also offer a level-2 charging station that gives you 51 km of range per hour. When using a DC fast-charging station with up to 150 kW of power, the Mustang Mach-E will regain 76 km of range in 10 minutes or charge from 10-80 percent in 38 minutes.
Additionally, there will be a FordPass network of more than 12,000 charging stations across North America and the vehicle's navigation system will plan routes accordingly.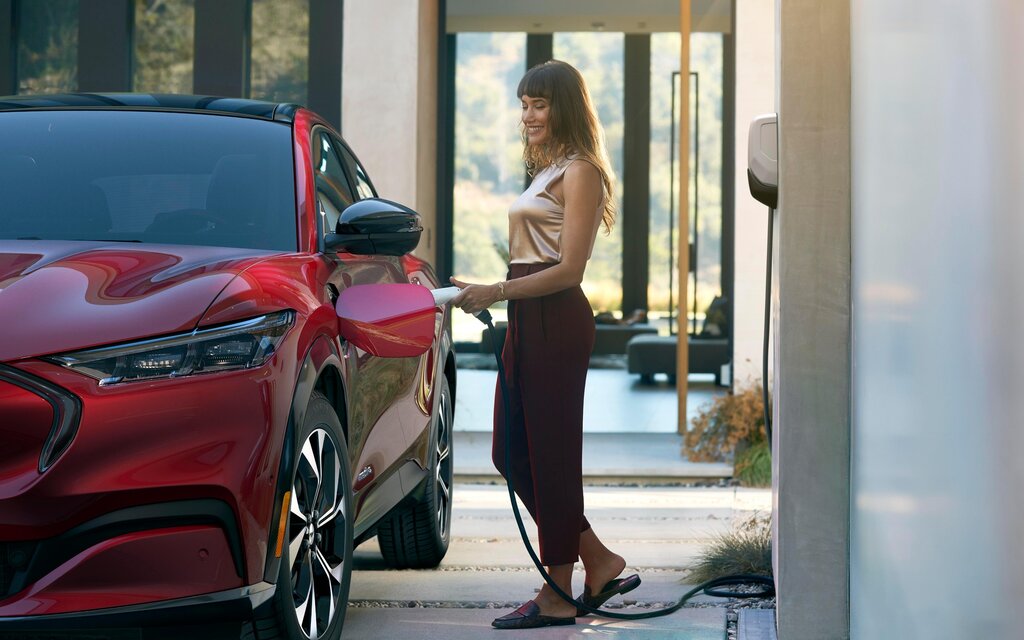 An Interior for the Future
Team Edison, which is the name of the task force that developed the 2021 Ford Mustang Mach-E, set out to reinvent the various control and connectivity systems from scratch. A massive 15.5-inch vertical touchscreen dominates the centre stack and it will be your hub for virtually all functions and apps. Mercifully, a flat menu structure makes its operation much simpler and faster.
Nearly everything is accessible with just one action or voice command. Seamless and wireless compatibility with Apple CarPlay and Android is included, as well as wireless charging for mobile devices. Driver-specific information is displayed on a 10.2-inch horizontal screen behind the three-spoke sport steering wheel. And just like Tesla, Ford will offer over-the-air software updates.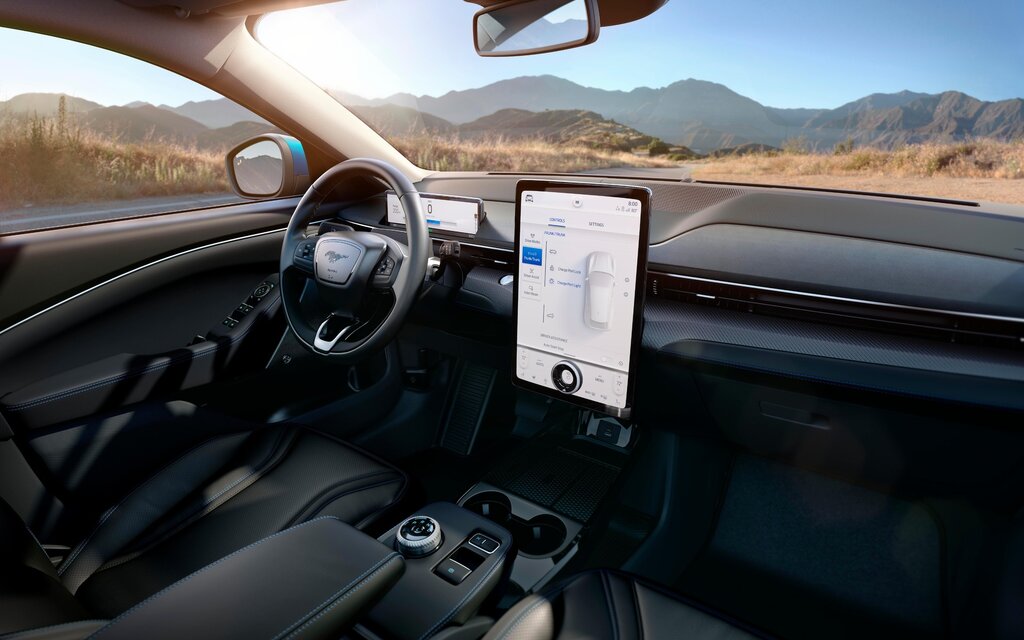 Despite being over a century old, Ford—not Elon Musk's company—was the first to get rid of all animal-based materials when it developed the Mustang Mach-E. Traditional leather is replaced with synthetic upholstery (higher trim levels feature double topstitching and other fancy touches).
From what we saw, the front seats appear to provide decent comfort, while a short trip on the rear seat of a prototype revealed a good amount of support mixed with reasonable space. The middle section of that rear seat is tight, but the flat floor makes it useable. The Premium AWD model we were riding in also delivered strong acceleration and proved fairly agile on the slalom course with sharp lateral transitions and minimal body roll. The GT Performance Edition must be spectacular.
Pricing for the 2021 Ford Mustang Mach-E is as follows:
Select at $50,495
Premium at $59,495
California Route 1 at $64,495
First Edition at $71,995
GT Performance Edition at $82,995
A new era begins at Ford thanks to a car, er, crossover that likely has many more surprises in store for us. We can't wait to take it for a spin.
Share on Facebook