Watch: Ford Testing
Mustang Mach-E

With 7 Motors, 1,400 Horsepower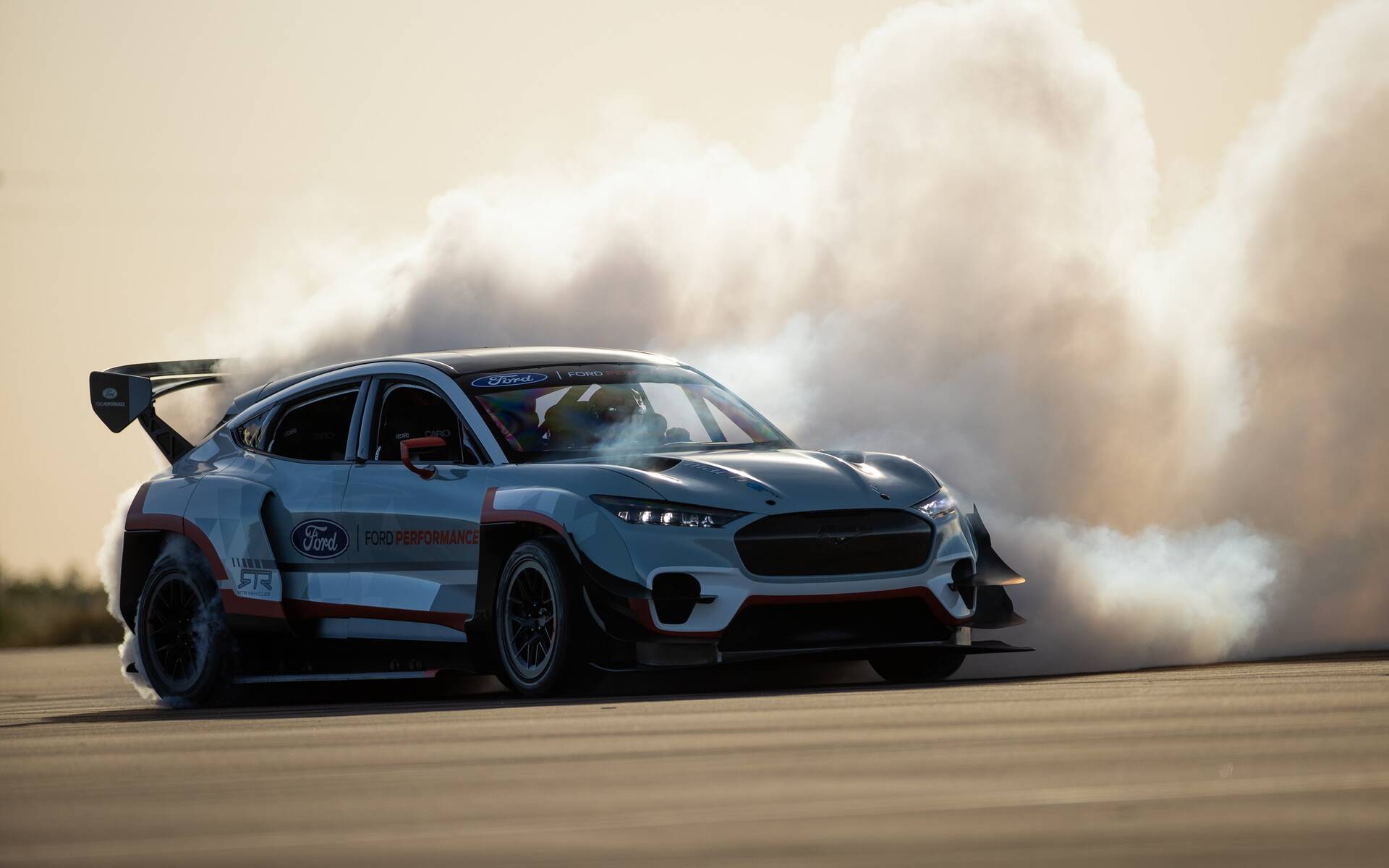 Remember the fully electric, 1,400-horsepower Mustang Cobra Jet 1400 announced by Ford back in April? Here's a similar one-off prototype that's based on the new Mustang Mach-E crossover in GT Performance trim.
Blessed with seven electric motors and extreme aerodynamics, the Ford Mustang Mach-E 1400 lives up to its name with 1,400 ponies under the sheetmetal. The goal is to show just how much performance can be harnessed without using a single drop of gasoline, whether on a road course, at a drag strip or during a drifting session.
It's also a test bed for new materials. For instance, the hood is made of organic composite fibers, a lightweight alternative to the carbon fibre that comprises the rest of the body.
The car was designed by Ford Performance toegther with RTR Vehicles, the company founded by drift master Vaughn Gittin Jr.
"Getting behind the wheel of this car has completely changed my perspective on what power and torque can be," he says. "This experience is like nothing you've ever imagined, except for maybe a magnetic roller coaster."
Ron Heiser, chief program engineer for the Mustang Mach-E, describes this prototype as "completely insane." The following video is proof of that:
Three of the seven electric motors are attached to the front differential and four are attached to the rear in pancake style, with a single driveshaft connecting them to the differentials, which have a huge range of adjustability to set the car up for everything from drifting to high-speed track racing, Ford explains.
The 56.8-kWh nickel-manganese-cobalt battery is built for ultra-high performance. With a quick discharge rate, range is clearly not its forte. However, it's interesting to note that the battery system is designed to be cooled during charging using a di-electric coolant, reducing downtime between runs.
What's more, an electronic brake booster is integrated to allow series regenerative braking. The Mustang Mach-E 1400 features Brembo brakes, like the Mustang GT4 race car, and a hydraulic handbrake system designed for drifting that integrates with the powertrain controls to enable the ability to shut off power to the rear motors.
With this unique machine, Ford engineers will be able to investigate different layouts and their effects on energy consumption and performance, including front-wheel drive, rear-wheel drive and all-wheel drive. As you can imagine, drift and track setups have completely different front-end configurations.
Oh, and one last thing that should impress you: the Mustang Mach-E 1400 is said to achieve more than 2,300 pounds of downforce at speeds of 260 km/h!
Share on Facebook