Inside Look into Polestar: The New Guiding Star of Electrification
NEW YORK CITY – See if you've heard this before: boutique shops, concierge service, on-hand specialists and appointment-driven. It sure sounds like Apple's store model. It's also the vision of Polestar, Volvo's first offshoot brand now specializing in electric, high-end performance.
"We look outside the auto industry to define what the future holds," explains Gregor Hembrough, president, Polestar North America. "We want consumers to have a premium experience that focuses on time, commodity and simplicity."
That experience resides in Polestar Spaces, and more than 60 are expected to pop up in metropolitan city centres around the globe, including right here in Canada with eyes on Toronto, Montreal and Vancouver. Hembrough refers to them as "guide shops" for consumers to validate their products in a stress-free, non-commissioned and progressive environment. There will be no dealerships sales and no connection to Volvo in the dealership arena. You can also completely avoid the human interaction experience by ordering a Polestar online and having it delivered.
These Polestar Spaces are slated to come in late 2019 to the U.S. when the standalone company releases its first car, aptly named the Polestar 1—an electrified 2+2 hybrid coupe filled with carbon fibre, producing over 600 horsepower and 738 pound-feet of torque. That torque aided by two electric motors in its rear will guide the coupe to an expected 0-100 km/h sprint in close to four seconds, as well as a pure electric range of 150 kilometres.
The first store is expected to be in New York, the site of this inside look at the Polestar company. Canada doesn't have a Polestar space lined up yet, but the Polestar 1 is expected to arrive in Q1 of 2020.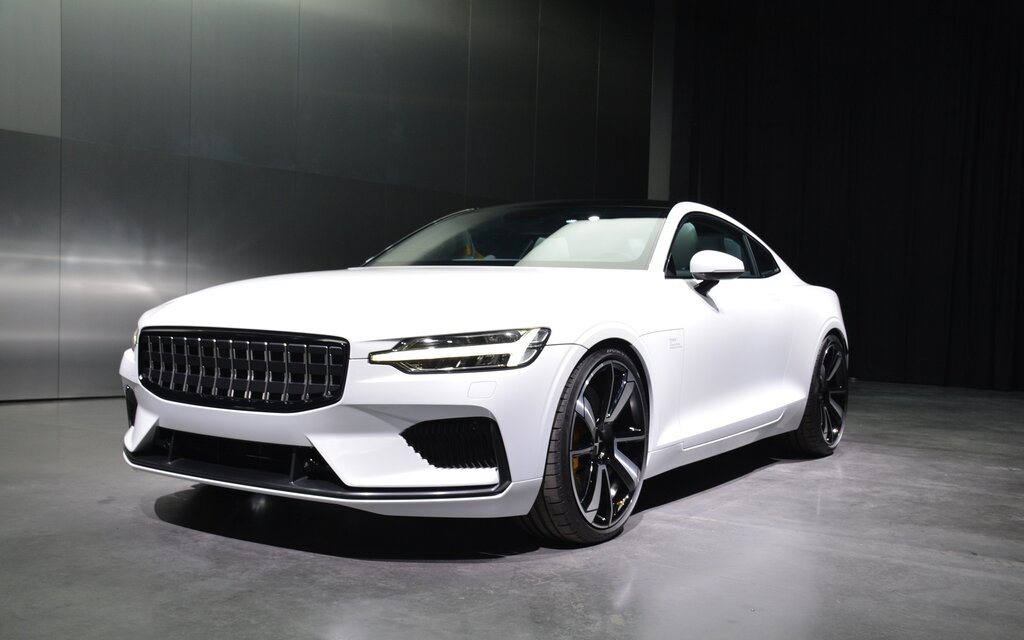 Rivalry with Tesla
The boutique shop concept isn't foreign to North America. Genesis rolled out its boutique vision along with a Genesis at Home purchasing model. And before that, there was Tesla who was the pioneer of the storefront along with a fully electrified vision.
With Polestar's all-electric plan (the Polestar 1 will be the only hybrid), Tesla naturally appears as a direct rival. However, for now, there's mixed messaging and that most likely has to do with the Polestar 1 not falling in the same category as the Tesla Model S and X, and more with the Apple store comparison. Heck, they even have the same numbering concept for its vehicle names just like the iPhone.
"A lot of people at Polestar and in the media talk about Tesla being a rival," adds Hembrough. "It's less about the product and more to do with the modern mindset, new technologies, and new ways of transacting business and that's completely understandable."
Those thoughts will all change once the Polestar 2 comes out—most likely unveiled at the 2019 Geneva Motor Show in Q1 of 2019—as it's being dubbed right out of the mouth of Polestar's CEO and lead designer Thomas Ingenlath, a direct competitor to the Tesla Model 3 at a competitive price between $45,000 and $55,000 in the U.S.
According to Hembrough, what will differentiate Polestar is focusing on the type of high-end services its consumer base are looking for, as well as being able to adapt to the changing automotive landscape that currently is looking towards electrification. Polestar executives believe it's only a matter of time before consumers start to feel more confident with electrification and range, and its benefits will be clearly evident by the time its lineup will be rounded out by the Polestar 3—its first SUV.
Benefits of Volvo Backing
Going from an idea to a concept to an actual production car is already a big achievement for a smaller brand and a lot of that initial success has to do with its parent company Volvo. Polestar wants to be seen as its own brand, but there's no denying how proud it is of its 91 years of automaker heritage. That also comes with built-in advantages such as scalability, service points, and being backed by an OEM partner rather than going at it alone. The latter isn't something money can buy for the likes of Karma, or even Tesla for that matter.
Volvo might have created the original coupe concept, but it's better in Polestar's hands, in a "we'll take it from here" scenario. The talent on the Polestar team starts with its head Ingenlath, followed by a wealth of experienced talent coming from Peugeot, Red Bull, Jaguar Land Rover, and from Volvo itself, to name a few. According to Hembrough, when we see Polestar 2 and Polestar 3, it will be much more evident where the brand is going and how much it will deviate from Volvo. It will retain Volvo's core technologies in regards to safety and reliability, while adding a proud-to-own and fun-to-drive experience.
Canadian Marketplace and Subscriptions
For Polestar 1, sales are nearing 200 units, dominated by the United States market. Thus far, 20 Canadians have put down deposits, placing Canada seventh in global sales, surprisingly one unit ahead of China.
Canada is an important market, but the United States and China are expected to spearhead Polestar sales, especially considering that it's owned by Geely, a Chinese multinational automotive manufacturing company, and its soon-to-be-finished elaborate factory in Chengdu, China will be the production spot for all Polestar 1s (500 in the first year and a total of 1500 expected over 3 years).
Hembrough talks about a "very clean delineation" of Polestar's plan in Canada, but for now, it's all in broader terms. At this point, Canada is evolving with a dealership plan in place, but without any confirmation. Same goes for an 18-month U.S. subscription plan that will be another differentiator for Polestar. Subscriptions are to include insurance, maintenance, as well as wear and tear. Consumers can also swap out a vehicle for a different colour, trim, or another vehicle once the Polestar 2 gets released. After each change to a subscription, the 18-month plan starts anew, another comparison to cell phone companies.
The aforementioned subscription-based plan is scheduled to come to Canada. The only hold-up has been finding a finance partner, as they are the ones that deal with the subscriptions and any financial incentives tacked on.
Conclusion
One thing Polestar has is time, and for now, Canadians can easily place a deposit and they've clearly done so to the tune of USD$155,000. The automotive future is changing so rapidly and Polestar admits they don't know what the future holds, but are prepared to react and adapt quickly. They have a safety net in knowing it has the backing of Volvo and a $10.8-billion investment made by Geely, and sometimes, that's all a company can ask for.
Hembrough puts it best, "it's big not taking small, but quick taking slow," and that's a glimpse into the confidence behind the Polestar brand as it charts a new path with eyes clearly set on Tesla and anyone else who enters the electrified space.
Share on Facebook