Polestar 1: A Plug-in Hybrid Shooting Star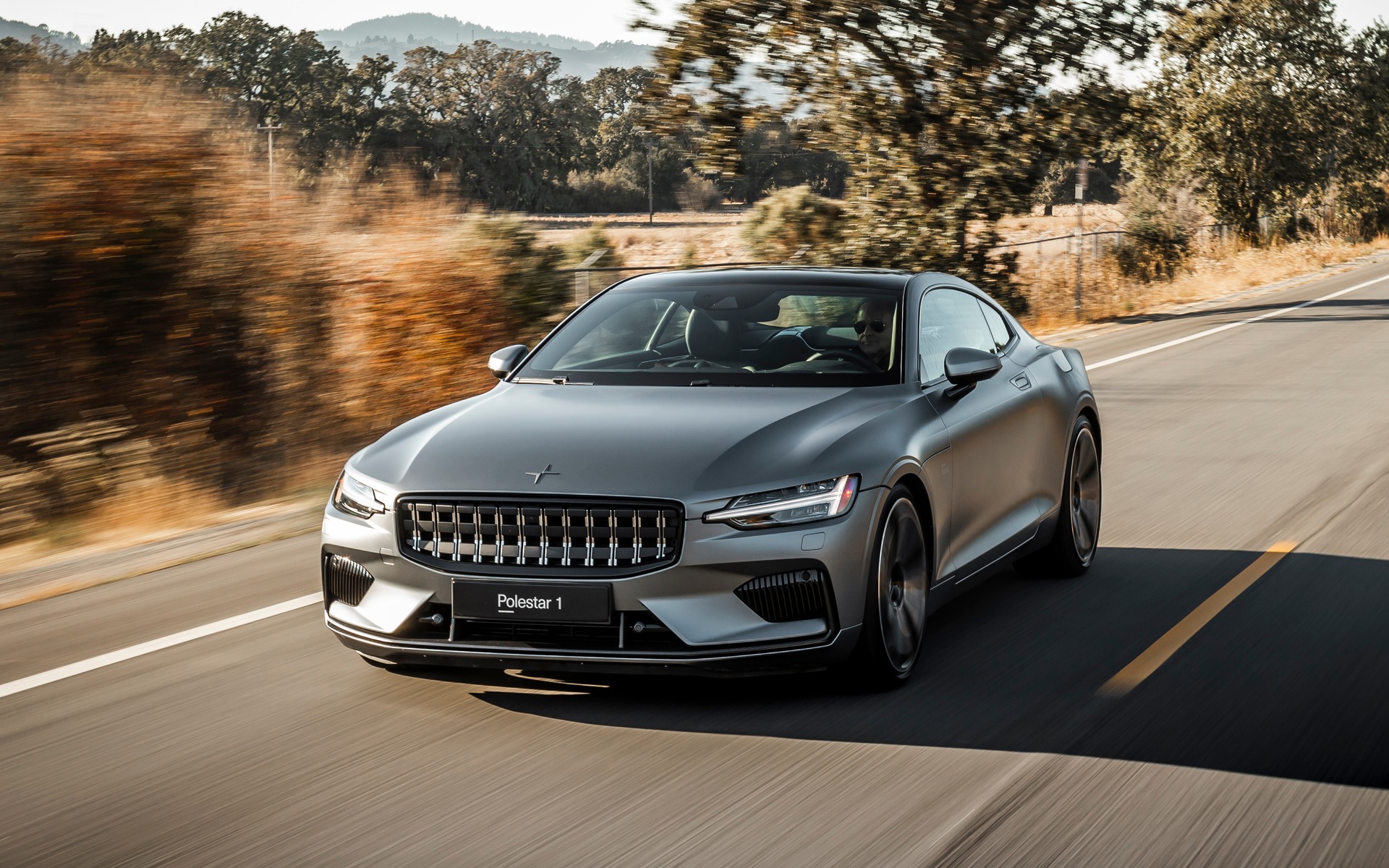 Strong points

Gorgeously understated silhouette
Superb driving position and comfort
Unsurpassed EV range among hybrids
High-tech design and structure

Weak points

Annoying gear selector
Too many elements shared with Volvo
Bouncy ride on uneven pavement
Multimedia system will soon be outdated
Full report
SAN FRANCISCO, California—Some engineers and designers must have erupted with joy when they were asked to develop Polestar's first vehicle as a standalone brand, operating under the stewarding of Volvo and China's Geely. They would have generous resources at their disposal, not to mention the creative freedom to do just about anything they wanted.
Led by Swedish engineer Sofia Björnesson, they started with the Scalable Product Architecture (SPA) that underpins all current Volvo models from the 60 and 90 series. Then they shortened the wheelbase by 200 mm and the rear overhang by 100 mm to improve handling and create a sleeker profile.
These two attributes are a big deal because we're talking about a brand new, plug-in hybrid grand touring coupe that needs to make a pretty strong statement right off the bat, showcasing Polestar's technical know-how gained from racing and as Volvo's performance division—much like AMG for Mercedes-Benz or M for BMW.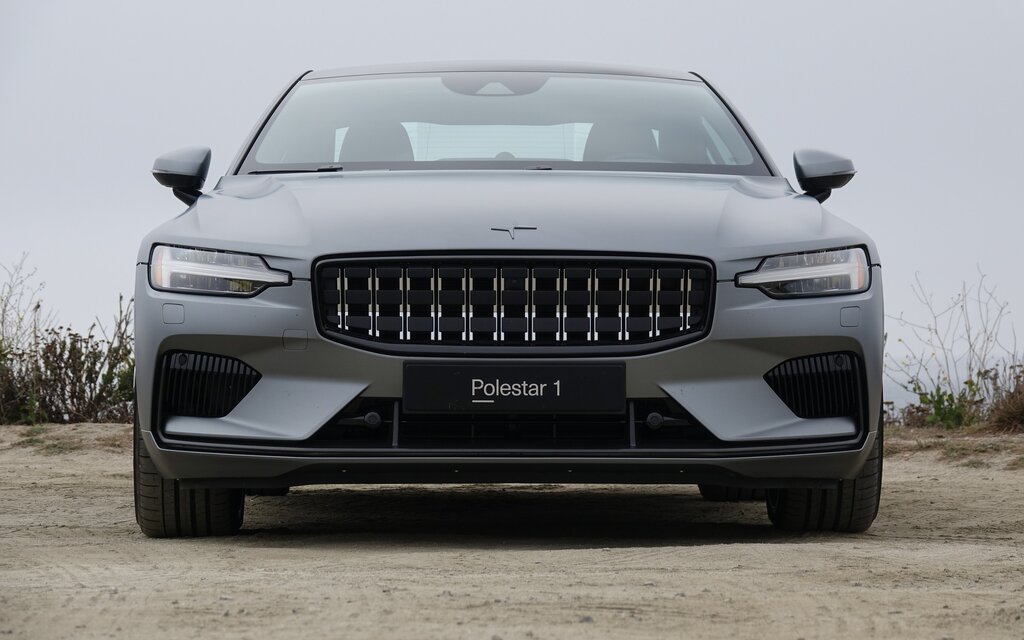 The Body of an Exotic Car
The SPA chassis is the basis for a dragonfly-shaped carbon fibre structure that increases rigidity by 60 percent, and on top of that is a stylish carbon fibre body. The entire package is 230 kg lighter than a comparable car, has a lower centre of gravity and boasts stunning shapes that are simply impossible to create with either steel or aluminum. One example is the sharp ridge that runs the full length of the rear fenders.
The clean lines of the low, long and wide Polestar 1 are inspired by the Concept Coupe study and the classic Volvo P1800. The nearly rectangular grille is an obvious nod to the latter. The car's proportions are perfect, while the look is modern and racy, emphasized by 21-inch alloy wheels and a beautifully unadorned body. Oh, and there's an active rear spoiler that improves stability at high speeds (the machine is electronically limited to 250 km/h).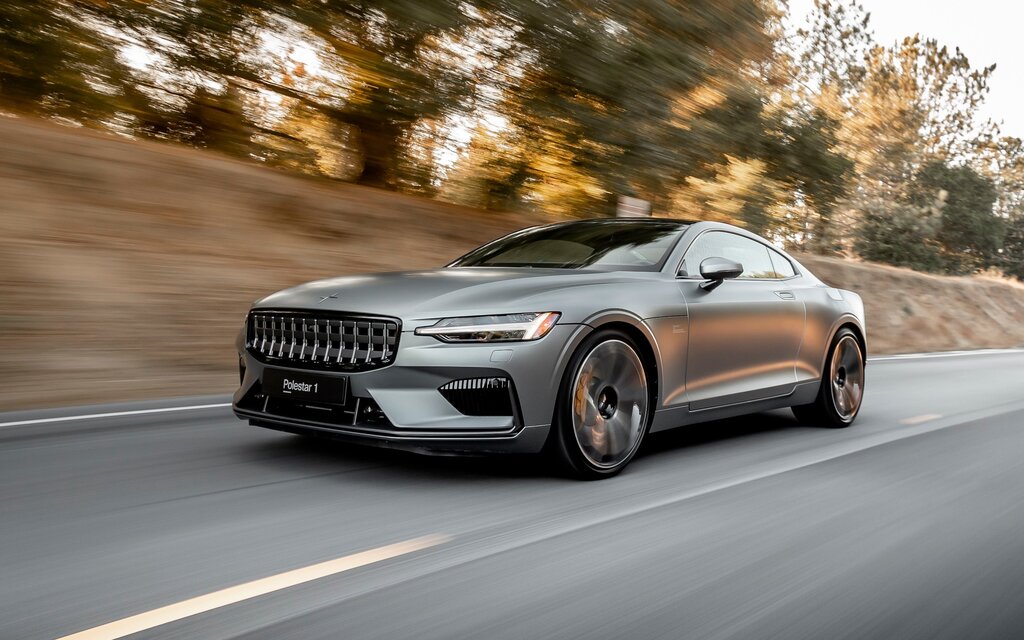 The interior is oh-so Scandinavian, too. The clean, uncluttered dashboard is accented with satin-finish carbon fibre trim. The round gauges and the centre touchscreen powered by the Sensus infotainment system seem to come directly from a recent Volvo product. Admittedly, I was a bit disappointed by that given the high price and exclusive nature of the Polestar 1. The curious thing is that the Polestar 2 boasts a much more modern interface with a fully integrated Android system.
Over on the centre console, a large Orrefors crystal highlights the stocky gear selector. Two taps are required to shift into drive or reverse, which I found particularly annoying. The bright metal barrel that allows drivers to choose between five different modes is not as convenient to use as a rotary dial while driving. The front seats are exceptionally comfortable and adequately supportive for a grand touring car. Overall, the driving position is spot-on.
The Polestar 1 is described as a 2+2 coupe, with child seat anchors in the rear and a height limit of 1.45 m for passengers. Accessing these confines is a long and complicated process due to the slow-moving, power-operated front seats. You can't even fold the seatbacks in one quick swoop just to put some luggage behind you.
As for the trunk, it's ridiculously tight at 125 litres. The rear battery pack takes up a whole lot of space and the big orange connectors visible through a Plexiglas panel are not something most owners will care about beyond impressing their friends.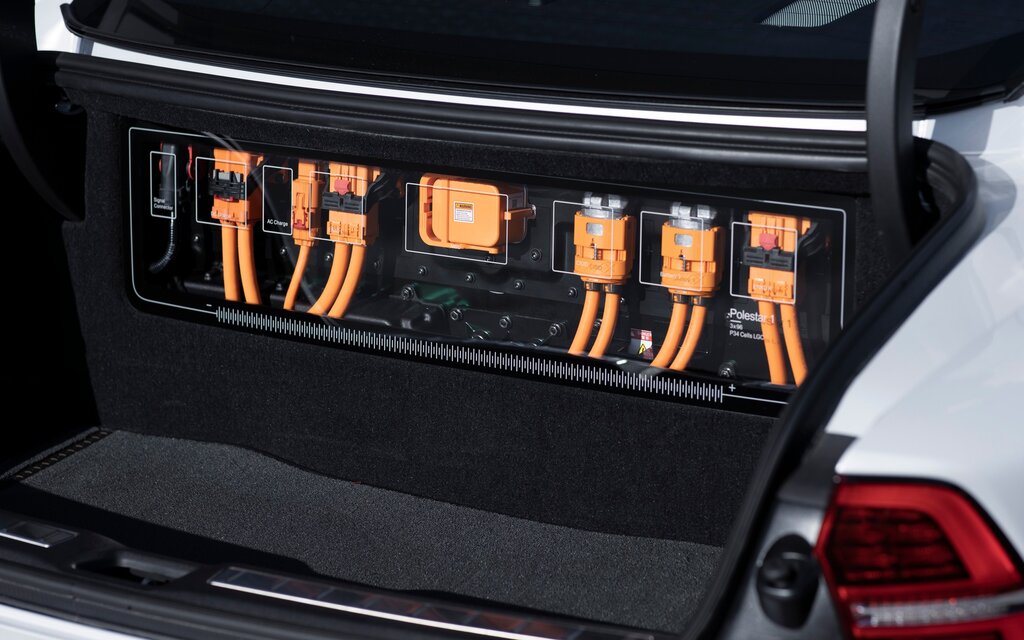 The Heart of a Timid Sports Car
The Polestar 1 is motivated by a turbocharged and supercharged 2.0-litre four-cylinder engine that sends 236 horsepower to the front axle. Two electric motors totalling 232 horsepower drive the rear wheels. A third, 70-horsepower motor adds some push to the crankshaft while serving as a starter-generator.
Combined system output is rated at 619 horsepower and 738 pound-feet of torque when the battery is sufficiently charged. Speaking of which, the 34-kWh lithium-ion pack from LGChem is divided into two units (front and rear) to achieve a near perfect 48-52 weight distribution. It provides an electric range of 112 km according to the WLTP standard. Charging the battery to 80 percent takes less than an hour. No other plug-in hybrid can beat that.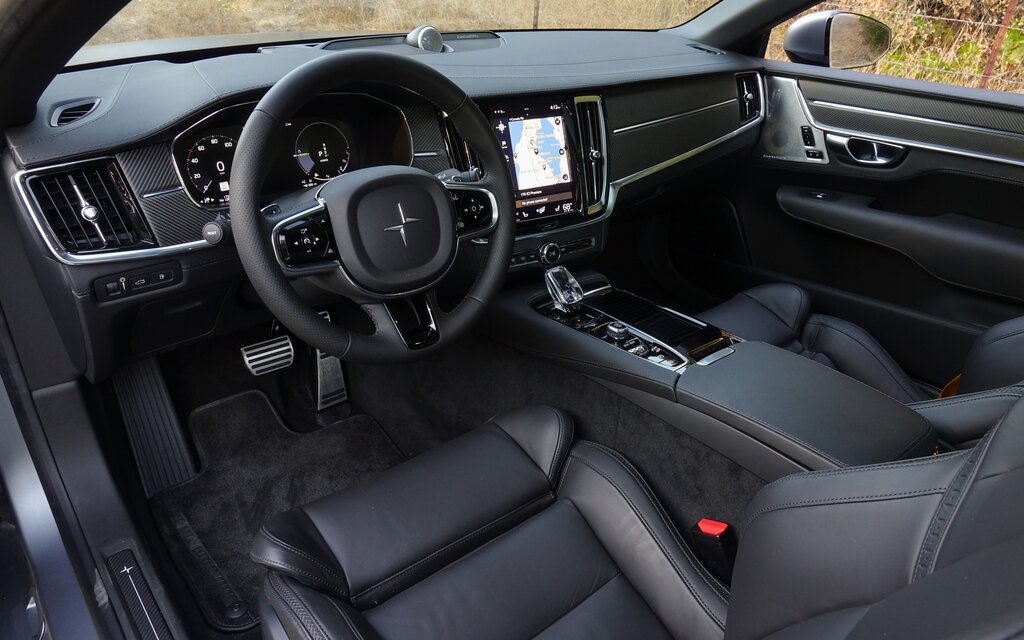 To handle the massive power and 2.5-ton weight of the car, Polestar engineers developed a double-wishbone front suspension and a multi-link rear suspension complete with excellent Öhlins shocks that can be manually adjusted for compression and rebound. The Akebono brakes use 400-mm discs and six-piston callipers up front, plus 390-mm discs and four-piston callipers in the rear.
The Polestar 1 is rock-solid and incredibly poised on the road, no matter how twisty it gets, though the front tires can start to slip and screech if you put too much zest in corners. The ride is firm and becomes bouncy on uneven pavement. Maybe the company should consider softening the whole setup a bit. Braking is flawless and one-pedal driving is almost possible if you put the selector in B mode to maximize energy recuperation.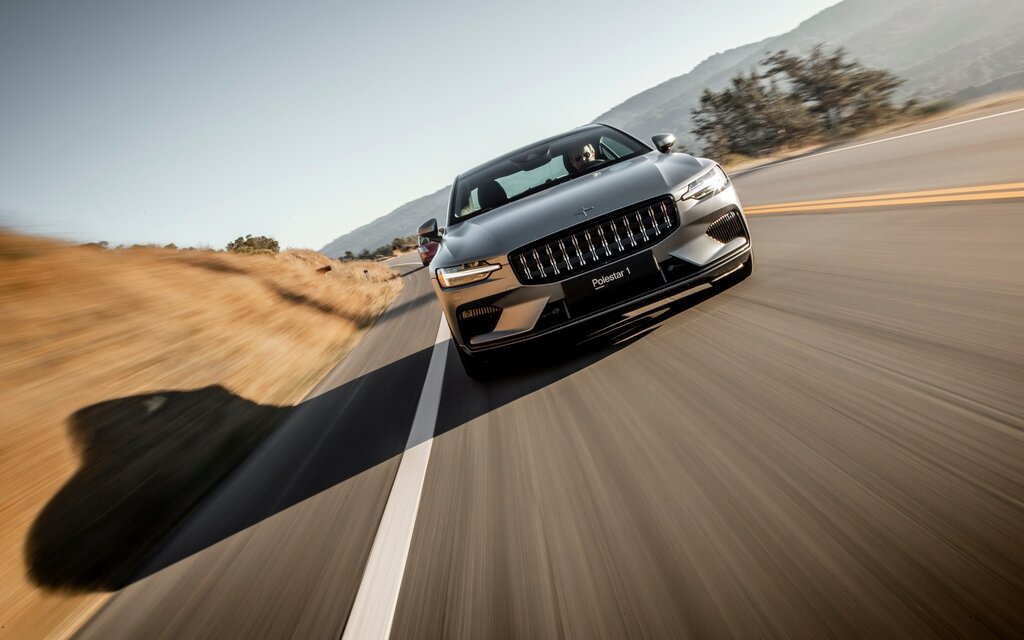 Acceleration from 0-100 km/h takes 4.2 seconds, Polestar claims. Sprints are explosive in Pure (EV) mode and quick enough if you put the pedal to the metal in Hybrid mode. Everything becomes more intense in Sport mode, of course, but don't expect the same level of ferociousness as the best turbocharged sports cars on the planet or the electrifying passing manoeuvres of the fully electric Porsche Taycan.
Ultimately, the new Polestar 1 delivers a unique combination of style, refinement, performance and efficiency in an exclusive package limited to just 500 units for each of the first three years of production—including 30 for all of Canada. All future Polestar cars will be completely emission-free, so this plug-in hybrid grand touring coupe might become a collector's item someday. Pricing starts at $199,000 and you can add $7,500 just for the matte grey paint you see here.
Share on Facebook