2023 Toyota GR Corolla: Irresistible Little Devil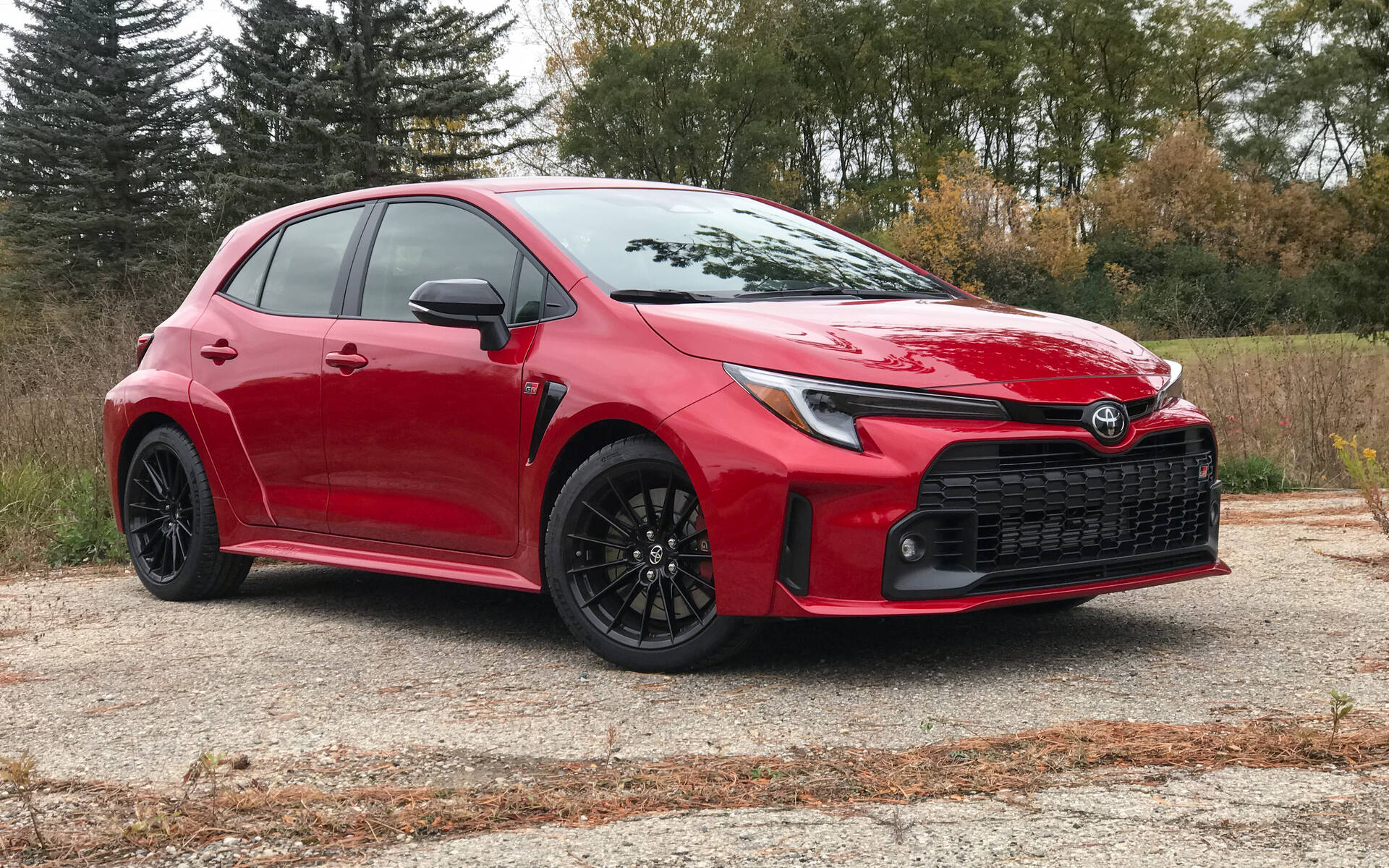 Strong points

Precise handling
Competent and adjustable AWD
Feisty and expressive engine
Powerful and dependable brakes

Weak points

Too much space between the pedals
Turbo lag
Tight rear seats
Limited cargo area
Full report
If if weren't for Toyota boss Akio Toyoda's passion for performance and his tremendous racing experience, driving and sports-car enthusiasts wouldn't have the GR Corolla, a new hot hatch that's about to land in Canada. Not only is he fully backing Toyota's commitment to motorsports, but he's also the one who pushed the company to develop a standalone model after collaborating with Subaru for the GR 86 and BMW for the GR Supra.
The GR Corolla is actually a three-headed monster, with a pair of special editions that will be available in 2023 in addition to the base model starting at $45,490. By the way, heated front seats and Torsen-type front and rear locking differentials are standard in Canada and optional in the U.S. That's great news for us.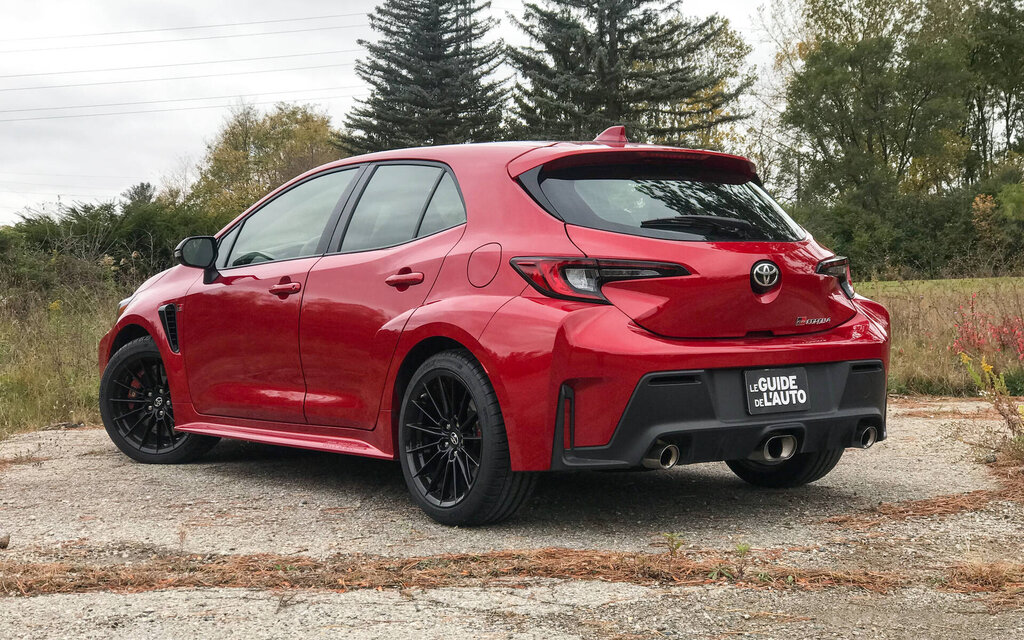 The GR Corolla Circuit Edition Circuit is a launch-year exclusive model with a limited production run. Starting at $53,990, it adds a carbon fibre roof, GR-branded red brake calipers, a vented hood bulge, a rear spoiler, GR suede seats and more.
Meanwhile, the GR Corolla MORIZO Edition (named after Toyoda's racing moniker) is even more limited and priced at a staggering $59,990. Torque is increased, while the rear seats, speakers, window motors and rear wiper blade are removed in order to save weight. A stiffer body is part of the mix, too, along with a revised transmission, differentials, suspension and wheels. Leather- and Ultrasuede-trimmed sport seats in black with red stitching and seat belts highlight the interior.
Time to Play!
My colleague Germain Goyer had the opportunity to ride shotgun in the GR Corolla for one lap at the Eagles Canyon Raceway in Texas back in June. Now, it was my turn to put the car to the test as part of the North American Car and Truck of the Year evaluation process.
Along with my fellow judges, I drove a base model in Supersonic Red in the streets of Ann Arbor, Michigan. Despite the short time spent behind the wheel (a longer, more comprehensive review on Canadian roads and tracks will follow eventually), I managed to learn a lot about the car.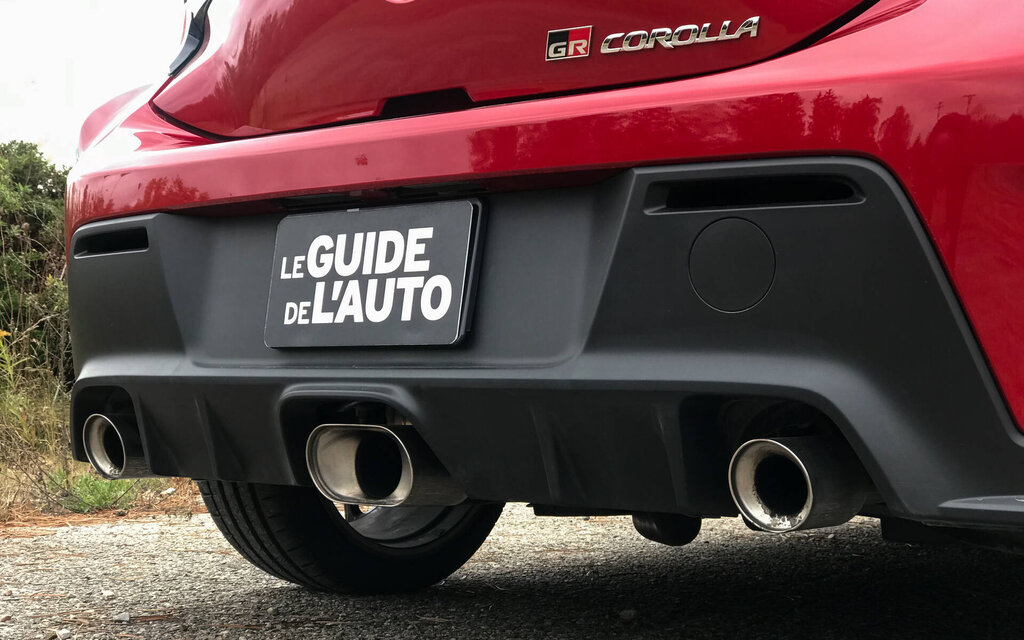 The GR Corolla is based on the Corolla Hatchback and developed with the help of Toyota's Gazoo Racing division. It is closely related to the GR Yaris—which we don't get because it's too small for North American tastes—derived from the WRC-winning Yaris racer.
Having four doors (instead of two) and decent rear seats is way better, of course. The GR Corolla is 44.1 cm longer than the GR Yaris with 7.9 cm of that coming from the wheelbase. It's also 4.6 cm wider due to the flared fenders that house Michelin Pilot Sport 4 tires (235/40R18).
Sure, it carries a few dozen kilograms of extra weight, but the turbocharged triple-cylinder engine under the aluminum hood is more potent, delivering 300 hp (+43) at 6,500 rpm and 273 lb-ft. of torque (+8) from 3,000-5,500 rpm. The MORIZO Edition is boosted to 295 lb-ft. I wish the shifter controlling the six-speed manual transmission had slightly shorter throws, but manipulation is precise and satisfying nonetheless.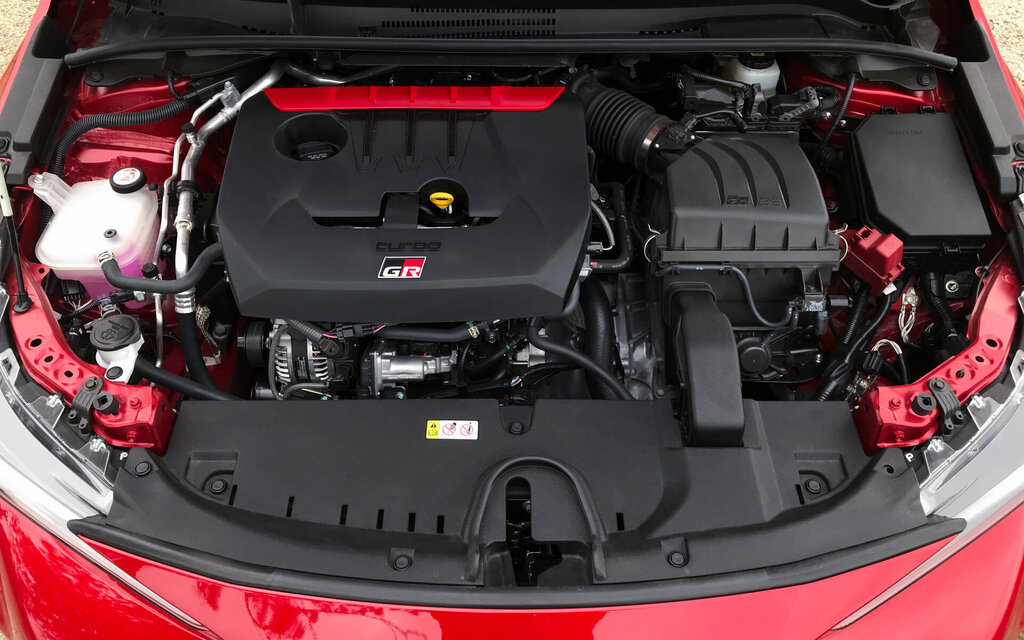 The GR-Four all-wheel drive system was originally developed by Gazoo Racing engineers for rally domination and comes with a rotary selector on the console that allows you to adjust torque distribution from 60/40 in normal driving to 30/70 for sportier handling or 50/50 when balanced grip is desired.
The 30/70 split is great from a dynamic standpoint, but it doesn't make the GR Corolla a master drifter. Consider yourself warned.
A Clear Focus
A quick glance is enough to realize that this is no ordinary Corolla. In addition to the muscular bodysides, styling is elevated by a huge, blacked-out grille up front, black air vents behind the front fenders, side skirts and three separate exhaust tips piercing through a black diffuser. The forged carbon roof helps reduce the car's weight and lower the centre of gravity.
Black 15-spoke wheels partially hide 355mm front and 297mm rear brake discs. Those are clamped by four- and two-piston callipers, respectively. The brake pedal is firm yet easy to modulate, and braking power is undeniably strong, which bodes well for track use. A MacPherson-type front suspension combines with a double-wishbone and multi-link setup in the rear to deliver a firm ride that shouldn't prove too painful for your back.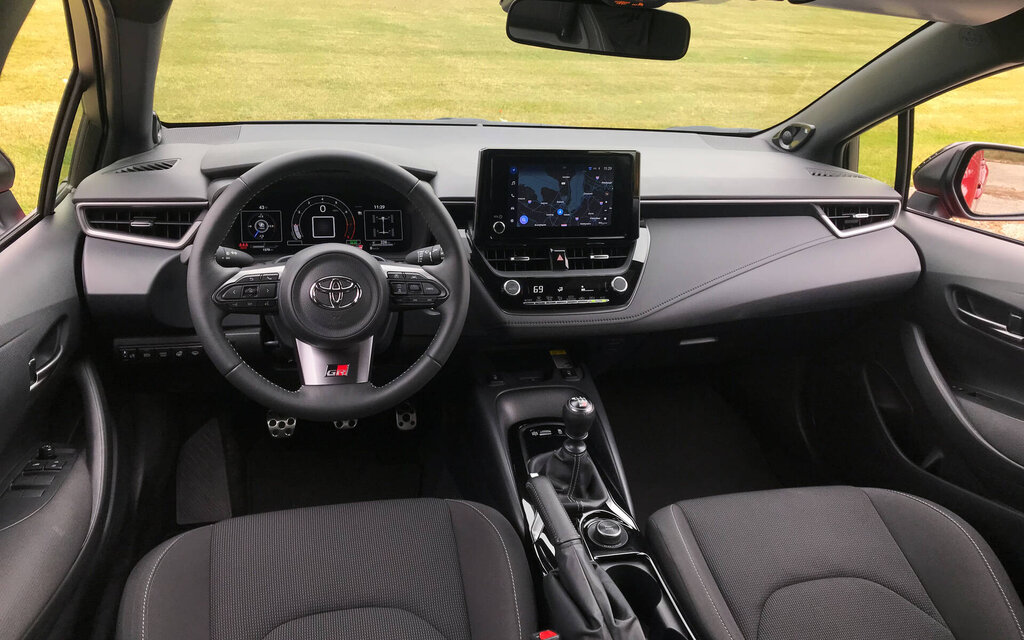 The interior features a nice layout—nothing too fancy and a clear focus on ergonomics in typical sports car fashion. If you want luxury touches, consider a Volkswagen Golf R instead. The GR Corolla offers a good driving position and the driver's seat is supportive enough without being radically sculpted like that of the Civic Type R. The small, leather-clad steering wheel is simply perfect. I also appreciated the dead pedal, but found that there is too much space between the aluminum pedals to easily perform heel-toe shifting. Elsewhere, a 12.3-inch digital instrument panel provides all the essential driving data, and an 8-inch centre touchscreen takes care of infotainment.
Considering the GR Corolla's primary purpose, the engine fires up far too quietly and is a bit too timid when you depress the throttle. Once it gets past 3,000 rpm, however, turbo lag disappears and the 300 horses will pin you to your seat while filling your ears with a unique and irresistible growl. Personally, I'm a big fan.
The driving session may not have involved breakneck speeds, but I was still able to enjoy the precision of the steering and stability of the front axle. This little devil is a lot of fun to play with, and a serious threat to more established rivals. And remember, it's a Corolla, so reliability should not be a concern. What a promising start.  
Watch: 2023 Toyota GR Corolla Makes Official Debut
Share on Facebook