2022 Ford Bronco Raptor: Unstoppable Bronco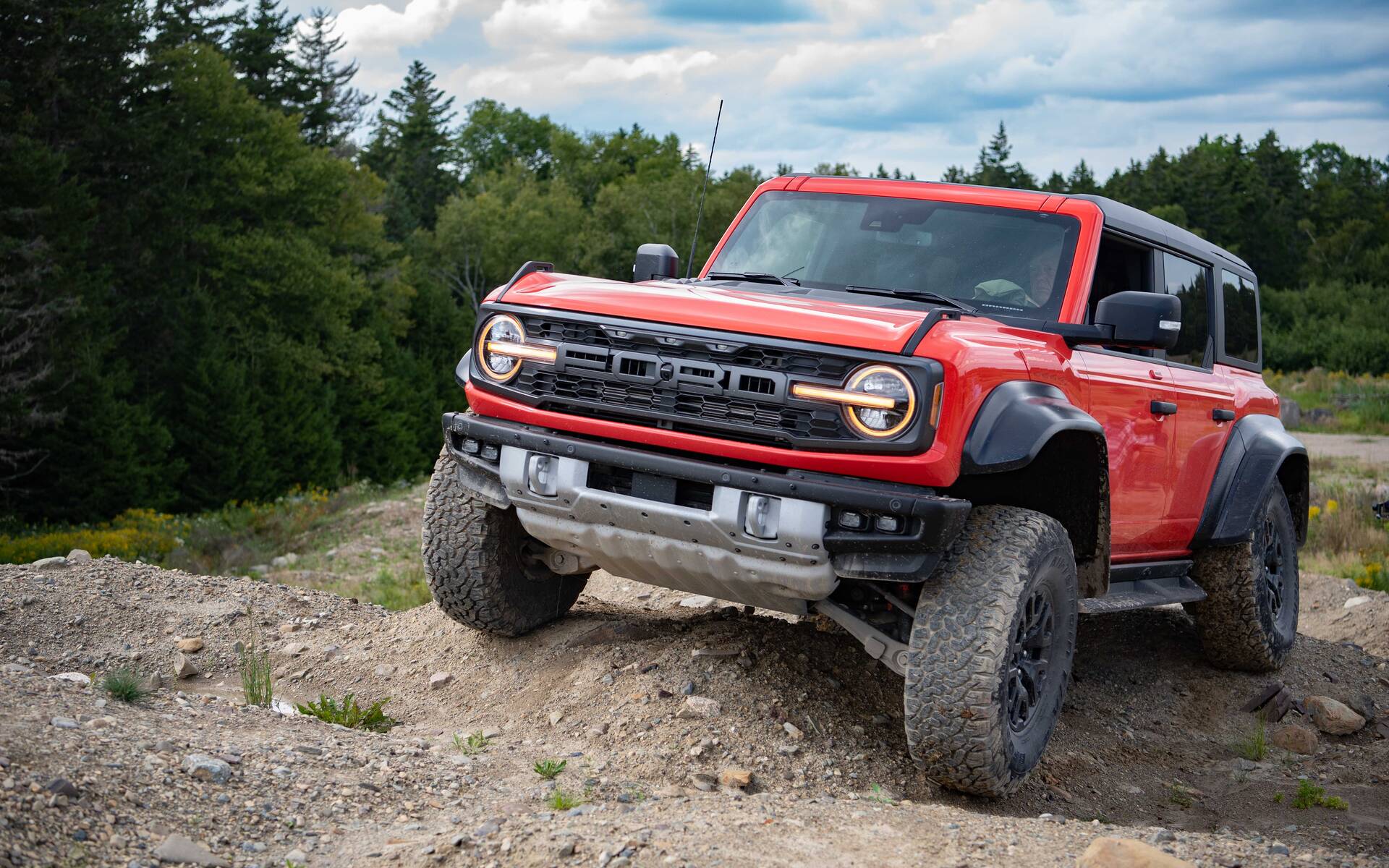 Strong points

Excellent off-road capability
Explosive engine at higher revs
Surprisingly docile on the road

Weak points

Turbo lag at lower revs
Six-figure price
Limited availability
Reliability is a concern
Full report
Saint John, New Brunswick—With the addition of the all-new Raptor, the Ford Bronco lineup enters a whole new dimension. This almighty and ultra-capable model can tackle much more challenging obstacles and race through the desert with uncanny speed.
The people at Ford Performance have made thorough upgrades to the Bronco, which was already a solid off-roader. The fully boxed, high-strength steel frame can handle bigger loads, torsional stiffness is increased by 50 percent, and new shock towers improve wheel travel (13.0 inches in front and 14.0 inches at the rear) and off-road durability. The Bronco Raptor happens to feature unique FOX 3.1 internal bypass semi-active dampers, while its ground clearance is increased by 4.8 inches to 13.1 inches.
In order to enhance high-speed stability, track width is stretched by a whopping 8.6 inches. No, that's not a mistake, and it couldn't have been more obvious when we parked a Bronco Raptor next to a regular Bronco. The new fender flares add to the wide, muscular look.
Under the vehicle, heavy-duty bash and skid plates provide continuous driveline coverage from the front bumper to the back of the engine, transmission and transfer case. The Dana 44 front and Dana 50 rear axles come straight from the Bronco DR, a desert racer built for events like Mexico's Baja 1000. An electric power steering rack and housing influenced by the F-150 Raptor, as well as larger-diameter inner and outer tie rod ends, were added to further upgrade the Bronco Raptor.
Elsewhere, 37-inch BFGoodrich KO2 all-terrain tires (37x12.50R17LT) come standard. Two Ford Performance-designed, 17x8.5-inch beadlock-capable wheels are available. 
The Most Powerful Bronco
For the engine, Ford chose to take a different route than Jeep with their Wrangler Rubicon 392. Instead of stuffing a 5.0-litre V8 under the hood, they opted for a 3.0-litre EcoBoost V6. The latter is not only lighter but its twin turbos also manage to deliver impressive performance.
Producing 418 horsepower and 440 pound-feet of torque, the uniquely tuned mill with upgraded intake, cooling and ECU may not match Jeep's numbers (470 hp, 470 lb-ft.), but we're not complaining.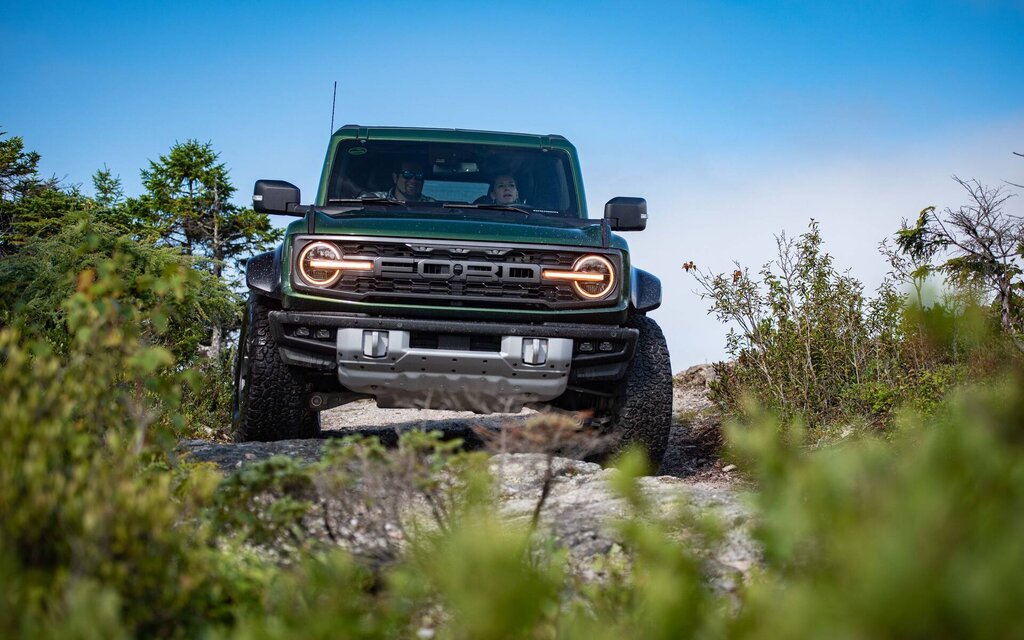 By the way, premium gas is required to get full power. There's a higher-capacity clutch designed to withstand the demands of high-performance desert events, while the dual-exhaust system with active-valve technology allows drivers to alter the sound of the Bronco Raptor with four selectable exhaust modes including Normal, Sport, Quiet and Baja.
The transmission is a 10-speed automatic which was obviously revised to meet Ford Performance standards. Oh, and for those who need to tow heavy loads from time to time, maximum capacity is increased by 1,000 pounds to 4,500 pounds.
Fairly Docile on the Road
When you get out of a standard, two-door Bronco and immediately climb into the Raptor, the higher driving position is quite a shock. Everything else is pretty much familiar content, though, including the upright and symmetrical dashboard with a large 12-inch screen in the middle.
The infotainment system is both attractive and easy to use, while space is generous front and rear. It's too bad the steering column can't be adjusted for depth as it might pose a problem for larger drivers. Luckily, the dead pedal is conveniently located to assist in on- and off-road driving.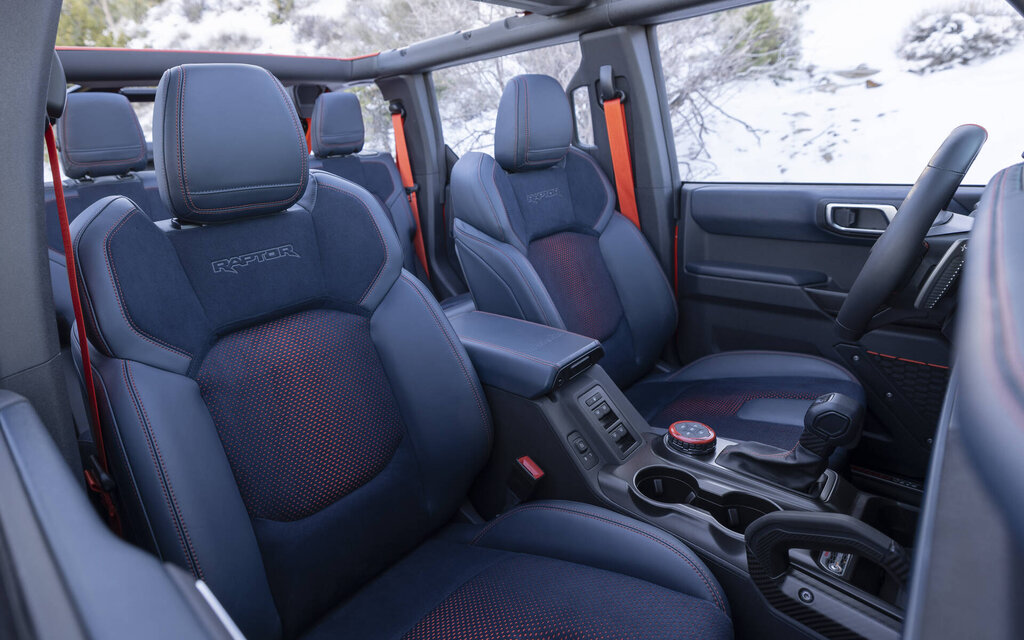 On typical pavement, the Bronco Raptor proves surprisingly docile. We expected it to feel a bit rough and unruly, but it actually showed a good amount of poise and smoothness. The long-travel suspension naturally induces quite a bit of body roll and wind noise quickly becomes audible as you pick up speed, but not so much as to be a deal-breaker.
Steering is heavier than that of other Broncos and felt more precise. The brake pedal is firmer, as well, which we appreciated. The Raptor has plenty of bite and stopping power when you need to slow down.
With those 418 horsepower and 440 pound-feet of torque, we anticipated strong low-end performance. However, that wasn't the case due to significant turbo lag. Little happens below 2,500 rpm, and the EcoBoost V6 needs to reach 4,000 rpm to really come alive. After that, it's a quick rush to the 6,200 rpm redline. The 10-speed autobox seems to be too concerned about saving fuel as it tends to upshift sooner rather than later. Consider this: you could be driving at 60 km/h in eighth gear.
Incidentally, we were unable to properly evaluate fuel economy due to all the time we spent off-road. For the record, Natural Resources Canada rates the 2022 Bronco Raptor at a combined 15.3 L/100 km.
Stellar in the Mud and Dirt
The media event we were invited to took place near Saint John, New Brunswick. Rocky roads, muddy terrain and a few boulders to climb were part of the program. There weren't any major elevation changes, but some sections required particular attention to avoid damaging the vehicle or rolling over.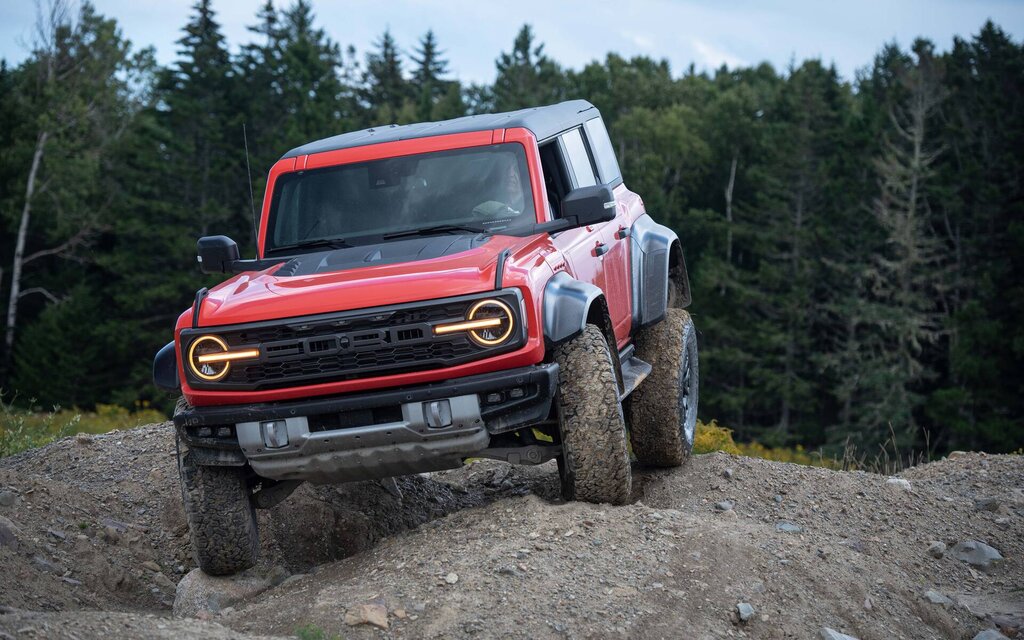 No matter the challenge, the Bronco Raptor benefits from the brand's exclusive G.O.A.T. modes (Goes Over Any Type of Terrain) as part of its terrain management system. You can also disengage the sway bars, lock the front and rear differentials, and even pivot the vehicle across a very short distance thanks to Trail Turn Assist. By sending more torque to the outside wheels, the system aids in manoeuvering around obstacles and in tight spots. We tried it and it proved remarkably effective.
Whether it's climbing up rocky trails, snaking through trees or crossing pools of mud, the Raptor takes it all in stride. It's so great at tackling any terrain that you could swear you're just using 20 percent of its capabilities. Filled with sophisticated technologies and blessed with competent rubber, this hardcore Bronco proves an accomplished handler. The only problem is the wide footprint, at least in narrow trails. Scraping the body sides is a real possibility.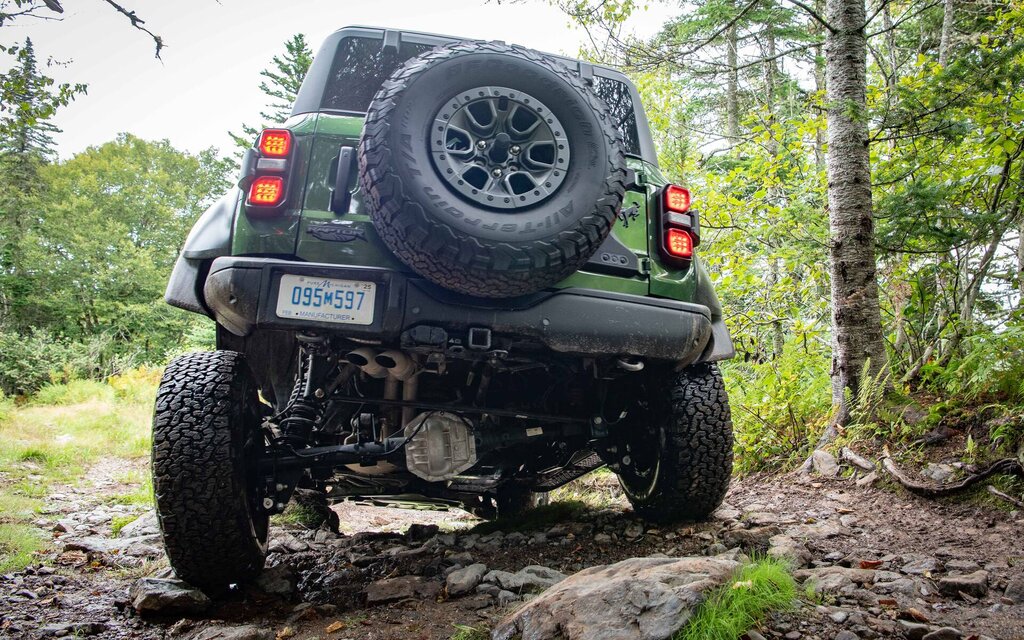 With Ford insisting on the high-speed prowess of the Bronco Raptor, we asked permission to hit faster trails and roads. There were no jumps along the way, but it was a whole lot of fun blasting through the landscape at nearly 100 km/h—and not scary at all thanks to the vehicle's tremendous surefootedness.
Rare, Expensive… and Reliable?
If you've read all of the above, you might be tempted to order a Bronco Raptor right away. Well, it sure is a great companion on and off the road, but there are more factors to consider.
First, pricing starts at $102,190 including freight and PDI. That's a ridiculous amount of money, though not quite as much as what Jeep asks for a Wrangler Rubicon 392. Next, availability is limited. Orders for the 2022 model are now closed. Ford Canada reps told us reservations for the 2023 model will begin this fall, but the exact date remains to be specified. It's safe to expect strong demand and long delivery times once again.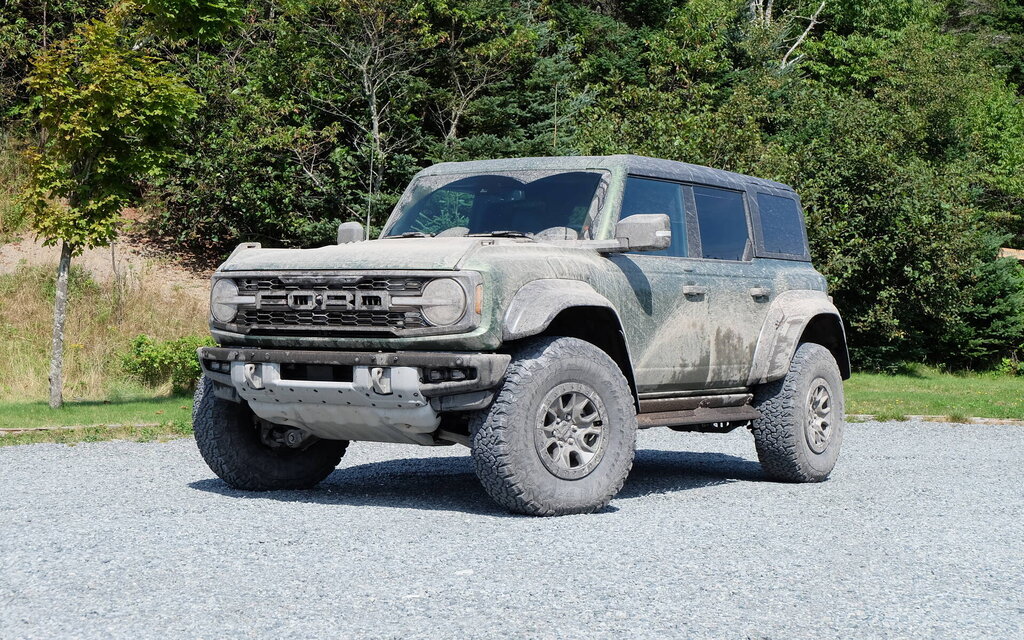 Finally, there have been various reliability issues with the Bronco lineup since the launch. The Bronco Raptor is still way too fresh to have any accurate idea of how it will hold up over time. We tested two different units and both experienced minor electronic problems. On three occasions, there seemed to be something wrong with the battery, but all of them turned out to be false alarms. Also, the blind spot monitoring system failed and the warning light built into the right-side mirror wouldn't turn off. Nothing major, of course, but these little irritants are hard to swallow in a six-figure vehicle.
Watch: 2021 Ford Bronco Wildtrak Review
Share on Facebook