2022 Jeep Wrangler Rubicon 392: Long Live the V8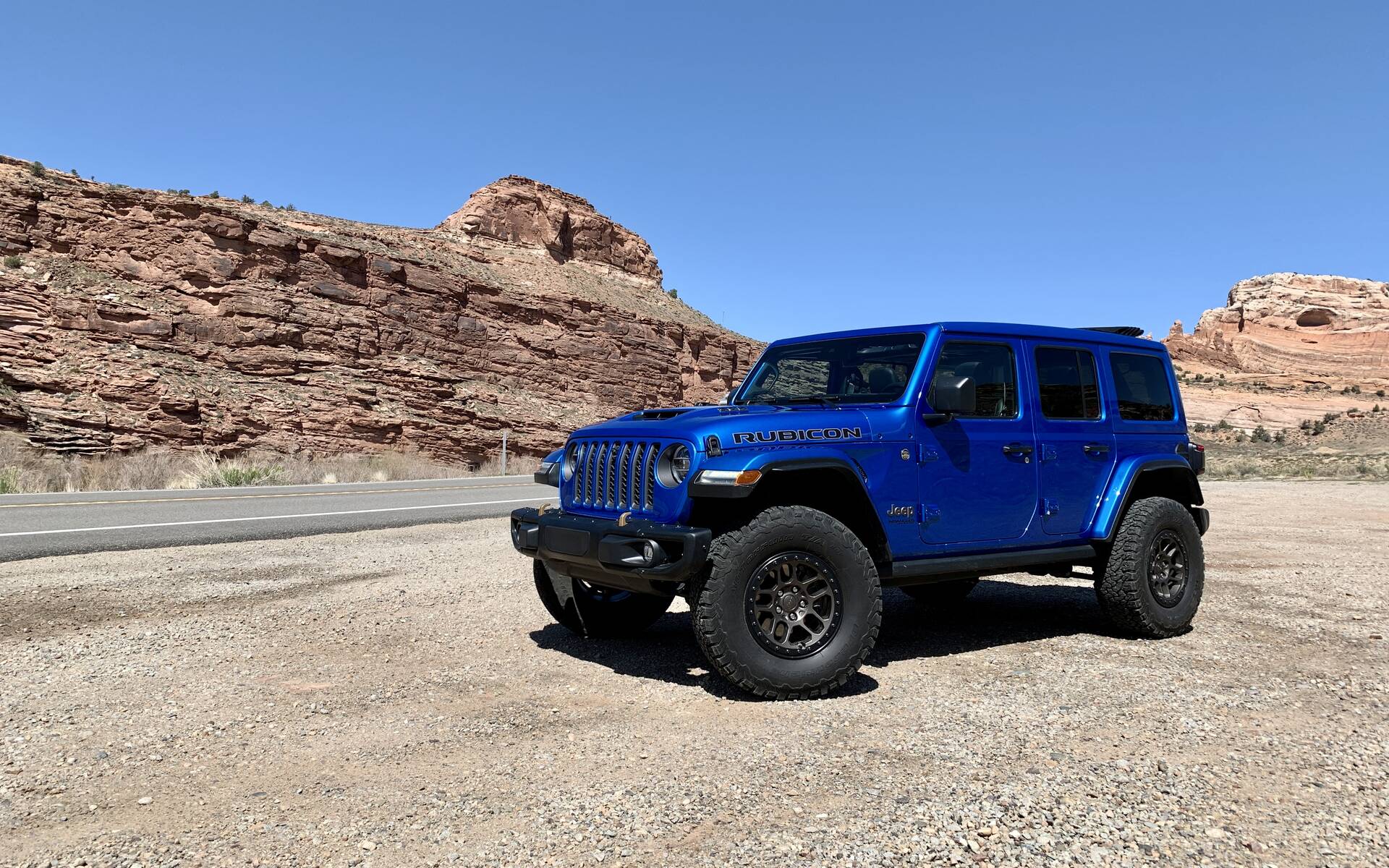 Strong points

Exceptional sound
Outstanding performance
Impressive off-road capability
Convenient Sky One-Touch power top

Weak points

Outrageous price
Poor fuel economy
Full report
The Jeep Wrangler's extensive engine lineup was bolstered by the addition of a mighty HEMI V8 last year in the U.S. and this year in Canada. As it turned out, our first test drive of the 2022 Jeep Wrangler Unlimited Rubicon 392 took place at the Moab Easter Jeep Safari in Utah.
How cool is that?
6.4 Litres of Bliss
Joining the 3.6-litre Pentastar V6, 2.0-litre turbo-four, 3.0-litre EcoDiesel V6 and 4xe plug-in hybrid powertrain, the 6.4-litre V8 is awesome news for Wrangler enthusiasts. Oh, sure, we were all secretly holding out hope for the Hellcat engine, but this is the next best thing. Jeep could have stuffed the smaller 5.7-litre HEMI under the hood, but lucky for us they went with the bigger, more powerful V8 instead.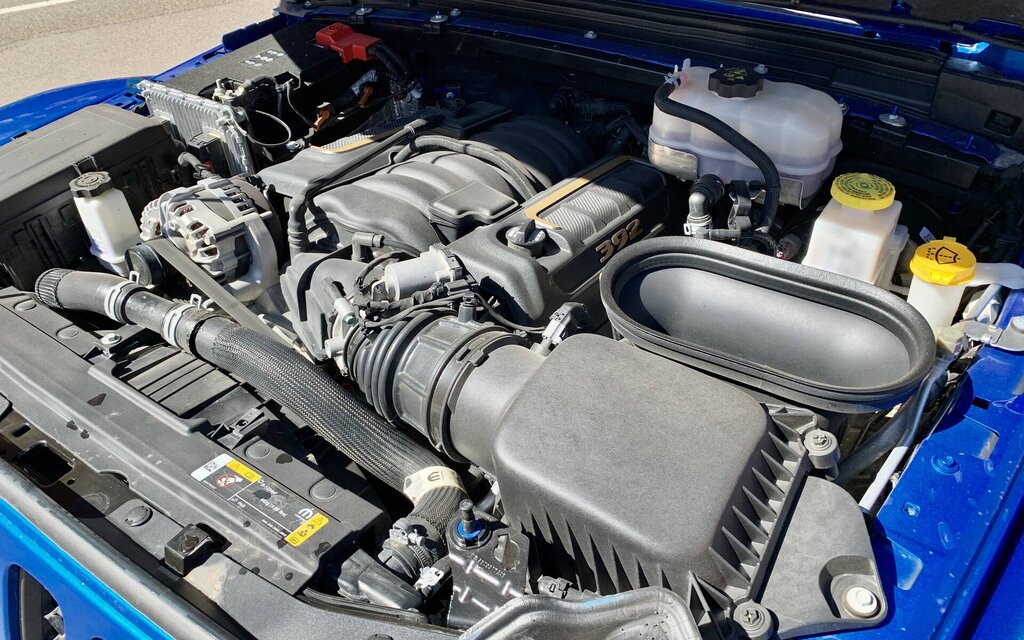 The 392-cubic-inch mill generates a stout 470 horsepower and 470 pound-feet of torque, which is a whole lot of muscle to play with. What's more, the eight-speed automatic transmission it's mated to is always happy to drop a gear or two, resulting in immediate and strong acceleration. Remember, the Wrangler wasn't designed as a sports car, so the feeling behind the wheel is quite shocking.
On top of that, the most extreme of production Wranglers delivers orgasmic sound effects, especially when you push the magic button that opens up the exhaust system. Sorry, neighbours!
Same Looks
Aesthetically, the Wrangler Rubicon 392 is not any flashier that other models. Distinctive cues include "392" badges on the hood, 33-inch tires mounted on 17-inch wheels and revised tailpipes.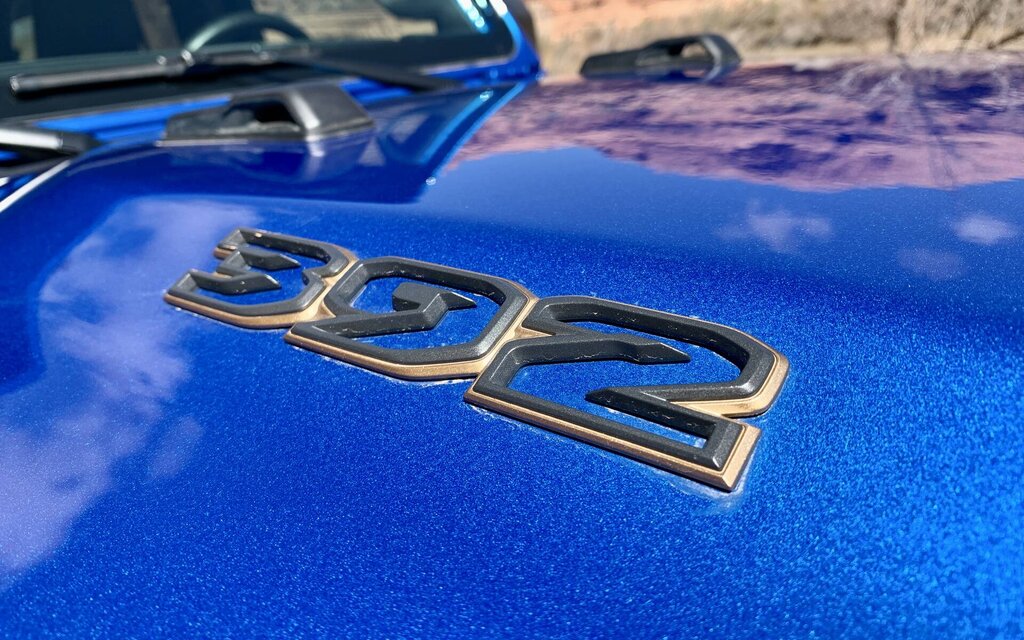 Inside, a "Rubicon 392" logo is embroidered on the front seatbacks. Our tester also came with the optional Sky One-Touch power-folding top—blasphemy for Jeep purists but a convenient and user-friendly feature to have for everybody else.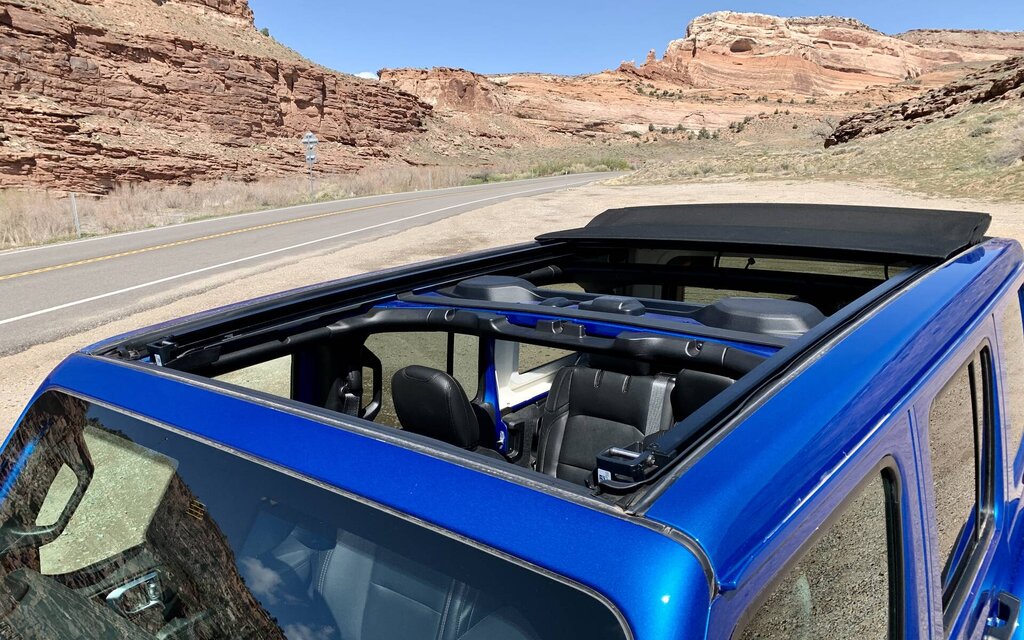 Of course, no one actually needs a vehicle like this one, and if you care about the environment you should stop reading now before we get into fuel economy numbers. As electrification keeps spreading across the auto industry, Stellantis wants to make the most of the gas-guzzling V8's final years. There's a Jeep Wrangler Rubicon 392 for the same reason there's a Ram 1500 TRX—because the automaker can still make one, and because profits are huge.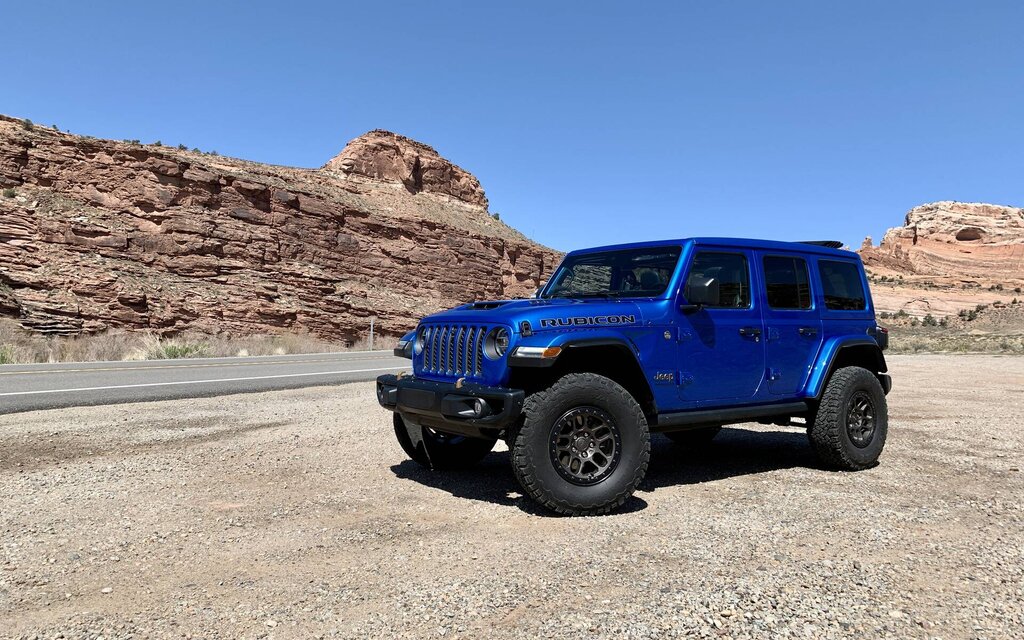 Still Capable
The V8 engine doesn't compromise the Wrangler's legendary off-road prowess. A two-inch lift kit with FOX shocks and a two-speed transfer case are part of the Rubicon 392 package.
We left Moab and drove to Gateway, Colorado on paved roads, but the return trip included the Dolores Triangle Safari Route, a mountain pass with lots of dirt, sand and mud plus even a little bit of snow. The only other vehicle we came across was a Toyota Tacoma, because there's a very real chance of getting stuck somewhere. That didn't happen on our watch as the Wrangler Rubicon 392 proved remarkably capable and solid.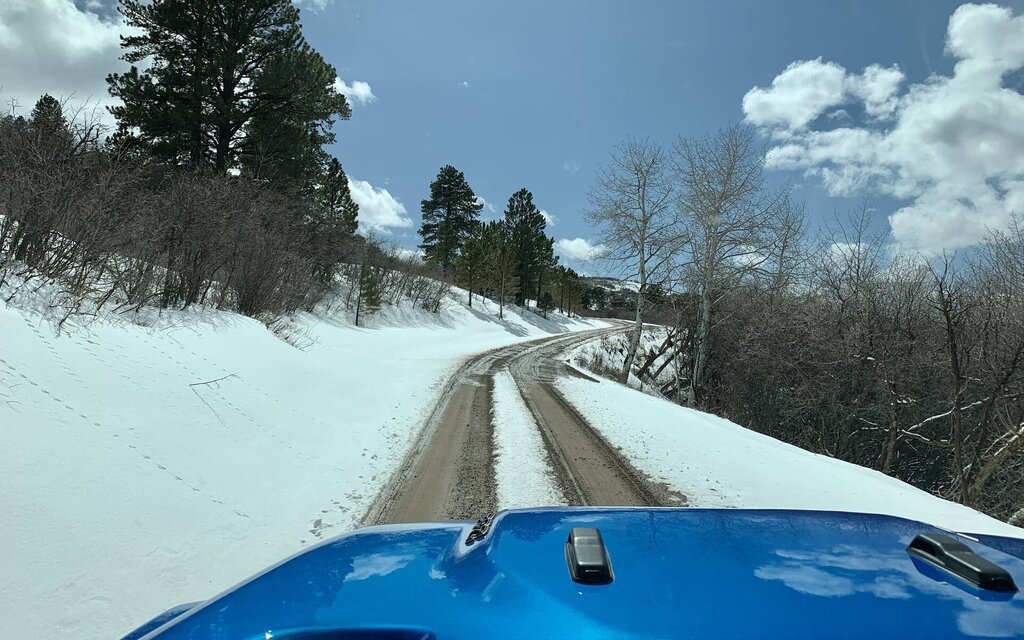 How Much?
A base 2022 Jeep Wrangler will cost you only $38,445. We're talking about a two-door Sport model with a manual transmission and soft top. Oh the other hand, the four-door Wrangler Unlimited Rubicon 392 you see here had a whopping $101,445 price tag. Yep, that's a huge amount of money. Incredibly, the next most expensive model in the lineup is the Wrangler Unlimited Sahara High Altitude EcoDiesel starting at $69,730.
Operating costs are tough to swallow, as well. At the end of our 350-kilometre adventure, we recorded an average fuel consumption of 14.5 L/100 km. Expect worse than that when driving around town. By the way, Natural Resources Canada has not yet posted its official ratings.
While the 2022 Jeep Wrangler Unlimited Rubicon 392 is a six-figure machine with disastrous efficiency, we still think it will be a hit. Availability is extremely limited—one Montreal-area dealer told us he received just one copy, and it's going to a performance-obsessed customer. The only thing green about this Jeep is the envy on other people's faces.
Watch: 2021 Jeep Wrangler 4xe Review
Share on Facebook