GMC
Hummer EV

, Ford Bronco VIN 001 Sold for Crazy Dollars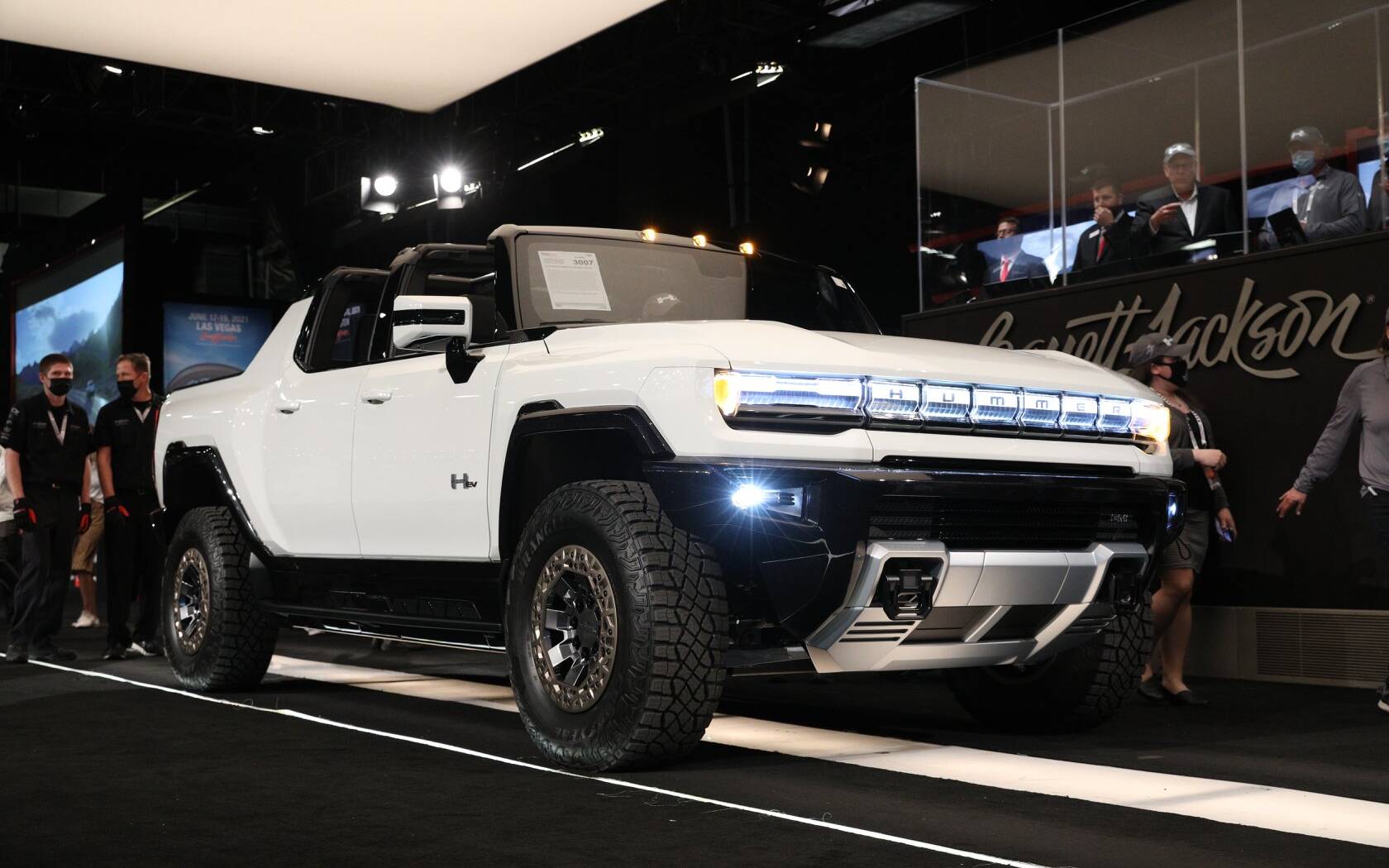 A number of exceptional vehicles highlighted the Barrett-Jackson Scottsdale auction in Arizona this past weekend including some of the first units to roll off the assembly lines.
We'll of course start with the all-electric 2022 GMC Hummer EV, which has generated a ton of interest since making its debut last October. The first-ever copy was sold for $2.5 million USD, or about $3.15 million CAD at the current exchange rate.
South of the border, the Hummer EV pickup can be ordered from $79,995. In the case of the Edition 1 model, that's $112,595. Production will officially start late in 2021, a full year before the first Canadian-bound units. Pricing details for our market have not been announced yet.  
Next, the 2021 Ford Bronco with chassis number #001 fetched $1.075 million USD ($1.35 million CAD) at the same auction. Production is only just beginning for this modern interpretation of Ford's classic four-wheeler. The company has received over 125,000 orders so far, and many customers will have to wait until 2022 to get theirs.
The unit sold by Barrett-Jackson was a two-door model, but the new Bronco is also available with four doors, and all of them can be removed along with the roof panels.
Speaking of Ford, the first production 2021 Mustang Mach 1 got a winning bid of $500,000 USD ($630,000 CAD). With a 480-horsepower V8 engine, this latest version of the legendary pony car replaces the Mustang Bullitt in the lineup. Deliveries are slated for this spring.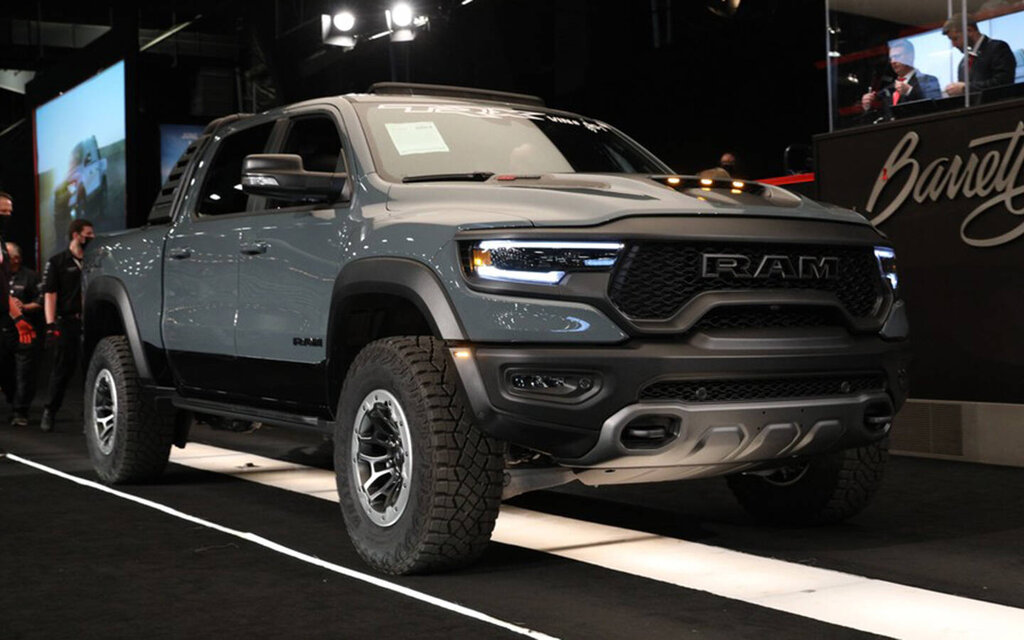 Someone paid a little less for the 2021 Ram 1500 TRX, an outrageous full-size pickup housing a 702-horsepower, supercharged V8 engine. VIN 001 had a hammer price of $410,000 USD ($516,000 CAD). As for Cadillac's CT5-V Blackwing and CT4-V Blackwing high-performance sedans, they managed to sell for $265,000 USD ($334,000 CAD) and $165,000 USD ($208,000 CAD), respectively.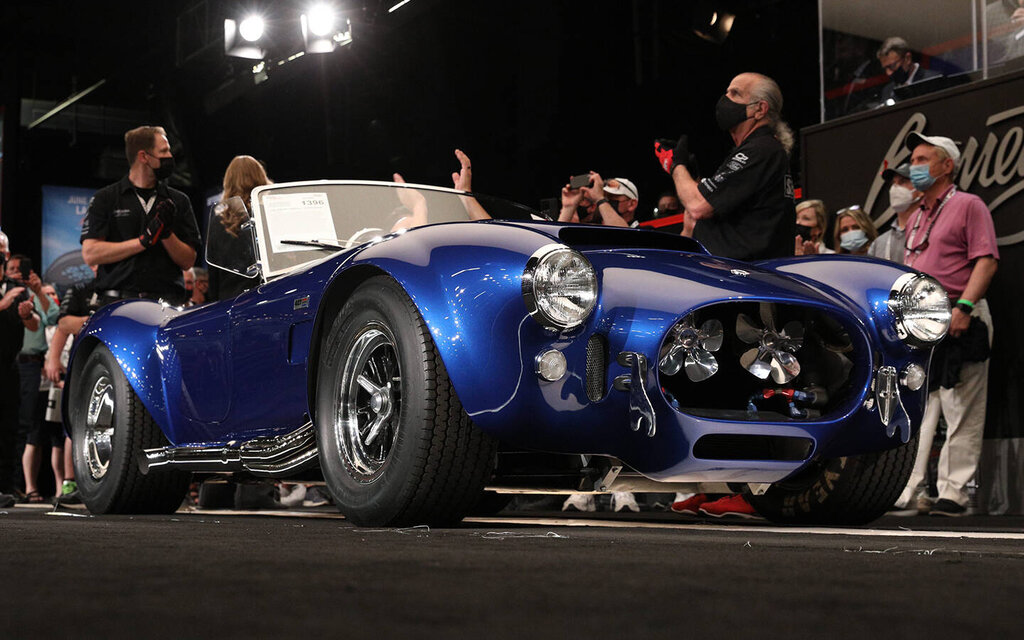 The most impressive transaction at the Barrett-Jackson Scottsdale auction, however, was a 1966 Shelby Cobra 427 Super Snake that once belonged to none other than Carroll Shelby himself. It went for $5.5 million USD ($6.93 million CAD), the exact same price it sold for 14 years ago.
Back in January of this year, his 1965 Shelby 427 Cobra traded owners for $5.94 million USD ($7.56 million CAD) at a Mecum Auctions event in Florida.
Watch: The all-new 2022 GMC Hummer EV is here!
Share on Facebook