Watch: GM Puts
Hummer EV

to Serious Off-road Test in Moab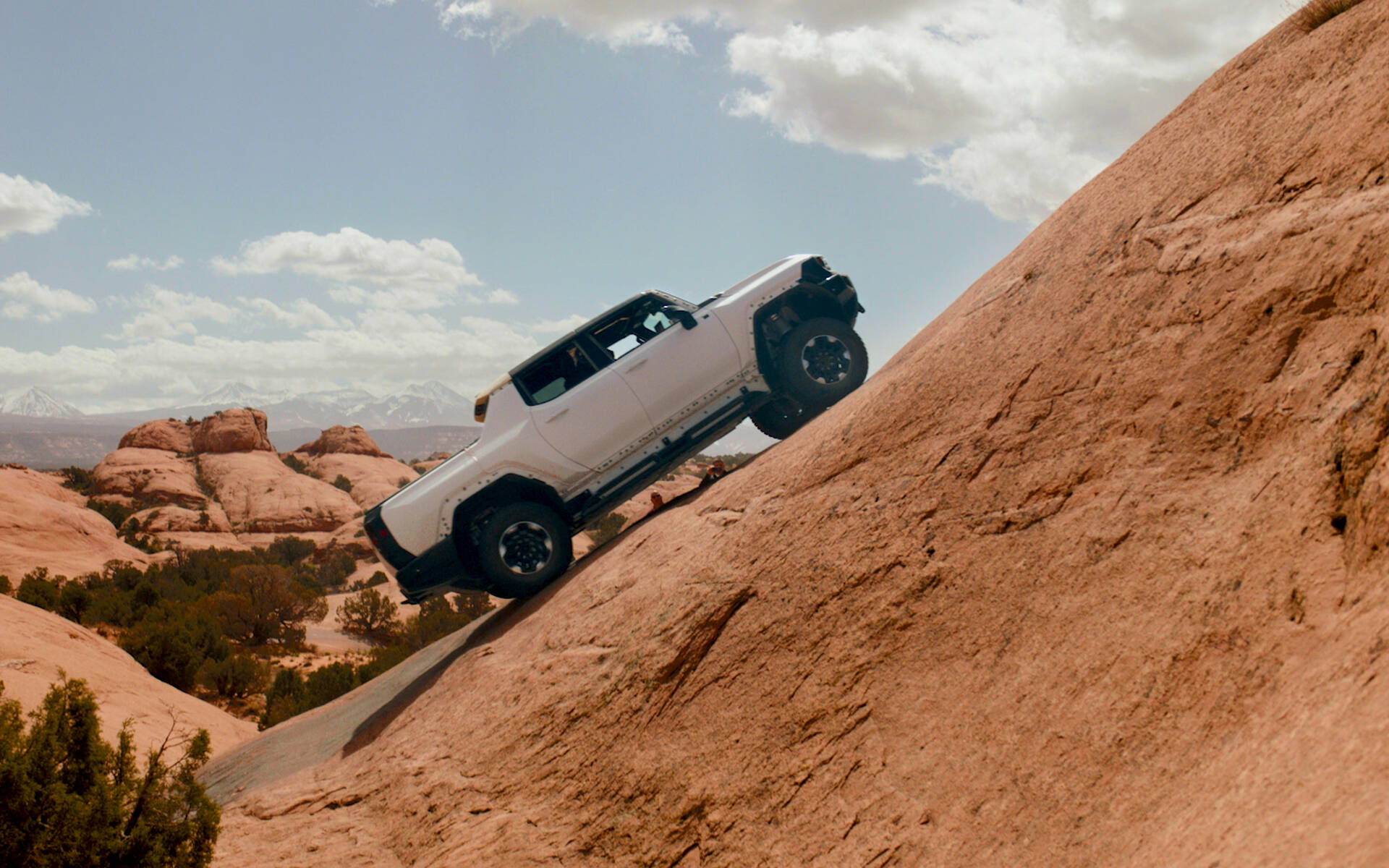 The all-new 2022 GMC Hummer EV, which will enter production for the U.S. market this fall and for Canada a year later, was recently put through its paces on challenging trails near Moab, Utah.
Using advanced prototypes, GM engineers tested and validated many of its features including Adaptive Air Suspension hardware, Extract Mode, Terrain Mode, One-Pedal Driving control, e4WD and torque distribution, eLockers, stability control, rear steering, CrabWalk and more.
Here's a brief video of what took place:
Aaron Pfau, lead development engineer for the GMC Hummer EV, describes it as an "absolute off-road beast that will take you to new places." Based on that video, we can't disagree.
First, the available Extract Mode enables the Adaptive Air Suspension height to be raised approximately 150 millimetres—with a total ground clearance of up to 404 millimetres—in order to help the truck negotiate extreme off-road situations, such as clearing large boulders and fording deeper water. It also increases approach and departure angles to an amazing 49.7 degrees and 38.4 degrees, respectively, which would make any Jeep Wrangler or Gladiator owner jealous.
Next, with four-wheel steering, the Hummer EV's turning circle is reduced from 13.5 metres to just 11.3 metres. Additionally, CrabWalk enables diagonal movements at low speeds, which is perfect to negotiate tight spots.
Finally, the Moab session highlighted the truck's potential with Terrain Mode, which offers two braking calibrations: a mild braking option for two-foot driving and a purpose-designed One-Pedal Driving control in low-speed off-road driving. This is similar to other electric vehicles from GM, where the driver can accelerate and decelerate using only the throttle. Here, though, the system is adapted with unique calibrations for speed-limited off-road driving.
By the way, if pickups are not your cup of tea, the GMC Hummer EV SUV can be equipped with pretty much the same features. That model will go into production in early 2023 as a 2024 model. The first version available will be the Edition 1, a fully loaded, three-engine variant priced at $125,898 in Canada. 
Watch: GMC Hummer EV is Officially Unveiled
Share on Facebook