We Finally Drove the 2022 GMC
Hummer EV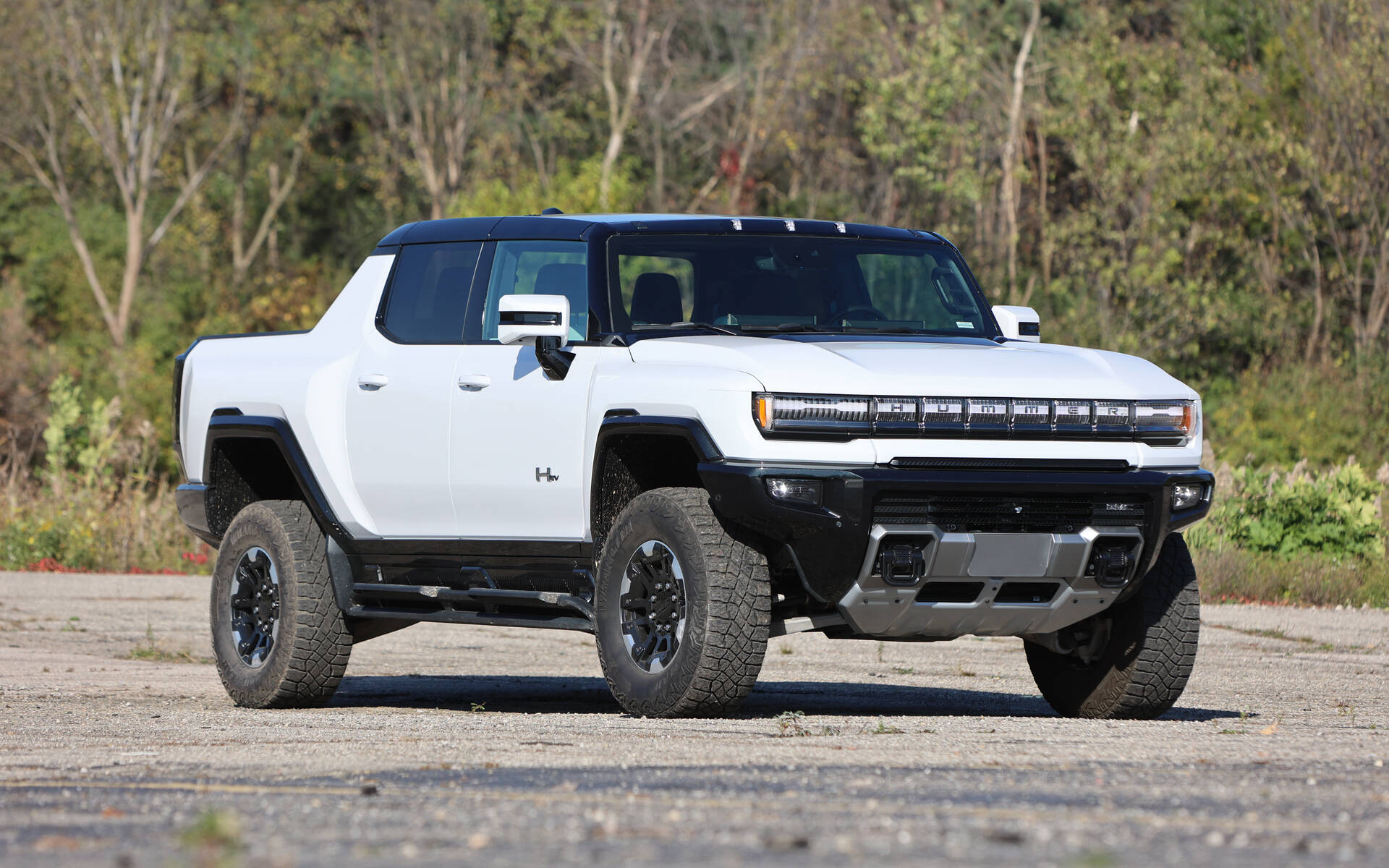 As a member of the North American Car, Utility and Truck of the Year (NACTOY) voting committee, I recently had the opportunity to be among the first people to drive the all-new, all-electric 2022 GMC Hummer EV.
This reborn Hummer has rugged looks and serious off-road capability just like its predecessor, but the folks at GM gave it a much "cleaner" image this time around.
Welcome to the future, people! A complete departure from the past, the zero-emission Hummer makes jaws drop everywhere it goes. I spent 30 memorable minutes behind the wheel, and during that time there were many occasions where curious drivers would try to get closer, grab their phones to take a few shots and nearly cause an accident in the process. This thing is a serious magnet.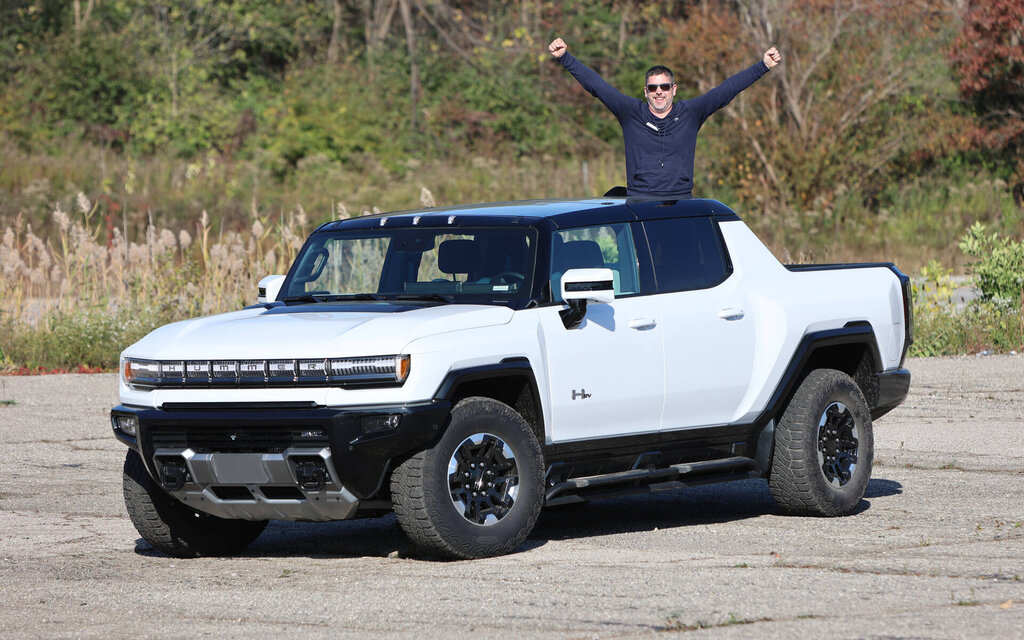 Pretty much all of the 50+ auto journalists from Canada and the U.S. present to determine the 2022 NACTOY award winners will tell you the GMC Hummer EV was among the stars of the event. Just so we're clear, the models at our disposal were pre-production units, more specifically the exclusive Edition 1 priced at $125,898 and designed to put on a show. It's already sold out, by the way, though GM Canada wouldn't say exactly how many will make their way here.
What is the GMC Hummer EV?
This is a machine that embodies all of the engineering and technological know-how of General Motors, a fearsome, boldly styled all-terrain conqueror featuring a remarkably advanced air suspension, several drive modes and four-wheel steering technology which includes the now-famous "Crab Walk." It can perform U-turns as easily as a compact car would.  
Despite weighing close to 9,000 pounds, the Hummer EV delivers an estimated range of 560 kilometres (official battery capacity has not been disclosed yet). Three electric motors combine to generate an estimated 1,000 horsepower and a mind-boggling 11,500 pound-feet of torque.
An integral part of the chassis is the 24-cell Ultium battery pack—the largest and most powerful that will be available in the Hummer EV lineup. Other GM products will follow the lead in the future including a fully electric variant of the GMC Sierra.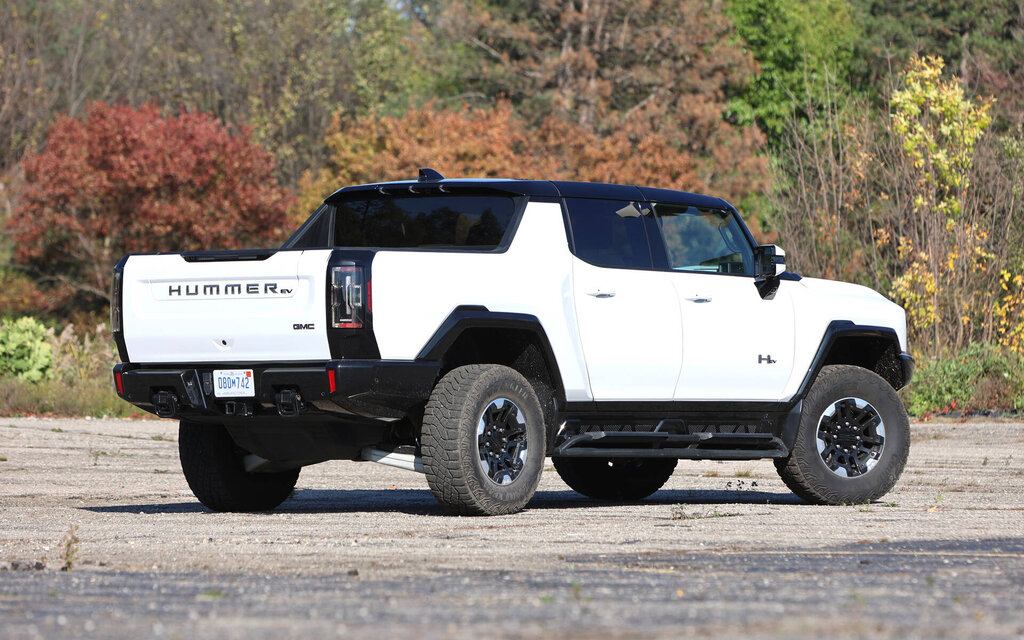 A Unique Feeling
When you hammer the throttle in the GMC Hummer EV, a massive weight transfer takes place, sending the nose up in monster truck-like fashion—unless you lower and stiffen the suspension to help keep body movements in check. Another amazing feature, as previously mentioned, is the ability to perform tight turns with the rear wheels pivoting in the opposite direction of the front wheels. It feels almost as if you were driving a small, nimble SUV. And actually, the Hummer EV doesn't seem all that big when you sit inside. There's never any doubt who's the king of the road, though. 
The monster truck comparison also applies when accelerating. Imagine this: GMC claims 0-97 km/h sprints in three seconds for a vehicle that is about 800 pounds heavier than a Sierra 3500HD Duramax. It's a pretty unique feeling, I'll tell you that.
The Hummer EV is both powerful and incredibly manoeuvrable, but in a totally different way than, say, a Chevrolet Corvette. Of course, we didn't have nearly enough time to get to know the truck intimately and see everything it can do.
Similar to the Chevrolet Bolt EV, one-pedal driving is possible with the Hummer EV. The regenerative braking system not only spares the conventional brakes, but it also allows exceptional precision off the road. GM's Super Cruise hands-free driving assistant is included, too, complete with automatic lane changes. It's impressive, for sure, though I suspect very few owners will ever use it.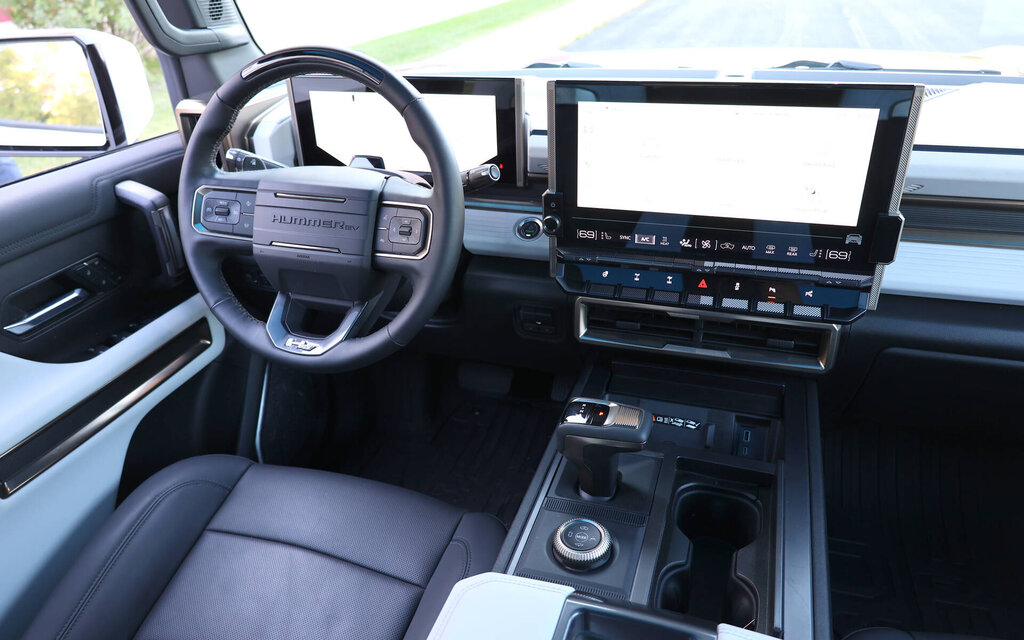 The cabin of the 2022 GMC Hummer EV is fascinating and includes lots of intriguing features and gadgets. For example, the glass roof panels can be removed and conveniently stored in dedicated trays under the hood (where there's no combustion engine, remember that). Underbody cameras with dedicated washers allow you to monitor the inner side of the tires and avoid punctures on rocky terrain. As for Crab Walk, when activated, all four wheels turn at the same angle so the vehicle can move diagonally and get in or out of tight spots.
There is so much to cover here that I could practically write a book instead of the usual review. It was impossible for us to check out and test every feature, gadget and accessory on that particular day, but I'll say this: despite its formidable off-road potential, the most innovative and surprising thing about the Hummer EV is efficiency and range. The battery alone probably weighs as much as a Chevrolet Spark, yet it can give you back 160 kilometres in just 10 minutes when plugged into a 350-kW DC fast charger.
Other Hummer EV Models
Following the Edition 1, GMC will add the Hummer EV2x (625 hp) and EV3x (830 h) with prices starting at a much more reasonable though still expensive $88,898.
Deliveries in the U.S. will begin later this year, but Canadian customers will have to wait until the fall of 2022. And I'm sorry to tell you this, but similar delays will keep happening in the future. The Hummer EV pickup will launch in Canada as a 2023 model, while the stylish SUV variant will be a 2024 model.
While those 30 minutes flew by in a hurry, I now know for a fact that GM is extremely serious about its next-generation EVs. Time will tell if the Ultium technology can deliver on its promises, and what the next models will look like.
Watch: GMC Hummer EV is Officially Revealed
Share on Facebook