2021 Ram 1500 TRX: Think Really, Really Big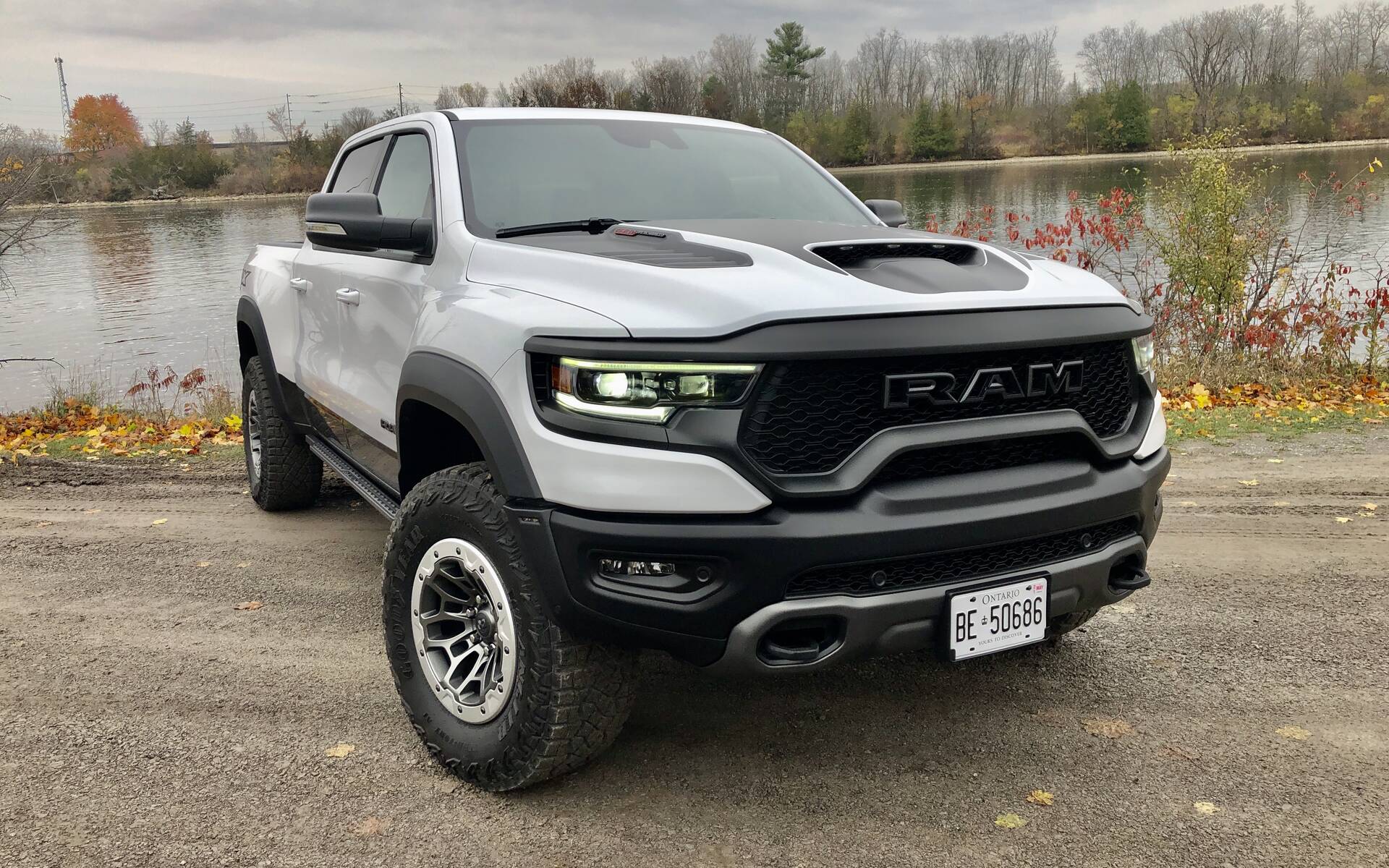 Strong points

Phenomenal supercharged V8 power
Excellent automatic transmission
Nicely appointed cabin
Great sound effects
Aggressive looks

Weak points

Dinosaur-like fuel consumption
Extremely high price
Full report
FCA and its Ram brand did the unthinkable this summer. While most automakers are electrifying their lineups, the folks in Auburn Hills announced the most powerful Ram pickup ever—the insane 2021 Ram 1500 TRX—with not a single ounce of environmental conscience.
Of course, such outrageous expression of the classic American truck and internal combustion engines in general will not live on for many years. We packed our suitcases with gasoline-powered nostalgia and headed to Wellington, Ontario for a first test drive.
Over 700 Horsepower
The original Hellcat versions of the Dodge Challenger and Charger captured our imagination like few other cars thanks to their 707 horsepower. Instead of going green like the rest of the industry, FCA gave a similarly wicked treatment to the Jeep Grand Cherokee and Dodge Durango.
Now, it's the Ram 1500's turn to shine. Under the hood of the TRX is a supercharged 6.2-litre HEMI V8 engine that produces as much as 702-horsepower and 650 pound-feet of torque. The result is phenomenal (for lack of a better word) acceleration from any speed, helped by an eight-speed automatic transmission that couldn't be better calibrated. It's a highly responsive unit that triggers downshifts as soon as you want them—and makes the paddle shifters on the steering wheel completely useless.
Guilty Pleasure
In today's world, the 2021 Ram 1500 TRX is the automotive equivalent of someone eating a steak in a restaurant full of vegans. But a steak is a steak, and likewise the TRX is a whole lot of fun.
While this truck unapologetically throws a middle finger at Mother Nature advocates, there is something so visceral and so intoxicating about it. The deep growl of the V8 engine at start-up and the whistle of the supercharger anytime you step on the gas pedal are a real drug.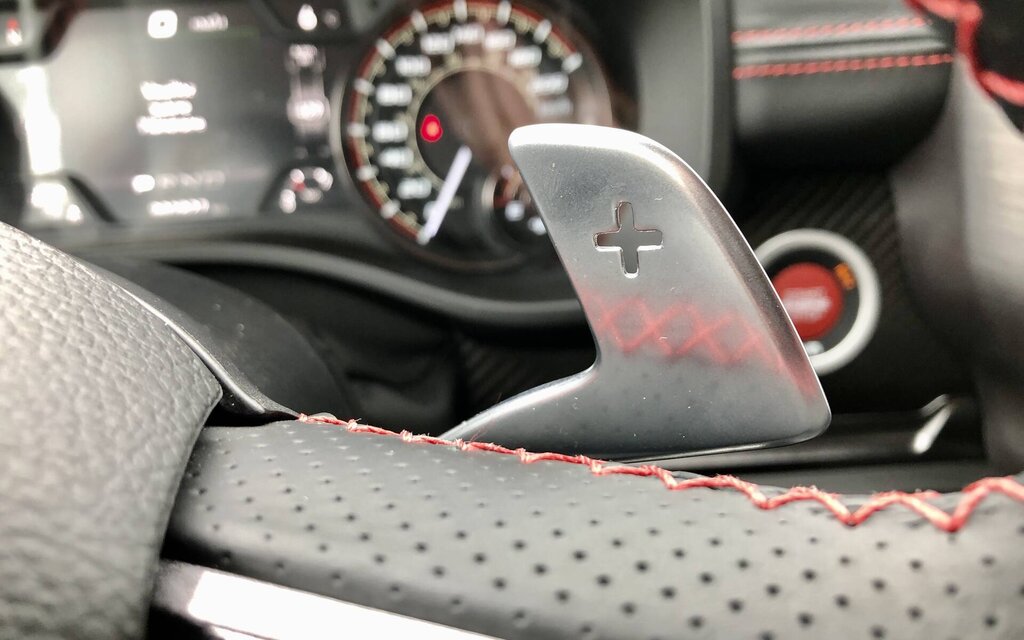 Off-road Performance for the Ages
It's not the first time the company offers a performance-oriented full-size pickup. Remember the Lil' Red Express and Ram SRT10? They were incredibly fast in straight line, but none of them could match the Ram 1500 TRX and its unique combination of on- and off-road performance.
At the launch event, the TRX wowed us with mud-slinging, rock-crawling, ridge-jumping prowess. That's right, we even got to launch this monster in the air to see how easily it takes off and lands with confidence. Mark our word: the specially tuned Bilstein shocks can take a serious beating and not break a sweat.
Try to do that with your Hyundai Kona…
Obviously, with the 4WD system busy at work, the Ram 1500 TRX isn't tail-happy like the RWD-only Charger and Challenger Hellcat models, so you're not constantly trying to keep the rear end in check. As such, this wild pickup is a much better daily driver.
TRX Eats Raptor
Before the introduction of the Ram 1500 TRX, the Ford F-150 Raptor was the only performance truck in its class (Chevrolet and GMC don't have direct competitors). However, it lost a fair amount of aggressiveness when it switched from a 6.2-litre V8 engine to a turbocharged 3.5-litre V6, the latter producing 450 horsepower and 510 pound-feet or torque.
These numbers pale in comparison to those of the TRX, which is expected to devour a big chunk of the market. That is, until the next-gen Raptor arrives, possibly using the same supercharged engine as the Mustang Shelby GT500 or a new 6.8-litre powerplant.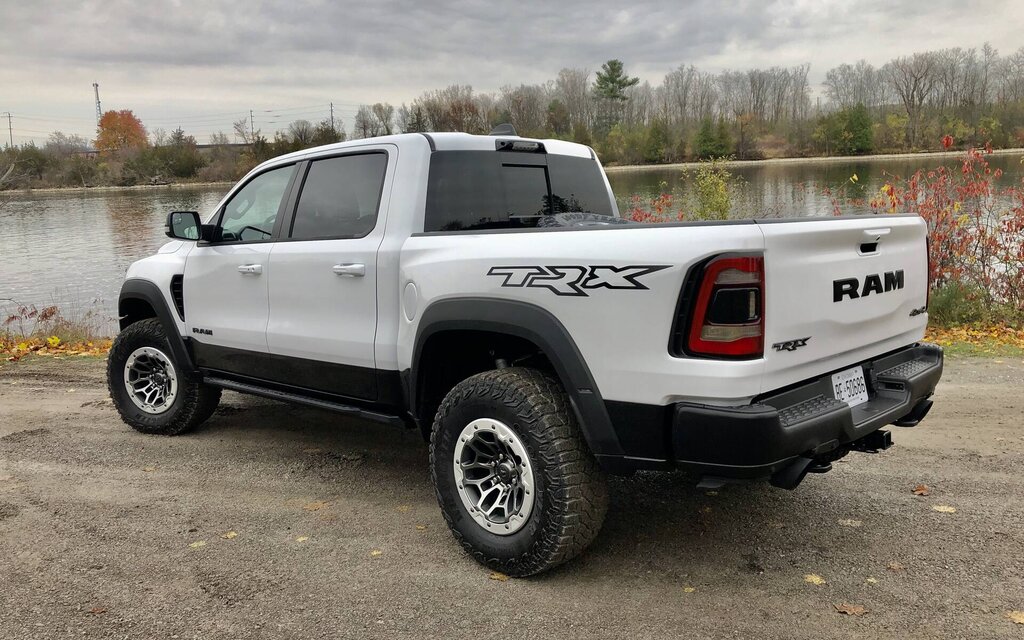 Scandalous Fuel Consumption
The tradeoff for all that power and off-road performance is scandalous fuel consumption. It doesn't get much higher than that. While Natural Resources Canada has yet to publish its official ratings, the U.S. Environmental Protection Agency (EPA) puts the Ram 1500 TRX at 19.6 L/100 km.
On our watch, the truck burned 24.7 L/100 km according to the on-board computer following about 200 kilometres of testing. Granted, efficient driving was not the theme of the day, but good luck trying to stay reasonable behind the wheel when you have 702 horsepower at your disposal.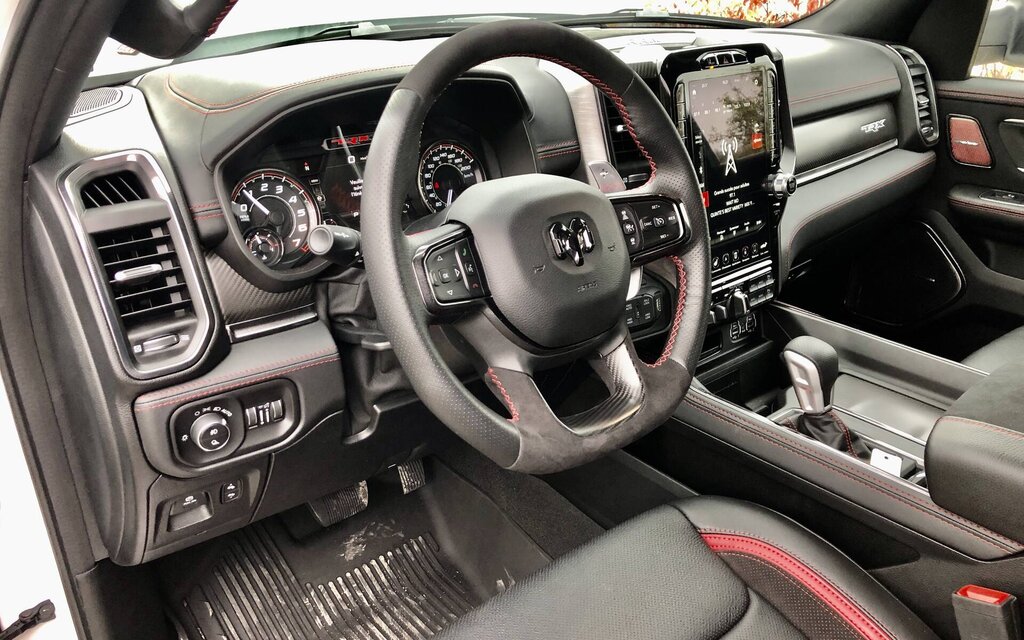 Equally Scandalous Price
In addition to dinosaur-like fuel consumption, another certainty with the 2021 Ram 1500 TRX is that your wallet will suffer. In fact, you might have to sell an arm or a leg to afford this pickup.
The base TR1 model starts at $93,995, while the more equipped TR2 retails from $98,990. And that's before you add options like the spare tire mount in the cargo bed ($995), beadlock wheels ($1,795), Rambar ($1,995), red interior accents ($1,495) or carbon fibre package ($1,695).
By contrast, the Ford F-150 Raptor starts at $76,699.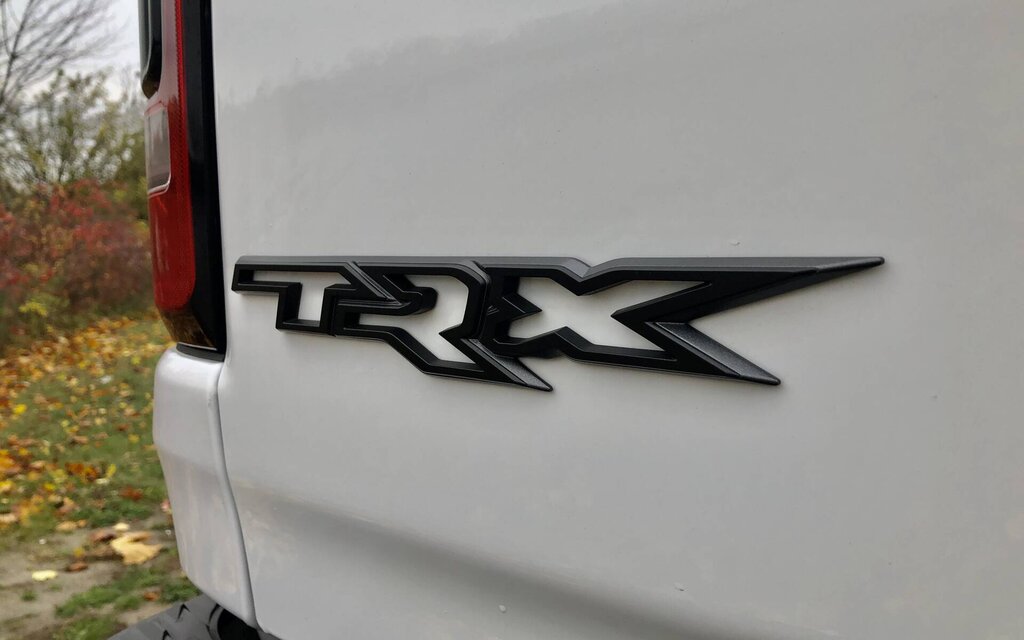 Our Verdict
The 2021 Ram 1500 TRX is extreme in a number of ways—for better or worse—and sure to get many customers fired up. At a time when passion and excitement are sometimes in short supply, you can't blame FCA for wanting to do something radically different from other manufacturers.
Nobody actually needs a vehicle like the TRX, but all those who sit behind the wheel will have a hard time letting go.
Watch: 2021 Ram 1500 TRX Unleashed
Share on Facebook