Five Things to Know About the 2021 Ram 1500 TRX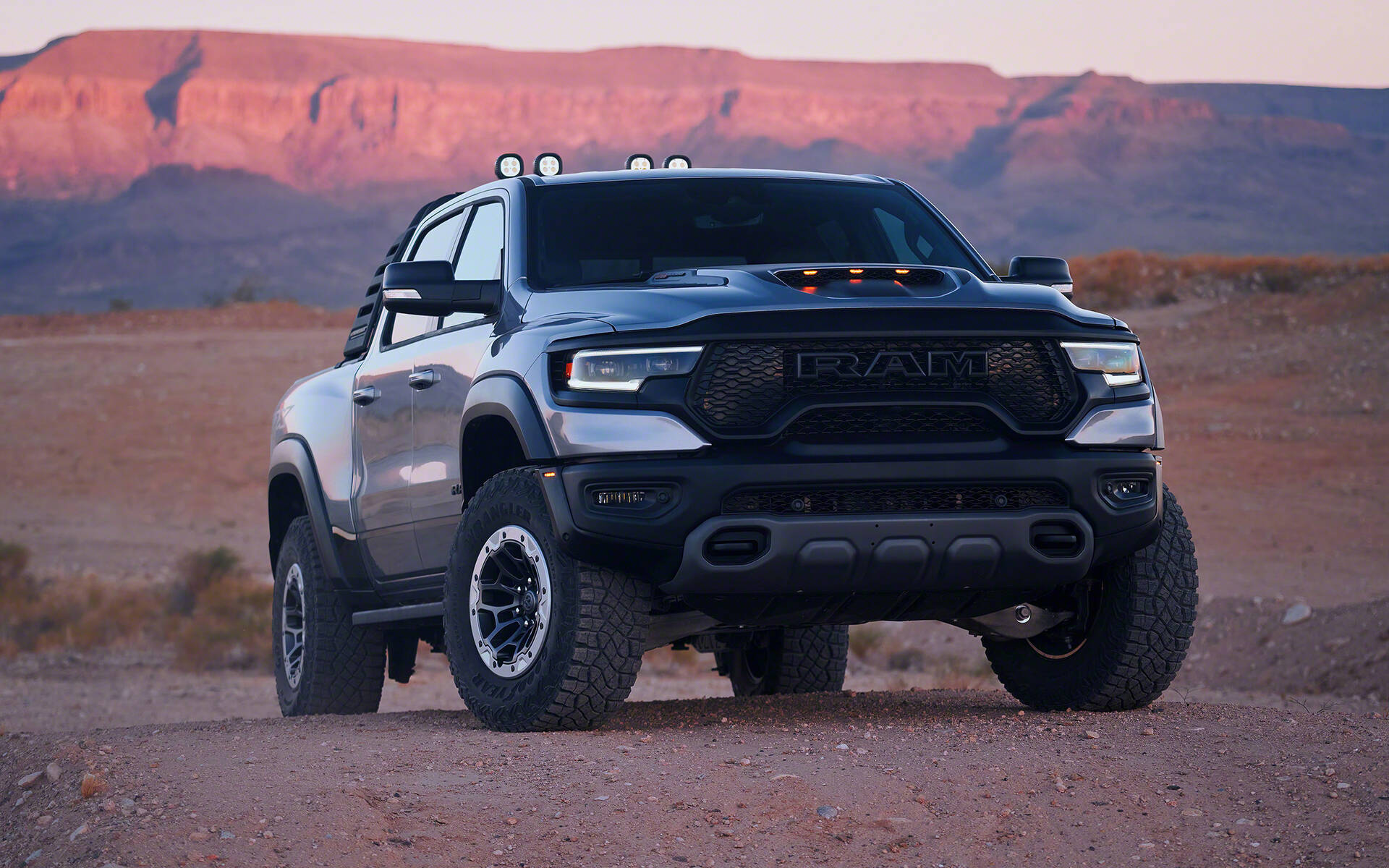 Ram responded to the Ford F-150 Raptor with a completely eccentric variant of its 1500 pickup truck. The 2021 TRX roars into this tiny niche market with aggressive looks and a 700+ horsepower engine.
Here are five things to know about the 2021 Ram 1500 TRX.
A Monster Under the Hood
The TRX will be powered by a supercharged 6.2-liter HEMI V8 from the Hellcat family. It outputs 702 horsepower and 650 lb-ft of torque.
This behemoth will be able to sprint from zero to 60 mph (96 km/h) in 4.5 seconds, and from zero to 100 mph in 10.5 seconds. The quarter mile is completed in 12.9 seconds at a speed of 108 mph (174 km/h). An air intake on the hood is in charge of cramming 50% of the air the engine needs, while the other 50% will is ensured by the radiator grille.
Coupled with an eight-speed automatic transmission, the TRX has a top speed of 118 mph (190 km/h). To put the truck to a stop, Ram has equipped it with 15-inch disks paired with dual-piston front monobloc calipers and single-piston rear calipers.
Functional Aesthetic Changes
A series of cosmetic changes were carried out to make this TRX a good performer for off-roading.
First, the TRX is eight inches wider than the rest of the Ram 1500 lineup. This compensates for the six-inch increase in track width, since the tires are noticeably bigger at 35 inches. The truck is also two inches higher than the other Ram 1500 variants.
Then, the angles were revised:
    An approach angle of 30.2 degrees,
    A breakover angle of 21.9 degrees,
    A departure angle of 23.5 degrees,
    11.8-inch ground clearance.
Ready for Off-roading
The TRX is endowed with multiple skills that will allow it to tackle almost any type of terrain. First, the truck has a towing capacity of up to 8,100 lbs (3674 kg), while its cargo capacity can reach up to 1310 lbs (594 kg).
A series of modifications were done to the suspension. For example, the TRX is fitted with Bilstein Black Hawk e2 performance shocks. In extreme conditions, it can cross streams up to 32 inches deep.
For off-road obstacles, this Ram is equipped with a new BorgWarner 48-13 transfer case. It has a low range of 2.64: 1.
A Series of Driving Modes
The TRX has five primary driving modes: Auto, Sport, Tow, Snow and Custom. These alter a series of parameters such as drivetrain, transmission, suspension, throttle response and steering.
There are also three off-road modes: Mud/Sand, Rock and Baja. Just like with the on-road modes, the electronics will recalibrate a series of parameters to improve the experience behind the wheel and to adapt the vehicle to the terrain it has to tackle.
Several Technologies Available
The Ram 1500 TRX gets the 12-inch Uconnect touchscreen located in the centre console as standard equipment. The instrument panel will also feature a customizable 7-inch screen.
An optional digital 9.2-inch rear-view mirror is available, as well as a 360-degree camera. The camera makes it possible to scan the front of the TRX for obstructions through the touchscreen.
A premium Harman Kardon 900 Watt audio system with 19 speakers and a 10-inch subwoofer is also available.
The Ram 1500 TRX will be hit the market as an introductory edition of which only 100 units will be available in Canada. This model will start at $114,995 while the base version will have a starting price of $93,995.
Share on Facebook