Watch this Bugatti Chiron Sprint to Nearly 500 km/h!
Bugatti has quite a habit of setting new speed records. The latest is particularly significant because, for the first time ever, an automaker has cracked the 300 mph (482 km/h) barrier.
The feat was achieved on August 2 at a test track in Ehra-Lessien, Germany. With Le Mans-winning driver Andy Wallace behind the wheel, a Bugatti Chiron reached a phenomenal top speed of 490.484 km/h.
"What a record! We're overjoyed to be the first manufacturer ever to have achieved a speed of more than 300 miles per hour. It's a milestone for eternity. I would like to thank the whole team and driver Andy Wallace for this outstanding performance," said Stephan Winkelmann, President of Bugatti.
The previous mark of 457.05 km/h was held by a Koenigsegg Regera.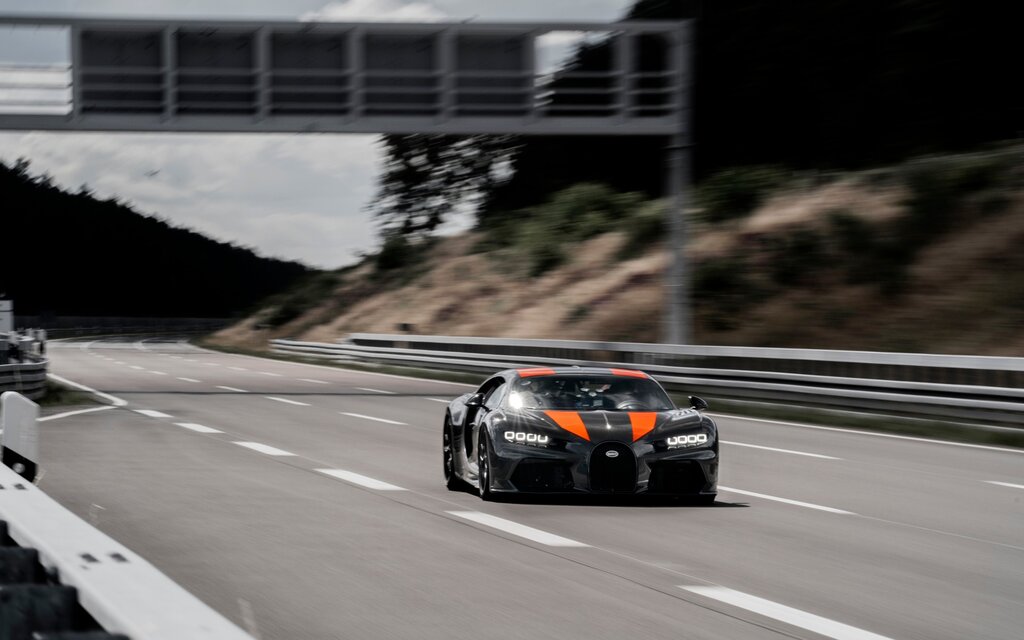 Bugatti's new record can be credited to a modified, pre-production version of the Chiron (which no doubt foreshadows a future Chiron Super Sport).
The car was 25 cm longer with a suspension set lower to improve aerodynamics and stability. The rear wing and airbrake were removed and replaced with a static unit recessed into the tail, while the passenger seat was replaced with several computer systems.
This unique Chiron benefited from further weight-saving measures, but it also had a roll cage and a safety seat for the driver.
As for the 1,578-horsepower, quad-turbo W16 engine, sequential gearbox and all-wheel-drive system, no modifications were made by the team.
"The biggest challenge is to get the overall package right, not only design, not only aerodynamics, not only engine, not only tires. It's to get everything together and working in one car," claims Frank Heyl, Design Director of Bugatti.
Now, the question is: will we ever see a car reach 500 km/h? If so, it won't be a Bugatti.
After achieving its ultimate goal, the company has announced it will withdraw from the competition to produce the fastest series production cars and focus on other areas in the future.
Share on Facebook