2017 Rolls-Royce Dawn: Ultimate Top-down Motoring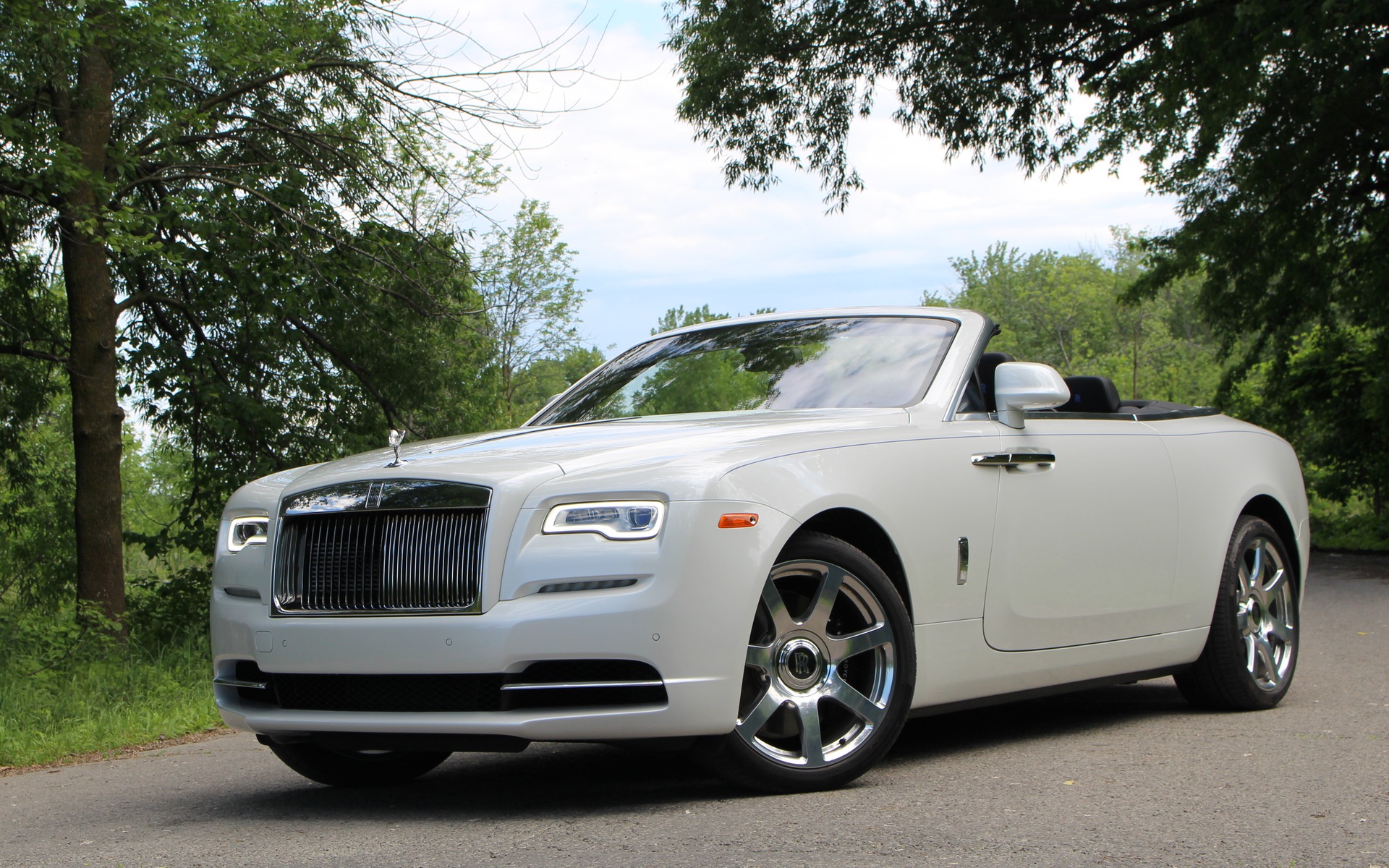 Strong points

Creamy ride
Power pours in like a flood
Aura of prestige and opulence

Weak points

Jaw-dropping price tag
$500K and no ventilated seats
Limited trunk space
Full report
For the rich and famous, what could possibly be the best car to own for those summer days when they feel like lowering the top and catch a ray of sunshine or two? Exoticars such as the Ferrari California, the Aston Martin Vanquish Volante and the Audi R8 Spyder come to mind, but they're just not luxurious enough. That's where the Dawn comes in.
Sharing its architecture with the Ghost sedan and the Wraith coupe, the 2017 Rolls-Royce Dawn is the brand's only convertible right now. And it will probably remain the only one for a while, as no replacement for the Phantom Drophead Coupé is in the works.
It also shares its sisters' powertrain, although output varies slightly from one model to another. Under the car's long hood lies a twin-turbocharged, 6.6-litre V12 bolted to an eight-speed automatic. It's a massive engine that pumps out 563 velvety smooth horsepower and 605 pound-feet of torque. The Dawn isn't a sports car, but its forward thrust is mighty impressive, with a 0-100 km/h time of 5.0 seconds. Not bad for a 5,200-lb lounge on wheels. It's worth noting that a new Rolls-Royce Dawn Black Badge edition has just been launched, and it's even more powerful with 593 hp and 620 lb.-ft. on tap.
We got the opportunity to drive the also-new Dawn Inspired by Fashion edition. According to the manufacturer, it "blends timeless style with the spontaneous energy of high-contrast colour; to make the boldest of statements." Well, riding in a Dawn is already a bold statement in itself, but it seems as though Rolls is seeking to attract a younger clientele with the Inspired by Fashion and Black Badge variants.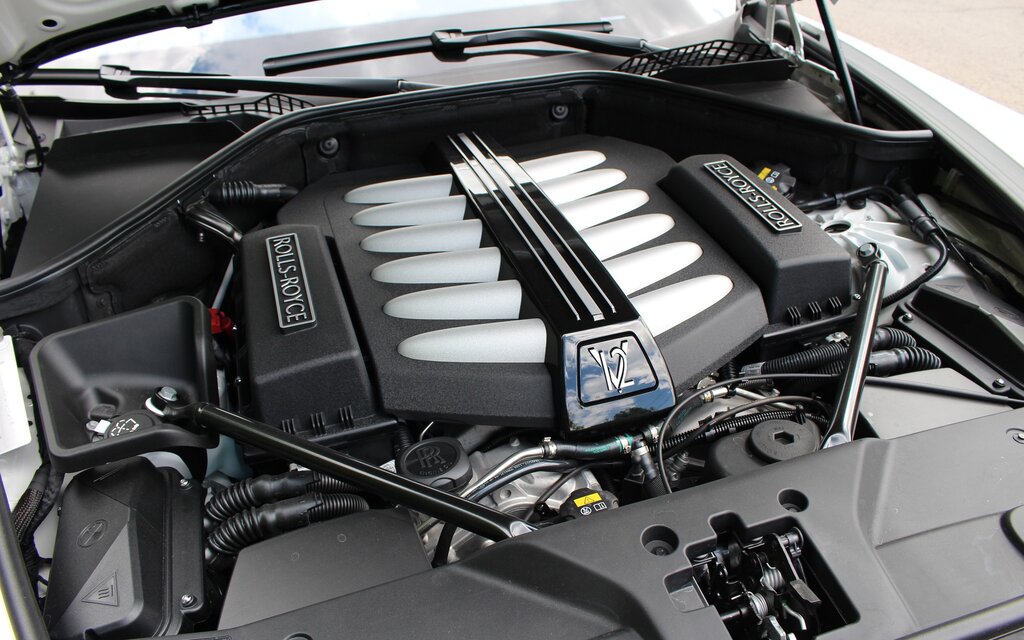 Our tester sported an Andalusian White paint job with a Cobalto Blue top and interior mix, which is indeed quite striking. White with a Mandarin top is also available, as is white and Mugello Red, or black paint with one of these three contrasting colours. In addition to the blue top, our car also included blue piping on the seats, the door panels and the floor mats, while the stitched RR headrest logos and the steering wheel are also enhanced with the contrast colour.
The Inspired by Fashion edition also features silk-lined armrest pockets, its pattern being the Spirit of Ecstasy tilted at 55 degrees to "complement the lines of the door." The dash-mounted analog clock also boasts a unique finish, although the one in the regular Dawn already looks pretty expensive.
We could go on and describe the fit and finish details about the car, but it likely would be pointless as each buyer gets to cherry-pick what type of materials, colour combinations and trimmings he or she would like. Sky's the limit if said buyer's bank account is just as limitless. In short, it's easy to assume almost every Rolls is unique.
Life on board of the 2017 Rolls-Royce Dawn is quite the experience. It takes a few days to get used to the rear-hinged doors, but only a few seconds to appreciate the buttons that activate the power assistance to close said doors. This feature, and likely your laziness, will truly amaze the neighbours—at least those who don't already own a Roller.
The interior design is a blend of modern and retro. The infotainment system screen hides behind a power-operated lid, almost every button and switch is chrome trimmed and the four-zone climate control system can even be set to blow hot air at our feet, cold air in our faces, or vice-versa—a neat feature we can't recall seeing in any other vehicle than a Rolls-Royce. The on-board system is a clone of BMW's iDrive, but with different graphics, and works extremely well. Oh, and let's not forget the driver and passenger umbrellas that slide into their housings neatly integrated in the front fenders.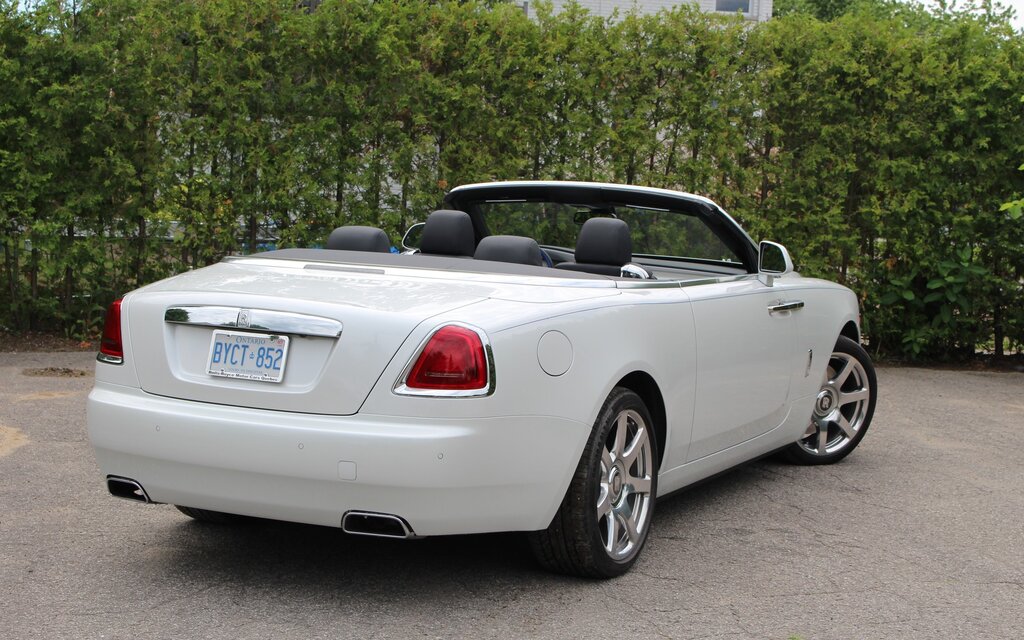 Driving the Dawn is eerily deceptive. It can build up speed really fast, but isn't violent in any way. The engine sings at wide-open throttle, but doesn't bark or growl. And despite its size and weight, it feels solid like a bank vault and can handle a twisty road with poise.
Yet the Dawn is all about cruising at a relaxed pace while occupants can engage in a conversation without shouting—even when the top is down. The air suspension absorbs just about every bump and crack on the road, and road noise is barely perceptible. All the while, passersby stop and stare at the car with admiration, then look at its passengers with disdain. Or jealousy. Probably both.
What could possibly come close to a 2017 Rolls-Royce Dawn? Nothing, especially when it comes to price. The Dawn starts at $388,900 before freight, delivery and various other charges, while our test car checks in at about $495,000. The short-lived Mercedes-Maybach S 650 Cabriolet might, but the latter could be simply considered a glorified S-Class. For those few who can actually afford one, the Dawn could possibly be the ultimate convertible.
Share on Facebook