2019 Rolls-Royce Cullinan Debuts in Montreal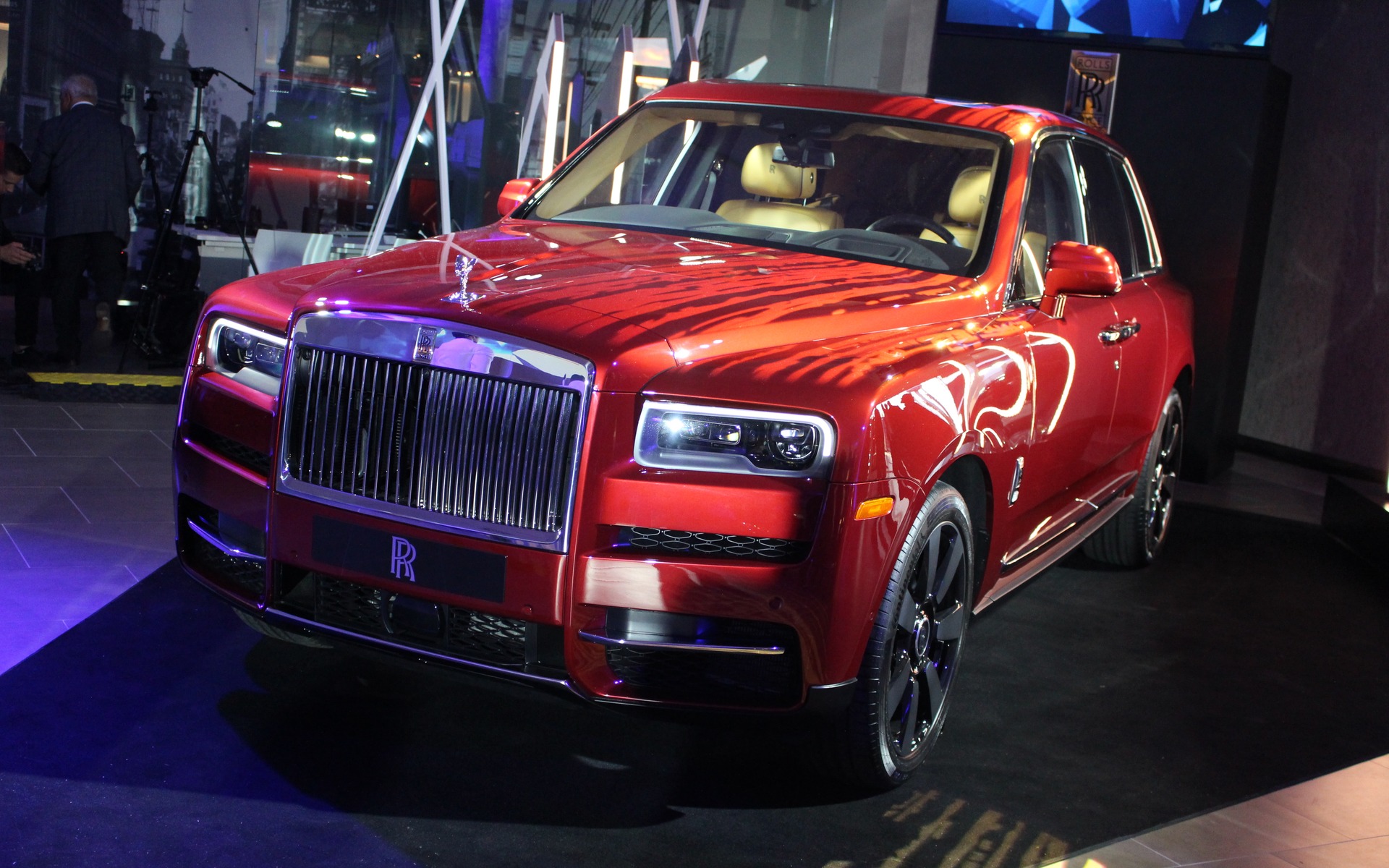 The long-awaited Rolls-Royce SUV was finally unveiled to the world on May 10, and this past week, it has toured across Canada with stops in Vancouver, Calgary and Toronto.
Tonight, the Cullinan made its debut in La Belle Province, coinciding with Rolls-Royce Montreal's official inauguration of their brand-new showroom. The 80,000-foot building features an elegant, open-floor design with glass-walled offices installed on a mezzanine. The front section of the dealership is reserved for Rolls-Royce, and a section on the north side will feature the Karma brand. At the rear, Holand Leasing's vehicles on display, including some fine exotic and low-mileage machinery.
In front of a crowd of about 400 guests, the covers were lifted off two units of the 2019 Rolls-Royce Cullinan. The first one, painted in red with a beige and black interior, featured the rear Lounge Seats, which can be folded down to increase cargo space from 600 to 1390 litres. The second Cullinan was painted gray and boasted a white interior with blue accenting, in addition to the Individual Seats configuration. The latter installs two rear seats separated by a refreshments cabinet, while a glass partition isolates the luggage area.
The Cullinan is equipped with a twin-turbo, 6.75-litre V12 engine that develops 563 horsepower and 627 pound-feet of torque. And eight-speed automatic is included, and—for the first time in a Roller—all-wheel drive and all-wheel steering. The SUV also gets an air suspension to provide the brand's trademark cushy ride, nicknamed the Magic Carpet Ride.
Orders have already poured in for the new vehicle, and the first units will arrive in Canada at the end of 2018. According to Gerry Spahn, head of communications for Rolls-Royce Motor Cars in North America, there are many Canadian customers waiting for the Cullinan, which will be their first Roller. An all-wheel drivetrain was most important for them, and now that the company is offering it, they're buying it.
We're expecting the 2019 Rolls-Royce Cullinan to outsell the Phantom, Ghost, Wraith and Dawn combined. At least in Canada. Pricing starts at $370,500 before freight and delivery charges, and whatever options we'll be adding to the vehicle. The brand expects the average transaction price to hover in the $450K range.
As for the Rolls-Royce Montreal dealership, it's now located at 8525 Decarie Boulevard, which can be admired from Decarie Expressway.
Share on Facebook