2017 Rolls-Royce Wraith Black Badge: New-era Roller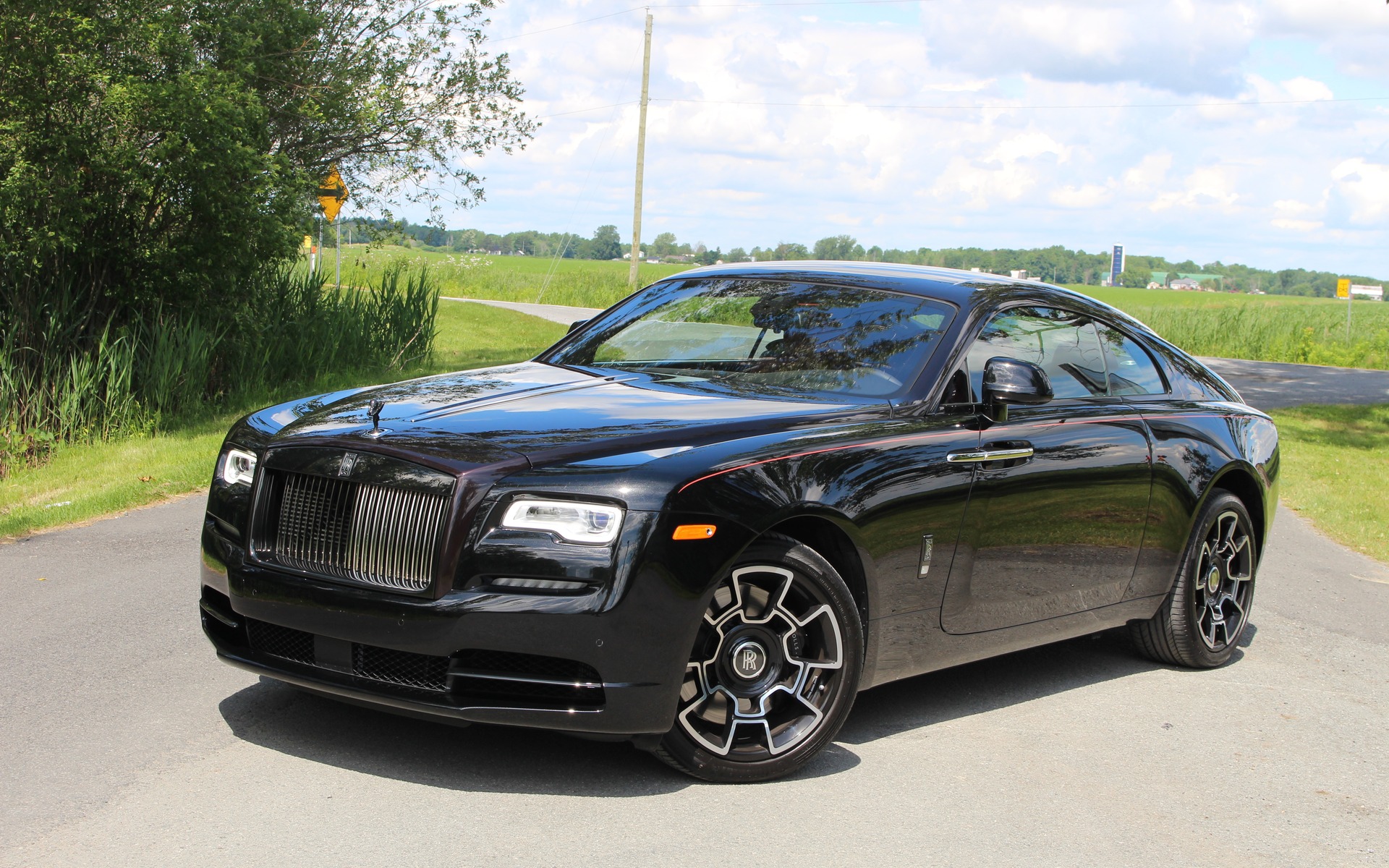 Strong points

Commands respect and admiration
Fantastic performance
Sumptuous cabin

Weak points

Priced for exclusivity
Heavy fuel consumption
Can't leave it unattended—except in our own garage
Full report
English brand Rolls-Royce proved a long time ago that it builds some of the most luxurious, exclusive and expensive cars in the world. Customers expect nothing but the best, and they're likely willing to dish out the necessary funds to ensure that their vehicle is unique.
The customers in question are generally older people, but Rolls—like any other brand—knows that there are plenty of younger folks who have money to spend on cars. Silicon Valley tycoons, spoiled professional athletes and hip-hop stars, for example, who have different needs and tastes than their "traditional" clients.
That's where the Wraith coupe comes in. It's the sportiest car of the brand's line-up, and the most distinct—until the Rolls-Royce SUV is unveiled that is. For the past year, the 2017 Rolls-Royce Wraith has been available in Black Badge trim, and it's got badass written all over it. The Black Badge edition is also available on the Rolls-Royce Ghost and the Rolls-Royce Dawn.
It boasts black paint, a black grille and black wheels. The 21-inch rims are made of a mix of carbon fibre and aluminum, which took the company four years to develop. Even the Spirit of Ecstasy is made of dark chrome. It looks awfully good. Ironically, though, if the buyer doesn't want a black Black Badge, the automaker will spray any other paint colour on the car. As long as the badges remain black, we guess it's ok.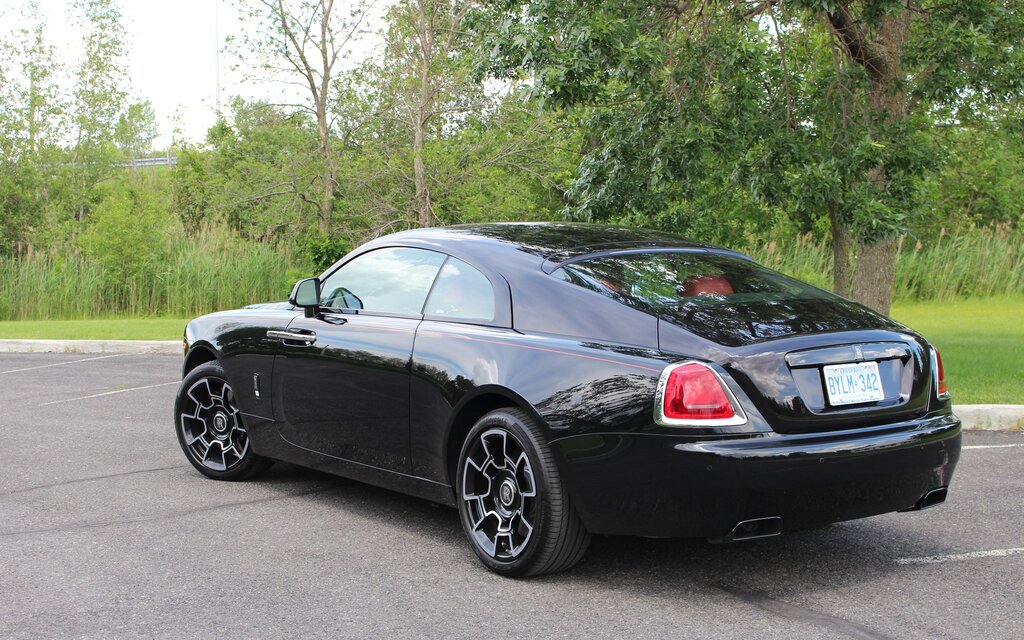 Powering this machine is a twin-turbo, 6.6-litre V12 that pumps out 624 horsepower and 642 pound-feet of torque—making it the most powerful Rolls yet. The engine is managed by an eight-speed automatic which sends all that muscle to the rear wheels. Despite its 5380-lb. (2440-kg) mass, the 2017 Rolls-Royce Wraith Black Badge can hit 100 km/h from a standstill in just 4.5 seconds.
The way this car builds up speed is amazing. No neck-snapping shenanigans, no gear changes sending jolts through the cabin, no excessive engine noise—just step on the gas, and by the time we can say "whoosh," we're creeping over the country's highest speed limit.
There's no sport mode, but a deceiving little button on the transmission stalk, labeled LOW, quickens the car's pulse and adds a little more throat to the V12 engine. It doesn't turn the Wraith into a track car by any means, but some extra character can be summoned at the press of a button.
And you don't need a louder engine to get noticed in this Roller. Even in dense traffic, surrounding drivers easily let us change lanes, and no one tailgates this car. Either they respect and admire the Wraith, or they just don't want to risk colliding with a Rolls having to deal with whoever's driving it, or being responsible for a half-million-dollar insurance claim. Yup, base price for the Wraith Black Badge is $411,200, but no one obviously chooses a bone-stock, no-options Rolls-Royce.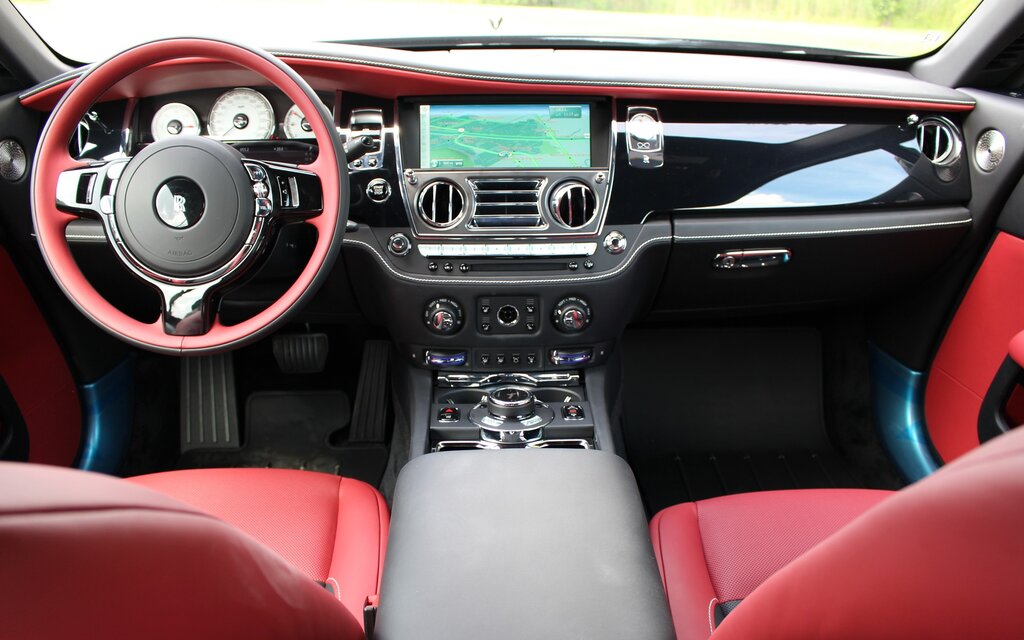 Our tester boasted beautifully crafted, red and black leather on the seats, door panels and dashboard. The climate control system offers the possibility of setting different temperatures for the occupants' feet and body, a rare feature in the automotive industry. Amusingly, there's no tachometer, but a "power reserve %" dial that drops from 100% as the driver nails the throttle and accelerates.
In addition, the infotainment is a clone of BMW's iDrive setup, which means it's pretty good, with a large screen and easy-to-use controls. The Black Badge also gets interior trim created from aluminum-threaded, carbon fibre composite. In short, metal threads 0.014 mm in diameter are sewn together, bonded with carbon fibre, covered in six coasts of lacquer and hand-polished. It looks fantastic, but for some reason, our test car was decked in rather boring black lacquer dashboard trim. The Starlight Headlining, which creates a star-filled sky with 1340 fibre optic lights in the headliner, is a must-have option, even if it costs the same as a slightly-used Nissan Micra.
What can the 2017 Rolls-Royce Wraith be compared with? The newly redesigned Bentley Continental GT, new-for-2017 Aston Martin DB11 and Mercedes-AMG S 65 Coupe are more affordable, if somewhat less exclusive alternatives, and pricey rivals such as the Ferrari GTC4Lusso and the Aston Martin Vanquish S. Yet, the Wraith is unique in its own way, and the Black Badge edition just makes it more desirable. Now, about that price…
Share on Facebook