2016 Ford Focus RS: Dream Come True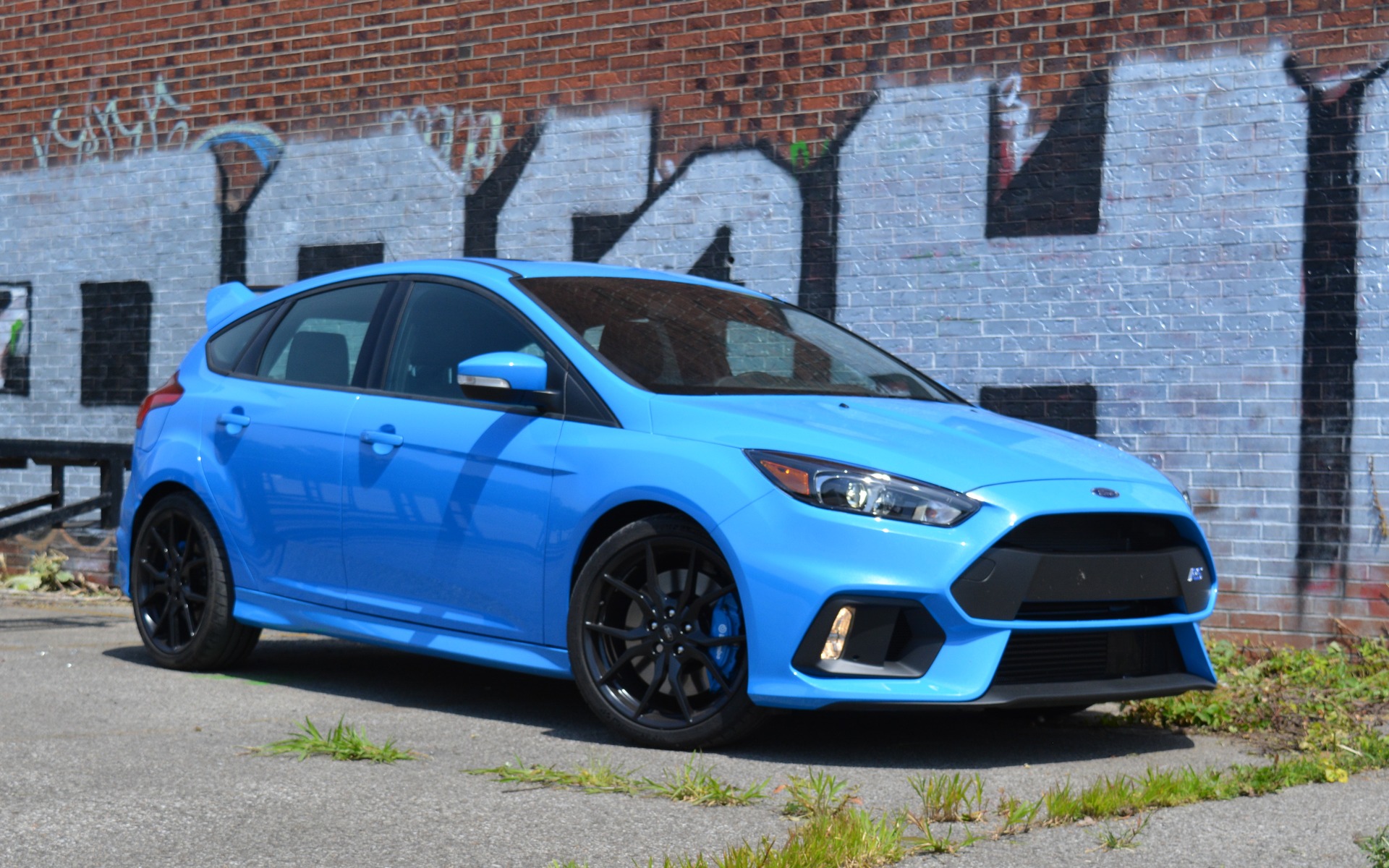 Strong points

Power and speed
Great SYNC 3 system
Excellent road manners

Weak points

Snug seats
Not-so-smooth shift lever
High price
Full report
The Focus RS was once a unicorn—a car that all had sworn existed, but no one in North America had ever seen with their own eyes. Then, one day, a wizard at Ford's HQ waved his magic wand and poof, the RS was suddenly real.
The 2016 Ford Focus RS is real in many ways. It is real fun, real fast, and really desirable. Do we have to thank Ken Block, at least in part, for the RS' playful yet determined character? It is possible, but we need to thank Europe and Asia for creating wild compact cars. The Focus RS is the latest, and perhaps the greatest of its kind and I'm going to tell you why.
It all begins with a body that supports five doors, like the Volkswagen Golf R, unlike the Subaru WRX STI. From there, slap on matte black-painted, 19" forged alloy wheels shod with psycho Michelin Sport Pilot Cup 2 tires, a Nitrous Blue paint job (all other colors are wrong), a hatch mounted spoiler (which could be a little bigger), a 10-mm wider track than a Focus ST and you get a car focused on forward momentum, be it straight on or sideways.
This car is a hoonigan's wet dream. The specs read like the best car-porn movie script. A turbocharged 350 horsepower, 350 lb.-ft. of torque engine sends power to all four wheels via a six-speed manual transmission. Big brakes, adjustable suspension and a loud RS Sport Exhaust round out the ingredients required for a seriously good time. The AWD system features torque vectoring that makes a world of difference and is largely responsible for the RS' breadth of abilities.
The Focus RS features a number of drive modes including track, launch and drift—I mean it when I say good time. Under normal driving, the RS is still a hoot and far more civilized than expected. In fact, I found the car to be better behaved than the ST and with a more progressive turn-in rate. The top most portion of the dampers' travel levels the immediate ugliness of the road's surface. This is a nice touch.
The ride is better than decent, but the power is beyond that. Boost builds quickly, but not without a tad of lag. Once at full clip, the car goes. And goes. The Sport mode adds an exhaust cacophony that brings a smile to anyone's face. Rowing through the gears is not as satisfying as it should be, as the lever is somewhat rubbery and the centre console is mere inches from it. I occasionally rapped my knuckles against the HVAC controls.
As a whole, the new Focus RS is exactly what enthusiasts have been asking for. It is possible that they weren't expecting to pay $50K to play, especially when both the Golf R and STI are $10K cheaper.
Share on Facebook