2016 Ford Focus RS: It's Good to Feel Young Again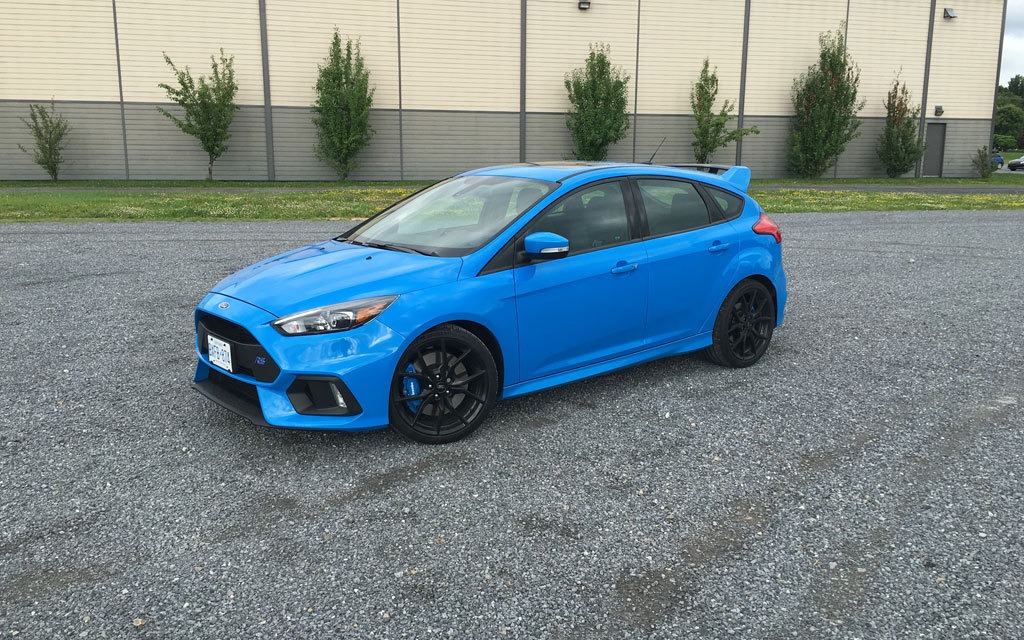 Strong points

Extremely high performer
Great looks
Tons of fun to drive

Weak points

Price
Underwhelming interior
Extra cost for the best colour
Full report
From the first moment I hit the ignition button on the 2016 Ford Focus RS, I knew it was going to be a very enjoyable week. It had been a while since I'd driven a hot hatch and it's easy to forget how much fun they are. The RS stands for Rallye Sport and the vehicle has been hugely popular with enthusiasts in Europe. Ford finally decided we North American folk were worthy of the RS and started to sell it here in 2016; however, all RS models will continue to be manufactured across the pond in Germany.
Firing up the RS gives a throaty rumble many sport compact-car enthusiasts crave and many muscle-car addicts sneer at. It reminded me of the days in my early 20s racing Integras and Civics at the local drag strip. All of a sudden I felt like I was 22 again and ready to let loose.
Naturally, this feeling seeped into my driving habits, causing my foot to turn into lead. Punching this car through first, second and third gear is something of a thrill ride. The 2.3-litre EcoBoost turbo four-cylinder motor making 350 horsepower and 350 lb.-ft. of torque presses you back into your seat as the vehicle shoots up to highway speed in no time at all. In fact the 0-100 km/h time for the Focus RS is just 4.7 seconds.
Not only that, the current setup is so potent that if you accelerate quickly enough, the car actually backfires. Not just the odd one either, but all the time. Even in neutral if you rev that sucker high enough, a series of loud distinctive "pops" shoot out from the tailpipe.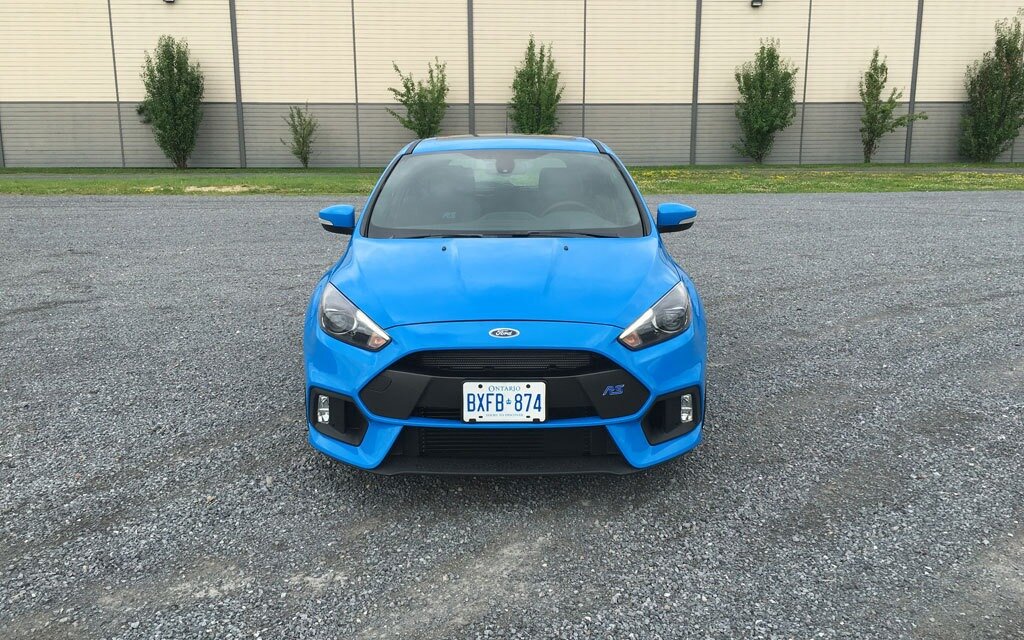 Backfires come from the fuel mixture in the combustion chamber being a little too rich. Excess fuel is ignited in the exhaust system and you hear a pop often accompanied with a flame. To be technically correct, if this happens in the exhaust system, it's actually called an afterfire. A true backfire is when fuel moves back into the intake unburned and combusts. It's a sound often heard at the drag strip when high-powered turbocharged cars are pushing the envelope. To hear backfires from a car right out of the factory is so rare it's almost nonexistent, but it's also the most amazing thing ever.
With speed comes the need for both handling and braking. Both are equally impressive, thanks to big Brembo 350-mm discs up front and 302-mm discs in the rear. All-wheel drive is standard and the torque vectoring system has the ability to transfer up to 100 per cent of available torque to a single wheel. The performance-tuned dampers have two stiffness levels and when the car really needs it, the brakes even kick in automatically to help with the turn. 19-inch black forged rims wrapped in super sticky Michelin Pilot Sport Cup 2 tires are the only wheel option, but a spectacular choice, although in Canada, the car also comes with a set of winter tires.
The RS has four driving modes (as do many vehicles nowadays), but the Focus is special because it has a drift mode. When the latter is activated, the computer lets the all-wheel drive system know you don't need it and lets you slide the rear end out. Unfortunately, I didn't get to test it out because there just aren't many places to do this legally, but I'm sure many people will enjoy a little snowy parking-lot fun using this feature or use it at a local drifting event.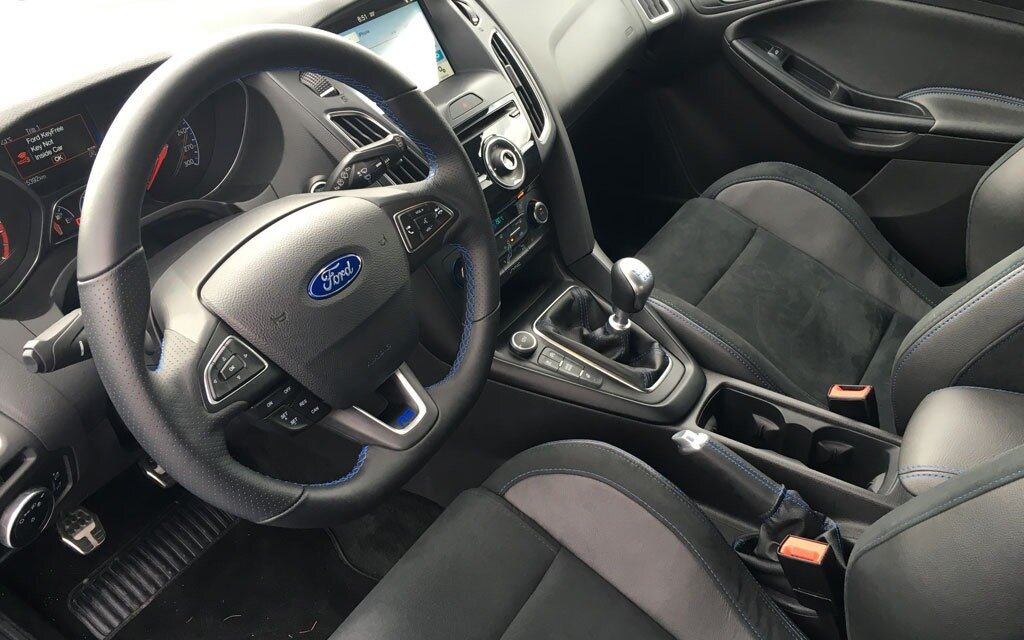 The cockpit is adequate if a bit underwhelming. The Recaro racing seats are the saviour here because if it weren't for them you'd be forgiven for forgetting you were in an expensive sports car. The cabin materials were not much different from your standard Focus except for the steering wheel. Ford's SYNC 3 Infotainment system is also a high point and one of the best user-intuitive systems available today.
The RS distinguishes itself on the exterior with a big rear wing, unique front fascia and, of course, RS insignias. Four colors are available: Shadow Black, Frozen White, Stealth Grey and Nitrous Blue, but the last one will cost you an extra $995.
When news first broke that the Ford Focus RS would come with a sticker price of $47,969, many readers on our partner site MontrealRacing.com expressed their belief that this might be too much for a Ford Focus no matter how fast it is. After all, the Volkswagen Golf R costs just $39,995 and performs almost as well as the Focus RS. An $8k premium is definitely a hard pill to swallow for the RS but as is the case with these high-performance trims on many vehicles, the diehard brand loyalists will always be willing to shell out the money.
The Focus RS is a practical and comfortable hot hatch that can light up most other cars on the street at the blink of an eye. Driving it makes you feel twenty years younger and that's why they will sell all of them at the price they ask. There are very few cars like it.
Share on Facebook