Upcoming Chevrolet Corvette Hybrid Accidentally Leaked
It looks like the upcoming hybrid variant of the Chevrolet Corvette is closer to launch than we thought and a reveal might be imminent.
The online configurator for the 2024 Corvette E-Ray—rumours of that name seem to be true—accidentally went live for a few hours on Thursday, but not before users of the Corvette Blogger and Mid Engine Corvette Forum could take a few screenshots.
Obviously, these are computer-generated renderings and not pictures of the actual car. Looking around, though, we can't seem to find a charge port anywhere, suggesting it won't be a plug-in hybrid.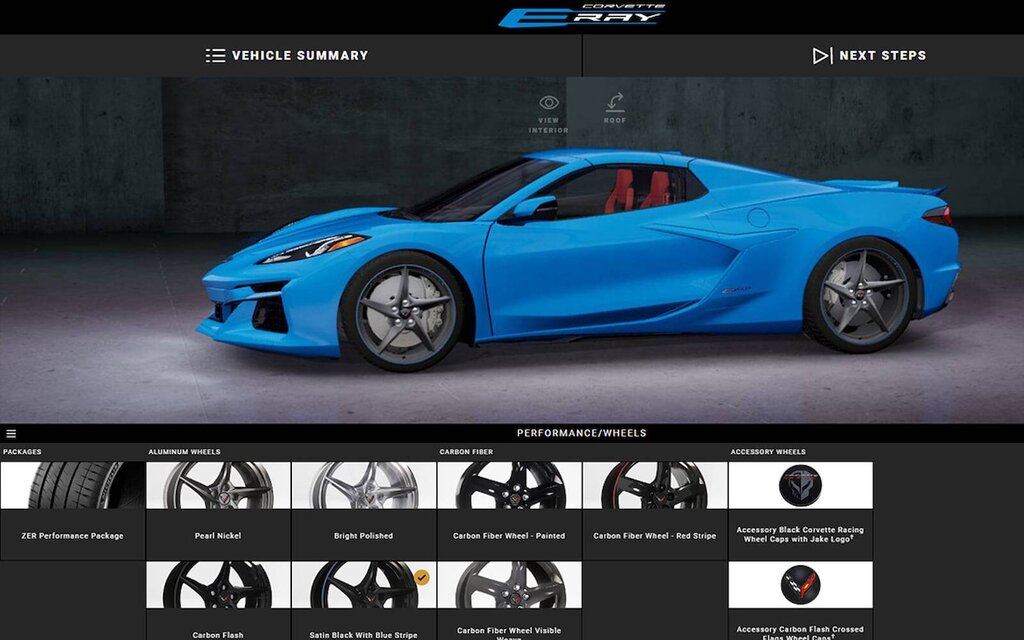 Styling is based on the 2023 Corvette Z06 rather than the base Stingray, which makes sense. Just look at the air intakes up front and on the sides. The latter sport body-colour trim instead of black for a softer appearance.
New wheel designs are available, while the Corvette E-Ray's rear end is less aggressive than that of the Z06. The lower bumper and tailpipes are similar to those on the Stingray.
If the selection of body colours is accurate, three new options will be available including Cacti (light green), Sea-Wolf Gray (dark grey) and Riptide Blue (dark blue). Will they be exclusive to the E-Ray? Maybe. Or it's possible Chevrolet will update the Corvette's palette for 2024. Remember, Cacti was the launch colour of the recently unveiled 2024 Chevrolet Trax.
Inside, it's pretty much the usual layout. An "E-Ray" badge appears on the sport steering wheel, while new buttons have been added for the regenerative braking system and auto start-stop system. For some reason they're located on the side of the centre console. Of course, there will be numerous interior colours to choose from. The online configurator also mentions a ZER Performance package, but we don't know any more about it.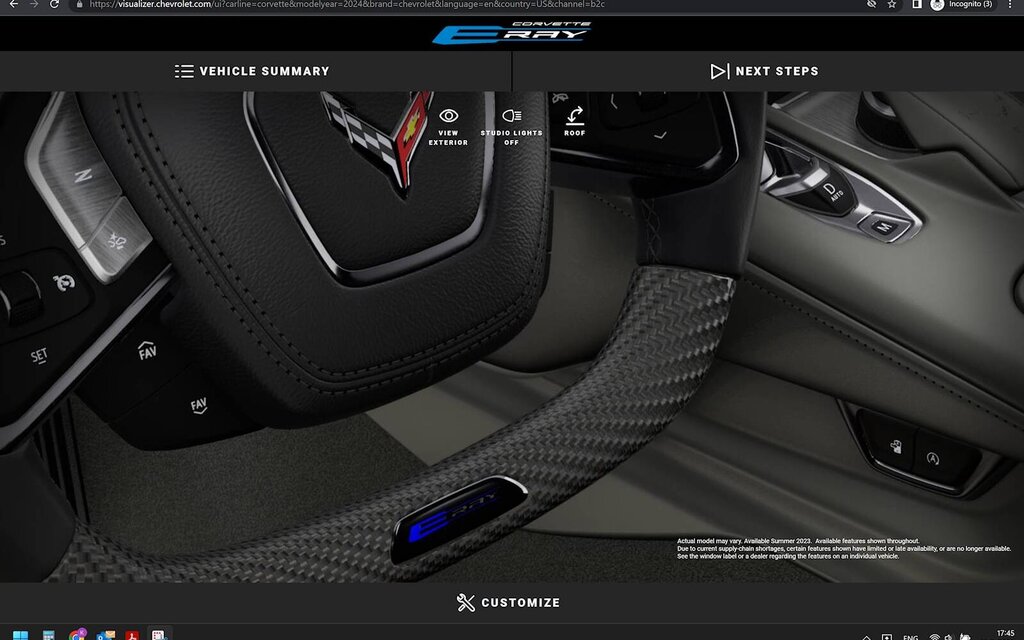 As for specs, we're still left in the dark. All signs point to the 2024 Corvette E-Ray featuring all-wheel drive, with one or two electric motors driving the front wheels. It will likely become the quickest-accelerating Corvette ever… until Chevrolet introduces a fully electric Corvette around mid-decade.
One last thing: the screenshots indicate the model will be available starting in the summer of 2023—in the U.S., mind you. A reveal is probably right around the corner, so watch this space.
Watch: 2023 Chevrolet Corvette Z06 Makes Official Debut
Share on Facebook