2024 Chevrolet Trax is Completely Transformed, Goes FWD-Only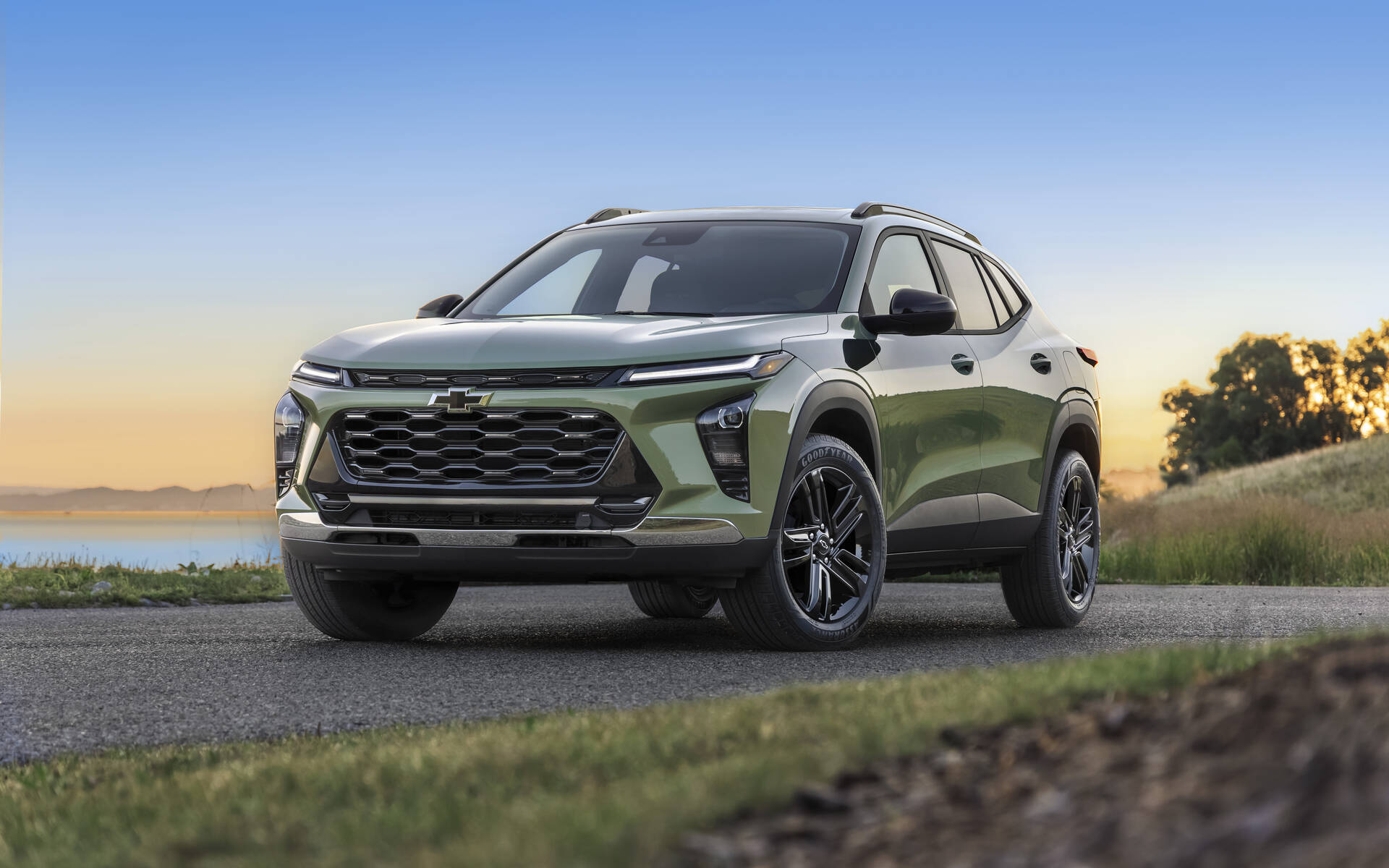 Following a one-year hiatus (there is no 2023 model), the Chevrolet Trax will return for 2024 with a second generation that's completely transformed and much more likely to attract today's young drivers with a focus on style and technology.
The Trax will resume its position as Chevy's entry-level crossover below the Trailblazer. The company believes there is still room for two models in the small-SUV segment, which is projected to grow another 32 percent over the next five years.
Chevy executives even predict the Trax will become the brand's third best-selling product behind the Silverado and Equinox. One reason is affordability. Seemingly immune from inflation, the Canadian lineup will be priced from just $21,699 plus freight and PDI.
Only the Name Remains the Same
As you can see, styling is a radical departure from the outgoing generation. The 2024 Trax is longer (+279 mm), lower and wider (+51 mm), with much more modern and athletic looks. Inspiration comes from the larger Blazer, particularly the front fascia and lighting units.
Each trim level gets a specific treatment and that includes the wheels, which range from 17-19 inches in diameter. The base LS and LT are more conventional, while the 1RS and 2RS (like the red model in the pictures) have a sportier appearance. The new ACTIV model (in green) stands out with a monochromatic look including titanium chrome accents, unique black wheels and a rear skid plate motif.
Inside, the wider dimensions combined with 152 mm of extra wheelbase result in a roomier cabin, including 76 mm more legroom for rear passengers. Trunk capacity is increased nearly 12 percent to about 600 litres. Of course, the centre of attention is found up front in the form of a brand new, driver-oriented touchscreen (8 or 11 inches depending on the trim) next to an 8-inch digital instrument panel. Wireless Apple CarPlay and Android Auto connectivity is standard across the line.
Once again, there are key distinctions from one trim level to another. For example, the Trax 2RS features red accents on the seats and a racing-inspired flat-bottom steering wheel, while the Trax ACTIV features Evotex seats with yellow accents.
Now With FWD Only
Many potential customers will be disappointed by the lack of an AWD option. Unlike the outgoing model and the Trailblazer, the new 2024 Chevrolet Trax goes FWD exclusively, which also explains the cheap base price. Consider it an alternative to the Nissan Kicks and Kia Soul—the only one from an American make.
Under the hood, the 1.4-litre four-cylinder engine is replaced by GM's turbocharged 1.2-litre triple-cylinder, which delivers 137 horsepower and 162 pound-feet of torque. We don't like that mill in the Trailblazer, but maybe it will prove just fine in a lighter vehicle such as the Trax. And instead of a CVT, a simpler six-speed automatic transmission is included, though engineers have made a few revisions for quicker acceleration and improved efficiency (official ratings TBD).
When it comes to safety and driver awareness technology, the 2024 Trax steps up with new, standard Chevy Safety Assist, a suite of six advanced features that include Automatic Emergency Braking, Front Pedestrian Braking, Lane Keep Assist with Lane Departure Warning, Forward Collision Alert, IntelliBeam auto high-beam control and Following Distance Indicator.
Production will once again take place in South Korea, with the 2024 Chevrolet Trax going on sale next spring. Details for the Canadian market will be announced closer to launch.
Share on Facebook