2022 Hyundai Tucson: Exciting But Not Super-efficient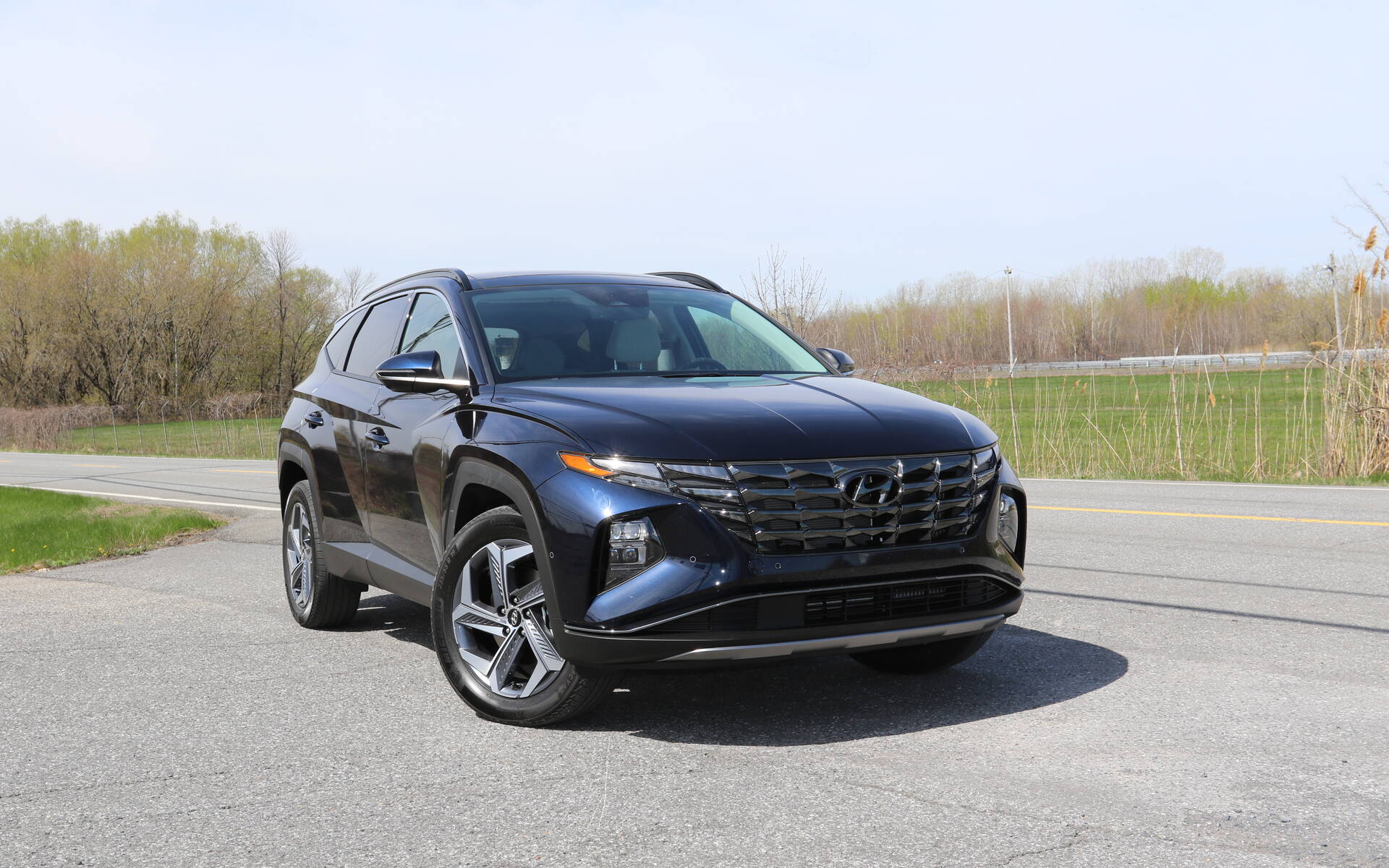 Strong points

Pleasant driving dynamics
Smooth and potent enough powertrain
Increased cabin space
Comfortable ride

Weak points

Base models can't get hybrid treatment
Excessive noise at higher speeds
Fuel economy could be better
Full report
"That's the new Tucson? It's really hot!"
Comments like these—and longing stares—never stopped during my brief time with the all-new 2022 Hyundai Tucson. I'm used to it with sports cars like the Toyota GR Supra and Alfa Romeo Giulia Quadrifoglio, or insane machines like the Ram 1500 TRX, but not with a high-volume compact SUV.
Whether you love or hate the direction Hyundai is taking, you have to admit the redesigned Tucson is unlike anything else on the road right now, with daytime running lamps that are assimilated seamlessly within the bold, parametric grille and only visible when illuminated, crisp geometric angles and edges on the sides, and taillamps that look like a dog showing its teeth.
The Korean automaker did all that on purpose, as competition in the compact SUV segment is extremely fierce and cookie-cutter products don't stand a chance. Well, mission accomplished.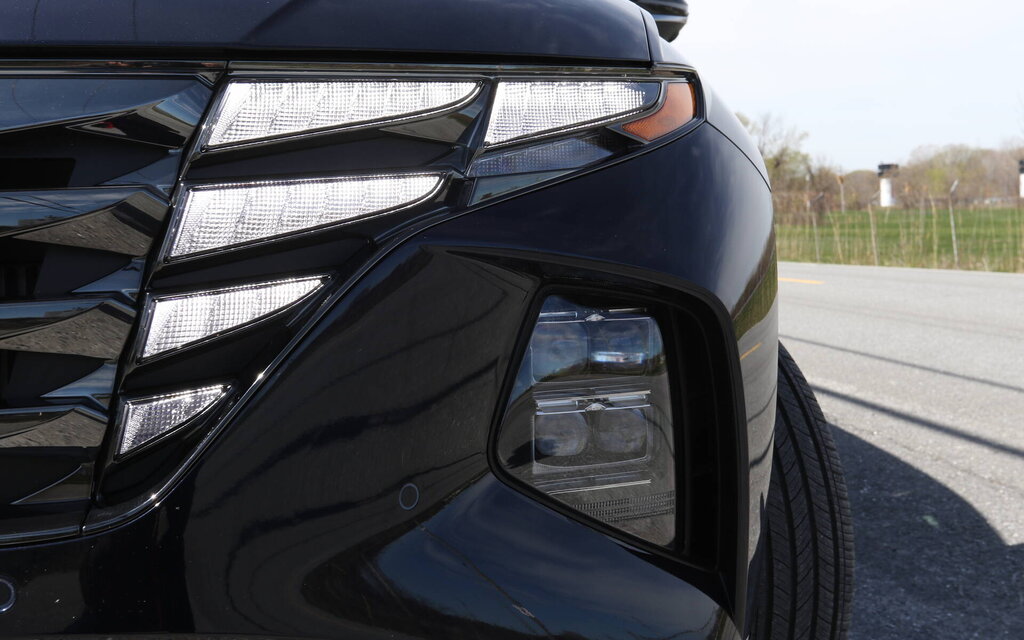 Roomier and More Refined
The interior of the 2022 Hyundai Tucson has been completely revised, as well. The available 10.25-inch infotainment display is beautifully integrated in the centre stack instead of sticking out at the top of the dashboard.
Just below, rotary knobs have given way to a flat panel with touch-sensitive controls. It looks sharp, but you have to take your eyes off the road to make sure where you finger is, which wasn't the case before. Meanwhile, the centre console is taller and the shifter has been replaced by buttons like in a growing number of Hyundai vehicles.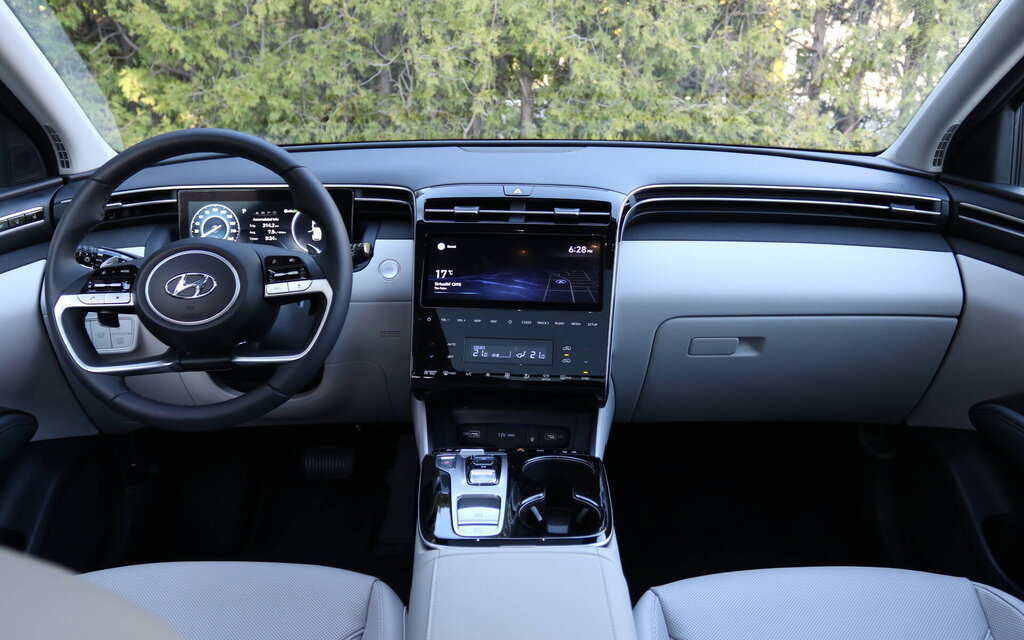 Fit and finish in our top-of-the-line, generously equipped Ultimate tester was beyond reproach. The combination of black-and-white, soft-touch plastics with fabric inserts is both unique and pleasant to look at. Will the fabric prove durable and stain-resistant over time? That's a good question.
Thanks to a longer wheelbase (+85 mm) and shorter overhangs, the new Tucson is considerably more spacious than its predecessor, especially in the rear with a big gain in legroom and cargo capacity. The trunk can now fit up to 1,095 litres versus just 877 litres in the outgoing model.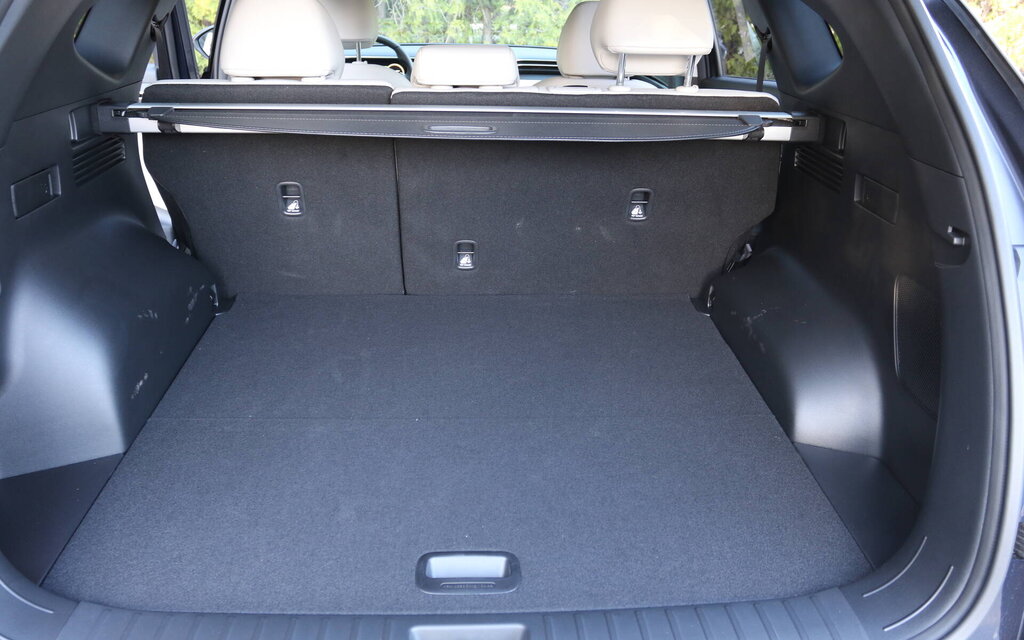 Premium Hybrid Variant
For 2022, the base engine is a naturally aspirated 2.5-litre four-cylinder producing 187 horsepower and 178 pound-feet of torque. Alternatively, the first-ever Tucson Hybrid gets a turbocharged 1.6-litre engine mated to an electric motor for a total of 227 horsepower and 258 pound-feet of torque.
There's just one problem: the hybrid powertrain is exclusive to Luxury and Ultimate models, so that means you must spend over $40,000 to get it.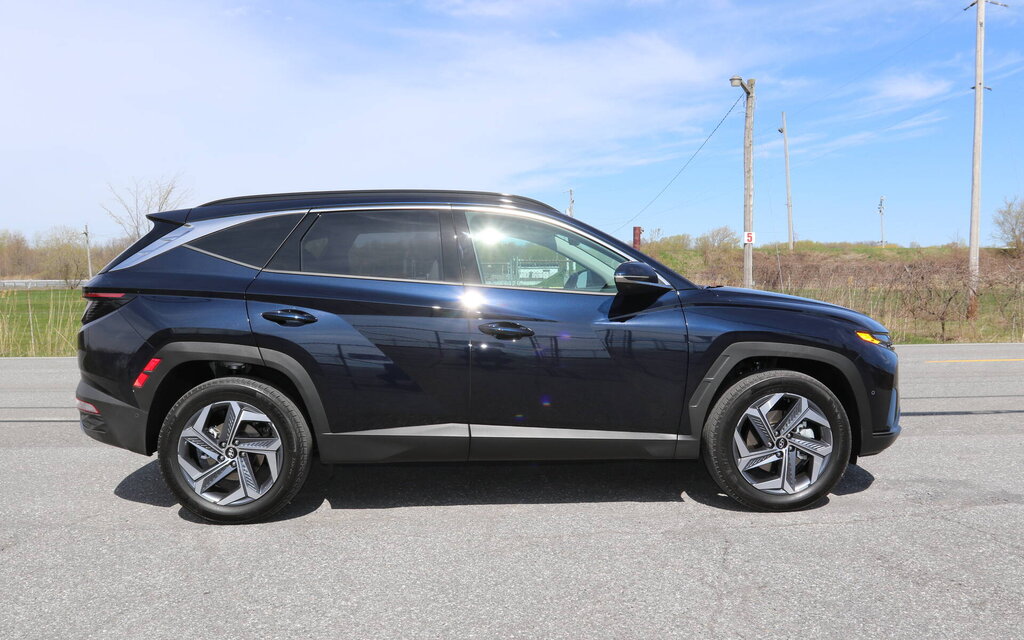 Our Ultimate tester retailed for $43,935. It will cost you $780 a month for 60 months (2.49 percent APR) or $602 a month if you prefer to lease for 36 months (3.49 percent, 20,000 km annually).
Later in 2021, the lineup will expand to include a plug-in hybrid variant, also featuring the 1.6T engine. This one will have more power (261 hp) and an EV range of 51 kilometres courtesy of a 13.8-kWh battery.
Disappointing Fuel Economy
Considering that we achieved 8.2 L/100 km with the Santa Fe Hybrid a couple of weeks earlier, we expected the Tucson Hybrid to average about 6.5 L/100 km. After all, it's lighter by approximately 200 kilograms. And let's not forget that the Toyota RAV4 Hybrid needs less fuel than that.
Unfortunately, the only time it posted a reading of 6.5 L/100 km was when driving on a straight road at a steady 80 km/h. Overall, fuel consumption on our watch ended up at 7.6 L/100 km.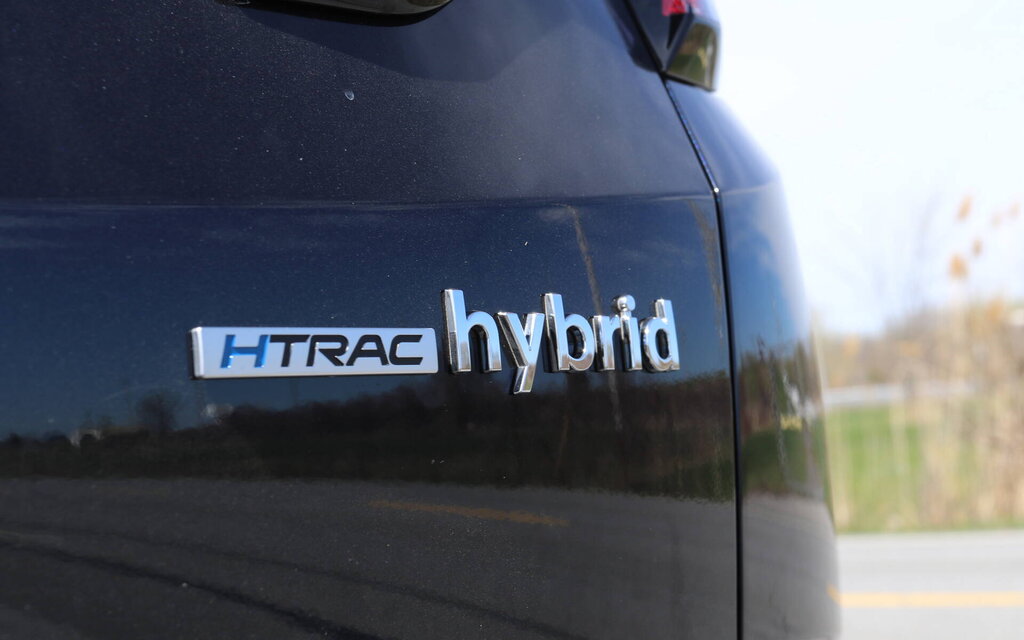 Sure, it's more efficient than the previous 2.4-litre engine, but the old 1.6T mill used to be able to maintain an average of 8 L/100 km on the highway without any electric assistance. So, unless you spend a lot of time around town, the Tucson Hybrid will not make a big difference on your gas bills.
For sure, though, the hybrid system delivers good acceleration and quiet operation. Compared with the Santa Fe Hybrid, it just feels livelier and more pleasant.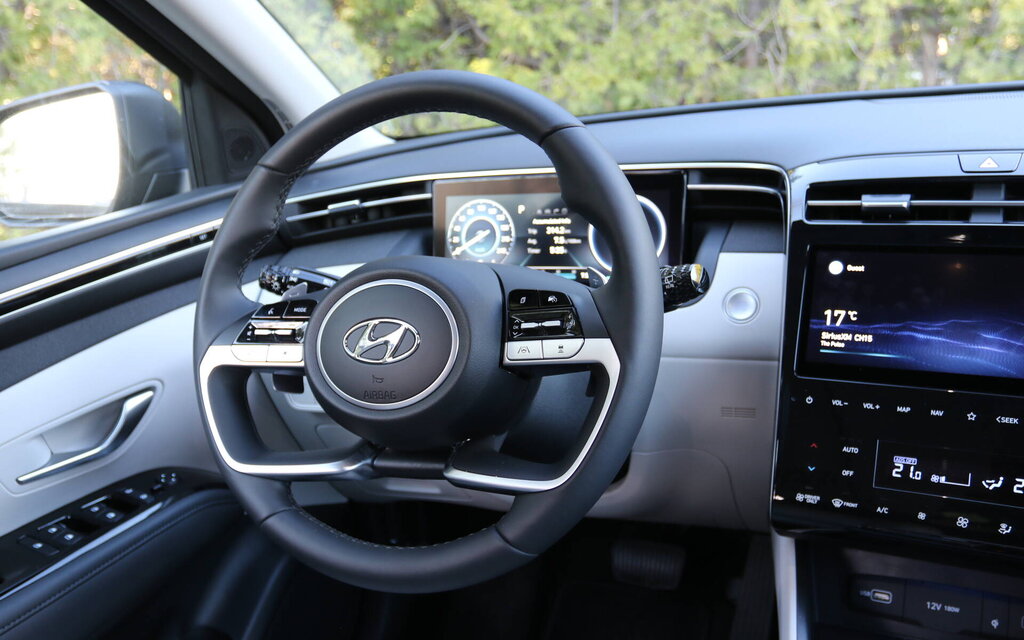 Dynamic Handling
The new 2022 Hyundai Tucson also eclipses its larger sibling when it comes to driving dynamics. During a virtual presentation we attended recently, Hyundai insisted on the fact that fun handling was a priority for engineers. Albert Biermann, the former BMW M boss who was hired to lead Hyundai's N performance division, was actually involved in the development.
We were admittedly a bit suspicious at first, but the Tucson's excellent balance of ride and handling made believers out of us. Normally, extra agility comes at the expense of a smooth ride, but it's not the case here. The suspension is remarkably well calibrated and effective at biting the road while shielding occupants from bumps and potholes.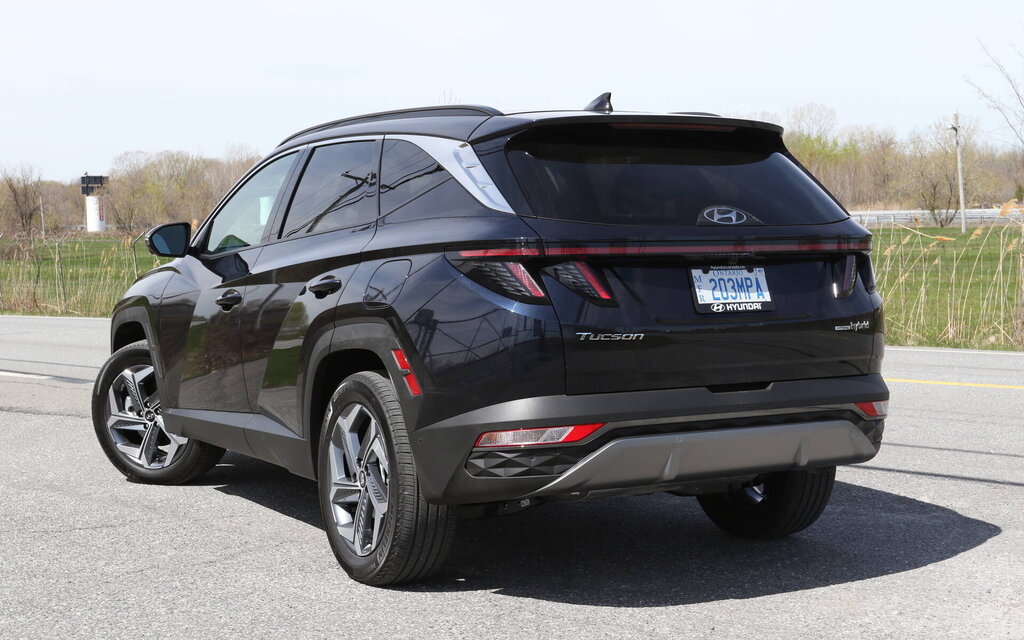 Steering is precise and direct, making the front wheels easy to point in the exact direction you want. The rear end of the vehicle plays nicely, too, contributing to tremendous stability in corners. Our only complaint is the excessive wind noise and road noise at higher speeds.
Bottom Line
The 2022 Hyundai Tucson addresses the biggest issue with the previous model (interior space) while offering improved, surprisingly fun handling. The hybrid variant may not be as efficient as we expected, but overall it's a homerun for Hyundai.
Share on Facebook