2021 Hyundai
Santa Fe

Hybrid: Practical, Efficient, But No Fun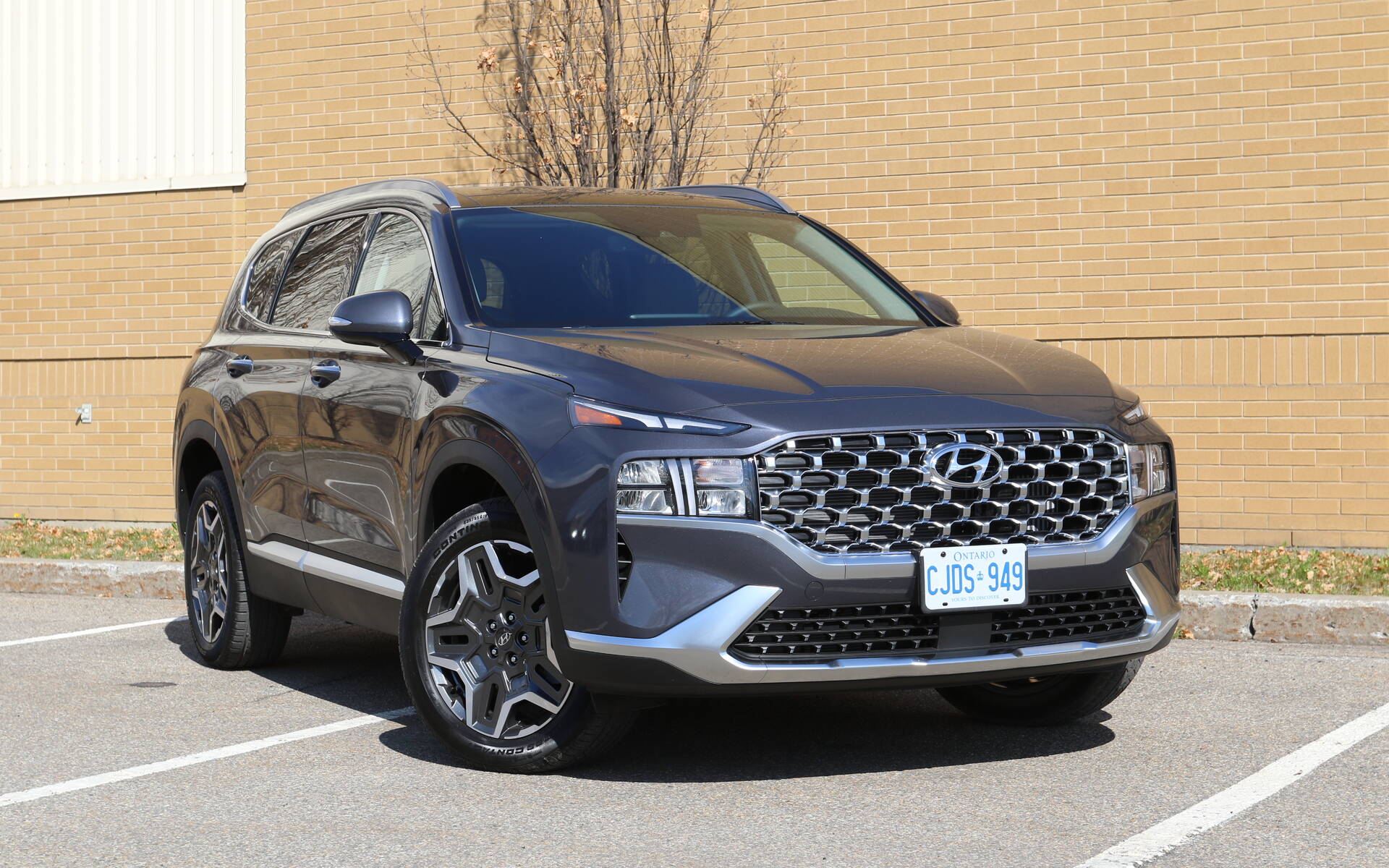 Strong points

Spacious and practical interior
Good fuel economy
Smooth ride

Weak points

No fun behind the wheel
Fair amount of wind noise at higher speeds
Limited towing capacity
Full report
The Hyundai Santa Fe is back with fresh styling for the 2021 model year. Nothing major, but just enough of a mid-cycle update to keep the model attractive.
You can see how the changes add character to the front end without radically altering the original design introduced two years ago. Highlights include silver-finish accents along with a redesigned grille and headlights, while the silver trim running across the front fascia now sits below the grille.
In the rear, the taillights and diffuser have been revised, while the fog lights occupy a new spot. Overall, the 2021 Santa Fe looks very nice, though the lines are clearly not as sharp as the Kia Sorento's.
The big news is under the hood in the form of an available hybrid powertrain, with a plug-in variant to follow later this year.
While gas-powered models use a 2.5-litre four-cylinder engine (including the turbo), the first-ever Santa Fe Hybrid combines a small turbocharged 1.6-litre engine—commonly found in other Hyundai and Kia vehicles—with a 44.2-kW electric motor and 1.5-kWh lithium-ion battery to improve fuel economy. Output is rated at 226 horsepower and 258 pound-feet of torque, which is pretty decent for an SUV of this size.
Comfortable But Conservative Commuter
On the road, the 2021 Hyundai Santa Fe Hybrid delivers good but not great performance. Acceleration and passing manoeuvres are nowhere near electrifying, but you'll still have no trouble negotiating traffic.
Now, what about when you have five people on board and a trunk full of cargo? If you want to overtake a slower vehicle or jump into a spot, you'll need more planning. As for towing capacity, the Santa Fe Hybrid can pull up to 2,500 pounds, which doesn't match the 2.5T's 3,500 pounds.
Despite not offering neck-snapping power, this gas-electric SUV proves to be a smooth and quiet operator in most situations. Even at full throttle, it won't make your ears bleed.
When it comes to the ride and handling equation, comfort prevails with a suspension that does a commendable job of soaking up bumps and potholes. However, there's no fun to be had behind the wheel. Steering is lifeless and uninspiring, so while the Santa Fe Hybrid handles adequately in daily commutes around town, it hates to be pushed in corners. There's lots of understeer, and the tires quickly show their grip limit. At 1,907 kilograms, the vehicle is heavier than the average competitor.  
Want a reason to smile beyond the comfortable ride? With about 800 kilometres of total range, you'll spend much less time at the pump. According to Natural Resources Canada, the 2021 Hyundai Santa Fe Hybrid has a combined fuel consumption rating of 7.4 L/100 km. While it failed to match that number on our watch (8.2 L/100 km), we're still pleased. Consider this: we achieved a disappointing 13.5 L/100 km with a Kia Sorento featuring the 2.5T engine.
Not Quite as Roomy as the Sorento
Slotting between the Tucson and Palisade, the Hyundai Santa Fe appeals to families with a spacious and practical interior. Unlike the aforementioned Sorento, however, it can't be ordered in seven-passenger configuration. If you want a Hyundai with three rows of seats, your only option is the Palisade.
There's ample headroom and legroom to comfortably accommodate adults on long trips, no matter where they sit. It gets a bit tighter when you move the 60/40-split rear bench forward to expand the trunk, but not excessively so.
The spacious and convenient Santa Fe also has a different interior layout than its domestic cousin. While Kia has retained a traditional shifter and a lower centre console, Hyundai has opted for shift buttons on a taller console. The infotainment system is intuitive and most of the controls are where you'd expect them to be.
As for the trunk, it can fit up to 1,032 litres of cargo with the rear seats up or 2,041 litres with the seats down. That's a generous amount of space, for sure, but not quite as much as in the Sorento (1,090 and 2,141 litres, respectively).
Two Trim Levels
The 2021 Hyundai Santa Fe Hybrid is available in two trim levels, both with all-wheel drive. The base Preferred Trend starts at $41,399 plus destination and handling. Our tester was a Luxury at $43,799.
You should know that Hyundai Canada currently offers APR financing of 1.49 percent for up to 72 months, 1.99 percent for 84 months, and 3.99 percent for 96 months. If you prefer to lease anywhere between 36-60 months, the rates go from 2.49 percent to 3.49 percent.
Ultimately, the latest Hyundai Santa Fe stands out with high levels of comfort and efficiency, but everything else is fairly ordinary, especially the driving part which is completely devoid of excitement. If you merely want to take your family from A to B, you're fine. Otherwise, you need to shop elsewhere.
Share on Facebook