Volkswagen's Electric Future is Now: Meet the ID.3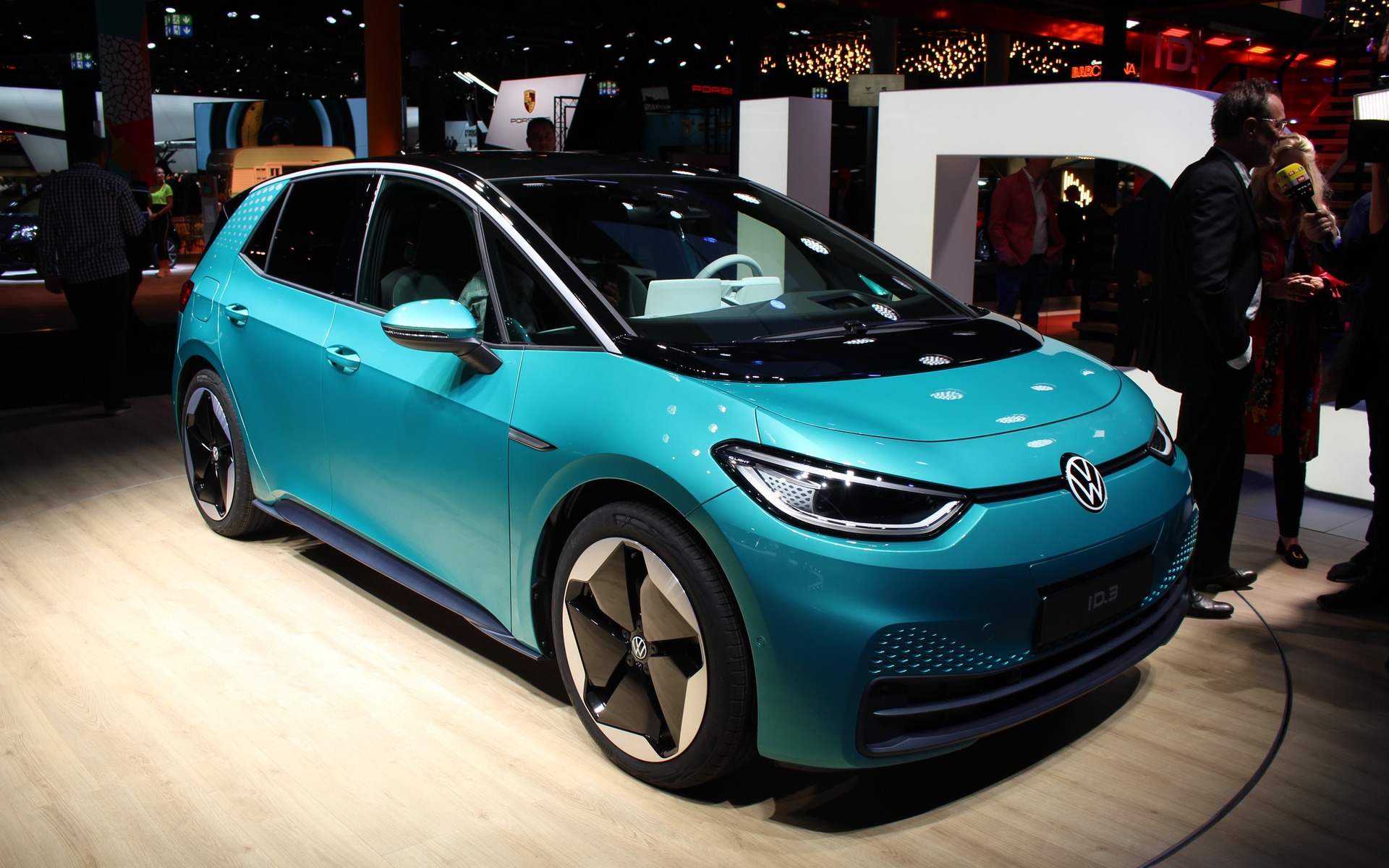 As promised, Volkswagen kicked off the 2019 Frankfurt Auto Show with the world premiere of its next-generation electric car. The ID.3 marks the debut of another era for the German automaker, which seized the opportunity to also launch a new logo and brand image.
Like all future members of the ID. family, the Volkswagen ID.3 is built on the new modular electric drive platform (MEB) and its design is a stark contrast with the current portfolio. It might look like a concept, but it's a real production model with real game-changing aspirations.
The long wheelbase creates a roomy interior (as much as a midsize car, Volkswagen claims), while the clean and minimalist layout contributes to an extremely intuitive user experience.
Witness the fully digital instrument panel, the multi-function steering wheel, the large 10-inch centre display that's slightly angled toward the driver and even the pedals sporting Play and Pause icons. All controls are operated using touch-sensitive buttons. Only the electric windows and hazard warning lights are still operated using tactile switches. Additionally, an LED strip supports drivers during navigation and can, for instance, prompt them to brake in the event of any dangers.
What about the powertrain, you say? There are three battery options: 45 kWh, 58 kWh and 77 kWh. Their range amounts to 330, 420 and 550 kilometres, respectively, based on the WLTP protocol. These numbers are impressive, for sure. And thanks to its fast-charging capability, it's possible to charge the ID.3 sufficiently for a range of around 290 kilometres within 30 minutes using a charging output of 100 kW.
The battery is mounted in the underfloor, thus lowering the car's centre of gravity, improving weight distribution and sharpening driving dynamics. As for the electric motor, it provides 201 horsepower—just one pony more than the Chevrolet Bolt EV (417 km of range).
In its most luxurious trim, the Volkswagen ID.3 features 20-inch wheels, a panoramic roof, a Beats audio system, comfort seats, high-voltage contactless charging for smartphones, head-up display with augmented reality and several driver assistance technologies such as lane keeping assist.
In Europe, a special launch edition called ID.3 1st will be offered starting in mid-2020 (pre-booking started in May). The body colour and the vehicle interior's colour can be selected by the customer.
Unfortunately, there are no plans to sell the ID. 3 here in North America. Rather, we will first be treated to a crossover based on the ID. CROZZ concept, then a minivan derived from the ID. BUZZ.
Share on Facebook