Knee Airbags May Increase Injury Risk, IIHS Says
Just when you thought the more airbags you have in a car the better protection you get in the event of a crash, a study released this week by the U.S. Insurance Institute for Highway Safety (IIHS) shows that not all of these life-saving devices are created equal.
Knee airbags, in particular, have a negligible effect on injury risk and, in fact, may even increase it in some cases.
This somewhat shocking finding comes at a time when more and more vehicles are adding knee protection as part of their airbag system. Even Canada's cheapest car, the Chevrolet Spark at $9,995, includes a pair of knee airbags (they're two of 10 airbags fitted as standard).
Knee airbags usually deploy from the lower dashboard and are intended to distribute impact forces to reduce leg injuries. They may also help reduce forces on an occupant's chest and abdomen by controlling lower body movement.
The organization responsible for collision tests in the U.S. examined both crash test data and information from real-world crash reports to determine whether or not knee airbags improve safety.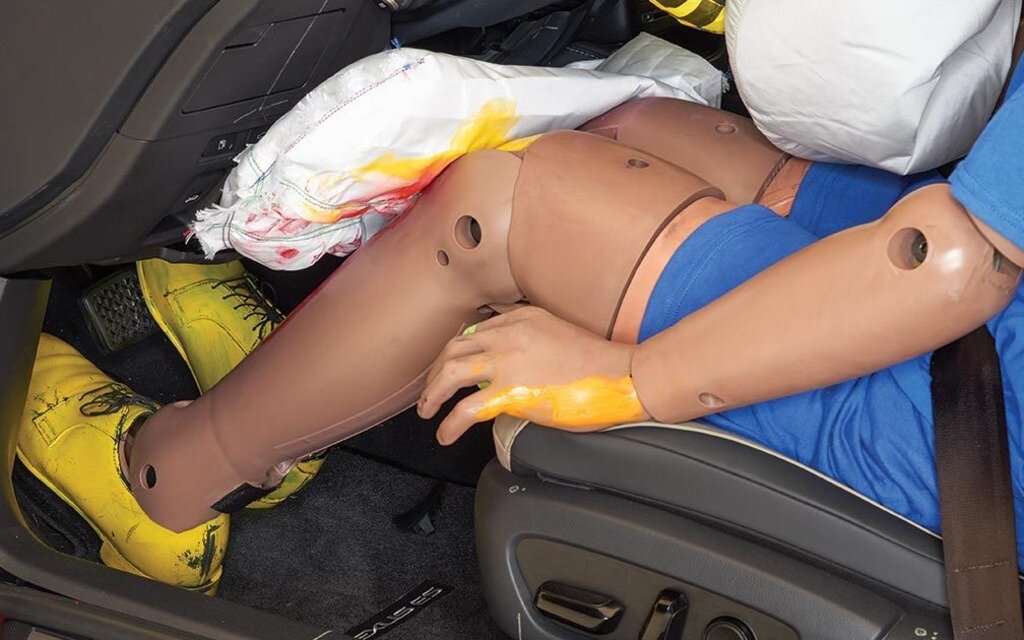 For the first part, they looked at injury measures from more than 400 frontal crash tests conducted as part of the IIHS vehicle ratings program to see if injuries were less likely when vehicles were equipped with knee airbags.
To look at real-world outcomes, they compiled crash reports from 14 U.S. states and compared injury risk in vehicles with knee airbags with risk in vehicles without knee airbags.
Knee airbags had only a small effect on injury measures recorded by dummies in IIHS driver-side small overlap front and moderate overlap front crash tests. Surprisingly, in the small overlap test, knee airbags were associated with increased injury risk for lower leg injuries and right femur injuries, though head injury risk was slightly reduced. The airbags had no effect on injury measures in the moderate overlap test.
In the analysis of real-world crashes, knee airbags reduced overall injury risk by half a percentage point, from 7.9 percent to 7.4 percent, but this result wasn't statistically significant.
One reason some manufacturers have been installing knee airbags, according to the IIHS, is to help vehicles pass federally mandated tests with unbelted dummies. It's possible that knee airbags would help unbelted occupants in real-world crashes. The IIHS study didn't look specifically at crashes in which people weren't using seat belts, and dummies are always belted in IIHS vehicle ratings tests.
Share on Facebook