IIHS Announces Top Safety Pick Award Winners for 2021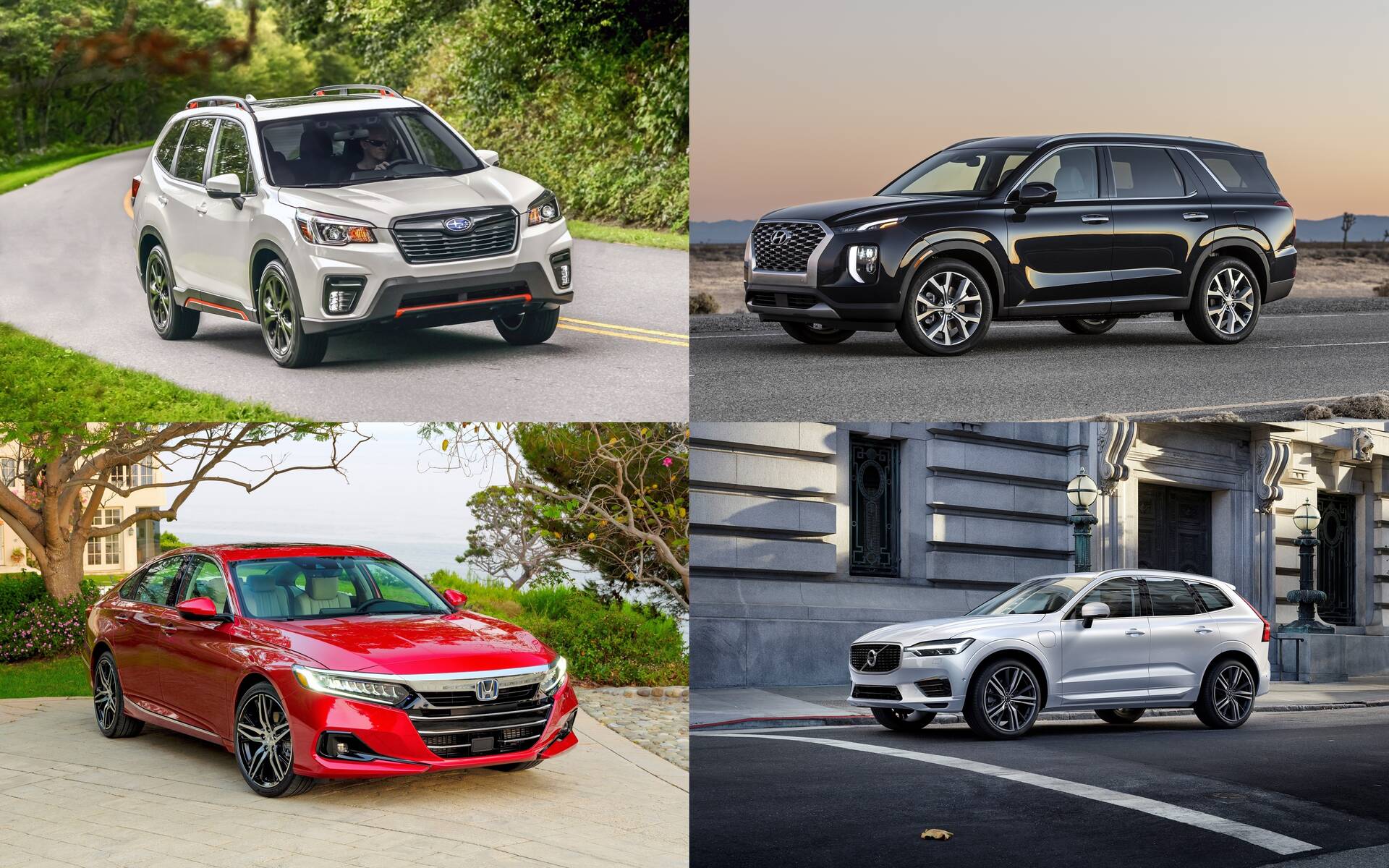 A clear sign that automakers are making significant improvements in terms of safety, 49 different models have earned a 2021 Top Safety Pick+ award from the U.S. Insurance Institute for Highway Safety (IIHS), up from just 22 last year.
Adding the 41 other models identified as a 2021 Top Safety Pick brings the total to 90 award winners, compared with 64 in 2020.
Both awards require good ratings in all six IIHS crashworthiness tests — driver- and passenger-side small overlap front, moderate overlap front, side, roof strength and head restraints. Award winners must be available with front crash prevention that earns a superior or advanced rating in both vehicle-to-vehicle and vehicle-to-pedestrian evaluations.
Last but not least, Top Safety Pick winners must be available with good or acceptable headlights. The "plus" designation is given to models that have good or acceptable headlights across all trim levels and packages.
Hyundai (including Kia and Genesis) and Volvo have the most 2021 awards, while General Motors boasts just a pair. Only one automaker, Mitsubishi, has failed to earn a single award so far.
The IIHS points out that 24 models check all boxes but one, so they're almost as safe as the others. Also, it's worth mentioning that 20 automakers have signed the pledge to equip at least 95 percent of vehicles they make with vehicle-to-vehicle automatic emergency braking beginning in the 2022-2023 production year.
Here is the full list of 2021 Top Safety Pick award winners:
Top Safety Pick+
Acura RDX
Acura TLX
Audi A6
Audi A6 allroad
Audi A7
Audi e-tron
Audi e-tron Sportback
Cadillac XT6
Ford Explorer
Genesis G70
Genesis G90
Honda Accord
Honda Insight
Honda Odyssey
Hyundai Nexo
Hyundai Palisade
Kia K5
Lexus ES 350
Lexus IS
Lexus NX
Mazda3
Mazda3 Sport
Mazda6
Mazda CX-9
Mazda CX-3
Mazda CX-5
Mazda CX-30 (fabriqué après septembre 2020)
Mercedes-Benz GLE
Nissan Rogue
Nissan Altima
Nissan Maxima (fabriquée après novembre 2020)
Subaru Crosstrek PHEV
Subaru Forester
Subaru Legacy
Subaru Outback
Tesla Model 3
Toyota Camry
Toyota Highlander
Toyota Sienna
Volvo S60
Volvo S60 Recharge
Volvo V60
Volvo V60 Recharge
Volvo XC40
Volvo XC60
Volvo XC60 Recharge
Volvo XC90
Volvo XC90 Recharge
Top Safety Pick
Audi A4
Audi A5 Sportback
Audi Q8
BMW Série 3
Chevrolet Equinox
Ford Edge
Ford Escape
Honda Civic
Honda Civic Hatchback (sauf Type R)
Honda CR-V
Hyundai Kona
Hyundai Sonata
Hyundai Tucson
Hyundai Venue
Hyundai Veloster N
Kia Forte
Kia Seltos (fabriqué après août 2020)
Kia Sportage
Kia Sorento
Kia Soul
Kia Stinger
Kia Telluride
Lexus UX
Lexus RX
Lincoln Aviator
Lincoln Corsair
Mercedes-Benz Classe C
Mercedes-Benz GLC
Nissan Sentra
Ram 1500 Crew Cab
Subaru Crosstrek
Subaru Impreza 4 portes
Subaru Impreza 5 portes
Subaru WRX
Toyota Corolla
Toyota Corolla Hatchback
Toyota C-HR
Toyota RAV4
Toyota RAV4 Prime
Toyota Venza
Volkswagen Tiguan
Share on Facebook