2019 Ford Mustang BULLITT: Call Me Steve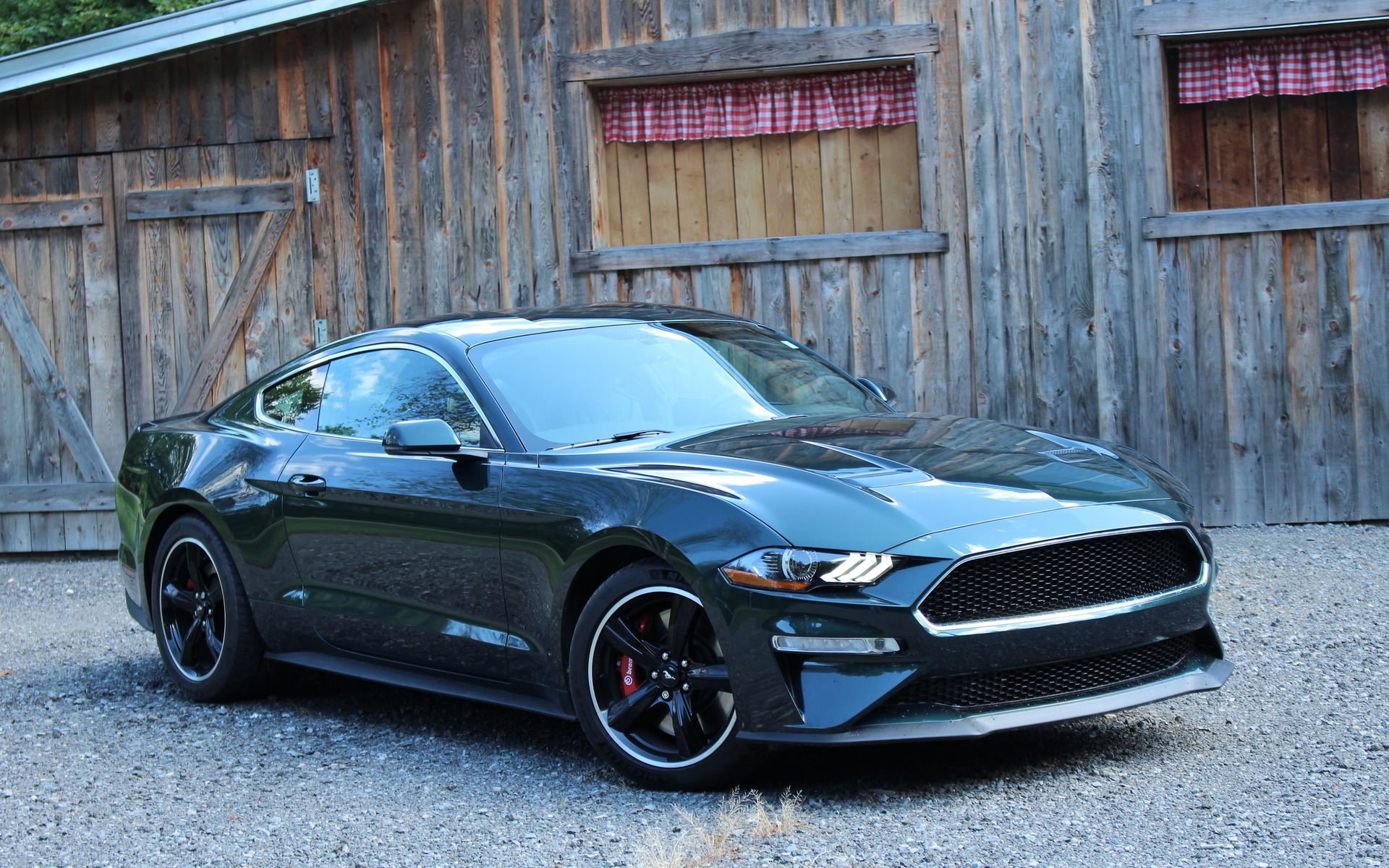 Strong points

Powerful and throaty V8
BULLITT version's potential exclusivity
Comfortable and modern cockpit

Weak points

Heavy fuel consumption around town
Small trunk
High price of the BULLITT version
Full report
Although Ford is trying hard to convince us that a turbo four-cylinder Mustang is awesome, this sports car is much more delectable with a good ol' V8. For those who believe they'll lack originality by purchasing a Mustang GT, and who can't swing a Shelby GT350, there's the BULLITT. In capital letters, please.
Everyone knows that the company is paying tribute to the 1968 flick Bullitt, starring Steve McQueen, a green Ford Mustang, and a certain black Dodge Charger that will be cruelly turned into a ball of fire as it careens into the fuel tanks of a gas station. It's easy to understand why FCA has yet to introduce a Charger Bullitt.
The 2019 Ford Mustang BULLITT is painted Dark Highland Green, just like the car in which McQueen performed his own stunts. Ironically, if we don't like green, we can also choose Shadow Black. By the way, there is one 2019 BULLITT painted Kona Blue out there, which Ford raffled in order to raise funds for juvenile diabetes research. About $600,000 was collected.
The Mustangs used for the movie—supposedly two of them—were stripped of their badging. So, the 2019 BULLITT doesn't have a prancing horse on its front grille or steering wheel, or a Ford logo on the rear end.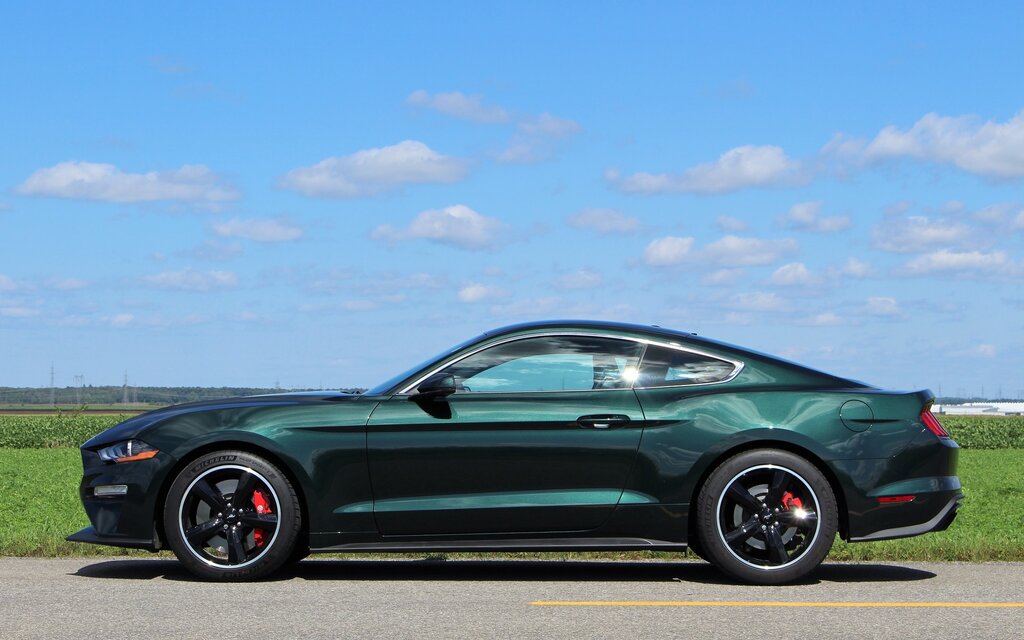 To give it a little exclusivity, or to justify its price that's $10K higher compared to the GT Premium's, the automaker gave it an extra 20 horsepower under the hood. The 5.0-litre V8 never was so throaty, energetic and enticing. A launch control system can be activated, and the car accelerates from 0 to 100 km/h in less than five seconds.
We can also turn on a rev matching system during downshifts, for those who want to make people believe they can master the heel-and-toe technique. By the way, the six-speed manual transmission is the only way to go in the BULLITT, as the 10-speed automatic that's optional on other variants of the Mustang isn't here.
It may cost about $60,000, but at least it's fully equipped. As standard, we get a fully digital – and colourful, and configurable – driver instrument cluster, a heated steering wheel, a high-end B&O Play sound system, blind spot monitoring, MagneRide variable dampers and a performance exhaust system. As a matter of fact, the only available option is a full car cover. Come to think of it, that's why this car is so expensive compared to the GT Premium.
We benefit from a retro-looking ride, but one that's equipped with very modern technology. The aforementioned digital instrumentation is cool, the B&O stereo is superb, and the SYNC 3 infotainment system is easy to use. The RECARO seats, greatly supportive, boast green stitching that blend perfectly with the car's body colour.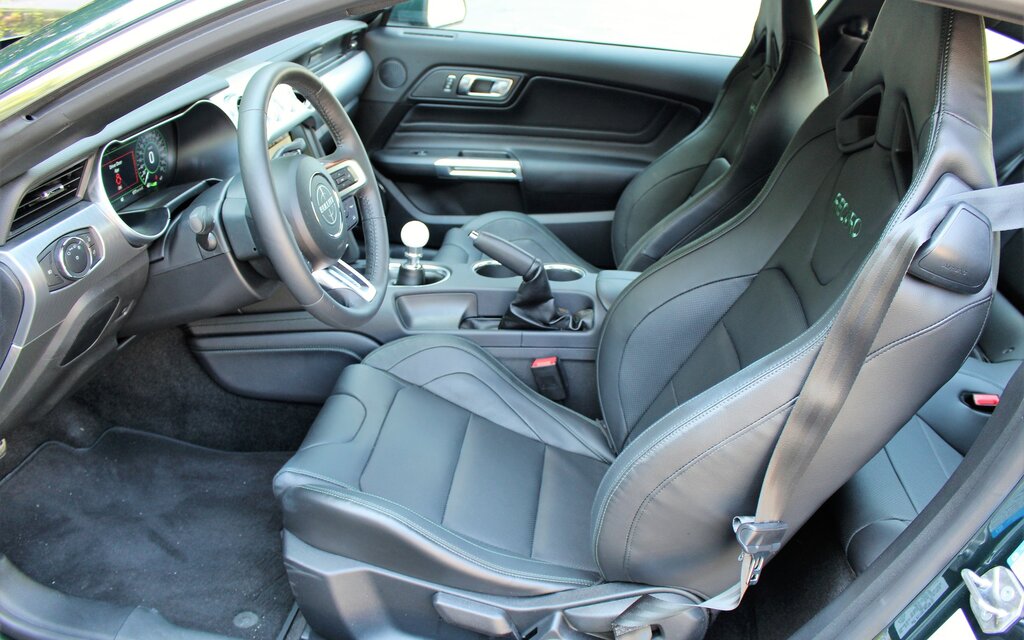 As a daily driver, the 2019 Ford Mustang is friendlier than the Chevrolet Camaro thanks to its greater outward visibility—we can't see anything out of the Camaro—well laid-out controls and better overall comfort. Compared to the Dodge Challenger, it's a toss-up.
On the other hand, the Mustang's 5.0-litre V8 consumes more fuel in city driving than the eight-piston engines in the Camaro SS and Challenger R/T, with a difference of about 1 L/100 km. However, the Camaro needs super unleaded, so the expense at the pump is roughly the same. During our test, the Mustang BULLITT soaked up regular at a rate of 13.5 L/100 km.
Is this special-edition Mustang worth it? For muscle car and Steve McQueen fans, the answer is yes. But for the Mustang buyer who isn't too impressed by the car chase scene in the movie Bullitt, and who just wants to appreciate the brawn and character of the V8 engine, a well-equipped GT will be much more accessible. And since Ford will produce as many units of the BULLITT as customers demand, it likely won't become a collectable car.
We don't feel like were Steve aboard this muscle car, but despite its price, the package is well done. And so is that sweet V8 engine.
Share on Facebook