2019 Ford Mustang EcoBoost: The Sound of Reason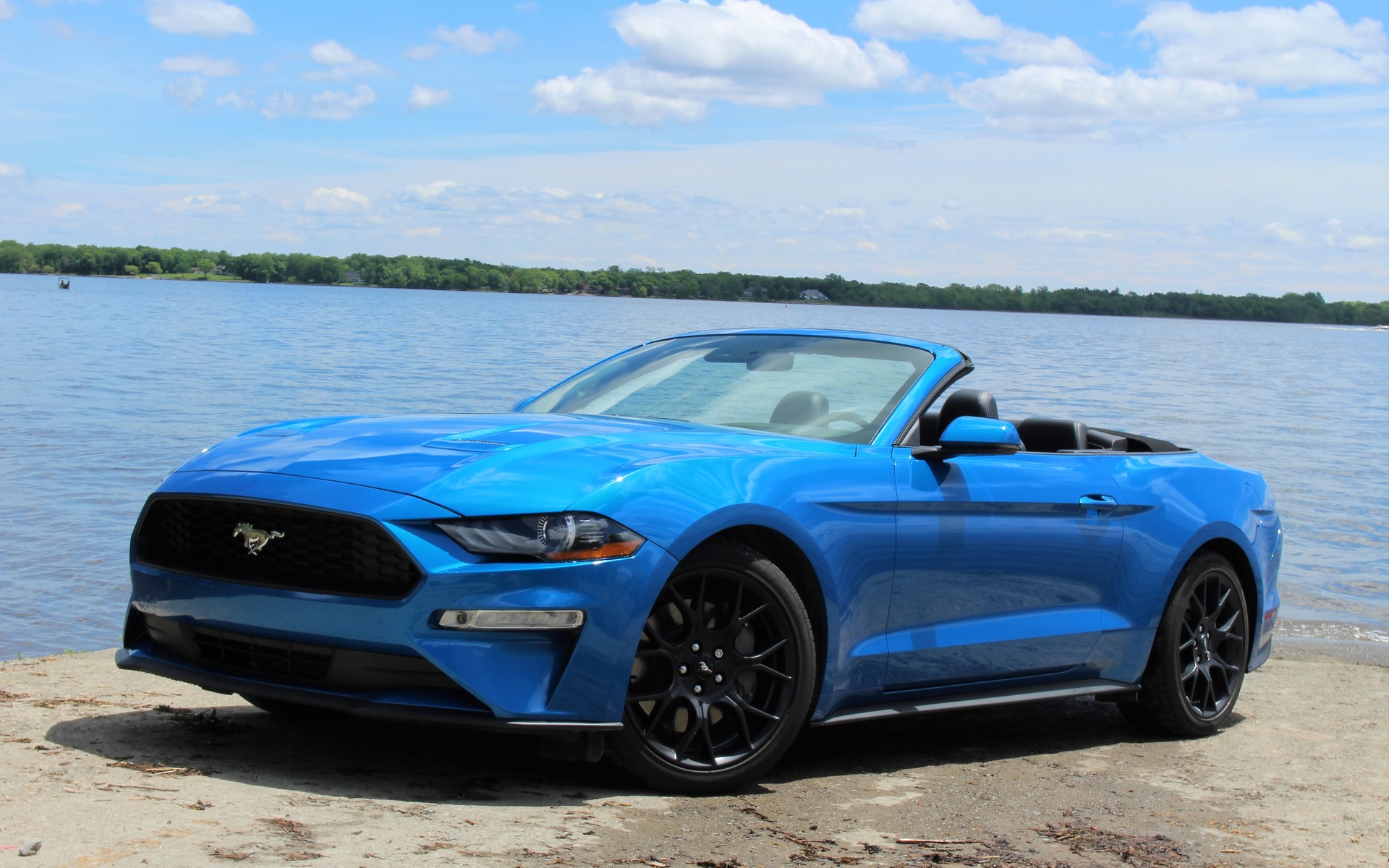 Strong points

Efficient EcoBoost engine
Lighter and nimbler than with the V8
Retro good looks

Weak points

Unexciting engine and exhaust sounds
Plasticky interior
Cheap base infotainment system
Full report
When we daydream about owning a Ford Mustang, the soundtrack of our momentary escape from reality involves an octet of pistons singing in unison. Not a quartet.
We might be misjudging people, but a Mustang without a V8 engine isn't an object of desire, and more a compromise for what we were really longing for. Is the EcoBoost powertrain really a compromise? Yes and no.
Shelby GT350 aside, the 2019 Ford Mustang is available with one of two engines, as the 3.7-litre V6 was canned after the 2017 model year. That leaves us with the 460-horsepower, 5.0-litre V8, and the turbocharged, 2.3-litre four-cylinder engine that belts out 310 horsepower and 350 pound-feet of torque. Hefty numbers for a four-pot soul, although that's using 93-octane fuel.
To give the EcoBoost engine some audible character, Ford added a fake sound generator, but that gets partially drown out when we choose the Active Valve Performance Exhaust System, an option for both powertrains. It includes four selectable modes, such as Quiet when we don't want to bother our neighbours, Normal, Sport and Track. The latter two are obviously louder, and at wide-open throttle, the Mustang EcoBoost sounds like a very angry weedwhacker.
Good or bad? Well, since it would be dumb to try emulating the Coyote V8's growl, Ford might as well try something different with the EcoBoost mill. It's more comparable with other four-cylinder sports cars like the Subaru BRZ and the Toyota 86.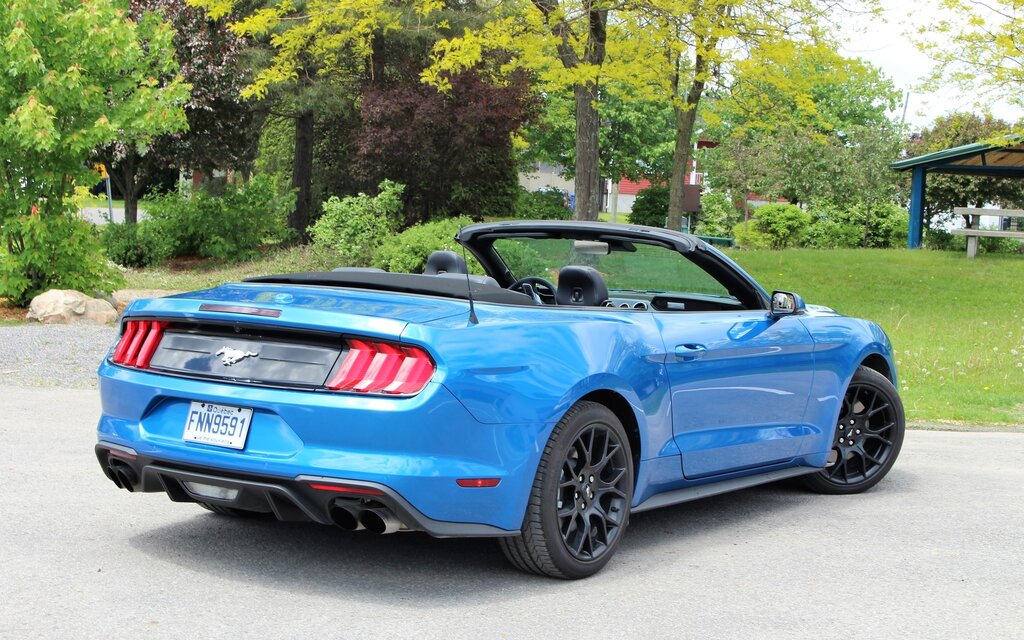 Despite the smaller displacement, the Mustang still serves up good performance. There's a weight drop of roughly 200 pounds (90 kg) between the EcoBoost and the GT, and we can feel the lighter front end during acceleration, braking and cornering. So, different engine, different personality. Since Ford is trying to attract sports-car enthusiasts off all ages and in many countries, that's not a bad thing. GM is trying to same approach with the Chevrolet Camaro and its 275-horsepower, 2.0-litre turbo engine.
The 2019 Ford Mustang EcoBoost can also be equipped with a Performance Package that adds a limited-slip rear axle, black-painted 19-inch wheels, a strut tower brace, heavy-duty front springs, bigger brakes, a larger radiator, a bigger rear sway bar and other chassis tweaks. If we're planning to barrel down twisty country roads on Sunday mornings, this $3,000 package is worth considering.
As for fuel economy, our EcoBoost convertible with the optional 10-speed automatic boasts city/highway ratings of 11.9/8.4 L/100 km, for a combined average of 10.4 L/100 km. With the V8 engine, consumption rises to 12.9 L/100 km. We managed a very good 9.4 L/100 km using super unleaded—regular fuel is accepted in both engines, with slight output drops. It's worth noting that the four-cylinder Camaro is more efficient but requires super unleaded.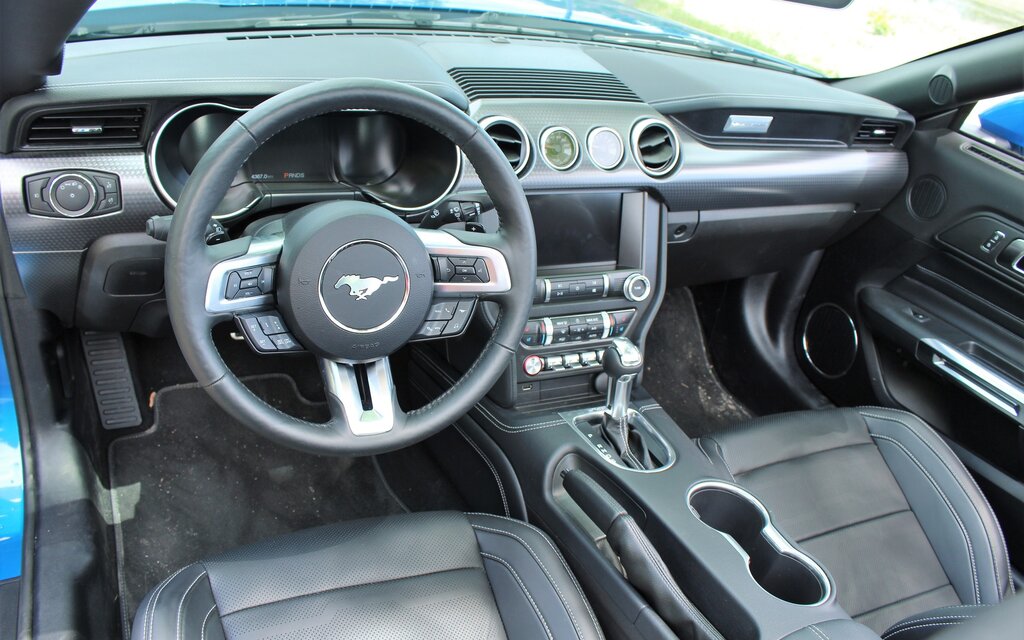 The 2019 Ford Mustang's cockpit feels a little flimsy, with chromed plastic toggle switches and shiny, grainy lower panelling. The simulated aluminum dash trim and contrast stitching cut down on the general dark atmosphere, while a heated steering wheel, a 12.3-inch fully digital driver instrument panel and leather upholstery are available. As usual, the optional Ford SYNC 3 infotainment system offers an easy-to-use interface and many features, but we can also plug in our smartphone and switch to Apple CarPlay or Android Auto. The base SYNC system shouldn't be fitted to a car of this price.
As for the Mustang's convertible top, it can be lowered or raised on a matter of seconds by simply pressing a button. It comes with two plastic trim pieces that can be snapped into place once the top is folded into the trunk, but we never used them. Is Ford really expecting us to step out of the car, remove the two covers, throw them in the trunk, get back in the car and press the button to raise the roof? We're just too lazy for that.
Pricing starts at $30,699 before freight and delivery charges for a base Mustang EcoBoost Fastback, while the convertible is listed at $35,699. The GT and its V8 engine are at least $10K more expensive. That's quite a price gap. Our tester was equipped with the Performance package, the automatic transmission, the active exhaust, SYNC 3 with a nine-speaker stereo, an advanced safety feature package and navigation, for a grand total of $52K.
With the EcoBoost engine, the Mustang has a different personality, and nostalgic Pony Car fans likely won't embrace the turbo four is well as younger drivers might. It's not all about the performance, but about the aura of the V8 engine and its spine-tingling sound. Which is the sound of desire, not the sound of reason.
Share on Facebook